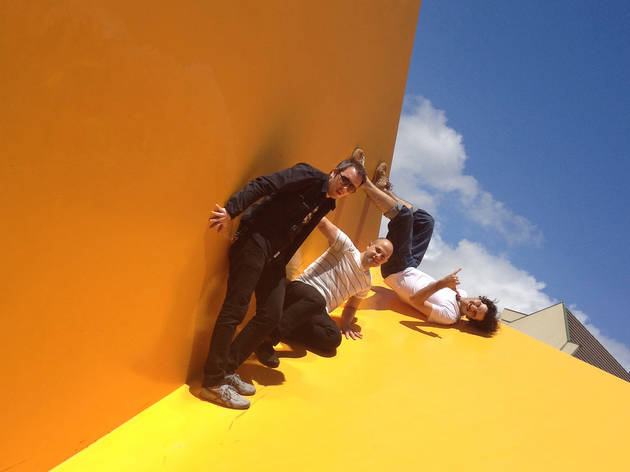 Now that beloved concert destination 285 Kent Ave, one of the last bastions of Williamsburg DIY, has closed its doors for good, it seems only fitting that staunchly independent experimentalists Aa (say it "Big A Little a") have returned to ignite what's left. An anchor of promoter Todd P's nascent indie army, along with Black Dice, Liars, Oneida, Parts & Labor and Gang Gang Dance, Aa defined Brooklyn's midaughts with its electronics-damaged anthems, drone marathons and dance grooves, all booming in makeshift spaces and lofts.
With help from the surging Northern Spy label, the reclusive Aa has finally emerged from obscurity. A near-eternity separates the just-dropped VoyAager from its full-length predecessor, 2007's GAame. In those intervening years, the band's demonic wailing and synth splatter have transformed into ecstatic, infectious dreamscapes ostensibly designed for sweat-drenched club party action.
That's not to suggest that Aa has abandoned its patented percussive thump and crash. Instead, the group has maintained its mighty tribal polyrhythms (with Time Out Music senior editor Hank Shteamer among its drumming cadre), intertwining them with lush textures, melodious chants and gleaming synths while emerging with a sonic dance inducer. The improbable comeback offers a glimmer of hope that Brooklyn independence is not dead yet.—Brad Cohan
Three vanguard local acts set the stage at each of this week's gigs: Yvette, Seaven Teares and Rat Attack at Death by Audio on Jan 28, and Dan Friel, Dinowalrus and Advaeta at Silent Barn on Feb 1.