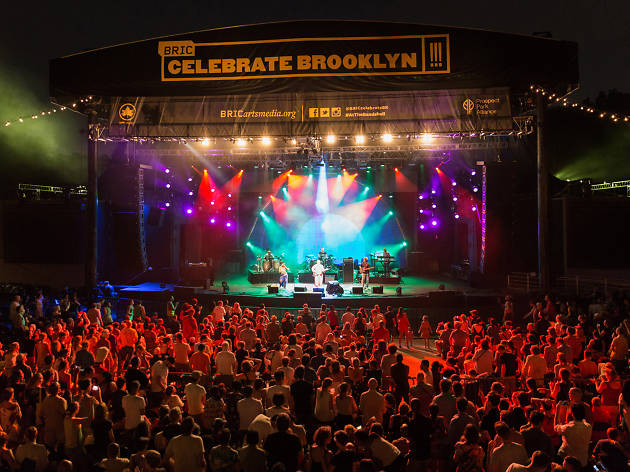 BRIC Celebrate Brooklyn! 2019 Lineup brings free music to Prospect Park
The annual BRIC Celebrate Brooklyn! Festival presents top live music in Prospect Park all summer long
BRIC Celebrate Brooklyn! Festival is one of the city's most beloved summer concert staples. Since 1979, music fans have stretched out in front of Prospect Park's bandshell for a killer lineup of artists—and this year's schedule of outdoor concerts doesn't disappoint.
RECOMMENDED: Full guide to BRIC Celebrate Brooklyn!
The 41st anniversary series kicks off on Tuesday, June 4 with the legendary Patti LaBelle for the free opening night concert, and continues with all-star acts like Liz Phair, Iron & Wine, Salif Keita, Bomba Estereo, Calexico and more. There are also two movies on the schedule: Varieté (with a live score) and Crouching Tiger, Hidden Dragon.
25 concerts are free (with a $5 suggested contribution at the gate). But don't forget about the venue's paid benefit shows: The National and Courtney Barnett double-bill will be one of the summer's biggest outdoor concerts, as well as a double-booking of Father John Misty and Jason Isbell on June 19, followed by Mac Demarco on August 6.
If you don't have time to grab a bite before the gigs (and since most of them start early in the evening, you won't) the Bandshell offers crowd-favorite food vendors this year, including Big Mozz, Sweet Chick, Oyster Party, Kotti Berliner, Gordo's Cantina, Rooster Boy and more.
BRIC Celebrate Brooklyn! Festival Free Concerts
Tuesday, June 4 at 8pm
BET Opening Night Concert
Patti LaBelle
Saturday, June 8 at 7pm
American Exress Women in Music Series
Ibeyi | Sudan Archives | Orion Sun
Saturday, June 15 at 3pm
Family Concert
Rich Medina | Shareef Keyes and The Groove
Thursday, June 20 at 7:30pm
Tank and The Bangas | Cory Henry & The Funk Apostles
Friday, June 21 at 7:30pm
Bud Light Music Series
Calexico and Iron & Wine | Adia Victoria
Saturday, June 22 at 7:30pm
Tortoise: TNT | Emily Wells with Metropolis Ensemble
Wednesday, June 26 at 7:30pm
Chucho Valdés - Jazz Batá | Dafnis Prieto Si O Si Quartet
Thursday, June 27 at 7:30pm
Bud Light Music Series
Protoje | JAH9 | Yoga on Dub | DJ Top Notch & Micro Don
Friday, June 28 at 7:30pm
Celso Piña | Dos Santos | Riobamba
Saturday, June 29 at 7pm
Liz Phair | Ted Leo and The Pharmacists | Caroline Rose
Friday, July 5 at 7:30pm
Mick Jenkins | Leikeli47 | Leven Kali | Joy Postell
Saturday, July 6 at 7pm
Oddisee | 47Soul | Narcy
Friday, July 12 at 7pm
Latin Alternative Music Conference Showcase
Gaby Moreno and Van Dyke Parks: Spangled | Enjambre | El David Aguilar
Saturday, July 13 at 7:30pm
Salif Keita | Courtnee Roze
Thursday, July 18 at 7:30pm
American Express Women in Music Series
I'm With Her | Darlingside
Friday, July 19 at 7:30pm
Burna Boy | Sampa The Great | DJ Tunez
Saturday, July 20 at 8pm
Music & Movies
Alloy Orchestra: Varieté | Lava
Thursday, July 25 at 7:30pm
Bud Light Music Series
Surprise headliner | Nilüfer Yanya
Friday, July 26 at 7:30pm
Eventbrite Music Series
Jidenna | Anik Khan | DJ Moma
Saturday, July 27 at 8pm
Compagnie Hervé Koubi
Friday, August 2 at 7pm
NOSAJ Thing DJ Set | Kimbra | Bells Atlas
Saturday, August 3 at 7:30pm
Music & Movies
Crouching Tiger, Hidden Dragon | Lou Reed Tai Chi Day
Thursday, August 8 at 8pm
Ailey II
Ticketed BRIC Celebrate Brooklyn! Benefit Concerts

Wednesday, June 12 at 7pm; Sold Out
The National and Courtney Barnett
Wednesday, June 19 at 6:30pm; $65
Father John Misty | Jason Isbell and the 400 Unit | Jade Bird
Tuesday, August 6 at 7:30pm; $45
Mac Demarco with special guests
Looking for more concerts in NYC?
Check out our top picks for this year's summer concerts in NYC, including info on free and outdoor shows