BRIC Celebrate Brooklyn! 2018 Lineup brings free music to Prospect Park
The annual BRIC Celebrate Brooklyn! Festival presents top live music in Prospect Park all summer long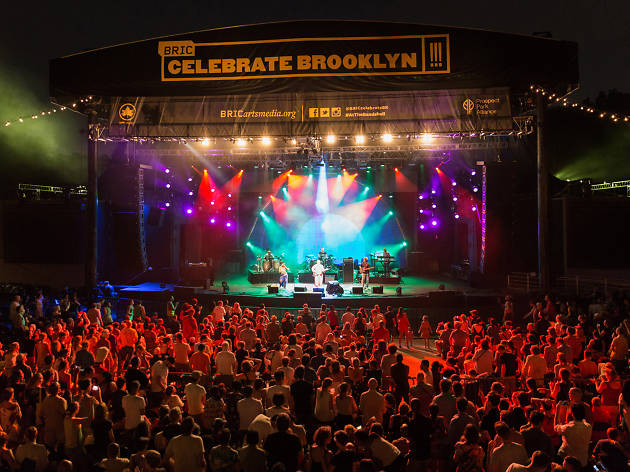 BRIC Celebrate Brooklyn! Festival is one of the city's most beloved summer concert staples. Since 1979, music fans have stretched out in front of Prospect Park's bandshell for a killer lineup of artists—and this year's schedule of outdoor concerts doesn't disappoint.
RECOMMENDED: Full guide to BRIC Celebrate Brooklyn!
The 40th anniversary series kicks off on Tuesday, June 5 with hip-hop vet Common headlining the season opener, and continues with stops at jazz/hip-hop fusion (BADBADNOTGOOD), contemporary classical (Kronos Quartet), rootsy Americana (Brandi Carlile), ethereal R&B (Rhye) and much more. There are also two movies on the schedule, fireworks doc Brimstone and Glory (with a live score by Wordless Music Orchestra) and the animated Nausicaä of the Valley of the Wind.
Maybe most notable are the closeout performances: a special appearance on August 10 by post-rock titans Godspeed You! Black Emperor, followed by the final free concert with indie-rock vets the Breeders and up-and-comers Speedy Ortiz on August 11.
All 25 of those concerts are free (with a $5 suggested contribution at the gate). But don't forget about the venue's paid shows: The Spoon + Grizzly Bear double-bill will be one of the summer's biggest outdoor parties, as will the late-July triple booking of Courtney Barnett, Julien Baker and Vagabon. Deadheads, look no further than the venue's Joe Russo's Almost Dead on July 19 for your jam-band fix.
BRIC Celebrate Brooklyn! Festival Free Concerts
Tuesday, June 5 at 8pm
Common
Sunday, June 10 at 3pm
Los Lobos
Saturday, June 16 at 7pm
The Jayhawks + Mandolin Orange + Parsonsfield
Thursday, June 21 at 7:30pm
Aimee Mann + Superchunk + Jonathan Coulton
Friday, June 22 at 7:30pm
R+R=Now Featuring Robert Glasper, Terrace Martin, Christian Scott Atunde Adjuah, Derrick Hodge, Justin Tyson, Taylor Mcferrin + Paul Beaubrun
Saturday, June 23 at 7:30pm
Fischerspooner + Juliana Huxtable
Thursday, June 28 at 8pm
The Blues Project Featuring Dorrance Dance with Toshi Reagon & Biglovely, Created By Michelle Dorrance, Derick K. Grant, Toshi Reagon, And Dormeshia Sumbry-edwards
Friday, June 29 at 7:30pm
Branford Marsalis + Roger Guenveur Smith: Frederick Douglass Now
Saturday, June 30 at 7pm
Ricky Skaggs and Kentucky Thunder + Sierra Hull and Justin Moses + Mamie Minch
Friday, July 6 at 8pm
Les Ballets Jazz De Montréal: Leonard Cohen's Dance Me
Saturday, July 7 at 7pm
Rhye + Natalie Prass + Overcoats
Thursday, July 12 at 7:30pm
Antibalas + Combo Chimbita + DJ Nickodemus
Friday, July 13 at 7pm
Mala Rodriguez + Ana Tijoux + Girl Ultra
Saturday, July 14 at 7:30pm
Kronos Quartet + Trio Da Kali
Friday, July 20 at 7:30pm
Anoushka Shankar + My Brightest Diamond
Saturday, July 21 at 7:30pm
Music & Movies: Brimstone And Glory w/ live score by Wordless Music Orchestra + Sonido Gallo Negro
Thursday, July 26 at 7:30pm
Brandi Carlile + Ruthie Foster
Friday, July 27 at 7:30pm
Tinariwen + Cheick Hamala Diabate
Saturday, July 28 at 7:30pm
Music & Movies: Nausicaä of the Valley of the Wind + Kaki King
Thursday, August 2 at 7:30pm
Badbadnotgood + Charlotte Day Wilson
Friday, August 3 at 7:30pm
Noname + Topaz Jones + Jazze Belle
Saturday, August 4 at 7:30pm
Tarrus Riley With Dean Fraser And The Blak Soil Band + Mwenso & The Shakes
Thursday, August 9 at 7:30pm
Gary Clark Jr. + Fiona Silver
Friday, August 10 at 7:30pm
Godspeed You! Black Emperor + Emel Mathlouthi
Saturday, August 11 at 7:30pm
The Breeders + Speedy Ortiz
Ticketed BRIC Celebrate Brooklyn! Benefit Concerts
Wednesday, June 13 at 7pm; $45
The Decemberists
Thursday, June 14 at 7:30pm; $54.50–$60
Vance Joy + Alice Merton
Wednesday, June 20 at 6:30pm; $46–$51
Grizzly Bear + Spoon
Thursday, July 19 at 7pm; $45
Joe Russo's Almost Dead
Wednesday, July 25 at 7pm; $39.50–$45
Courtney Barnett + Julien Baker + Vagabon
Tuesday, August 7 at 7:30pm; $55–$60
Good Vibes With Jason Mraz & Brett Dennen
Looking for more concerts in NYC?
Check out our top picks for this year's summer concerts in NYC, including info on free and outdoor shows