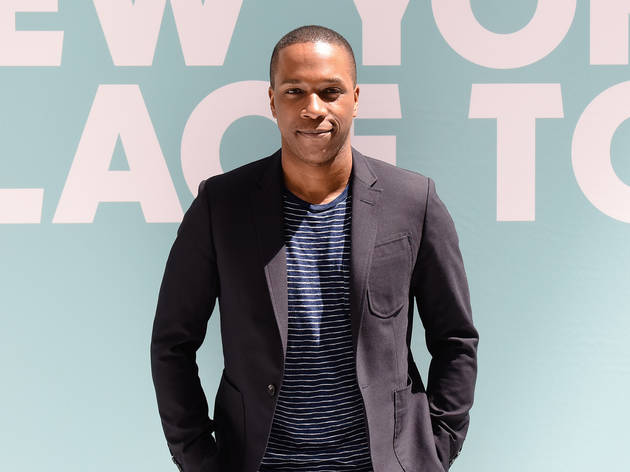 Leslie Odom Jr. talks about winning a Tony and if he'll ever return to Hamilton
Hamilton star Leslie Odom Jr. talks about going from actor to singer (with a few battle scars on the way)
Leslie Odom Jr. will be called Aaron Burr, sir, for the rest of his life, but he's okay with that. After a year of recreating the most devastating death in American history eight times a week, the star and narrator of Hamilton has left Broadway's revolutionary and revelationary show to focus on music. While discussing his newly rereleased eponymous jazz album, he speaks methodically, pondering the wording of a Snapchat video with the gravitas of a founding father. He offers his bandmates coffee and asks permission before cursing. And yes, he slips Hamilton quotes into conversation. Both his performance and demeanor are understated in a way that contrasts, say, the non-stop hyperactivity of Hamilton writer and star Lin-Manuel Miranda. Before a free show at the Shops at Columbus Circle mall where he'll croon multiple Nat King Cole songs and rap the song that won him best actor at the Tony Awards this year, "The Room Where It Happens," he pauses and thoughtfully reconsiders his Snap again: "I might hate that video." You only have one shot, sir.
What do you identify more as right now, an actor or a musician?
Music right now. The success of Hamilton makes it so that people really do say, "What do you want to do next?" We had opportunities to do theater, television and film, but music was what I wanted to pivot to. It's a childhood dream; it was something that I was always doing on the side. So I'm grateful for the opportunity to put it at the center of what I do.
Your self-titled album first came out in 2014, but you reworked it and re-released it in June. Why did you decide to do that, as opposed to moving on and making a second album?
It was the record company's faith in the first album. They wisely taught me that there's a difference between releasing an album and promoting an album. I mean, a couple hundred people bought the album initially; my mom had a couple copies, and my aunt and my sister. The president of my label was like, "Just so you know…it's like this thing never happened." It's a tree falling in the woods. So they put money and support and energy behind it and just tried to make people aware of it. And as people are aware of it, they're liking it. Thank goodness!
Your album has a lot of covers of songs from musicals and other musicians. There's a cover from Willy Wonka, and you recently covered "Easy Lover" with Phil Collins at the U.S. Open. Why did you decide to do what seems like so many covers?
If you were a jazz singer worth your salt in 1950, you were singing "Summertime" or "Angel Eyes." The repertoire that Frank Sinatra had looks very similar to the repertoire that Sammy Davis Jr. and Dean Martin had. So we think of these things as covers, when really, I think of it more like classical music—they're all playing Beethoven and Mozart. It's not really a cover of Mozart. And yeah, there might be original compositions in my future. Hamilton was that! Hamilton was the first time that I got to in a major way put my spin on a song that no one had ever heard before.
What did you contribute to those Hamilton songs? Was it the writing, the overall style?
Lin[-Manuel Miranda] didn't need any help with writing, at all. But what you are able to author as a performer is your emotional availability. It's how you play your instrument in the band of humanity—that's lame, but what I'll say is, we were given the task of taking Hamilton from the page to the stage. And so the most exciting time of that whole ride was when we had no idea what it was going to be. Because Lin gives you that text, and that's all he gives you. Then it's your job to turn that inspiration into a fully living, breathing experience for the audience that is alive and feels spontaneous and immediate. I also felt like it was my job to inspire Andy [Blankenbuehler] and Tommy [Kail], the choreographer and the director, to help them see it visually. Because it was just words on a piece of paper. It can be anything: What's it going to look like? What's it going to move like? What are we gonna wear? I wanted my physicality to inspire the costume designer; I wanted how I was moving in the space to inspire our set designer.
And after embodying Burr for the past year, you amazingly predicted your own replacement. I saw your Instagram…
Did you see that?!
Yeah! You really guessed Brandon [Victor Dixon, formerly of Shuffle Along] out of the blue?
Yeah! So funny.
Did you have any advice for him on the role?
No, Brandon is such a capable actor and performer. But I gave him some of my books on Burr that had been given to me. Eventually there will be tens and hundreds of performers that have performed the role, but right now you can count them on one hand. So I look forward to being able to share about the experience, hearing what other guys have learned from it, what ailments they have in their bodies. To compare battle scars.
The original casting call says Burr is Javert meets Mos Def. Do you agree with that now, or do you have your own comparison for Burr?
Oh no, I thought that was really accurate. Yeah, Mos Def meets Javert, from Les Mis: I think that's spot on. Lin wrote those himself, so if anybody would know, it would be him!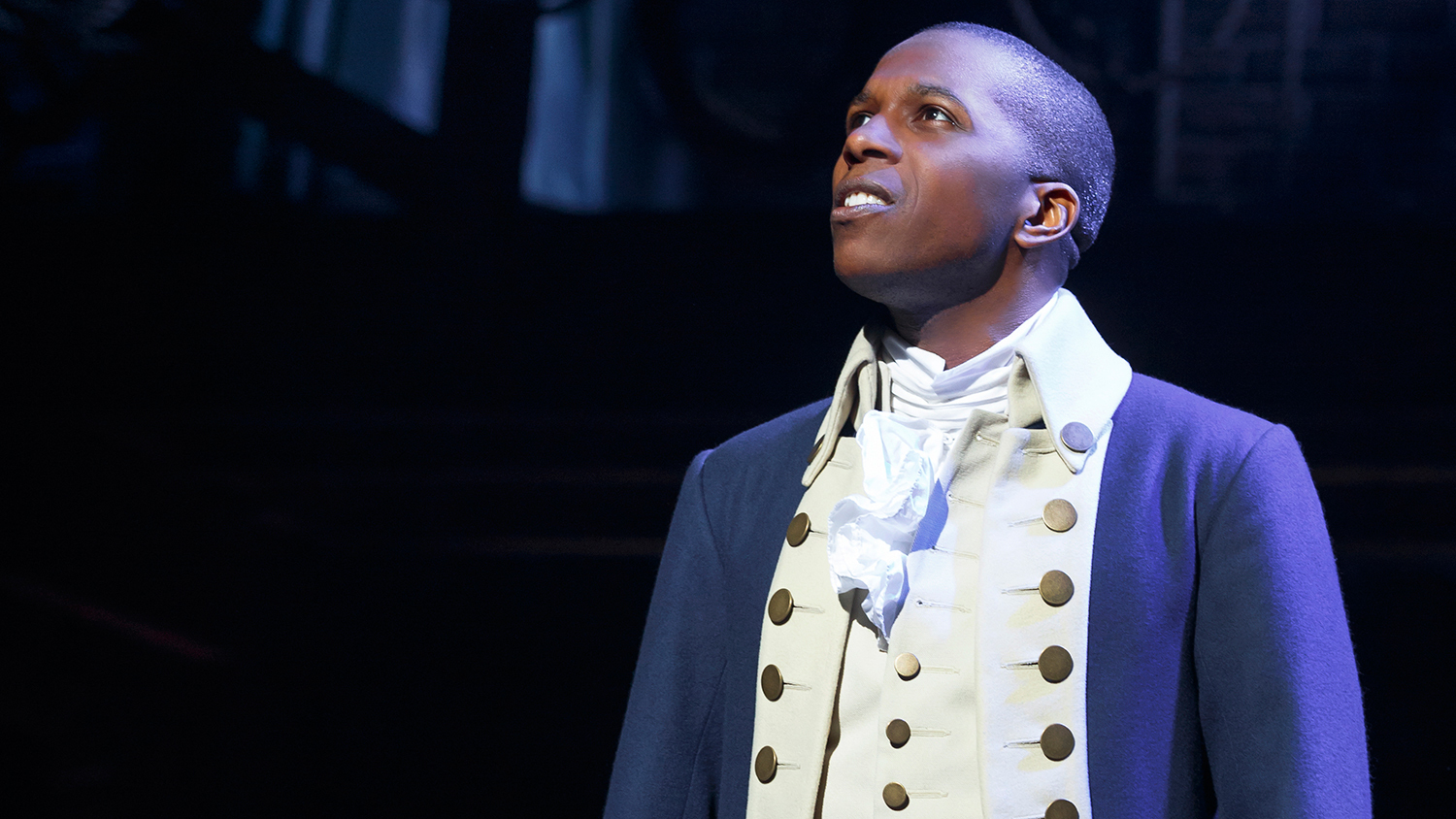 Photograph: Joan Marcus
Hamilton
If he could pick any role to go back into Hamilton playing, what would it be?
The king. In like 20 or 25 years, I'd want to do the king.
And you've also collaborated with your Hamilton co-stars. Is it just a text, like, "Hey, Daveed Diggs, so there's this Selena Gomez song…want to sing it with me?"
Yeah, it's just like that! We just knew what an opportunity we had, being in a room with some of the best in the business and that kind of talent, so we took every opportunity we could to collaborate and share with one another.
We also recently chatted with the Chicago cast of Hamilton. Have you participated in it at all?
Not yet, no. But I can't wait to see them! I love Josh [Henry], and I'm a huge fan of Karen's [Olivo].
Everyone knows Lin, but who's the most criminally under-appreciated Broadway songwriter right now?
I love Griffin Matthews and Matt Gould. They wrote a show called Invisible Thread that my wife was involved in at Second Stage that I've seen through many, many incarnations. It's just a show that feels necessary. I like for theater to feel like ministry. I think we're on the right track when it feels like church a little bit, when it feels holy. Their work always feels like that for me. Who else? I love Robert O'Hara. He's a writer and director who is always outrageous. I would drop everything to see anything he's done.
You won the Tony for best leading actor, in a category with Miranda. What was the very first thing you said to him afterward?
I don't even know if I was speaking words. We were so beyond words that night, I think we just hugged. There's just a recognition. Lin is the spirit of generosity, so he was happy for all the winners, and I didn't have any words for him that night, except…just dumbstruck with gratitude.
You made your Broadway debut in Rent. Do you see parallels between what that show did for Broadway, in terms of its popularity, and what Hamilton is doing again now?
Lin has said that show really changed both of our lives in a way. It brought me to the theater. And I certainly can't see Hamilton from the outside, but I will say that every now and again I'll meet a kid and they'll look at me with this twinkle in their eye that I had when I used to look at Daphne [Rubin-Vega] or Anthony [Rapp]. It makes me feel really good that I could give somebody that, because those guys changed my life.
Were there any other Broadway shows that influenced your life?
That was the one…and then Hamilton.
And in between those shows, you went to Carnegie Mellon Josh Gad and Josh Groban. What show could you three guys do together?
Oh my gosh. It would be like The Hangover. Some kind of wild, driving adventure through Vegas.
One of your pre-Hamilton roles was on Smash. Why do you think it didn't work as a TV show, and do you think a similar show might thrive on Amazon or Hulu or Netflix now?
Maybe. I think what we didn't have with Smash was an auteur at the center of it. We didn't really have a singular visionary artist who was allowed to speak their truth and have everybody fall behind that. With Hamilton, I saw firsthand what that's like to have: Lin had a vision, and we were all there in service of that vision.
Would you ever go back and do television again, or even movies?
Of course, yeah yeah yeah. We have a couple movies coming up that I can't talk about yet; we have a couple of film projects in the next year. I just want to…. You can't curse in Time Out, can you?
You can, actually!
Yeah? I just want to do cool shit! I want to be challenged, I want to grow, I want to get the most out of myself.
Looking for more music?
It's been a great year for new music—here are our picks for the best albums of 2016, from Anohni to Rihanna