Heads up! We're working hard to be accurate – but these are unusual times, so please always check before heading out.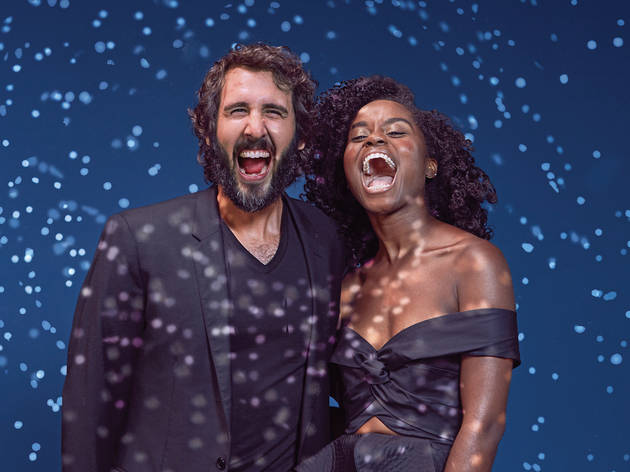 Josh Groban and Denée Benton are Broadway bound
The iconic singer and the starlet discuss their roles in the Broadway transfer Natasha, Pierre & the Great Comet of 1812
In a booth at Friedman's on Tenth Avenue, I'm sitting across from an international recording star and a showbiz newbie, and I'm wondering: Which one's the celebrity? Josh Groban may have sold 25 million records as a golden-voiced concert icon, but the guy before me is shockingly earnest and humble. As for Denée Benton, she's poised, funny, wise—and unfazed by all the hype. In fact, Benton comes across as the polished pro, even if she's the one getting a big break. Groban? He's taking a risk that won't derail his career, but he is venturing into uncharted land. Russian territory, to be exact. The two have the title roles in the Broadway-bound musical Natasha, Pierre & the Great Comet of 1812.
The cult hit finally made the jump after sold-out runs at Ars Nova (#1 on our best Off-Off Broadway venues) and a Meatpacking pop-up tent dubbed Kazino. The Great Comet inspires intense fan love—maybe not Hamilton-level adoration, but pretty close. It certainly sounds as unlikely as rapping Founding Fathers: Composer-lyricist Dave Malloy took 70 pages from Leo Tolstoy's doorstop classic War and Peace and carved out an eclectic, self-referential popera, staged to immersive perfection by director Rachel Chavkin. It's a story of a naïve Slavic aristocrat (Benton) who falls for a sexy bad boy and must be rescued by the depressive but good-hearted Pierre (Groban).
Malloy's earwormy songs have a rollicking, Balkan-jazz-meets-electropop vibe, and most of the cast doubles on instruments. Critics raved at the premiere, and Groban became a fan during the Kazino run, returning multiple times. Now the show's creative team and industry boosters have their collective fingers crossed for a smooth Broadway transfer. Anything can happen, but come Tony Awards time, you know this show will be remembered. While Hamilton blew up without a single star, The Great Comet producers are clearly banking on Groban's name. Or perhaps the luminous Benton will dominate opening-night headlines. For the moment, if there's any doubt about who's the celebrity at the table, when the interview's five minutes in, a stranger asks Groban for a photo.
"There is a certain…chivalry to the style of singing I normally do. Part of the fun for me will be to leave that at the door."—Groban
Photograph: James Weber
Okay, show of hands: Who's read all of War and Peace?
Denée Benton: I'm getting there. [Laughs] I read the portion that our show is based on. It's been a slow trip. I'm a third of the way through.
Josh Groban: Yeah, I read up through where our show ends. I'm committed to almost finishing it by the time we open.
DB: I'm enjoying it! But [it's] so detailed.
JG: Yeah, 50 pages for a description.
Josh, I was listening to your recent album of show tunes, Stages, and you do a gorgeous cover of S Sondheim's "Finishing the Hat."
JG: Oh, thank you.
Then I remembered that when I saw The Great Comet at Ars Nova, who was sitting at my table but none other than Mandy Patinkin, who famously sang that song.
DB: No waaay!
JG: That's awesome.
DB: I keep thinking about that, because there's so much audience seating throughout the playing space. Will I have to keep my fangirl under control?
JG: Oh, my God, Mandy would have made a great Pierre.
You both studied musical theater at Carnegie Mellon. Any gossip about your alma mater?
JG: We talk about the teachers. Some of the ones I had were still teaching when Denée went there. Denée went through the whole program, and I took a fork in the road. I was signed to a label at the age of 18, when I was still a freshman. [Addressing Benton] So your memories of it are a lot clearer than mine since you went through the four years.
DB: I got to graduate, but I left a semester early to go on tour with Book of Mormon. It was a similar experience, but I got to do a little more.
[A woman approaches with a camera and asks Groban, "Sorry. It's my birthday. Can I get a picture with you?" He cheerfully complies and then returns to the table.]
It would have been good for this story if you'd been all, "Fuck off! I'm busy!"
JG: I hate birthdays. It's so funny, people always come up to me, "Hey! It's my birthday!" But when it's my birthday, I don't want to talk about it, I don't wanna tell anybody…
DB: No! Have you always been that way?
JG: I'm the depresso guy on holidays.
DB: So we shouldn't throw you a surprise party?
Do you not celebrate it at all?
JG: No. Well, I pour a nice glass of bourbon, do my own private celebration.
So, Josh, the beard is looking nice and full. How long are you going to let it grow?
JG: Right now I'm trimming it for decency. But once we start the show, I'm just gonna let it live. It's going to be nice to just roll out of bed and let my hair be this way, unshaved. Not caring for a little while—it's gonna be a blast.
You started out as a fan of The Great Comet Off Broadway, right?
JG: I still have the picture of me with the cast, from three or four years ago. This is a show I thought would make its transfer earlier and, selfishly, I'm glad they waited.
It's your Broadway debut, and yours too, Denée.
DB: Yeah, between Dave and Rachel—I mean: To have the writer and director making their Broadway debuts, and then us, and so many of the cast members…I feel like no one's really jaded yet. Everyone's excited.
JG: We're all just kind of giddy. So many of us come from not-traditional Broadway worlds.
Denée, did you know about The Great Comet before you auditioned for it?
DB: When I was rehearsing Book of Mormon, I couldn't get tickets to see it, which was a bummer. Then when I got the chance to audition for Natasha, I thought, She's a Russian countess, a soprano; I doubt they're looking for me. Maybe I won't go in, get my hopes up.
"To have the writer and director making their Broadway debuts, and so much of the cast…I feel like no one's jaded yet."—Benton
Groban and Benton in Natasha, Pierre & The Great Comet of 1812
Photograph: Jason Bell
You thought they were going to cast a white girl?
DB: Yeah, the traditional War and Peace look, like on the miniseries they did for Lifetime.
The show challenges realistic representations and also typical theatrical space: Mimi Lien's set has an elevated platform running through part of the orchestra…
DB: We call it "the Doughnut."
It's pretty radical.
JG: Honestly, the first preview in October will be its own rehearsal. There's no fourth wall. The people will directly influence the energy of the space every night.
DB: And you think you can hold a note, but then you have to climb this flight of stairs, so it takes an extra 10 seconds.
JG: Or someone spills a drink on your shoe. I was asking Rachel, "Can Pierre take cell phones away?"
You have a beautiful, pure voice, Josh. But Pierre drinks too much; he's overweight. When Malloy played the role, it was an Elvis Costello–meets–Tom Waits growl. Is this a vocal stretch for you?
JG: I think I will try to dirty it up a little. At least with the phrasing. There is a certain…chivalry to the style of singing I normally do. Part of the fun for me will be to leave that at the door as Pierre. To only think about interpreting the crap he's going through, the vulnerability of it, the drunkenness. Maybe the gruffness and anger can be done with a purity of sound.
Denée, you wrapped a season of Unreal playing Ruby, a Black Lives Matter activist who gets swept up in reality-TV craziness.
DB: I love Ruby. She's my alter ego. I call on her when I need some extra oomph.
Because she's tough?
DB: She's smart. When I read the script for the first time, I started crying. When you're a child and the media influences you as a millennial, you're like, "Okay, maybe we're not pretty enough." So there's such value in Ruby getting to be smart and have natural hair and represent.
JG: I think some industries are so far behind the rest of humanity, in the way they see characters and cast shows. Once those walls get broken down, it changes everything. It will continue. Because it's wonderful. People like to see themselves up there.
Josh, you've been Twitterstorming against Trump, and some of your followers have tweeted back, "Shut up and sing." How do you deal?
JG: Any time a person's paying for a ticket or buying an album, I keep those places neutral. I make it about the art, the concert. I don't go up there and give a political speech. I understand some people who say, "Shut up and sing," because they don't want it to ruin the mystique, and they want to just enjoy the music. But you can unfollow me on Twitter. My feeling is, Twitter's free. If people want to have a political discourse with me on Twitter, and they disagree with me, I've got all the time in the world for that. It's when it gets nasty that I have problems.
DB: Social media is hard. I had my first trolling experience on Instagram. I'm like, "Why are you so angry? Leave me alone." But you're public, so…if you can find a way to harness it and deal with the haters, great.
Natasha, Pierre & the Great Comet of 1812 plays at the Imperial Theatre. Previews start October 18; opens November 14.
See the show
Dave Malloy's dazzlingly eclectic rock-pop musical, adapted from a portion of Tolstoy's War and Peace, conveys its story of high-society Muscovites in stirring and surprising ways. Directed by Rachel Chavkin, this Broadway transfer of the 2012 hit stars global-sensation singer Josh Groban and newcomer Denée Benton.
Looking for more theater in NYC?
Our critics list the best Broadway shows. NYC is the place to catch these exciting plays, musicals and revivals.