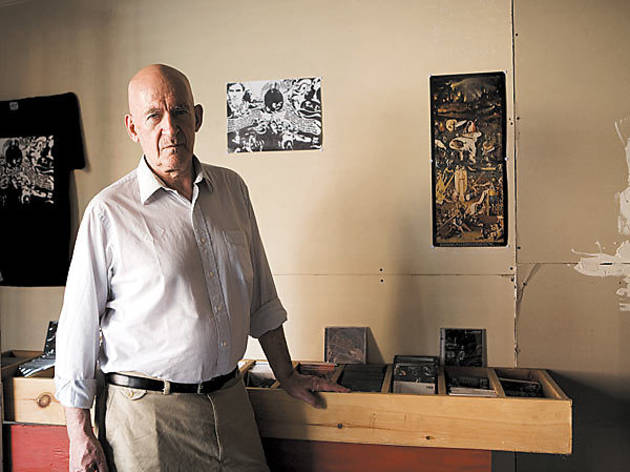 NYC jazz fixture Bernard Stollman talks transcending labels
Legendary '60s imprint ESP-Disk attempts to overcome its troubled past
Few people can legitimately trace their life's work to a single epiphanic moment, but Bernard Stollman is among them. One afternoon in December 1963, the young lawyer and budding jazz enthusiast followed a tip and went up to Harlem to hear a then-obscure saxophonist named Albert Ayler. Taking the stage without warning and apparently interrupting the piano trio that was on before him, Ayler proceeded to blow furiously—and completely unaccompanied—for what Stollman remembers as a full 20 minutes. "He jumped down off the stage and I went over to him and said, 'I'm starting a record label, and I want you to be my first artist,' " Stollman recalls. "A voice in the back of my head said, 'Really?' "
But Stollman made good on his rash proclamation. In July of the following year, he booked Ayler for the session that spawned Spiritual Unity, which went on to become the single most celebrated document of classic free jazz in all its raw, emotive splendor. Stollman quickly found a thriving local community of jazz, rock and folk vanguardists, and seized the opportunity to document them on LPs with stark, often black & white cover art and the motto "The artists alone decide what you will hear on their ESP-Disk." Before 1974, when Stollman shut down the label—named not, incidentally, after the supernatural phenomenon, but for the lingua franca Esperanto—he issued a torrent of LPs, including work by Sun Ra, the Holy Modal Rounders, Paul Bley, the Fugs, Pharoah Sanders and even a prefame Bob James.
In subsequent decades, the label's legacy grew murky. By the early '90s, ESP releases were enjoying a healthy afterlife due to international third-party licensing deals, but the same arrangements stoked controversy over Stollman's royalty practices. In 2004, having long ago returned to law, the founder once again took up the reins. Recent months have seen the label not only continuing a comprehensive reissue program, but producing a wealth of new releases, encompassing both archival material by artists such as Don Cherry and brand-new work by the experimental guitar trio Totem>, Swedish vocalist Lindha Kallerdahl and others. Rounding out the relaunch is an ESP-sponsored concert series at Bowery Poetry Club, whose next installment is Tuesday 15.
Sitting amid stacks of master tapes, cassettes and papers written in Esperanto at the label's Bed-Stuy storefront, Stollman, who turns 79 on July 19, reflected on his decision to revive the label. "I never decided to quit in the first place," he asserts. "I was put out of business by bootlegging and what I fully believe was a federal government program called COINTELPRO." Stollman's evidence of the latter, presumably spurred on by the antiwar lyrics of the Fugs and others, is more intuitive than tangible, but nevertheless, he claims that illicit ESP knockoffs flooded the market, severely damaging his business in the late '60s and causing it to shutter in '74. "The phones that were ringing off the hook suddenly stopped dead overnight," he recalls.
The intervening years were troubled ones for Stollman. "My wife and I had moved out to the country, and I often thought of bringing ESP back," he remembers. "But making a living was paramount. So I became a government lawyer and hid from everyone because I thought I'd failed the artists."
And indeed, among musicians, ESP remains an exceedingly touchy subject. Many, including the Holy Modal Rounders' Peter Stampfel and Albert Ayler collaborator Sunny Murray, have gone on record condemning Stollman for lax royalty payments. But percussionist Milford Graves, who played on many of the label's classic releases, comes to ESP's defense. "Other labels wouldn't touch the so-called avant-garde players," he says. "[Stollman] had the insight to see that this was an important generation, and ESP was the company that made the world know about us."
Stollman alleges that his artists rarely sold enough to recoup their production costs, but he nonetheless views this new phase of operation as a corrective one. To this end, his staff is working to set up a fully transparent online royalties database. "Every artist will eventually be able to access every transaction, every sale, anything that happens to any of their records," he states. "I want to lay to rest all that bad karma and baggage that we have attracted over the years."
Despite his checkered reputation, Stollman is still a beacon for struggling musicians, as he discovered firsthand at last month's Vision Festival—an annual free-jazz convocation that often presents first-wave ESP players—where he was approached by original label artist Giuseppi Logan, long rumored destitute and even dead. "[Logan] said, 'Someone gave me a horn. I've gotta get it fixed, and I want to record,' " Stollman recalls. "And I said, 'All right, Giuseppi. We'll do something.' He just called me yesterday, so let's stay tuned.…"
The label hosts ESP-Disk Live at Bowery Poetry Club Tue 15; see listings. ESP titles are available at espdisk.com.