The Giraffes + The Upper Crust + PCP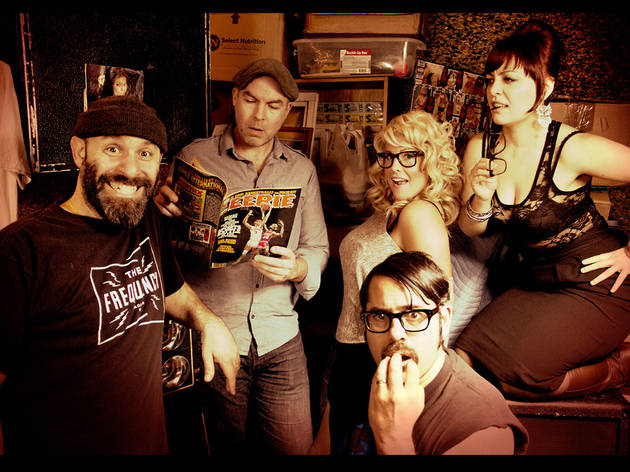 Back when Williamsburg hipsters were a rare breed and playing music wasn't just a bartender's day job, the Giraffes were tearing up the local underground with a debauched mix of surf punk and hard rock, awash in Jameson and Jack Daniel's, that inspired packed clubs full of scruffy Brooklynites to mosh their way into oblivion. All muttonchops and Fu Manchus, the band enjoyed a much-deserved reputation as one of the city's most intimidating live outfits.
Just before the release of a self-titled 2005 album, the first of what was slated to be a three-album deal with art-rock indie label Razor & Tie, it seemed the Giraffes were poised for a breakthrough. It all nearly crashed to a tragic halt when lead singer Aaron Lazar suffered a heart attack at 27. He'd actually survived clinical death twice; scarcely three months later, defibrillator implant in place, he rejoined his bandmates on the road. Along the way, the group's manager was extradited to Greece (that's right, Greece) on fraud charges. Now that's punk rock.
It took four more albums and countless sweat-soaked gigs for Lazar to think better of his health and finally call it quits, but the remaining Giraffes—guitarist Damien Paris, bassist Jens Carstensen and drummer Andrew Totolos—have soldiered on. They return to the Merc, their ostensible home away from home, with new music and new backing singers Brianna Wanlass and Kimberly Paige. The Upper Crust, veteran Boston rockers with a wry fetish for powdered aristocracy, lend support.—Bill Murphy
Follow Bill Murphy on Twitter: @roninscribe