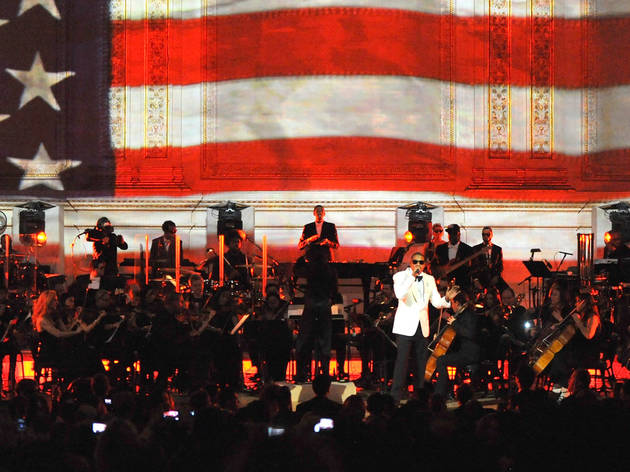 Watch Jay-Z plant his throne in a new Brooklyn palace
The NYC hip-hop icon hosts a housewarming series at the new Barclays Center
The best show this writer has ever seen was Jay-Z's headlining set at Glastonbury in 2008. I was among the 150,000 people who headed to the British festival in 2008, the year that Oasis clown Noel Gallagher declared, "I'm not having hip-hop at Glastonbury. It's wrong." Suffice to say, anyone with a brain was appalled, and curious to see how Jay-Z would react.
Lo and behold, the site was packed at showtime—everyone came, and the excitement practically glistened. Jay took the stage wearing shades and a guitar, and proceeded to knock out a verse from Oasis's "Wonderwall" before launching into a deliciously appropriate "99 Problems." Then he started to freestyle—no music, no beat, even; just him. And it was astonishing, to the extent that even Jay himself seemed amazed by his lyrical, imaginative prowess, line after line after line. At the end of one excursion, he removed his shades and just grinned at the crowd. One hundred thousand people roared back in unison.
And now, these Brooklyn shows, wherein Jay-Z has sold out eight nights at the Barclays Center: To what do we attribute this man's enormous global success? There is his extraordinary flow, which to this writer's mind sails past Bob Dylan's famous '66 word-association freestyle. There's his rock-star persona, a confidence that declares itself with a shrug ("I feel bad for you, son") rather than a boast; his humor ("Ah, yes!") and sexiness (stick on a copy of '96's breathy, squelchy "Ain't No Nigga" for evidence of that). And a self-awareness that came to the fore on last year's Watch the Throne, via a poignant and profound exploration of the black American experience.
One can of course throw in some starry details: the fact that Jay-Z is married to Beyoncé, herself an emblem of newness and societal restructuring (remember her appearance at the presidential inauguration), and how last week, the couple hosted a $40k-a-plate fund-raising ball for President Obama. Then there's the Barclays Center itself; media mogul Jay is part owner of the Nets basketball team, whose move to Brooklyn means that the borough has a major-league sports team for the first time since 1957. Local boy made good.
Oh, the list goes on. Very likely you have your own reason for thinking that Jay-Z is one of the truly great stars of our era. And no doubt you'll thrill when Jay removes his shades at these homecoming shows, and smiles at what he's created. Ah, yes!
Jay-Z plays the Barclays Center Fri 28–Mon 1, Wed 3, Oct 4–6.
Follow Sophie Harris on Twitter: @SophieMeve