Heads up! We're working hard to be accurate – but these are unusual times, so please always check before heading out.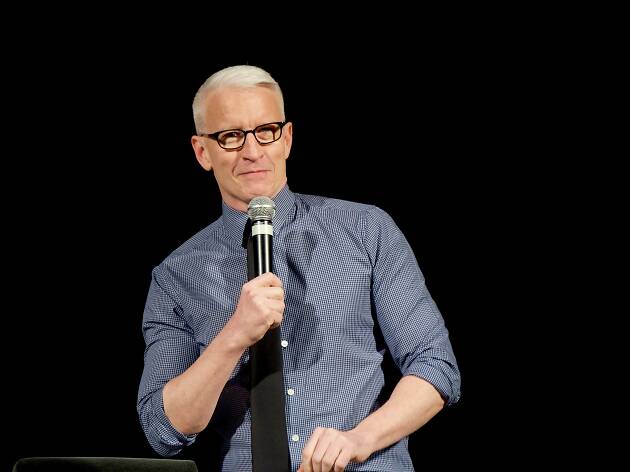 Anderson Cooper on his favorite haunts and childhood memories in NYC
We got Cooper to open up about his favorite restaurant, local memories and his upcoming live storytelling show, AC2.
Journalist, silver fox, intrepid jogger—there are many ways you could describe CNN newscaster Anderson Cooper. But labels aside, the man is a born-and-bred New Yorker, even if he doesn't eat like one (after all, he prefers the Soylent meal-replacement diet). Still, we got Cooper to open up about some of his favorite restaurants and local memories as well as his upcoming live storytelling show, AC2 (Beacon Theatre; June 21, 22), cohosted by TV personality—and Cooper's dear friend—Andy Cohen. "It's not a night of serious politics," says Cooper. "It's a night of really funny stories—all true—and just weird things that have happened to us. A lot of people will come up to me and say, 'I wish I could get a drink with you.' That's basically what this night is. The bar is very open."

His favorite haunts: Club Cumming + Raines Law Room
"Club Cumming is a spot unlike any other. It's like going to a Berlin cabaret, and Alan Cumming often performs there. Beyond that, I like Raines Law Room. It's not technically in the Village—it's on 17th Street—but I think it has a Village-y, speakeasy feel."

His meal of choice next to Soylent: OatMeals
"This is one of my favorite places in New York. It's a tiny hole-in-the-wall that offers nothing but oatmeal. There's a fixins bar, and it sells oatmeal muffins and oatmeal cookies. It's very big with NYU students."
His weekend activity: Pace Gallery
"A good day is one spent looking at art. That's something I very much enjoy. I go to Pace Gallery to see what they have going on. I also like to see what's up at some of the other Chelsea galleries, like the [Jack] Shainman or the [James] Cohan.
His go-to restaurant: II Mulino
"In the Village, there's an old-school Italian restaurant I like that's right next to my house. We share a wall. It's small and very over the top, but it's really good."
Memories from his childhood: Studio 54
"My mom [Gloria Vanderbilt] took me to Studio 54—twice—when I was 11 years old. To me, that is (a) the most quintessential New York thing and (b) an irresponsible parent thing. It was interesting. My parents were both very active socially and involved in the arts. We would have Truman Capote over for dinner or Gordon Parks and Charlie Chaplin. When [Chaplin] first left exile and came back to America, he came to New York first and had a party at my parents' house. I had a very strange upbringing."
Want more My New York?
Suffice it to say, NYC is home to the greatest artists, club kids, DJs, drag queens and personalities the world has to offer. So we asked some of our favorites about their most beloved things to do in NYC, from low-key thrift shopping to all-night partying. Heed the masters!