Photo tour of Times Square in New York City
This New York neighborhood may be best known as a crowded tourist destination, but you can still find evidence of its gritty past and historic landmarks. See these sights in our photo tour of Times Square.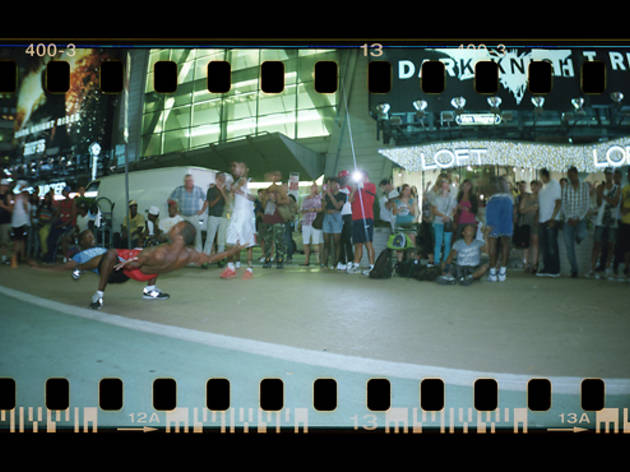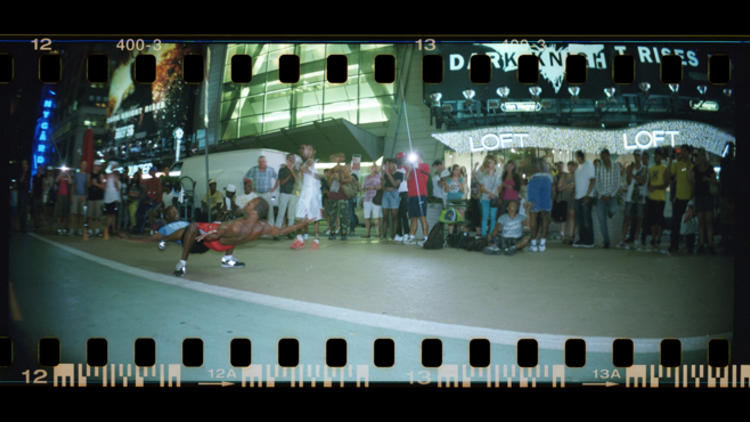 1/22
Photograph: David Gettens
Groups of local dancers—including the Positive Brothers, pictured—gather in Times Square to perform their routines for hundreds of tourists at a time. "We perform all over, but you can't beat this spot's atmosphere," says Andrew, 30. "We meet a lot of friendly people, and yeah, [Laughs] we can make a lot of money."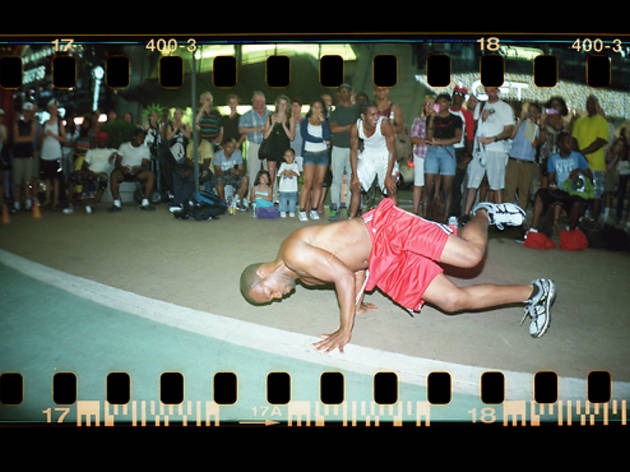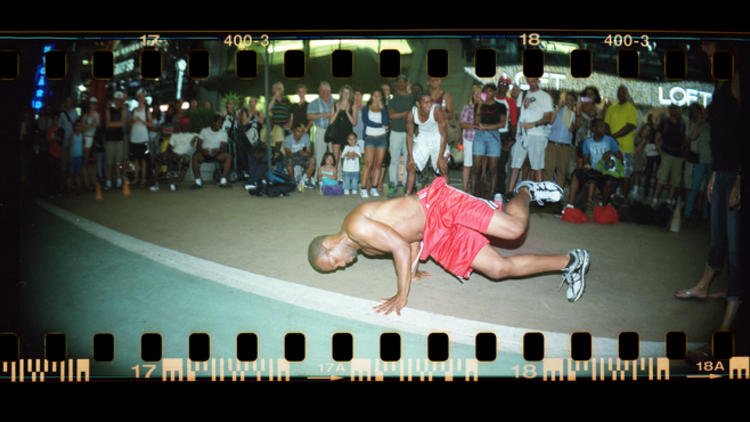 2/22
Photograph: David Gettens
"We've been performing together for about ten years," says Andrew. "Our shows are our practices. You've got to have fun with it if you're gonna draw the crowds in." The group holds public rehearsals daily in various locations around the city, including subway stations.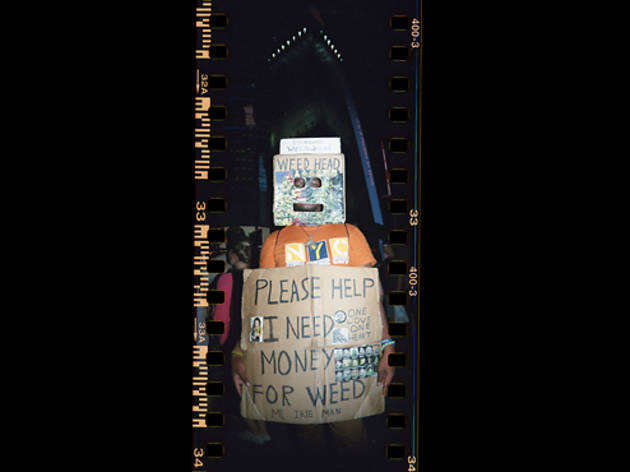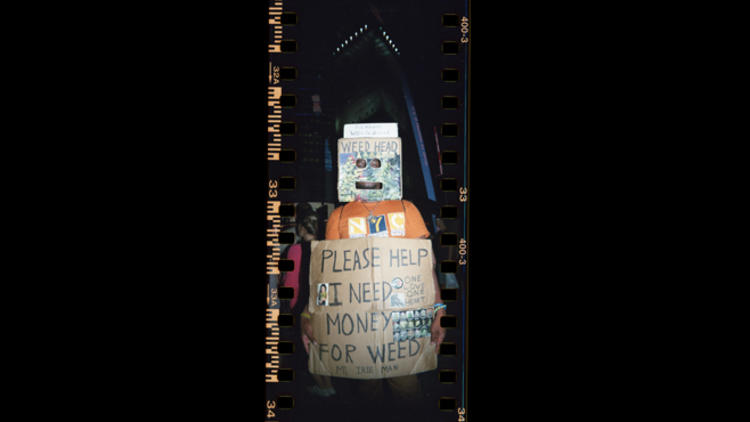 3/22
Photograph: David Gettens
The characters found in Times Square go beyond cartoon doppelgängers and the Naked Cowboy. We stumbled across this gentleman, who attracted a fair amount of attention from passersby. "This sign right here? This is money. I'm a chef and I love my job, but this pays more—maybe $150 a day, $200 on weekends," he says. "There's a lot of weed fiends in Times Square, and I even get a lot of friends on Facebook."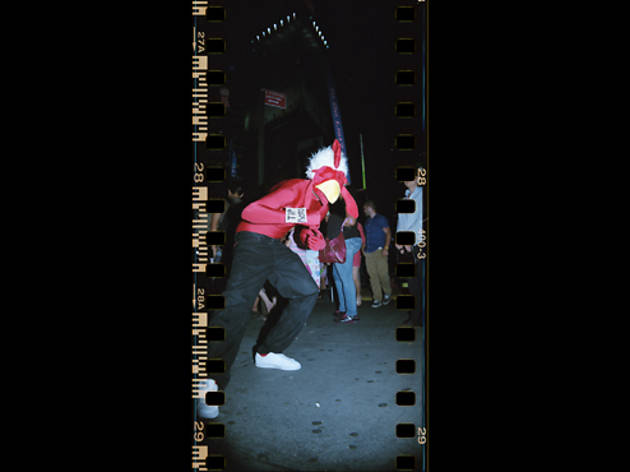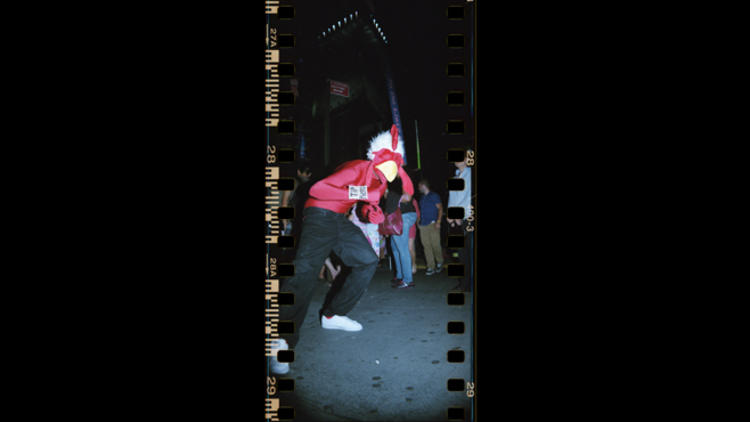 4/22
Photograph: David Gettens
"I'm the Angry Bird," says another impersonator, who was chatting up Weed Head when we noticed him. "Everyone loves that game, man. Kids, grown-ups, everybody. Like you wouldn't believe. I'm an entertainer. Just don't throw no pigs at me."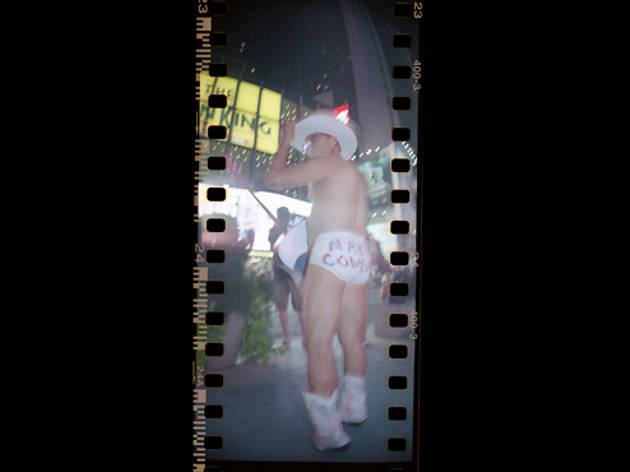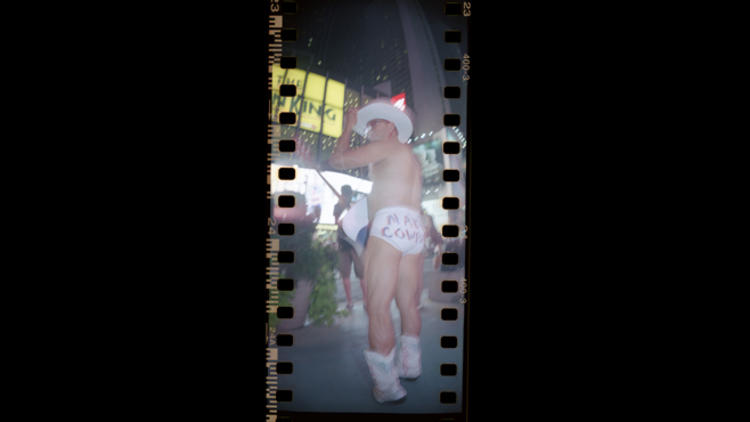 5/22
Photograph: David Gettens
The original Naked Cowboy started strutting his underwear-clad stuff in Times Square more than a decade ago, and he's done so well that he's been franchising his signature gig for several years. "I'm the newest Naked Cowboy, I've only been here a month," explained this performer. "There are three of us now. See that one over there? He's been here three years, and now he drives a Maserati."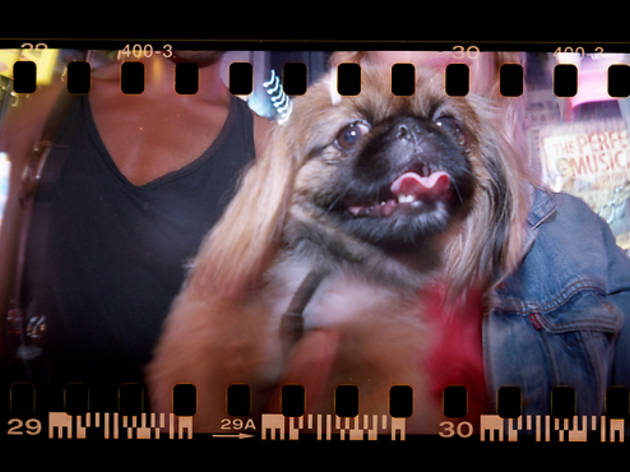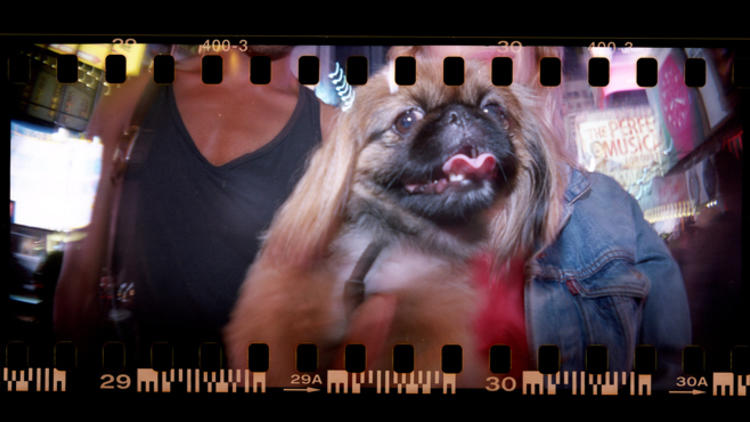 6/22
Photograph: David Gettens
"I skipped Times Square the other times I'd visited New York, because I'd seen it a million times in movies. This time I wanted to experience it for myself," says Los Angeles native Daniella. "It's not as intense as I expected it to be, even with Gizmo here." Their friend and tour guide, Jeffrey, sees it differently. "Normally, I stay the hell away from Times Square—I live near Prospect Park—but they're visiting, so here I am."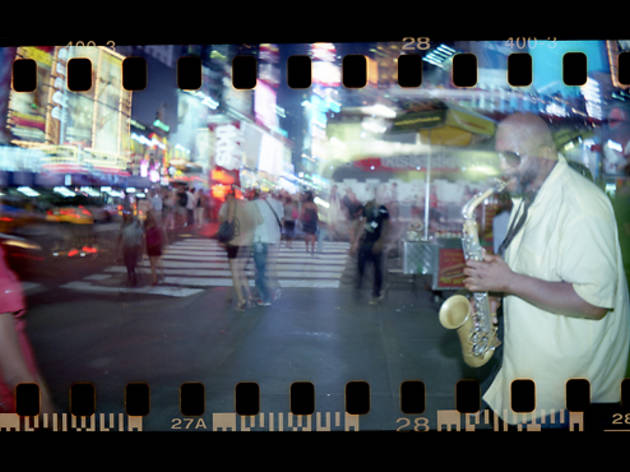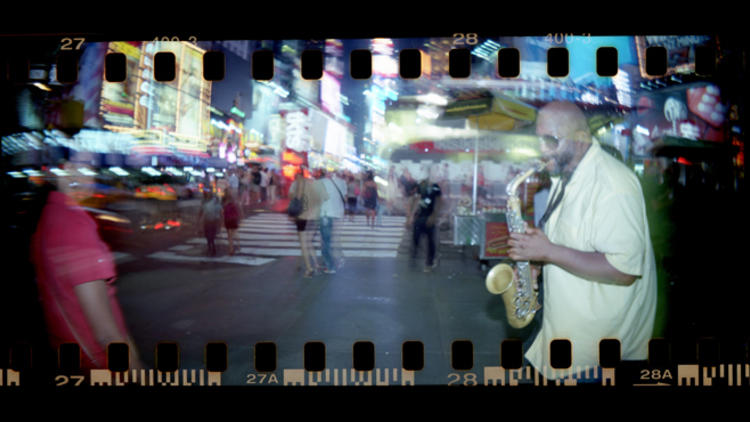 7/22
Photograph: David Gettens
"I'm the Silver Dude. I've been doing this for about a year and a half. My uncle, the Gold Dude, trained me on how to mime and how to stay completely still. I even met my lovely wife doing this. She walked up to me when I was frozen; I moved and gave her a look. She jumped, laughed, and that was that."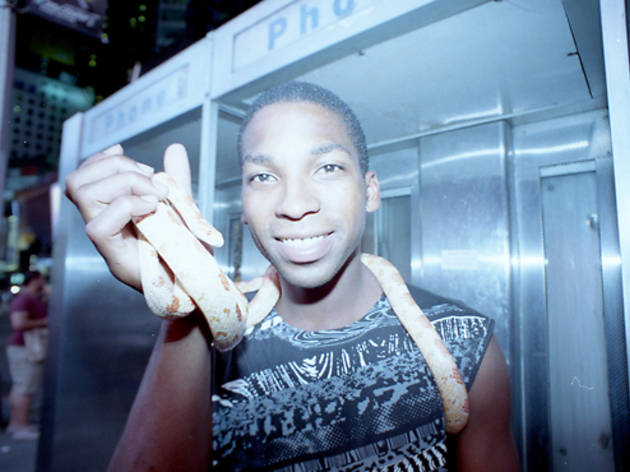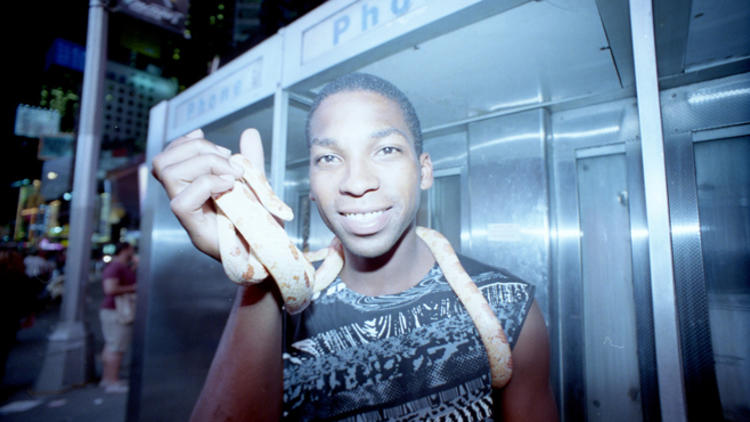 8/22
Photograph: David Gettens
"This is a corn snake," says Robert, 26, from Queens. "I saw other people with animals out here and I breed snakes, so I figured why not give it a try. I've been doing this about a month. It scares people sometimes. They don't notice it until they get real close." Some pedestrians pause for a picture with Robert and his scaly friend, but others scurry away once they notice the serpent.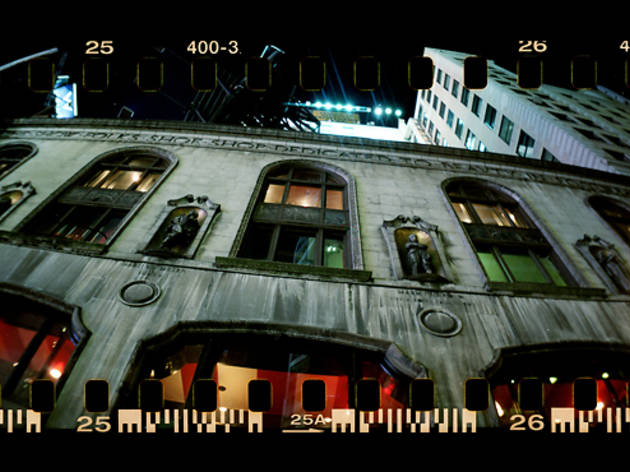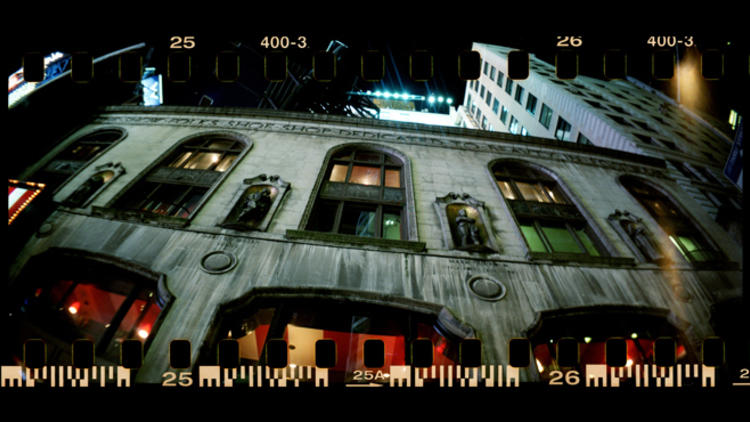 9/22
Photograph: David Gettens
Most people don't associate T.G.I. Friday's with historic landmarks, but the Times Square outpost of the national chain is located in the I. Miller Shoes Building, which was erected in 1929. The limestone facade features statues of four of the era's beloved actresses in their most famous roles: Ethel Barrymore as Ophelia in Hamlet, Marilyn Miller as the title character from the musical Sunny, Rosa Ponselle as Bellini's Norma and Mary Pickford in the starring role of the 1921 film Little Lord Fauntleroy. T.G.I. Friday's,1552 Broadway at 46th St (212-944-7352)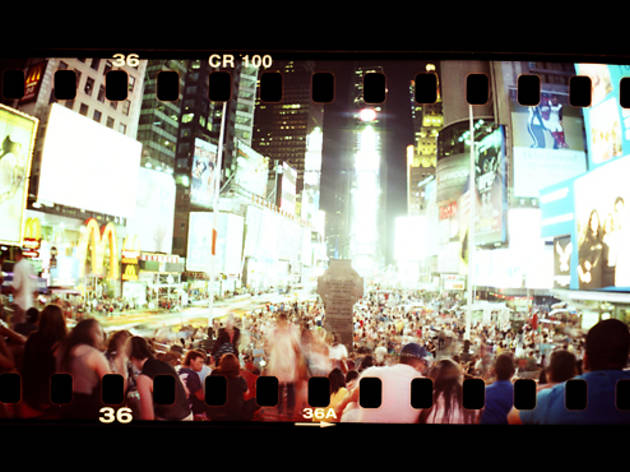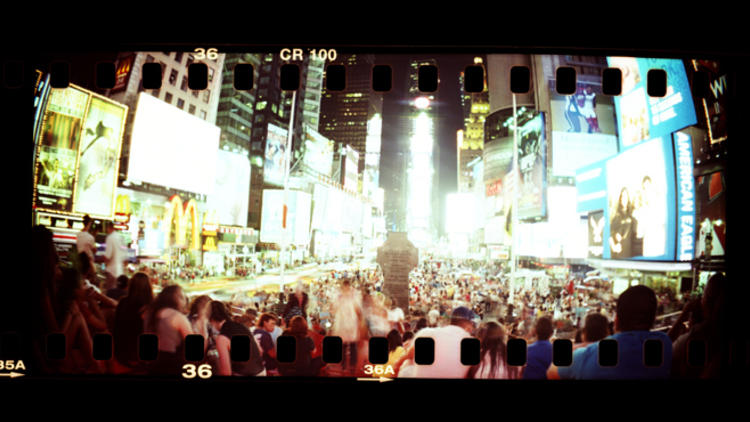 10/22
Photograph: David Gettens
Father Duffy Square takes up the northern end of the neighborhood, situated along Broadway and Seventh Avenue from 45th to 47th Streets. It's dedicated to Francis P. Duffy, a Roman Catholic priest who became the most decorated chaplain in U.S. Army history. The red bleachers facing the monument's back serve as the roof to the TKTS booth, another Times Square landmark. W 47th St between Broadway and Seventh Ave (tdf.org/tkts)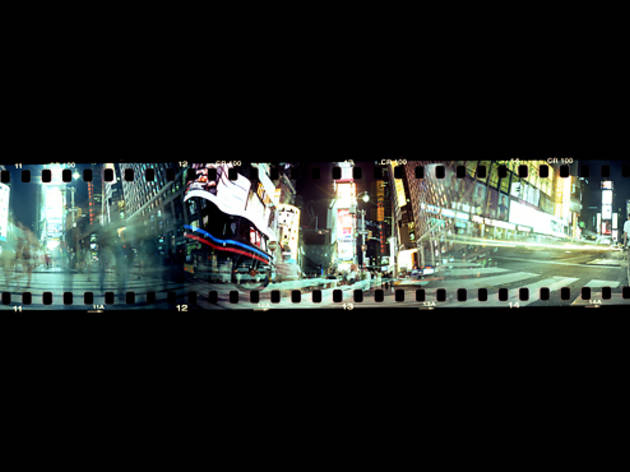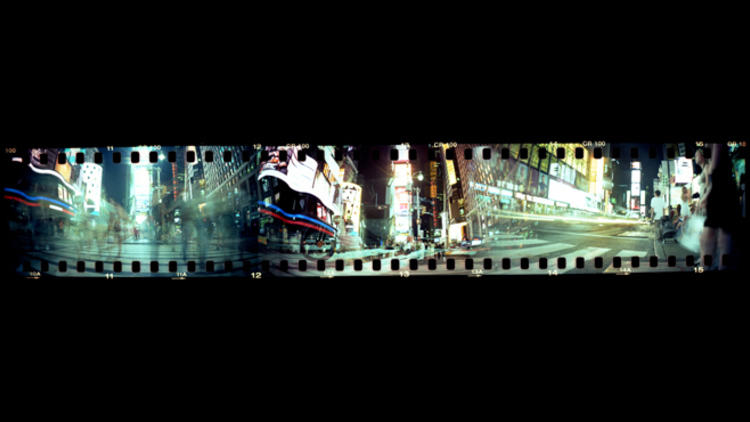 11/22
Photograph: David Gettens
The abundance of neon in Times Square isn't just there in the spirit of tradition. As of February 2011, every business on Broadway is required by law to have an illuminated sign of at least 1,000 square feet for every 50 feet of storefront space. Legislators wanted to help preserve the historic feel of the 'hood, which is known for the size of its skyscrapers and for its glowing signage.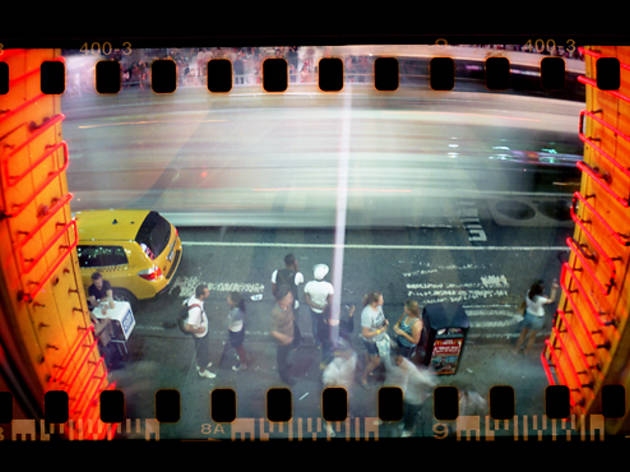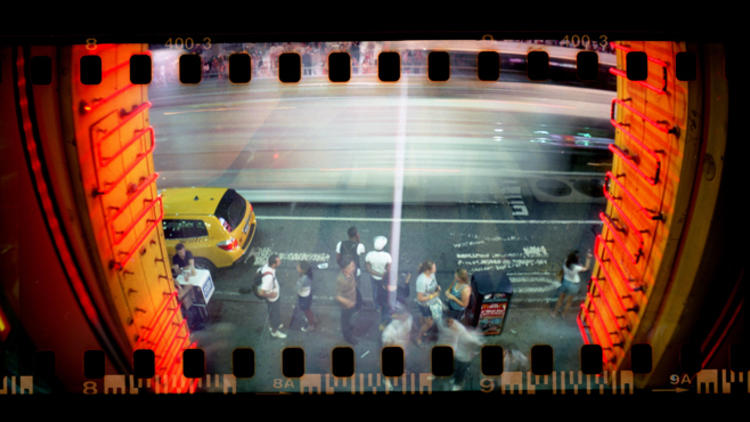 12/22
Photograph: David Gettens
But not everyone sticks to just the minimum-required wattage. The Times Square McDonald's is open 24 hours a day year-round, and the restaurant's rows of neon can be seen from down the block. Dodge the horde clamoring for McNuggets and run upstairs for a bird's-eye view of 42nd Street. 220 W 42nd St between Seventh and Eighth Aves (212-840-6250)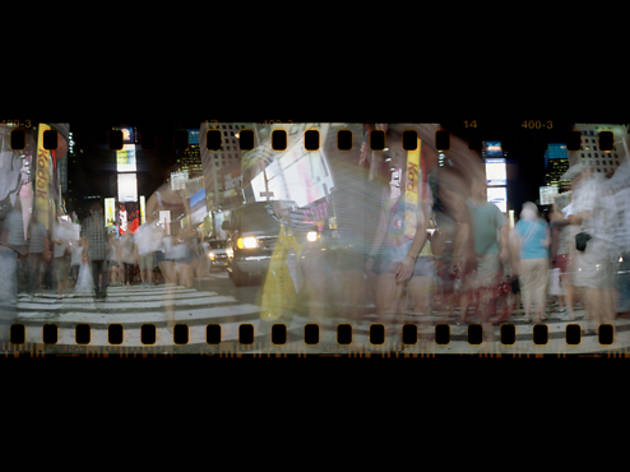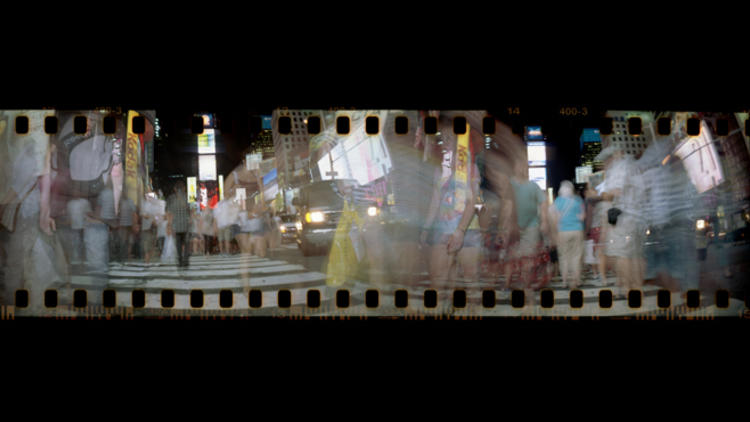 13/22
Photograph: David Gettens
According to the Times Square Alliance, more than half a million people walk through the neighborhood every day, with another 10 million catching glimpses of it on TV shows such as Good Morning America. On New Year's Eve, the area is sectioned off to hold approximately one million revelers.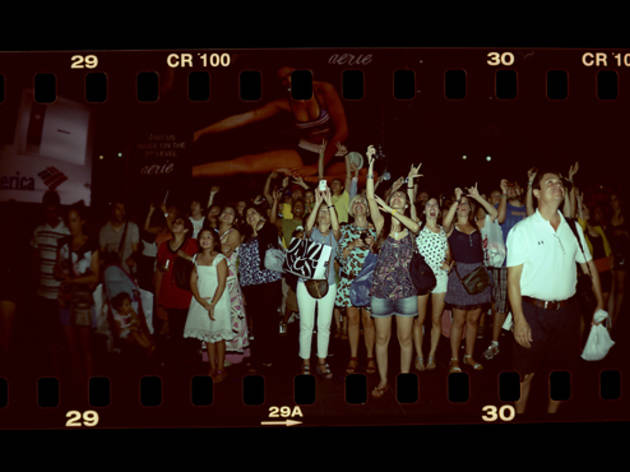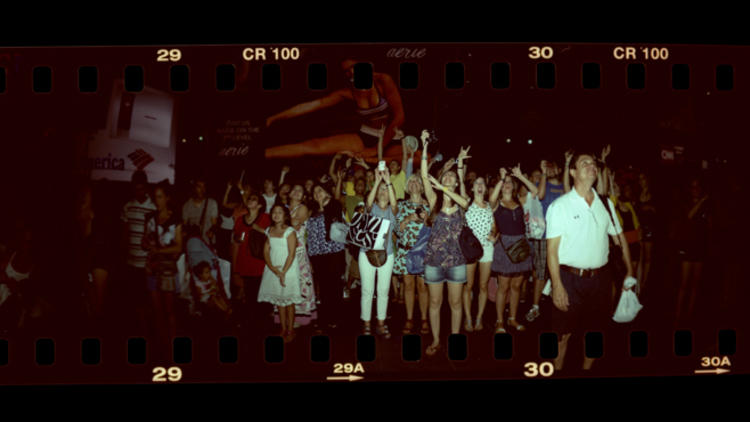 14/22
Photograph: David Gettens
Instead of putting up ads that people may just ignore, Forever 21 and other businesses are trying to grab attention by using signs that people can interact with. Cameras focus on the crowd to give each person a moment in the spotlight as they pass by. 1540 Broadway between 45th and 46th Sts (212-302-0594, forever21.com)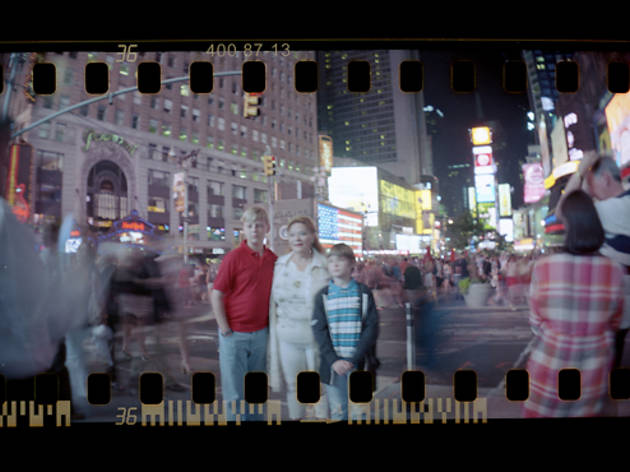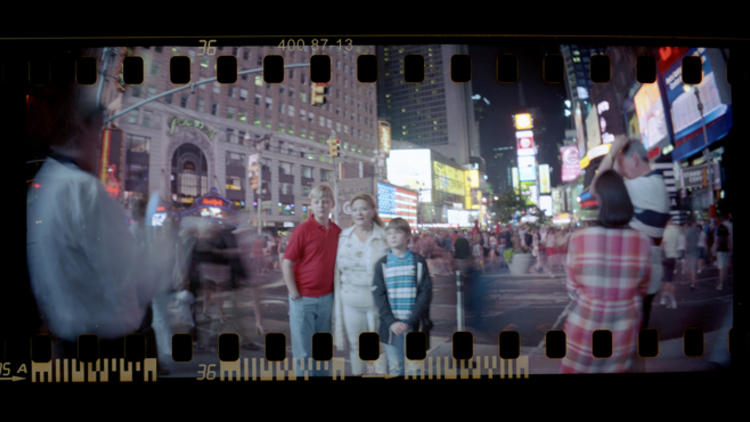 15/22
Photograph: David Gettens
Paramount Pictures built this Art Deco theater in 1927, and it screened films and plays until it closed down in 1964. The marquee and arch were restored in 2001 with funding from the World Wrestling Federation, which operated the WWF New York chain restaurant at that location from 1999 to 2003. The building now houses the Hard Rock Cafe. 1501 Broadway at 43rd St (212-343-3355, hardrock.com)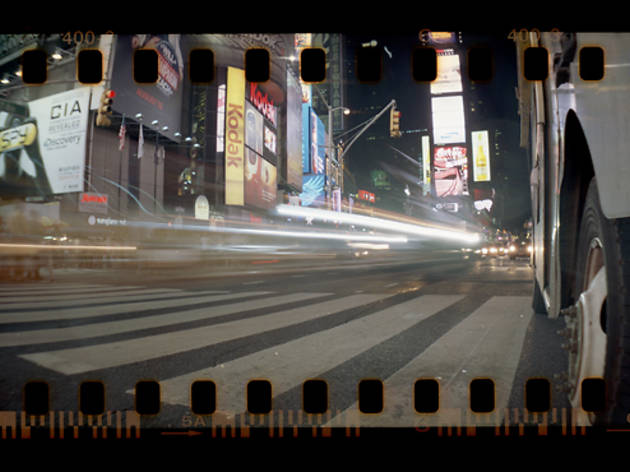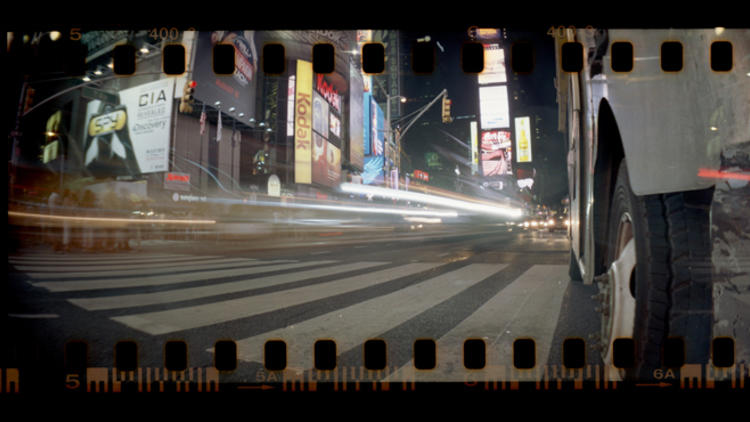 16/22
Photograph: David Gettens
One Times Square, also known as the New York Times Building, was built in 1904 as the home of the city's most famous newspaper. Today, the building is covered in more than 16,000 square feet of advertising, including the biggest digital display in all of Times Square, which rotates to feature different brands on its three sides. 1475 Broadway at 42nd St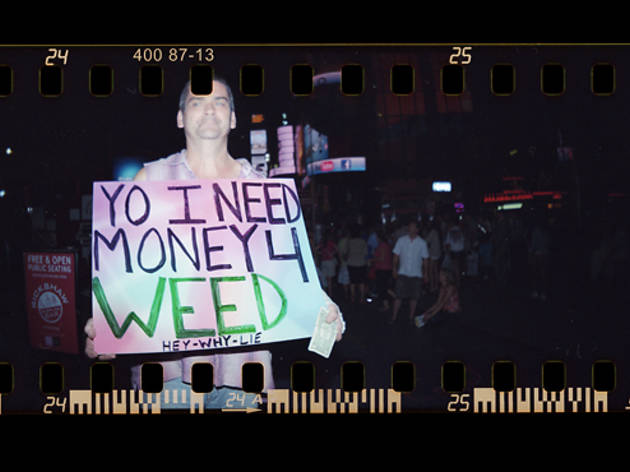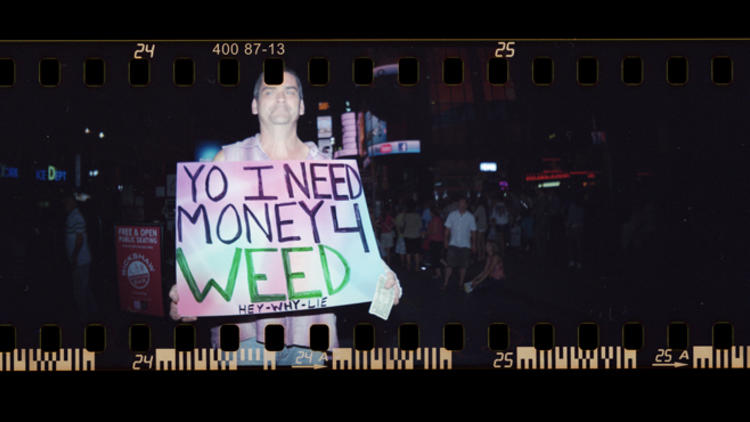 17/22
Photograph: David Gettens
The sheer volume of foot traffic in Times Square has made the area a mecca for buskers and panhandlers of all sorts. While some take the usual route of simply asking for change, many have realized that being creative will go further toward earning a buck.

"Lots of people think they can just show up with any old sign and make money, but it's not that easy," says one sidewalk entrepreneur, who asked to remain anonymous. "Those i want weed signs have been all over the place lately. People understand, they get it, and they laugh."

"If you really want to rake it in, you've got to get a costume. Us guys with signs have to keep moving all day, all night if we want to make any money. Once you get a costume you can stay in one spot, and they'll come to you. The best ones are superheroes and characters from kids' shows. People always go nuts for those. Just don't let anyone snap any free photos—I mean anybody. Unless she's really hot—then I guess it's all right."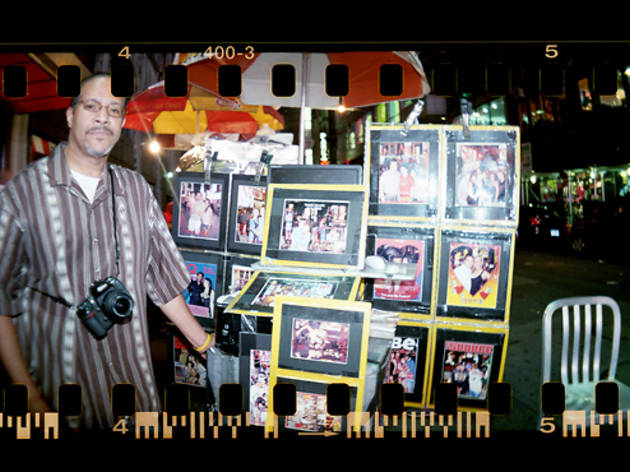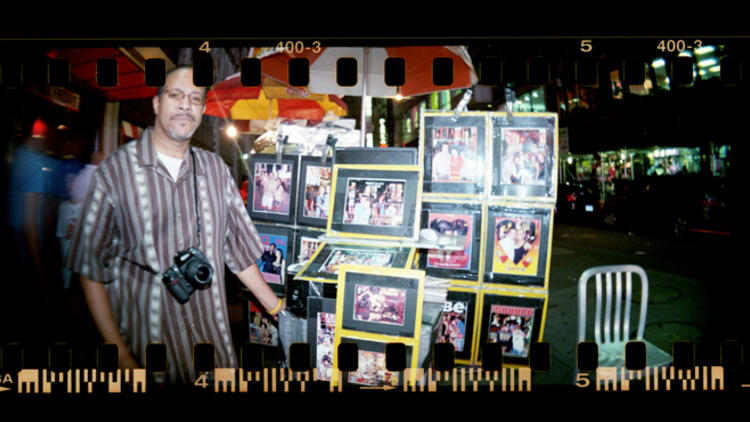 18/22
Photograph: David Gettens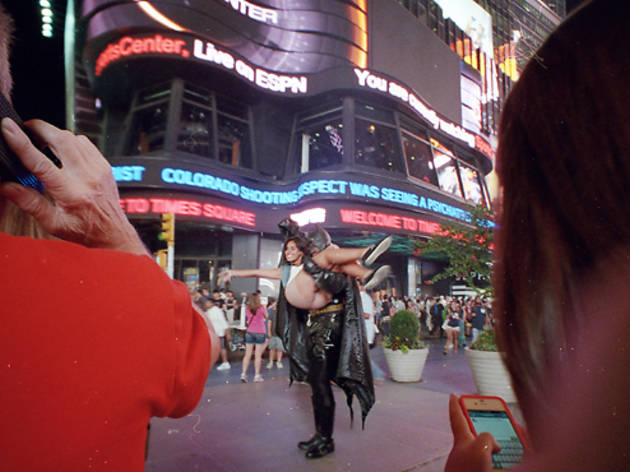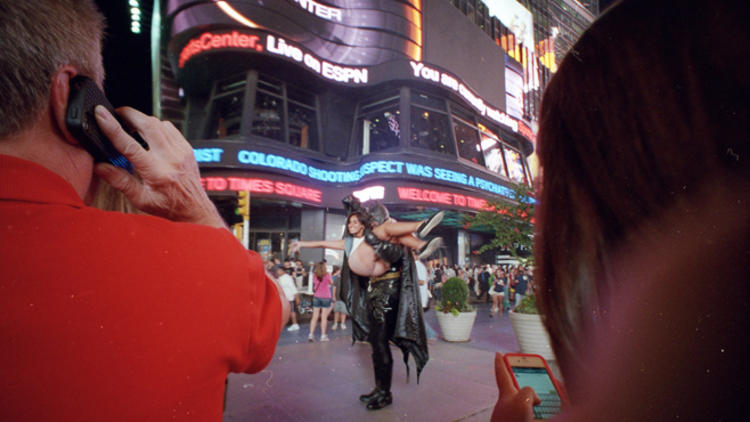 19/22
Photograph: David Gettens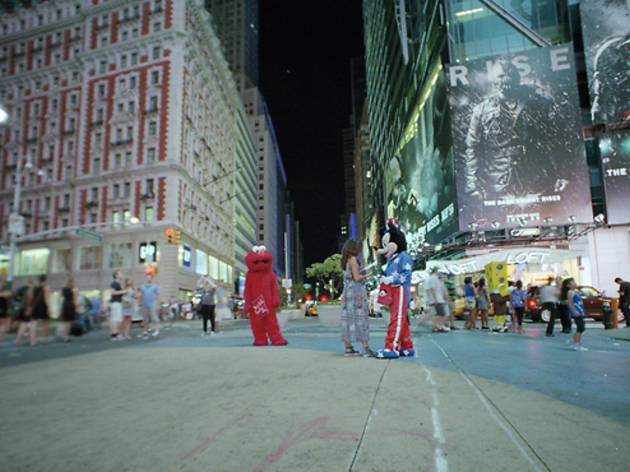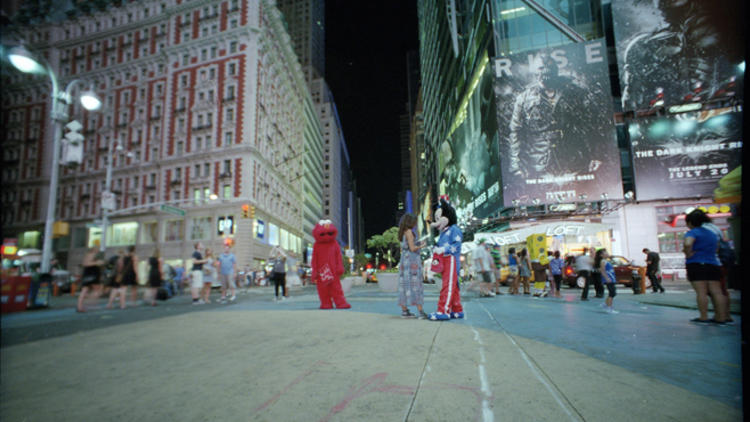 20/22
Photograph: David Gettens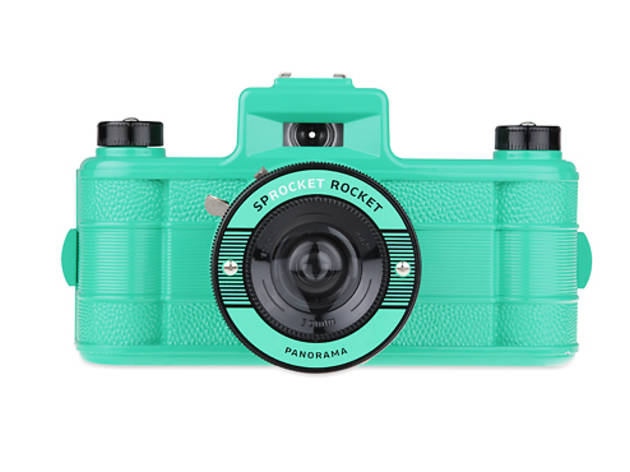 21/22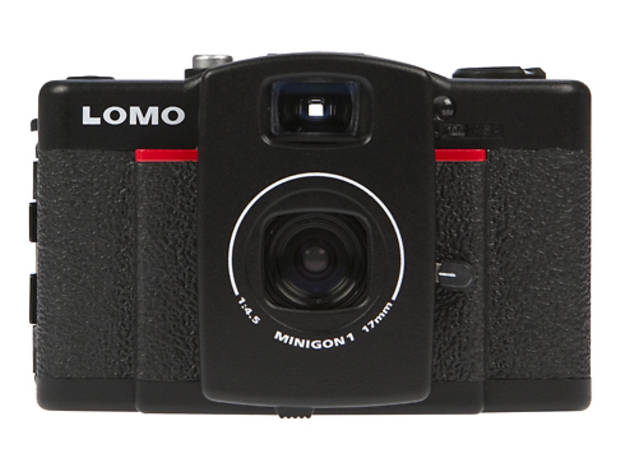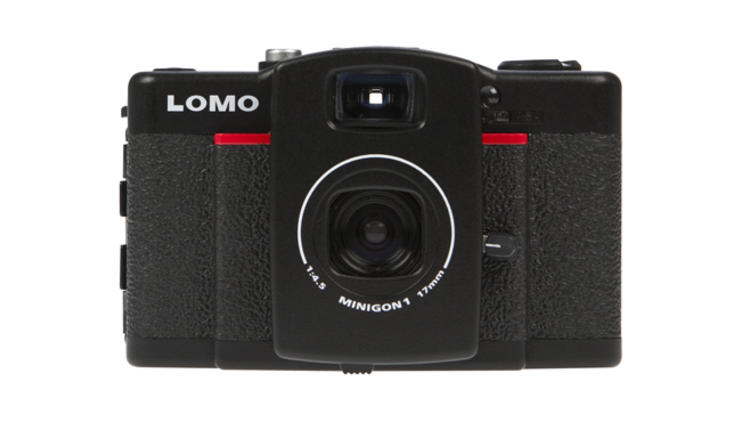 22/22
Photograph: Adrian Bilek
RECOMMENDED: All New York neighborhood photo tours
When asked whether they prefer the new or old Times Square, many locals immediately respond: neither. Thousands of tourists swarm the area, while New Yorkers tend to stay as far away from the crowds as possible. But the spots that now house cheesy souvenir stores used to be home to a much darker scene.
In 1904,
The New York Times
moved into what was called Longacre Square, at the intersections of 42nd Street, Seventh Avenue and Bloomingdale Road (now known as Broadway). A grand opening party for the Gray Lady doubled as a holiday celebration in 1904. The
Times
moved out less than a decade later, but the name stuck. And although high-class amusements like Broadway shows were popular with New Yorkers, after the start of the Great Depression, the area was overtaken by seedier elements, such as prostitution and peep shows. The longest-lasting was Peep-O-Rama, which was open from 1950 to 2002; its bright red signage can be found at the
Times Square Museum & Visitor Center
(1560 Broadway between 46th and 47th Sts, timessquarenyc.org).
That didn't stop the spread of the neighborhood's trademark neon beacons. Both legitimate theaters and adult cinemas favored large-scale flashing lights to draw customers. Thanks to those glowing emblems, Times Square is the most visible spot in the city when viewed from the air. Current zoning laws even require that businesses post illuminated signs measuring at least 1,000 square feet for every 50 feet of sidewalk real estate.
In the 1990s, when Mayor Giuliani swept in determined to clean up Times Square, the porn shops and lowlifes were cleared out in favor of massive chain stores and restaurants. Crime rates dropped as tourists once again packed the area. (The Midtown South precinct reported 2,899 felony crimes last year, compared with 22,843 in 1990.) In its transformation from low-class spot to tourist destination, the neighborhood has never fallen short on entertainment. But proof of Times Square's grittier, glittery past is still there—you just have to look harder to find it.
You might also like
Secrets of Times Square
The ultimate Times Square eating and drinking guide
Photos: Art Takes Times Square by Chashama and Artists Wanted
Explore neighboring Hell's Kitchen
See more in New York Neighborhoods