Nearly every artist has their fixation, and for two years, Vincent Van Gogh was possessed with the challenge of capturing the cypress trees that surrounded him in France toward the end of his life.
You'll be able to see this glorious obsession firsthand at The Metropolitan Museum of Art's major summer exhibit, "Van Gogh's Cypresses," opening May 22 and running through August 27.
And it is history in the making as it is the first exhibition to focus on the artist's cypress trees, reuniting some of his most iconic paintings, including "Wheat Field with Cypresses" and "The Starry Night" and other rarely lent works.
RECOMMENDED: Yayoi Kusama's new kaleidoscopic infinity room is now open in NYC
By now, you've surely seen his cypresses—the towering, swirling trees dotting his frenetic landscape paintings—but you've never seen them like this.
"The show is a dream come true," said Max Hollein, Marina Kellen French Director of The Met. "Marking the 170th-anniversary year of Van Gogh's birth, this highly focused survey unpacks his distinctive vision of the commanding cypress trees. A once-in-a-lifetime gathering of works presents both an overview and an intimate glimpse of his creative process, challenging prevailing notions with fresh insights."The trees Van Gogh painted, which were a fixture of Provence, France where he was living when he created these paintings (1888-1890), were not so much background characters in his works but recurring stars. According to The Met, Van Gogh was taken by these flame-like cypresses from the beginning of his two-year stay in the South of France. In letters to his bother, he expressed a "need" to paint them.
"To find the real character of things here, you have to look at them and paint them for a long time," he wrote.
For centuries, these trees were associated with death, rebirth and immortality, but they had also been seen as protectors of the region's cold, merciless winds. The Met says this symbol resonated with Van Gogh's "profound appreciation for the enduring and consoling aspects of nature."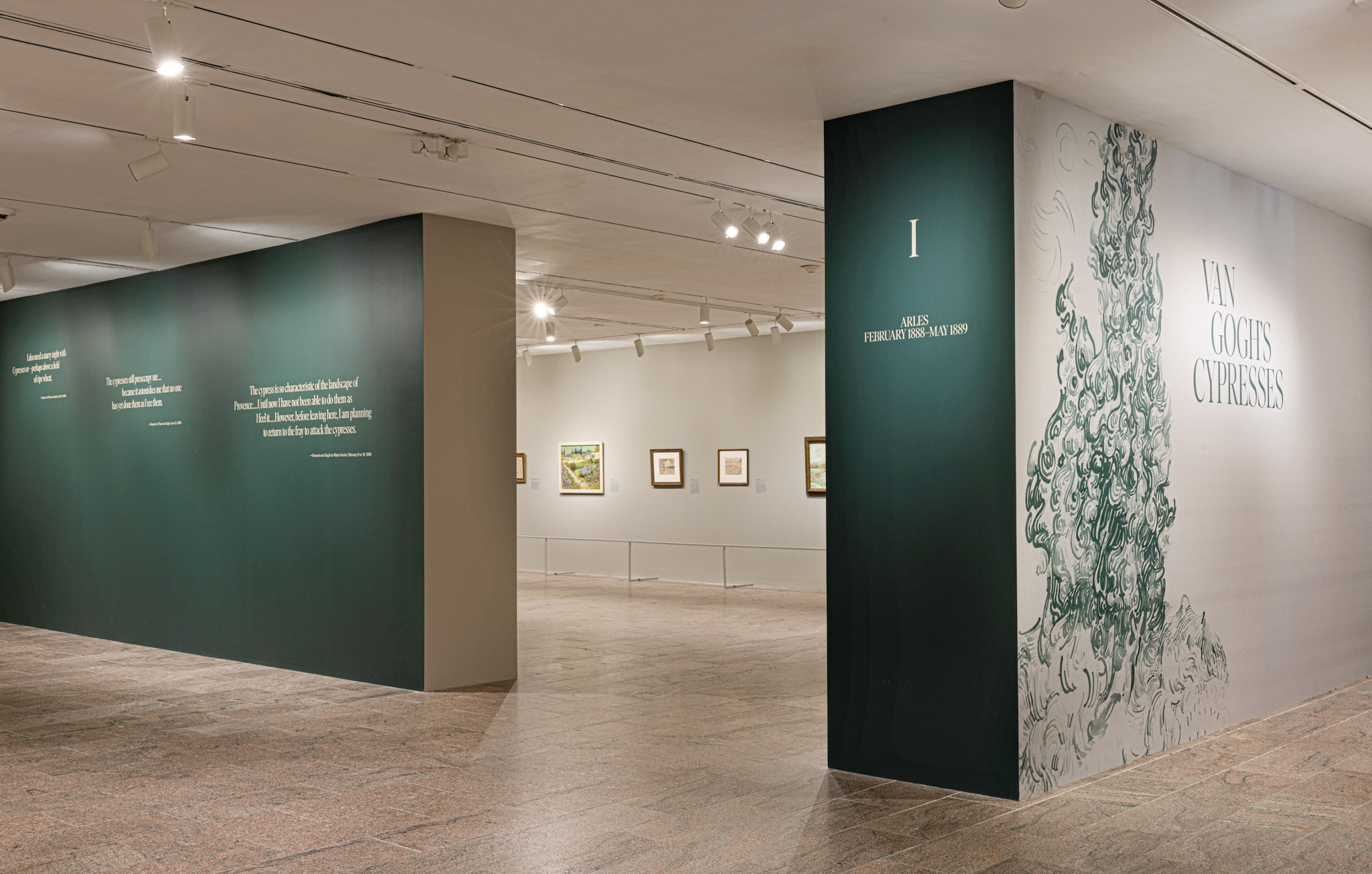 The exhibition is broken up chronologically into three sections, spanning 40 Van Gogh artworks, to tell the artist's perspective of capturing these flora fixtures.
Below, take a look at what you'll see inside "Van Gogh's Cypresses" this summer.
The Roots of his Invention: Arles,
February 1888 – May 1889
Van Gogh spent 15 months in Arles, where he first became enamored with painting the trees. He writes to his brother Theo about how he needed "a starry night with cypresses—or perhaps above a field of ripe wheat."
He was at this moment motivated to "give them a signature form," the Met explains in the show.
In this section, you see a drawing from Arles from March 1888 picturing a pair of cypresses and pollard willows, quaint drawbridge scenes and picturesque portrayals of blossoming orchards.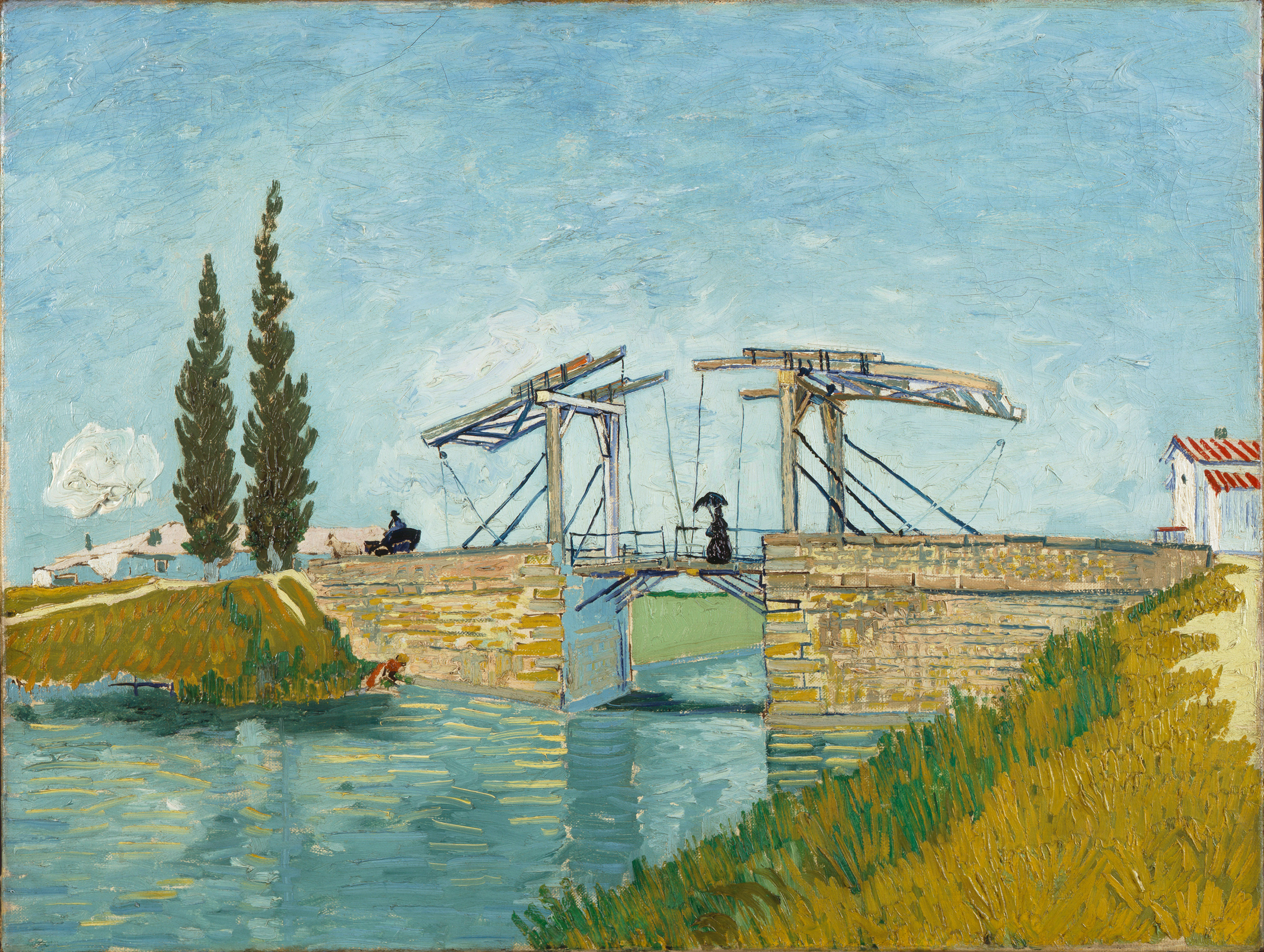 The Making of a Signature Motif: Saint- Rémy,
May - September 1889
Facing surmounting mental illness, Van Gogh moved to the asylum in Saint-Rémy in June 1889, and despite his setback, it was here where he launched a "momentous" painting campaign that produced some of his most iconic images of cypresses, The Met notes.
In this section, these trees become even more of a role in his art, as seen in the famous "The Starry Night," on loan from the Museum of Modern Art, and "Wheat Field with Cypresses." These two are displayed alongside each other for the first time since 1901 when they were shown in Paris. The Met also displays a painting Van Gogh made of the trees as seen through a window in his studio and a letter in which he writes that he is "the cypresses still preoccupy me … because it astonishes me that no one has yet done them as I see them."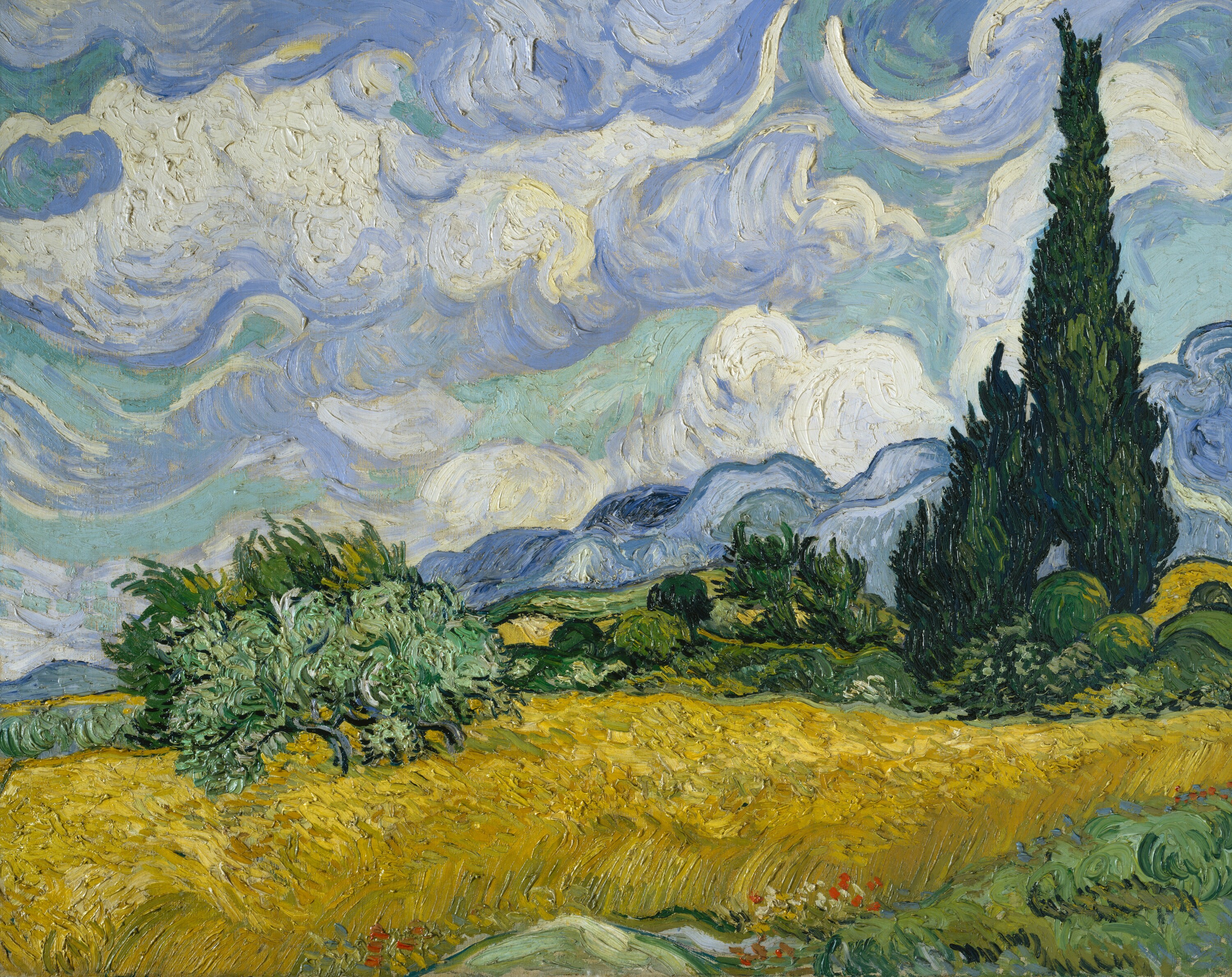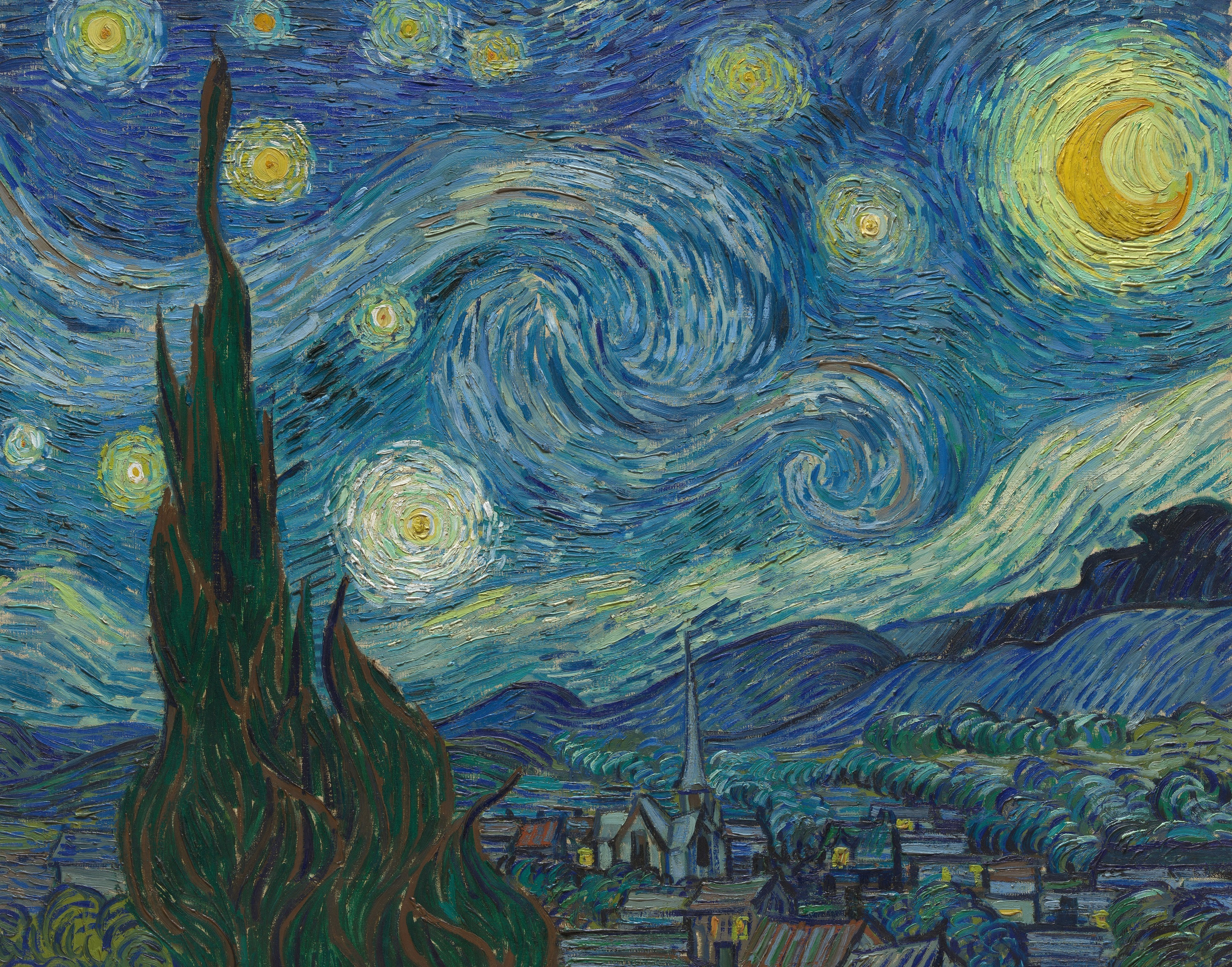 Branching Out in Style: Saint-Rémy,
October 1889 – May 1890
The final section follows Van Gogh's preoccupation with the trees in the final months of his time in Provence. Again, despite a break in his mental health, he returned to painting outdoors for a "last try" to capture the trees in a starry setting. His determination and resourcefulness are rewarded—the show ends with his incredible painting of the cypresses paired with a crescent moon and a wheat field, the stunning complementary colors in the scene burst to life.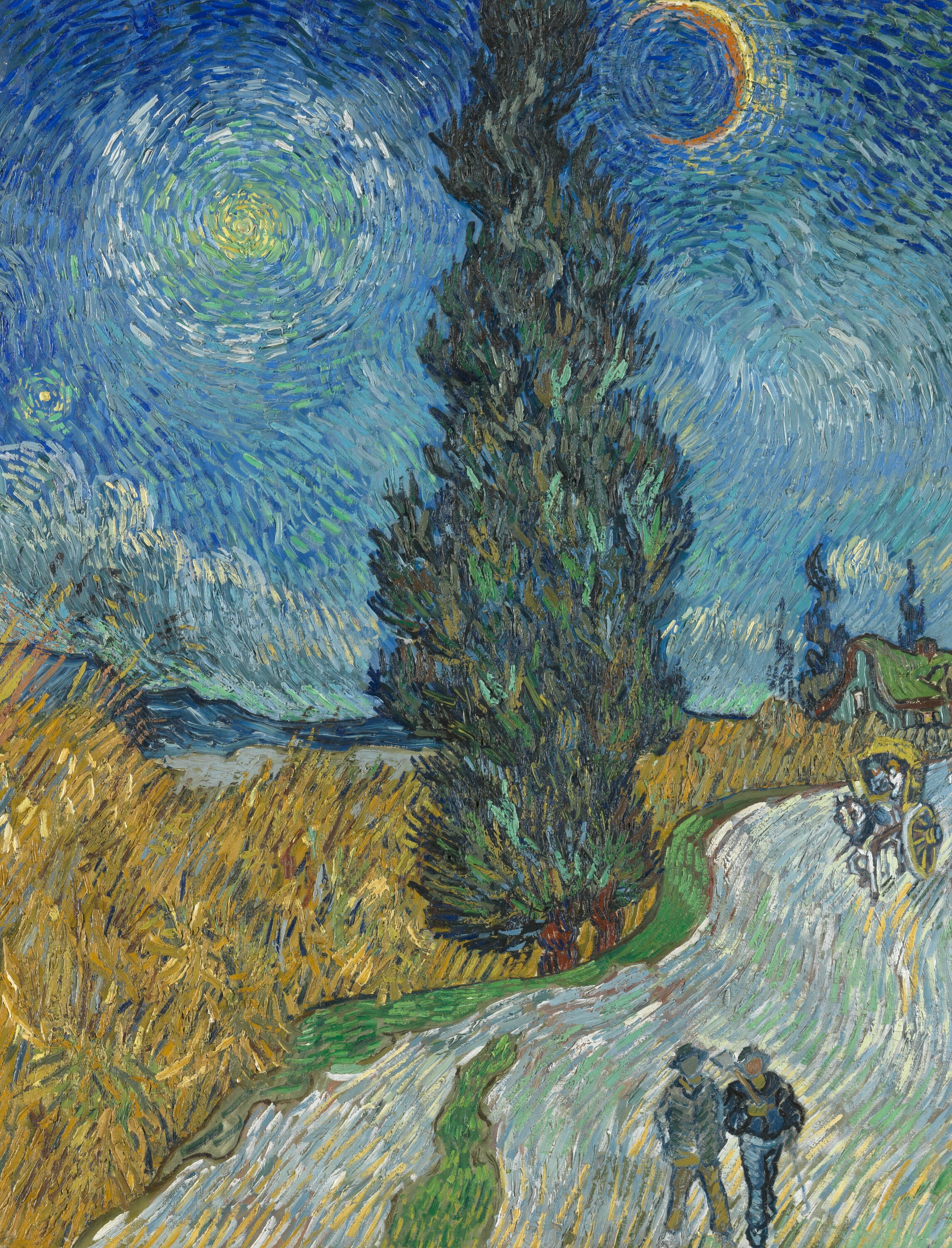 "Van Gogh's Cypresses" will be on display at The Met starting May 22 and running through August 27. Tickets are pay-what-you-wish for New York residents.