A full moon, crossbones and, of course, some pointy canines litter the lyrics of indie-rock duo Bat Fangs. Pass those dark, supernatural elements through the prism of rip-roaring guitar, taut drumming and catchy hooks, and you have one of the young year's brightest releases: the band's riff-loaded self-titled debut, which came out February 2. The side project of Ex Hex bassist Betsy Wright and Flesh Wound drummer Laura King, Bat Fangs recalls the '60s girl-group sound of the Shangri-Las and the '70s glam-punk of the New York Dolls, along with bits of '80s pop-metal and '90s grunge. What's not retro is the tough, feminist, no-nonsense attitude, relayed in lyrics that touch on both the sweetness and the snarl of romance. On February 16, the pair brings its rock & roll bombast to Brooklyn's Union Pool. We caught up with Wright, who talked about getting into character, embracing the guitar and growing up on classic rock and Madonna.
How did you and Laura meet?
Ex Hex played a few shows with Mac McCaughan from Superchunk. He was doing a solo thing—Laura was playing drums for him. We hit it off as friends, hanging out after shows. I thought maybe we could do something. I sent her some demos, and she was the most enthusiastic. I couldn't believe she wanted to do it. We played for a few days in a row and then decided to go into the studio.
Were the songs written specifically for this record?
When I came home from tour [with Ex Hex], I would write songs. They didn't really seem to fit in with the Ex Hex songs. I wanted to do something a little different. And Ex Hex was on a break, "so I'll just start a little side project."
How is Bat Fangs' music different from Ex Hex's?
I just felt free to get a little bit weirder and to tap into some things I really loved when I was a little kid, which was hair metal and that kind of stuff. I feel Ex Hex is a little more punk, and these songs are a bit more pop metal. [Laughs]
"I just want to play the guitar and be loud."
There seems to be a dark vibe to the songs.
I think I was in a little bit of a dark place, but it's kind of tongue-in-cheek, also. It's like a metaphor. Everyone has a dark side. People really love horror movies because they get to tap into a different side of themselves that they wouldn't normally show. Part of it is I love to approach performance [as] getting into a character in a way, like Alice Cooper.

What's the backstory behind the group's latest single, "Rock the Reaper"?
Me and Laura were just jamming. She was doing a different drumbeat originally. I started doing the riff. Later on I [asked her], "Hey, can you do that drumbeat from 'We Will Rock You?' " Then we did it and we were both like, "Oh, this sounds cool!" I had that phrase "rock the reaper" because it's kind of like the opposite of "(Don't Fear) the Reaper." I was thinking about people who mess around with dangerous stuff and flirt with death, but then also not being afraid of that and living loud.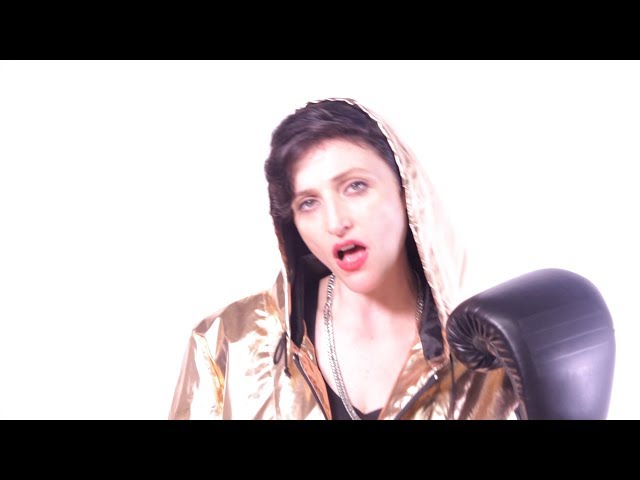 Along with singing lead, this project gives you an opportunity to play guitar.
I didn't play bass before Ex Hex. As time went on, I began to understand the role of the bass better, so I was able to approach the Ex Hex songs from a different point of view. But I really gravitate towards the guitar in general. I just want to play the guitar and be loud.
You're based in the D.C. area. Were you into the city's hardcore music scene?
I'm from Virginia. I grew up listening to the Beatles and my dad's records. I didn't start going into D.C. until high school, and by that time [the hardcore scene] was over. Basically, in the '90s, I listened to all classic rock, Led Zeppelin, Jimi Hendrix, and also Beastie Boys and Nirvana.
I also heard that Madonna was a musical influence on you.
Definitely, as a kid. Like a Virgin and True Blue were some of the first records I had. I wore them out: I listened to them all the time and I watched her on MTV. I was listening to Madonna yesterday in my car. I just love her so much.
As for Ex Hex, are there plans for another record?
We're actually working on it. We're still working on songwriting, and we did start recording. It's been sort of a long process because we're just trying to make everything perfect. We'll hopefully get something out and start playing shows.
Bat Fangs plays Union Pool Friday, February 16 at 8pm (union-pool.com). $10–$12.