Rats better watch out!
NYC has finally crowned its first-ever "rat czar," the newly created Director of Rodent Mitigation.
Her name is Kathleen Corradi and her mission is to eradicate the city's rat problem (a tall task if you ask us).
"New York may be famous for the Pizza Rat, but rats, and the conditions that help them thrive will no longer be tolerated—no more dirty curbs, unmanaged spaces, or brazen burrowing," Corradi said today. "I'm honored to lead this work, grateful to Mayor Adams for this opportunity, and look forward to sending the rats packing."
Corradi, who is a former elementary school teacher in Brooklyn, worked at the Department of Education's Office of Sustainability, where she developed the city's Zero Waste Schools program and its rodent reduction program across 120 public schools. Most recently, she's been the department's Queens Director of Space Planning, determining where $500 million in funds were spent across the city's schools.
If there's any question about whether she has a grasp on the rat situation, never fear:
"Rat mitigation is more than a quality-of-life issue for New Yorkers," she said in a statement today. "Rats are a symptom of systemic issues, including sanitation, health, housing, and economic justice. As the first director of rodent mitigation, I'm excited to bring a science- and systems-based approach to fight rats.
You can watch the announcement of her role below.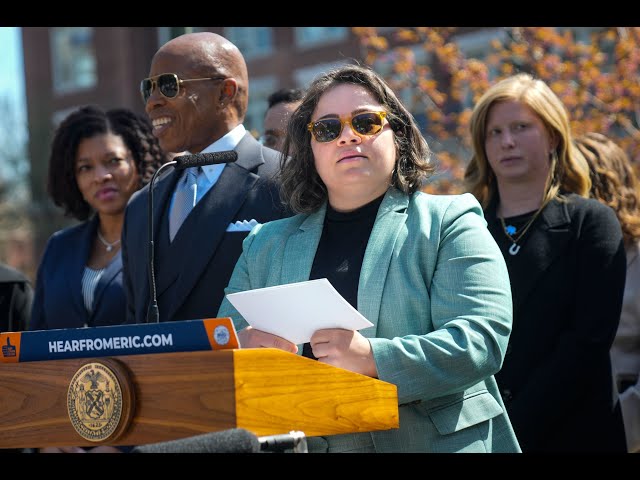 With her cool sunglasses and mint green suit, it's safe to say we stan NYC's new rat terminator.
Corradi will have to do a lot—the role calls for some creative thinking on how to cut off rats' food sources and testing and deploying new technologies to detect and exterminate rat populations all while working across several city agencies.
With that, the city announced it is kicking off the "Harlem Rat Mitigation Zone," a rat reduction plan covering 28 NYCHA properties, 73 NYC Parks locations, nearly 70 DOE schools, and over 10,000 private properties using $3.5 million in city funding.
I'm excited to bring a science- and systems-based approach to fight rats
If you missed it, NYC has identified a total of eight "rat mitigation zones," including newly-initiated Harlem. These neighborhoods will receive extra funding and support to rid them of their infestations.
This is just the latest in NYC's push to clean up NYC—what Mayor Eric Adams has dubbed the "Get Stuff Clean" project. The city has invested $14.5 million to clean neglected spaces, reducing the hours that black trash bags sit on the curb (setting out time is now 8pm), and starting the nation's largest curbside composting program citywide.
You can do your part, too, you know. Here's a guide on how to compost, recycle and get rid of anything in NYC.
Perhaps our future is ratless and the once larger-than-life figure of Pizza Rat will once and for all become nothing but a legend.
New York may be famous for the Pizza Rat, but rats, and the conditions that help them thrive will no longer be tolerated