The massive button and needle sculpture that welcomes tourists and locals alike to the Garment District is getting a makeover.
The existing kiosk structure, which served as an industry information center for over a decade, was designed by James Biber (then of Pentagram Architects) and built in the 1970s at Seventh Avenue plaza of 1411 Broadway. Then in 1993, it was renovated with the addition of the now iconic rooftop button and needle sculpture and used by the Garment District Alliance (GDA) as a neighborhood resource center.
"We never imagined in 1996 that the button and needle, first conceived as a way to draw attention to the information kiosk, would become the icon it is today," said Biber, now principal of Biber Architects, said in a statement. "We are gratified to have designed something that has become so much a part of NYC that the next version will build on the original vision."
RECOMMENDED: Massive floral mannequins are coming to Hudson Yards to celebrate remarkable women
The new button and needle will be supported by a "thread," building on its already existing Pop Art concept. When it's finished in December this year, it'll stand 28 feet tall, with a 15-foot diameter aluminum button and 32-foot brushed stainless-steel needle. Renderings show an all-new button and needle sculpture, where pedestrians can walk under the button since the kiosk will be gone.
Designers say it will create a "dynamic experience for pedestrians while improving sight lines and enhancing pedestrian flow on Seventh Avenue."
The project to redesign the kiosk started in 2017 when GDA hired Local Projects, an experiential design firm, to come up with concepts based on interviews and workshops held with GDA staff and Board members, business owners, fashion industry professionals, landlords, city officials, and representatives from Manhattan Community Board 5. Through these meetings, it was found that a physical kiosk was no longer necessary because most people can access information about the Garment District on their cellphones, but that the button and needle is a beloved neighborhood icon that should remain and "be enhanced as a Pop Art sculpture and placemaking amenity."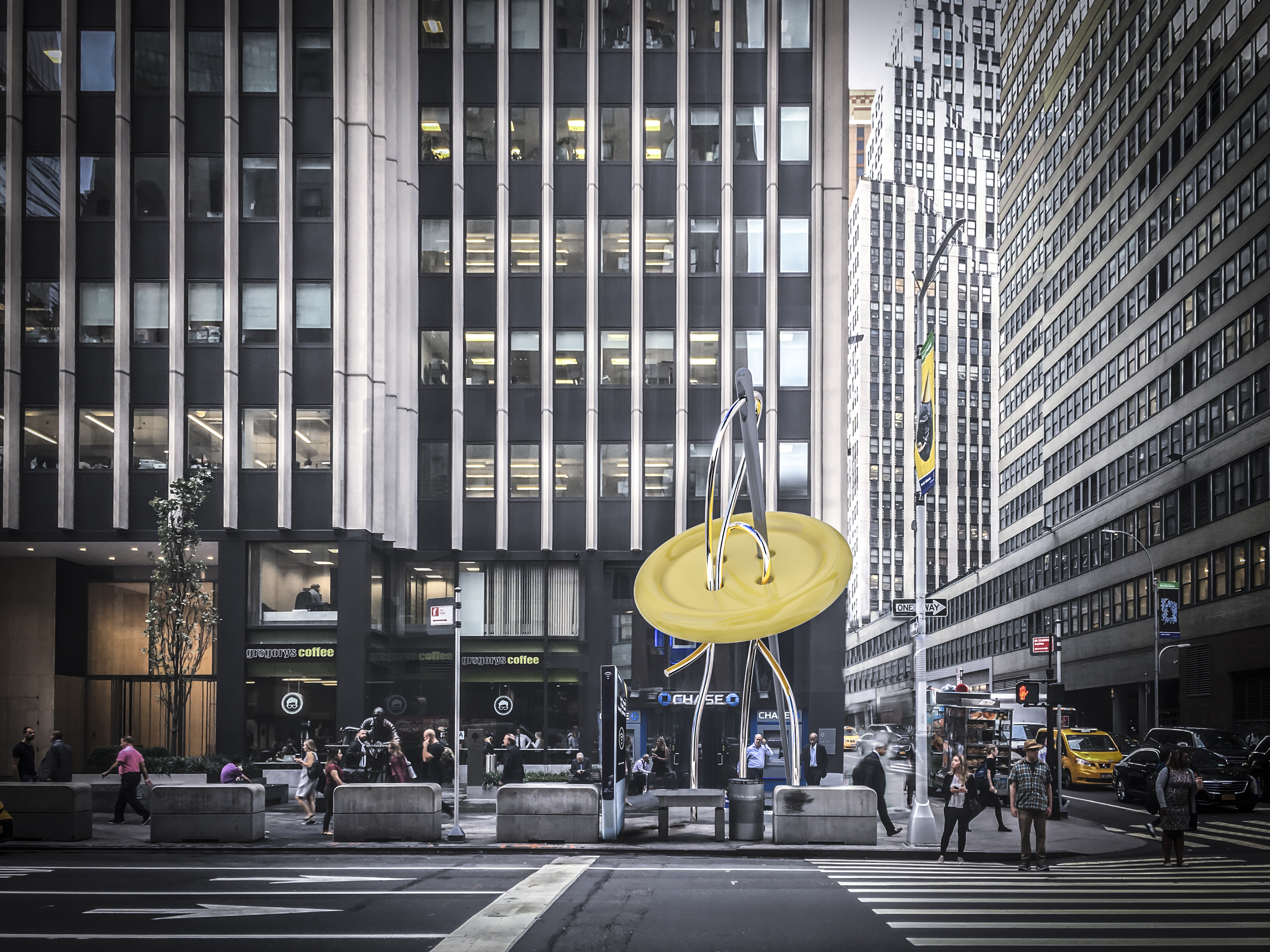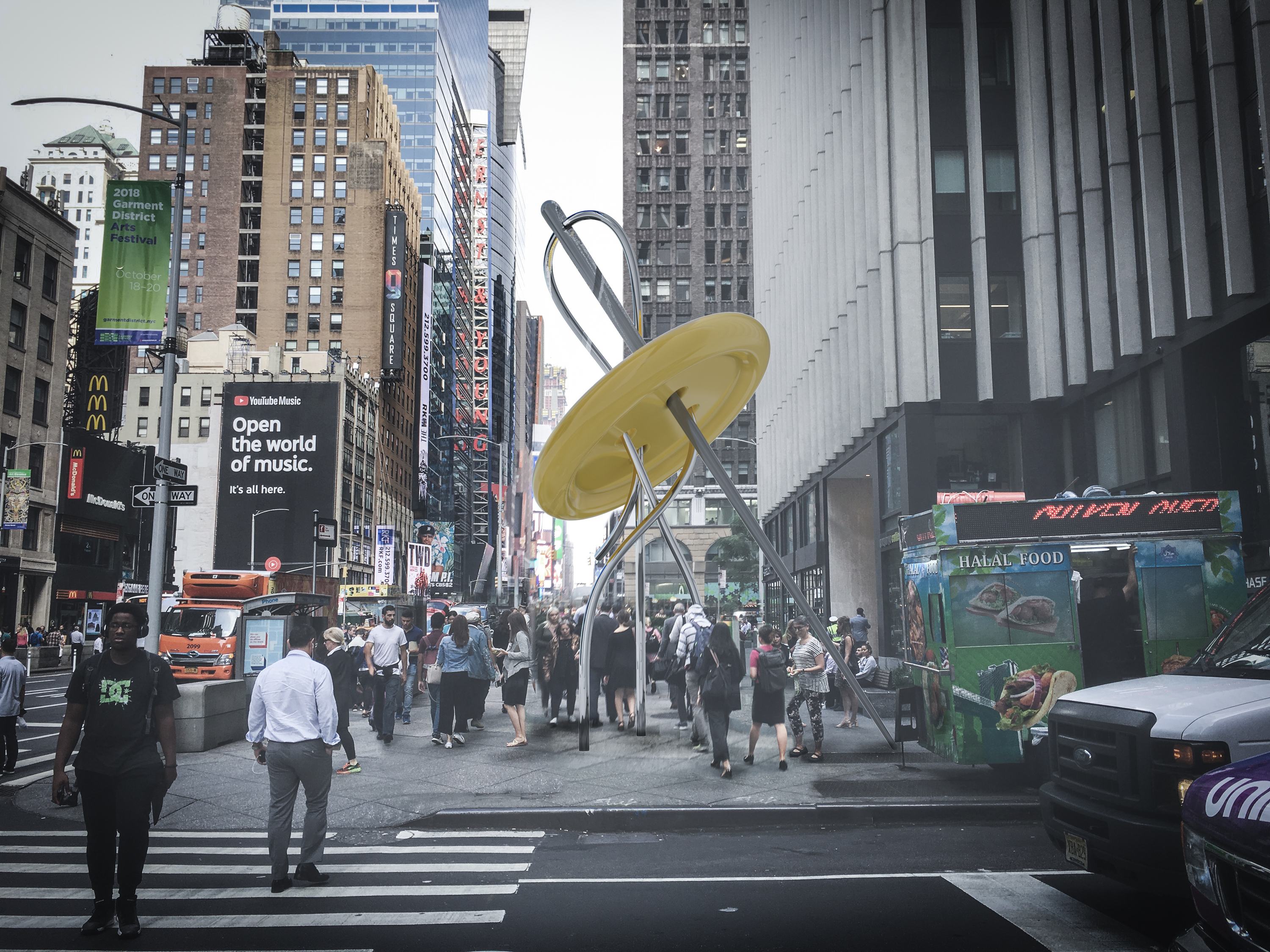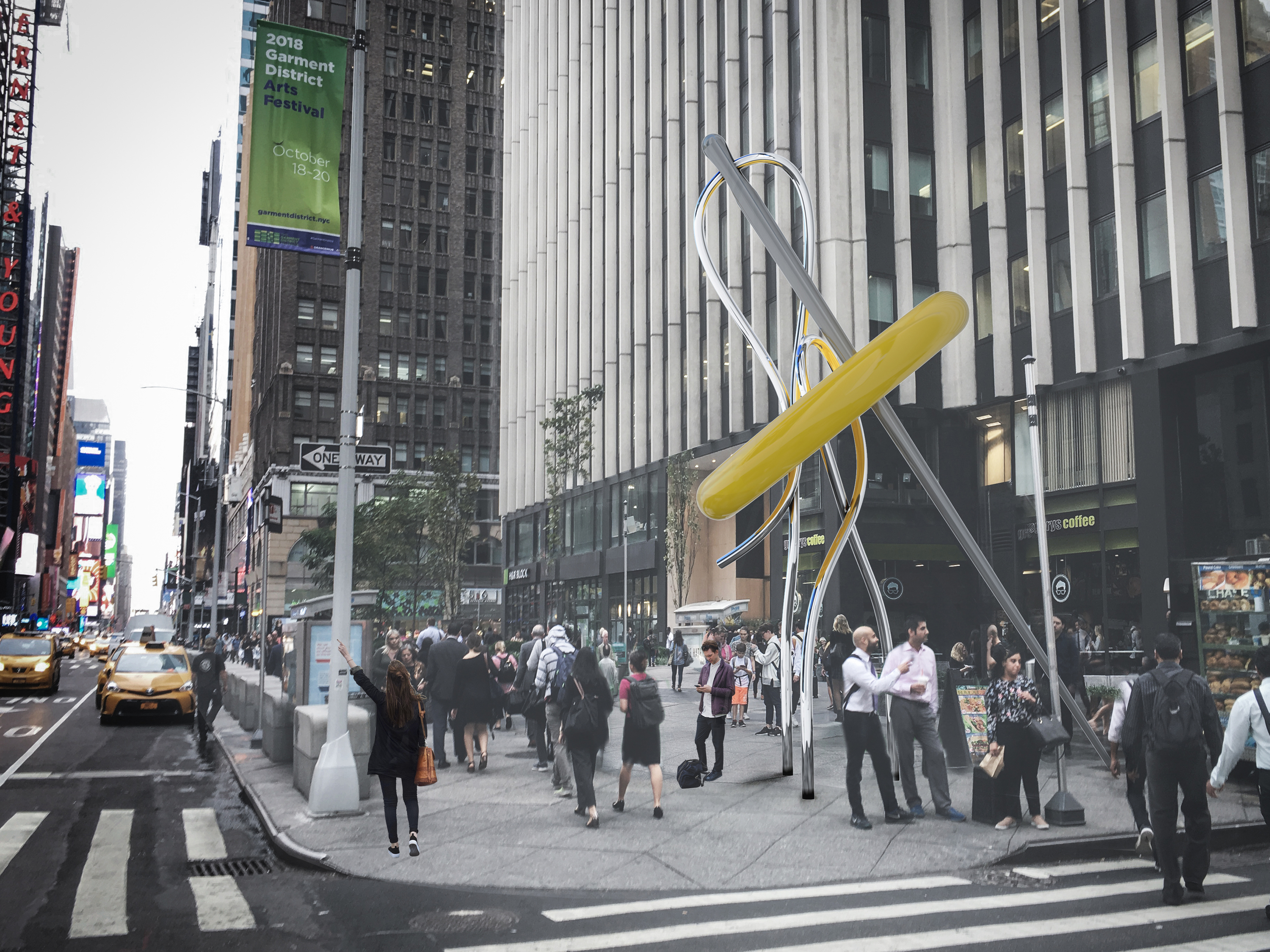 GDA worked with the NYC Department of Transportation to make sure the new design would improve mobility on the plaza.
In 2018, the group hired UAP Company, an international design-build firm that brings works of art to life in public spaces, to lead the design development and fabrication team, which also included Technical Artistry on lighting and Theta Structural Engineering Consulting and McLaren on engineering.
While the Garment District has had its share of public art installations, including works from Chakaia Booker, Kang Muxiang, Del Geist and Patricio Leighton, the new Button & Needle sculpture is the district's first permanent public art installation.
"The famed Button & Needle structure has been a landmark in the Garment District for decades, representing New York City's prominent fashion industry and serving as a beloved symbol of our neighborhood and its rich history," said Barbara A. Blair, president of the Garment District Alliance. "As we look ahead to the future and our district continues to evolve, we are thrilled to unveil a newly designed structure that will pay tribute to the original Button & Needle while serving as an outstanding piece of public art. This initiative is an important part of our Business Development Collaborative program that supports our neighborhood and local businesses through initiatives that include capital improvements and streetscape amenities, and we are grateful to our partners for working with us to bring this vision to life."