Last Friday, I joined a queue of almost 40 people to see an experimental play. As we waited for the house doors to open, locals kept shooting us confused looks. The reason was pretty clear: it was 10pm, and we were lined up outside ES Wholesome Foods, a large bodega near the Brooklyn Botanic Garden.
For several weeks, ES has been home to Joan of Arc in a Supermarket in California, a new production from The Tank. The play, which highlights the anxiety of female adolescence, revolves around five characters who have all worked for the same creepy supervisor at their local supermarket. But the nearly all-female cast and crew of Joan of Arc have had the opposite experience with the men behind the counter at ES.
"They're looking out for us," said Anna Mader, one of the show's producers, in an interview this week.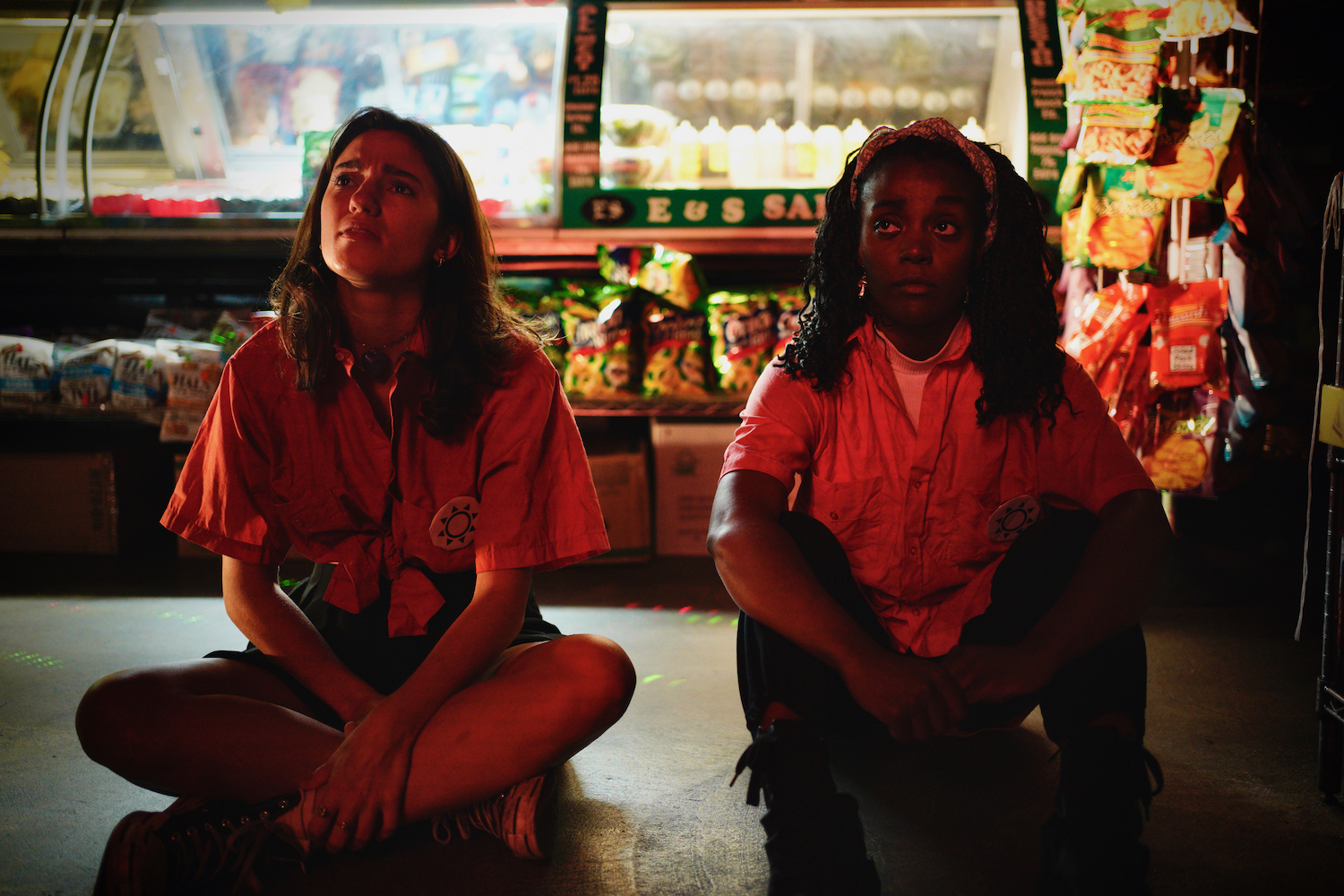 By day, ES is an airy shop that caters to the evolving community of southeastern Crown Heights. It's stocked with ice pops located above rows of organic frozen meals, shelves of canned ravioli and Mrs. Meyer's cleaning products. There are all the expected New York fixings: a deli counter, an ATM, a friendly resident cat named Benito. It's no supermarket in California, but it is eerily well-equipped for Joan of Arc. The second aisle is wide enough to accommodate two rows of folding chairs, and there's a security camera—an object referenced multiple times in the play—smack in the middle of its ceiling.
Mader found the location this spring. A resident of Park Slope, she decided to go for a run one day and ask every grocery store she came across if they would accommodate her and her minuscule budget. ES was her eleventh stop, and the manager, Javier Rodriguez, happens to be an eager ally to local artists.
Rodriguez has been at ES since the store opened nine years ago, and he makes a point to support people in the neighborhood. His father, a hard-working immigrant from the Dominican Republic, liked to remind his seven kids that they should remember where they came from and never hesitate to give back. He runs a summer program to help train local children for the workforce and donates products to schools.
"Anything to do with the community, I like to help out," Rodriguez tells Time Out. In addition to Joan of Arc, the space has hosted film projects and music videos.
"He is such a beam of light," Mader says of Rodriguez. "I love him. I got him a mug that says 'World's Best Producer.'"
Another store MVP is Hugo Gil, who stays late on show nights to make sure everything runs smoothly. Despite a language barrier, he's become an honorary member of the crew. The show's playwright, Chloe Xtina, says he knows the show so well that he will nudge the scenic and costume designer if she forgets certain props.
"A lot of times when you're working with a location, you can start to get the feeling that you're being intrusive," Xtina said in a recent interview. "That is not the vibe there. The guys at ES will come in a little bit before closing to help load everything in."
Xtina wrote the play to be staged in a grocery store and told me she can't imagine it being performed in any other setting. But such a production presents many challenges. Because ES is a working store that closes at 9:30pm, the team begins each show with a frantic setup. They rush to stick blue gels over the fluorescent lights and set up their audio and props. Folding chairs pulled out from under the aisles serve as audience seating. When the show's over, around midnight, they take everything down again.
The benefits of performing at ES have far outweighed the challenges. Joan of Arc incorporates the shop's carts and deli counter into the production. One overheated character tries to cool off in the store's freezers. Any food props used are bought directly from the store, and each ticket comes with a free snack. For the luckiest audiences, Benito may make a cameo. Joan of Arc sold out its entire run, prompting The Tank to add shows on Sunday evenings. The last performance at ES takes place on September 3.
Of course, this a very New York setting for a play that explicitly takes place in California. Xtina and Mader, who met in college at UCLA and both moved to New York in 2021, say that the city's recent wildfire smoke helped connect the script and the staging. They also thought the bodega elements elevated the show's overall sense of surreality.
"I'm sure at some point this play will be done at an actual supermarket in California," Mader said. "I'm really excited to see how that's going to feel, too."