The best parties in NYC this month
Check out the best parties New York's nightlife has to offer, from club nights to globally renowned label takeovers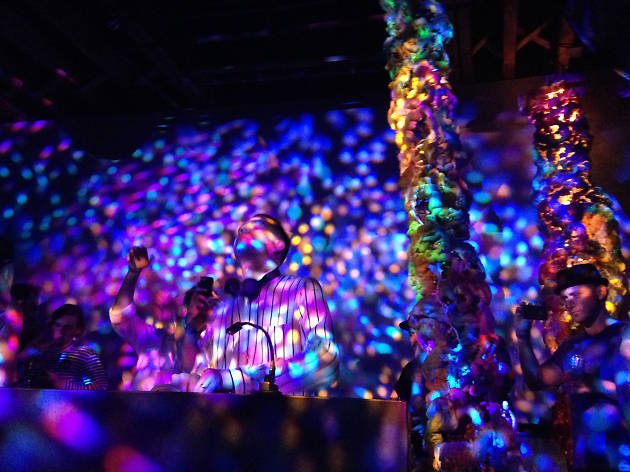 Have the urge to party but don't know where to go? Play our collection of the 20 best dance music albums of the year, and browse through the list of our favorite danceworthy events, with house music, techno, minimal, acid, hip-hop and more on the bill. Don't miss out on all the secret parties (we recommend bookmarking this page so you're the first to know!). And make sure to satisfy that after-party (or pre-party) appetite on weekends by checking out one of the absolute best brunches NYC has to offer.
RECOMMENDED: Our full guide to NYC nightlife
Best parties in NYC this month
London's Hot Chip is often compared to NYC's LCD Soundsystem (who play a special string of shows for Brooklyn Steel's opening Apr 6–11), on account of its ability to imbue delicious disco beats with genuine heart and humor. And similar to James Murphy and his now-defunct crew, Hot Chip's members love to drop their instruments to take over the decks. Catch their eclectic DJ set which is sure to run the dance music gamet from techno to disco.
Read more
This chameleonic producer has released a variety of tracks on Night Slugs, LuckyMe, and his own Vase label, ranging from R&B-inflected tunes to dusky techno bangers and garage-tinged house. Years into his career, he's finally released a debut album, Feel Infinite, which amalgamates those many tendencies into one cohesive effort. Here he takes over the Good Room dancefloor with up-n-coming bass music producer Suicideyear.
Read more
Rich Medina, the veteran whose sound can veer between Afrobeat, hip-hop, jazz, disco, house and more, takes over the decks at Black Flamingo for a night of funky rhythms.
Read more
German electronic supergroup Moderat consists of Sascha Ring, the IDM producer better known to fans of esoteric electronic rhythms as Apparat, alongside aural anarchists Gernot Bronsert and Sebastian Szary of Modeselektor (can you decipher how they thought up the project name?). The trio's latest album, III, delves further into the group's dynamic body-moving textures.
Read more
After years of wayward traveling through dance music's many realms—IDM, deep house and so forth—Machinedrum's Travis Stewart settled into a distinctive niche of spastic vocal-sample–heavy UK bass music with 2011's Room(s). After a few EP's and a follow-up LP, Vapor City, he's refined that style with the addition of his own voice, Amen breaks and acoustic guitar to make for a potent live set.
Read more
Elyte and Cnyce, the disco (and house and R&B and lots, lots more) mavens of Soul Clap, visit the Good Room booth for an all-night session of funk-fueled action. Support in the Bad Room comes from a pair of top-notch locals vets: Mudd Club's Justin Strauss and the Hacienda's Billy Caldwell.
Read more
Find more nightlife events this week
Looking for tunes before you head out?
Here's our roundup of the best house music of all time, including cuts by the legendary Frankie Knuckles and Larry Heard
Read more