The best parties in NYC this month
Check out the best parties New York's nightlife has to offer, from club nights to globally renowned label takeovers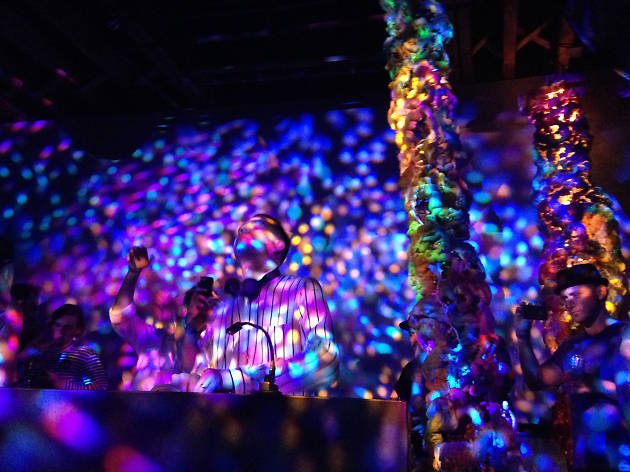 Have the urge to party but don't know where to go? Play our collection of the 20 best dance music albums of the year, and browse through the list of our favorite danceworthy events, with house music, techno, minimal, acid, hip-hop and more on the bill. Don't miss out on all the secret parties (we recommend bookmarking this page so you're the first to know!). And make sure to satisfy that after-party (or pre-party) appetite on weekends by checking out one of the absolute best brunches NYC has to offer.
RECOMMENDED: Our full guide to NYC nightlife
Best parties in NYC this month
This electronic production duo traverses sickly netherworlds of techno and dark ambient in post-apocalypse—but though often dark and brooding, their ominous soundscapes are always beautifully produced and hauntingly powerful.
Read more
Red Bull Music Academy spotlights one of the city's most formative late '80s music scenes. The term "New jack swing" was coined to mark the crucial cultural moment in Harlem where hip-hop and R&B first converged in hybrid music, fashion and dance styles. Iconic DJs from the era like Brucie B take to the decks alongside contemporary legends like Just Blaze.
Read more
Armed with deconstructed samples of jazz, blues, funk and gospel, Moodymann (a.k.a. Kenny Dixon Jr.) helped re-invent Detroit house and techno music in the '90s with his own grimy spin on the genres. Here the turntablist legend pays tribute to an idol of his own for Red Bull Music Academy, spinning nothing but Prince all night long—B-sides, unreleased tracks, party-starters, deep cuts and more.
Read more
At this afternoon club event, Red Bull Music Academy platforms the most innovative waves in the city's underground queer party scene, bringing together inventive DJs from various local Brooklyn collectives. Helming the decks you'll find: art-world luminary Juliana Huxtable, Brooklyn-via-Jamaica producer Tygapaw of Fake Accent, stud1nt and FXWRK of local queer collective KUNQ, Discwoman's Bearcat and members of Papi Juice.
Read more
Wildest Dreams. Locussolus. Map of Africa. Ersatz, a punk band. Tonka Sound System, a collective of alernative DJs. You can call Harvey Bassett many things, just don't call him lazy. He's been playing music in one form or another for the past 40 years, and has been a postpunk drummer, a dance producer, the frontman for his own psych-rock band and, predominantly, a disc jockey. One of the last DJs to work with Larry Levan, his sets are the stuff of legends.
Read more
U.K. techno enthusiasts Ben "UFO" Thomson is one of those rare artists known solely for his impeccable DJ sets—no need for a production oeuvre. Instead, he's considered something of a DJ's DJ, capable of spinning a wider array of genres than almost anyone in the insanely competitive U.K. music scene. Ben is also known for cofounding the groundbreaking dubstep-meets-techno-meets-house label Hessle Audio.
Read more
A minimal, lo-fi version of South African house music, gqom—which means "hit" or "drum" in Zulu—is an emerging dance trend in the coastal city of Durban. The stripped-down, percussive genre has an avid fandom abroad. Red Bull Music Academy brings a number of the genre's primary creators—including DJ Lag, Rudeboyz and DJ Twitty—this side of the Atlantic for the first time.
Read more
Find more nightlife events this week
Looking for tunes before you head out?
Here's our roundup of the best house music of all time, including cuts by the legendary Frankie Knuckles and Larry Heard
Read more