The best parties in NYC this month
Check out the best parties New York's nightlife has to offer, from club nights to globally renowned label takeovers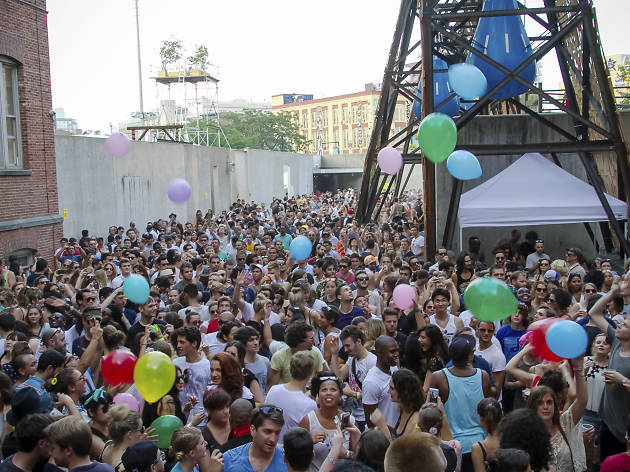 Have the urge to party but don't know where to go? Play our collection of the best DJ mixes of the year, and browse through the list of our favorite danceworthy events, with house music, techno, minimal, acid, hip-hop and more on the bill. Don't miss out on all the secret parties (we recommend bookmarking this page so you're the first to know!). And make sure to satisfy that after-party (or pre-party) appetite on weekends by checking out one of the absolute best brunches NYC has to offer.
RECOMMENDED: Our full guide to NYC nightlife
Best parties in NYC this month
Best parties in NYC coming up
The acclaimed yearly celebration of all things electronic and underground returns for its eleventh edition, with a fiery lineup of international players and local favorites. This year, the fest aims to make the events more accessible, offering reduced full-weekend passes in recognition of the skyrocketing costs associated with living in the borough. On the first night, you can find the party-controllers of NYC staple FIXED, JDH & Dave P, teaming with German techno vet DJ Hell—whose name is as austere and malevolent as his punishing sets—at the Good Room (Oct 4). The same night, French electro-house spinner Breakbot brings a colorful collection of soulful, groovey tunes to Output (Oct 4). More experimental-leaning dancefloor-fiends can head to Avant Gardner over the next few days: Motor City Drum Ensemble airs its cheekily wonky house-infused beats (Oct 5); Shlohmo's Wedidit collective celebrates 10 years of deconstructed hip-hop (Oct 5); and Mount Kimbie delves into its post-dubstep pop-electronica (Oct 6).
Clubs, House, disco and techno
The ambient house crew, which has been making sample-heavy, club-ready chill-out beats since the late '80s, hasn't lost a step since its acid-soaked heyday. The Orb continues its avant-electronic exploration this year with the appropriately titled No Sounds Are Out of Bounds.
Clubs, House, disco and techno
This local producer melds house and hip-hop elements into a distinctive mix that's indisputably alluring—her singles "Drink I'm Sippin On" and "Raingurl" have upwards of two-million plays at this point. However, the singer is not one to hoard the spotlight. Previous shows have featured her collaborating with a Korean restaurant to make curry for the crowds, in attempt to recreate the familial, communal atmosphere of gathering for a home-cooked meal. This should also feel like a family affair, as the show is bill as an intimate "in the round."
Find more nightlife events
Looking for tunes before you head out?
Here's our roundup of the best house music of all time, including cuts by the legendary Frankie Knuckles and Larry Heard