Heads up! We're working hard to be accurate – but these are unusual times, so please always check before heading out.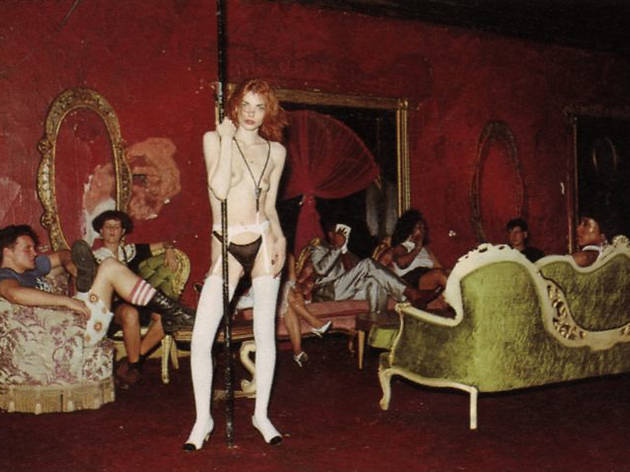 1/22
The New York of the Koch years is often romanticized, for understandable reasons. It was a bit like the Wild West of a century earlier, a seemingly lawless locale where just about anything could happen—and often did. From the East Village and the Lower East Side to Times Square and the Bronx, vast swaths of the city wallowed in near-abandonment. This created a kind of clear space for an up-from-the-streets vitality that resulted in the flowering of gay culture, hip-hop and punk. But the city Mayor Koch inherited from his predecessor, Abe Beame, was also an insolvent wreck, one whose decline Koch resolved to reverse. Although it took years after Koch's final term for his policies to bear fruit, his administration laid the foundation for the safe, gleaming metropolis that is Gotham today.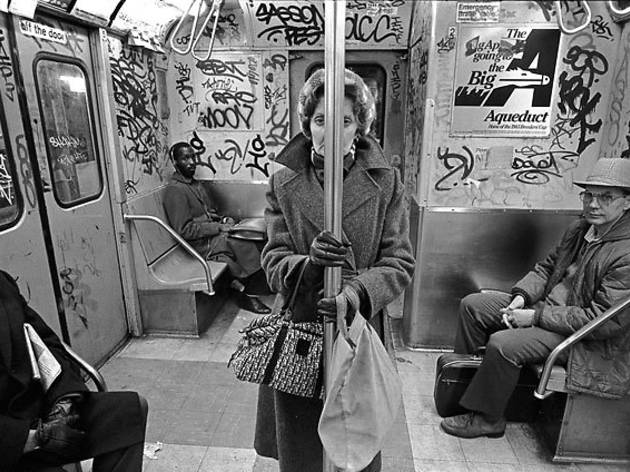 2/22
Photograph: © Richard Sandler
Koch's style of governance was loud and in-your-face. Constituents either loved him or loathed him, with little room in between. Besides the city's bankruptcy, he was beset by numerous crises: rampant crime, homelessness, racial division, and the crack and AIDS epidemics. His high-handed response or evident neglect of these issues wound up, in some cases, pitting New Yorkers against one another, setting them poles apart.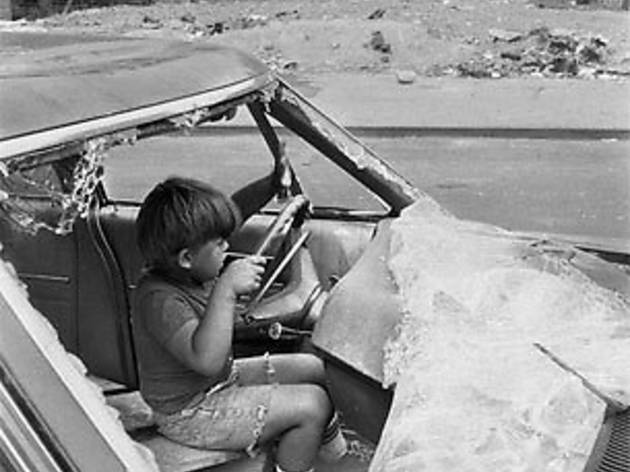 3/22
© Martha Cooper
The level of urban decay in Koch-era New York is practically unimaginable today.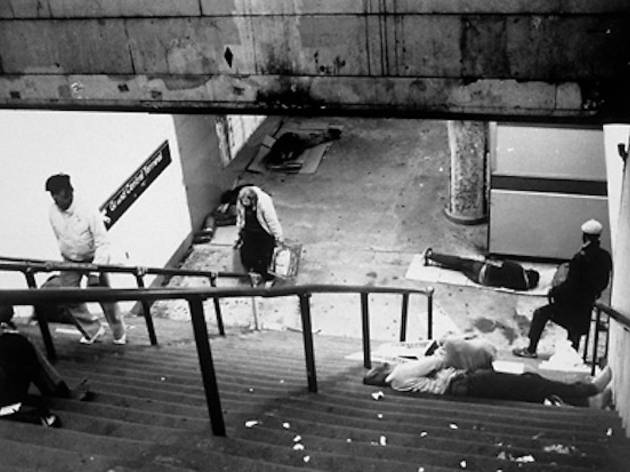 4/22
© New York Daily News Archive
One of Koch's major responses to the city's dire straits was to tear down or turn over to real-estate developers the various city-owned properties that had been seized for tax delinquency. The result was an explosion of the homeless population.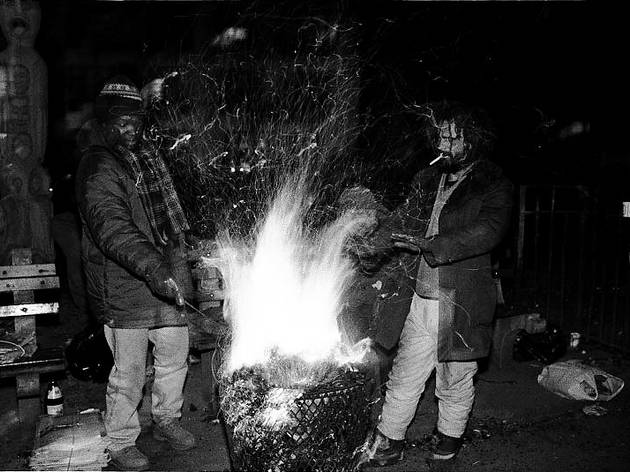 5/22
© Q. Sakamaki
By the late 1980s, Tompkins Square Park had become ground zero of the homeless crisis. A tent city took over the park and served as a refuge for the destitute. But it was also a breeding ground for drug dealing and prostitution. In the summer of 1988, Koch ordered the NYPD to move in and forcibly clear out the area.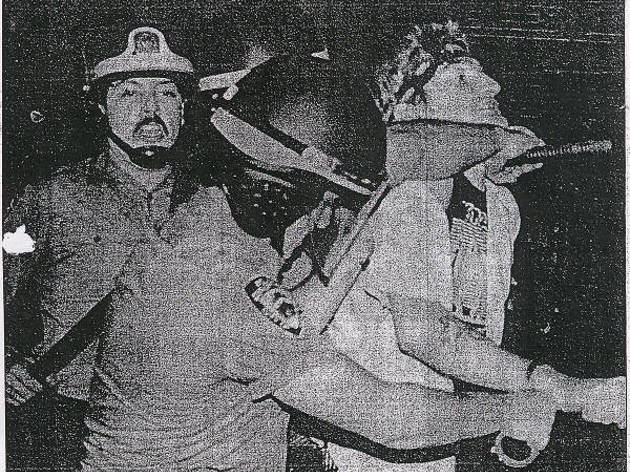 6/22
Two nights of rioting ensued, due mainly to the cops' harsh response to protestors who had turned out to express solidarity with the squatters being evicted from the park.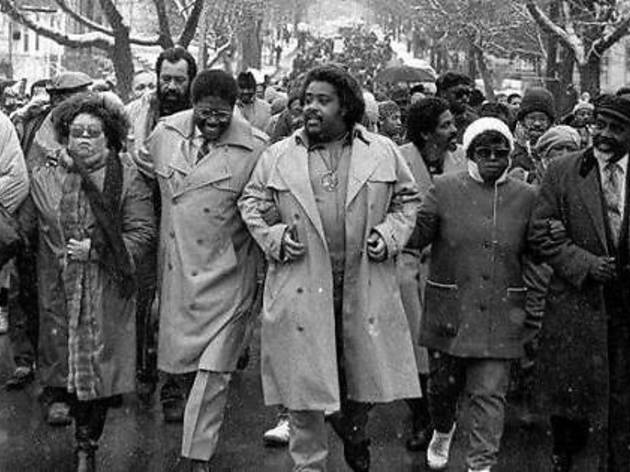 7/22
Race was another flash point during the Koch years, thanks in part to the headline-grabbing deaths of several African-Americans. In 1983, a graffiti artist named Michael Stewart died in custody after being arrested by New York City Transit Police for spray-painting in the subway. A year later, a woman named Eleanor Bumpurs was killed by the police as they tried to enforce an eviction notice on her apartment. Two years after that, Michael Griffith, a young man who got into an auto accident in the all-white section of Howard Beach, Queens, was chased by a neighborhood mob onto a nearby highway, where he was struck and killed by a car. Griffith's death sparked marches like this one.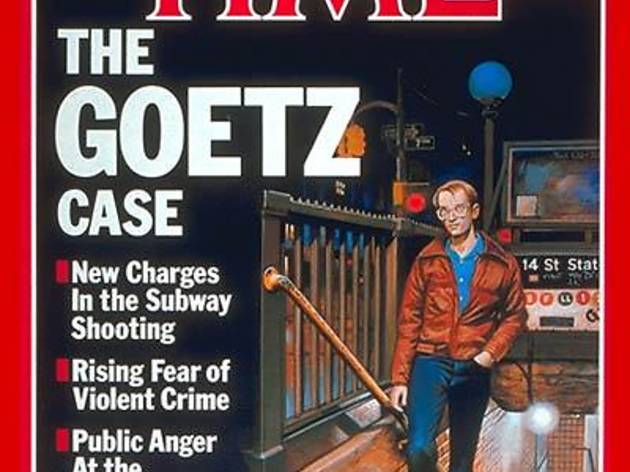 8/22
The most notorious racially-charged case of the time involved Bernhard Goetz, a white electrical engineer who shot four young black men attempting to mug him on the subway on December 22, 1984. Dubbed "the Subway Vigilante" by the press, Goetz became a symbol for some New Yorkers' frustrations with high crime. His arrest and subsequent trial became the focus of national attention and another symbol of the city's racial divide.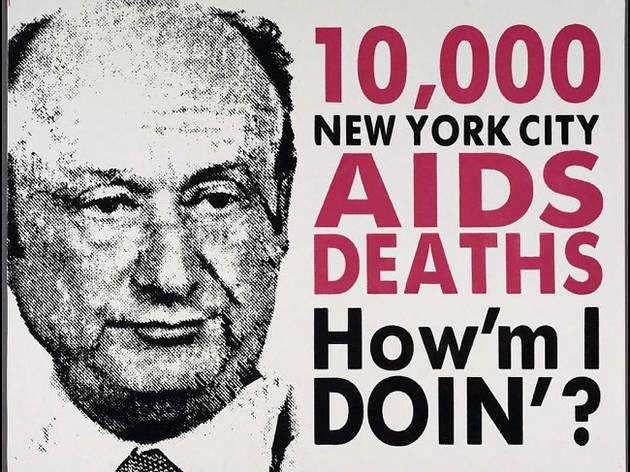 9/22
AIDS was another issue subject to the mayor's indifference. The lack of response to the epidemic on both local and federal levels sparked the creation of such gay-activist organizations as the GMHC and ACT UP.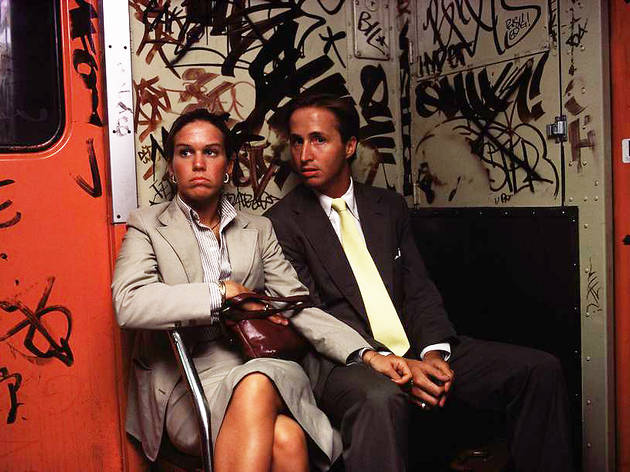 10/22
© Bruce Davidson
Cultural expression also became a point of contention, at least in the minds of those who viewed graffiti as a legitimate art form emerging from the city's minority neighborhoods. To the mayor, it was a scourge of vandalism that had to be eradicated—especially on the subway, where it became the most visible sign of urban disorder. In an attempt to make the city feel safer to folks like this couple, Koch took the first steps to eliminate graffiti, increasing arrests of those who engaged in it.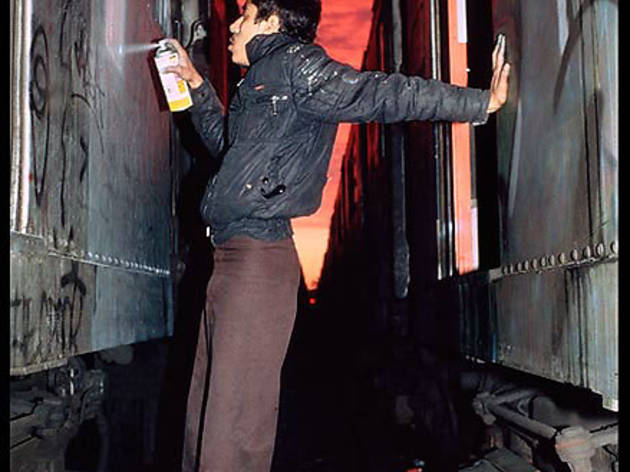 11/22
© Martha Cooper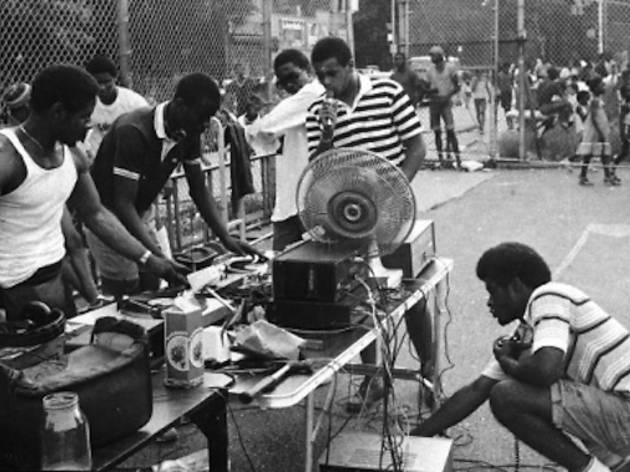 12/22
© Henry Chalfant
Hip-hop was often associated with graffiti, but instead of being hunted into near-extinction, it spread from places like the Bronx to become a worldwide music phenomenon.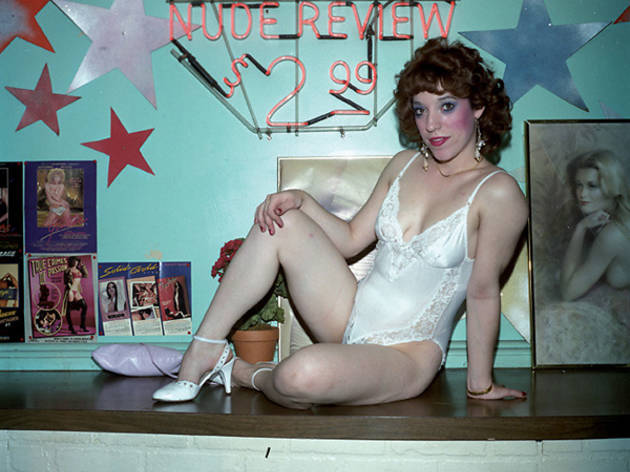 13/22
© Bill Butterworth
No remembrance of the Koch years would be complete without a glimpse of pre-Disneyfication Times Square, the dirty deuce of porn shops, grindhouses and live sex revues.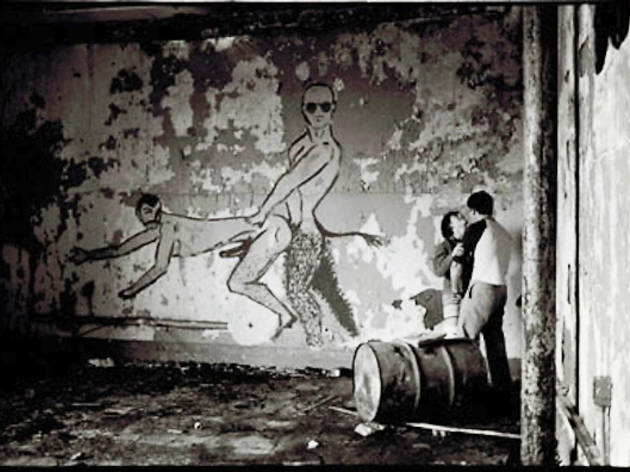 14/22
Courtesy of the Lesbian, Gay, Bisexual & Transgender Community Center National History Archive.
Hidden from public view, the West Side Piers—those rotting old structures along the Hudson River—became an assignation point for many gay men.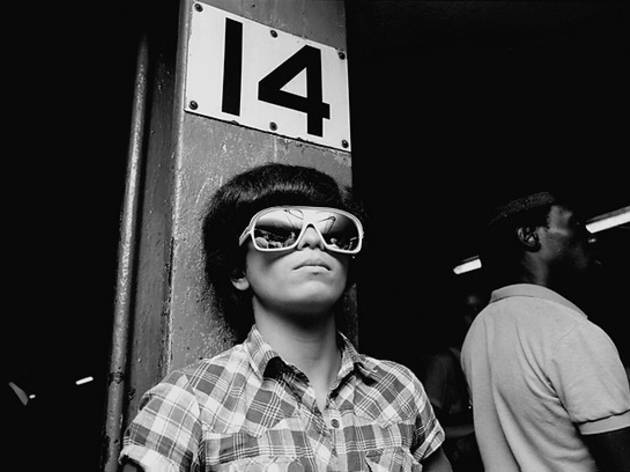 15/22
© Bruce Davidson
What made New York especially distinct during the Koch years was the idea that the area south of 14th Street was a place apart: Downtown was a state of mind, not just the location of such neighborhoods as Soho and the East Village. Rents there were still cheap enough for artists of varying stripes to set up house in the old lofts and tenements that had formerly housed sweatshops and the immigrant poor. This influx sparked a creative combustion in art, music, fashion and theater.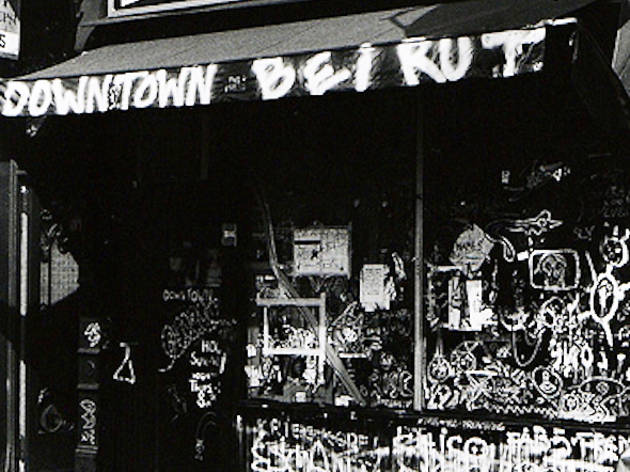 16/22
Smallish establishments such as Downtown Beirut, 8 B.C., the Limbo Lounge, the Cat Club and the Pyramid Club—along with larger or more established venues like the Mudd Club, Danceteria and Area—formed downtown's cultural backbone, providing places to drink, dance and be seen.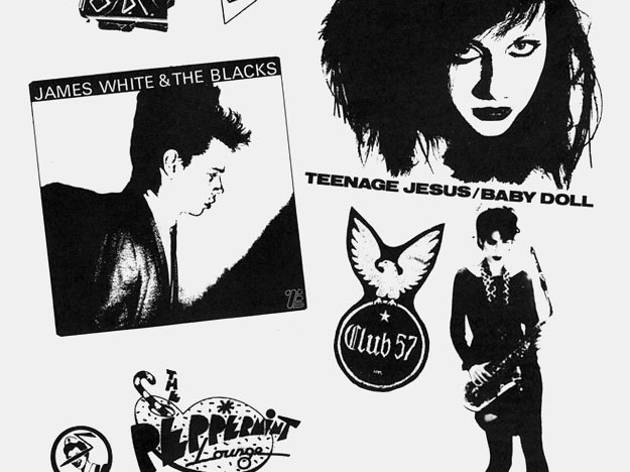 17/22
Middle left: James White and the Blacks record cover, 1978, cover photo by Jimmy de Sana. Left top and bottom: logos from various New York City nightclubs. Top right and bottom: record cover featuring Lydia Lunch of Teenage Jesus, design by J. Gorton; Lisa Rosen models in design by Edit deAk.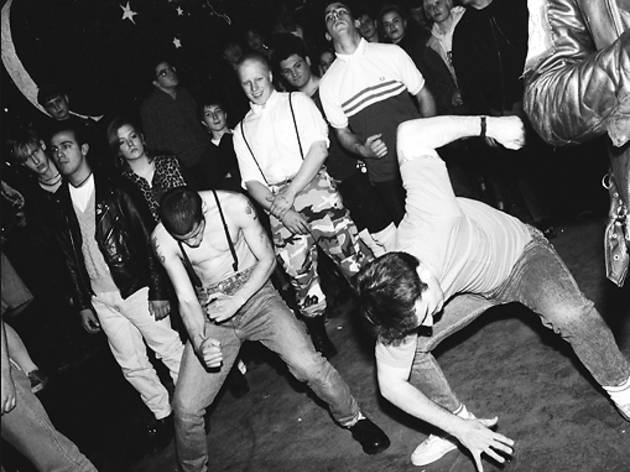 18/22
© Q. Sakamaki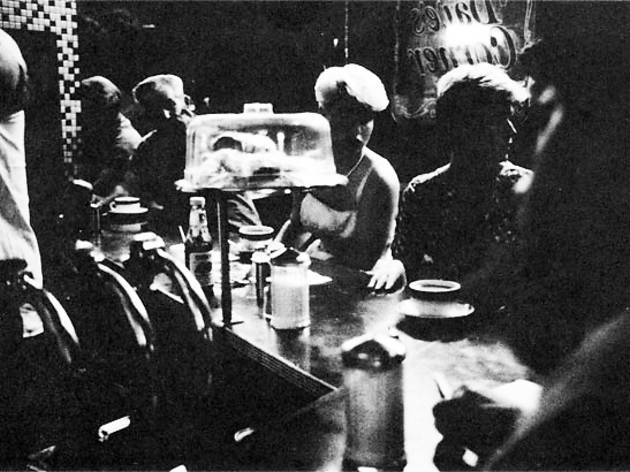 19/22
@ George Shustowicz
A late night at Dave's Corner, an all-night coffeeshop two blocks from the Mudd Club, where nightclubbers mixed with night-shift workers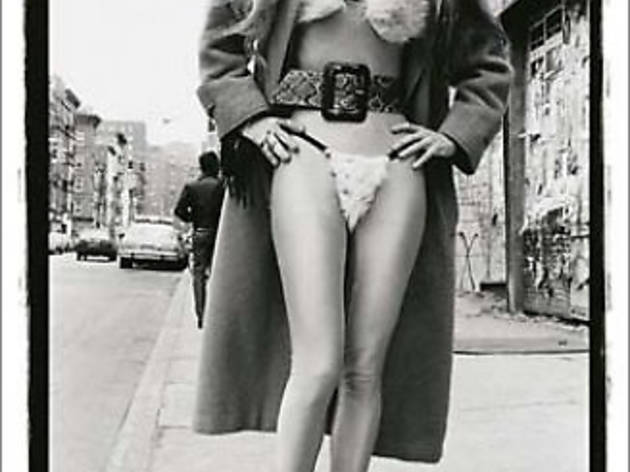 20/22
© 2006 Amy Arbus
Legere, a composer, performance artist, composer and painter, was a notable personality of the East Village scene.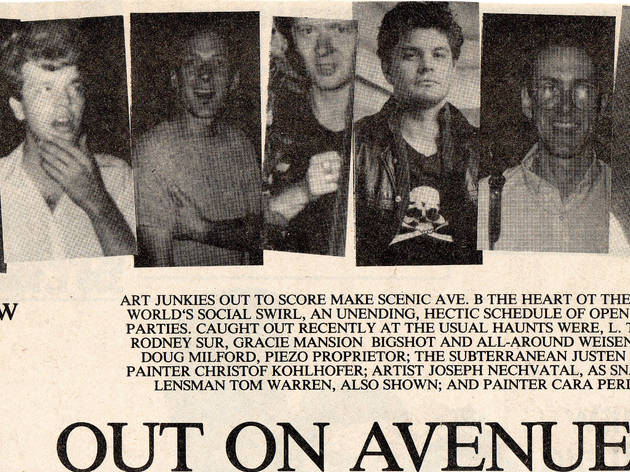 21/22
In the East Village, a gallery district—consisting of some 75 venues at its height—sprang into existence around 1982 to showcase the cutting-edge art of the time. It just as quickly disappeared some six years later.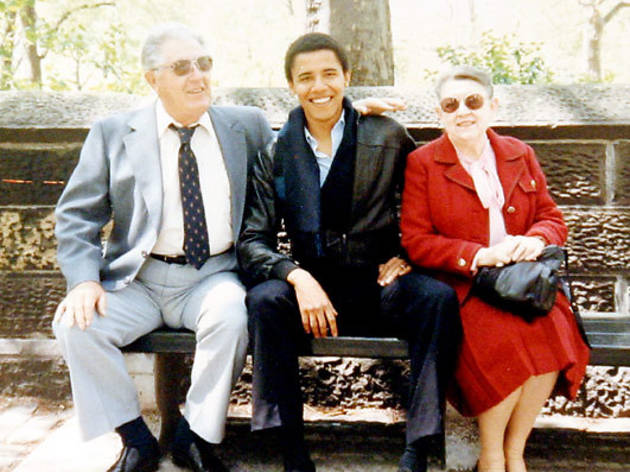 22/22
New York during the Koch years wasn't just a magnet for crazies and artists. It also attracted earnest young students and professionals. Some of them stayed, eventually remaking the city in their own image, while others moved on to bigger things.
NYC: The Koch years, 1978–1989
In memory of hizzoner, TONY looks back at the grit and glamour, decay and divisions of the city he ran.