Heads up! We're working hard to be accurate – but these are unusual times, so please always check before heading out.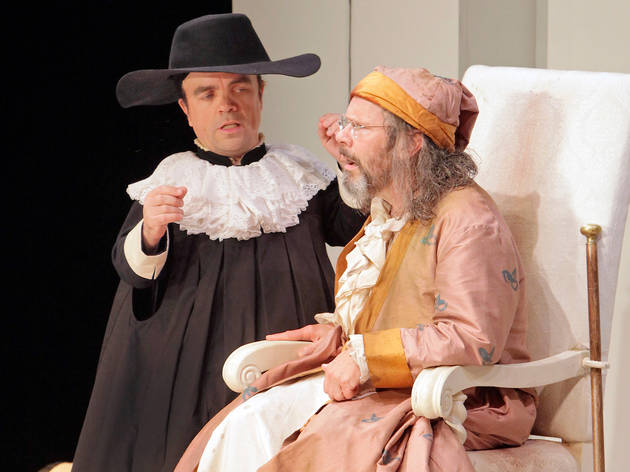 Review: Game of Thrones star Peter Dinklage mugs it up in The Imaginary Invalid
Peter Dinklage spends his summer break from Game of Thrones upstate, where he scores big laughs as a saucy maid in Molière's farce.
The Richard B. Fisher Center for the Performing Arts at Bard College. By Molière. Translated by John Wood. Adapted by Miles Malleson. Dir. Erica Schmidt. With ensemble cast. 1hr 40mins. No intermission.

The old cures are the best. Say, for instance, that summer in New York has brought on a malaise. Perhaps you get queasy just at the thought of tonight's muggy subway ride; you get a cramp contemplating the disappointing theater at the end of it. Your prescription is simple: rest (a bus ride to Bard College, thoughtfully provided), fluids (a beer at the Spiegeltent before the show) and a spa vacation in the form of Erica Schmidt's refreshing ice-cube-down-your-back—her all-male version of Molière's The Imaginary Invalid.

The set alone is worth the trip. Laura Jellinek creates a high, bright, gilt-and-white room by cantilevering a heavy platform over a partially hidden story beneath. The audience—seated on both sides—can just peep down past the stage to see the first floor, a sickly, fluorescent-lighted space forested with pillars. Jellinek has made a kind of architectural pun—we are looking into bustling bowels that will disgorge a series of Argan's doctors. (It's not a flattering pun.)

Of course, Molière's farce exists to attack doctors, accusing them of being money-grubbing, pretentious, stool-obsessed know-nothings. Argan (Ethan Phillips), in thrall to his hypochondria, holds his whole household hostage to his purgings and bleedings, willing even to marry his daughter Angélique (Preston Sadleir) to physician Thomas Darréah (Henry Vick) to ensure continued coverage. Meanwhile, Argan's second wife, Béline (Zachary Booth), cuckolds him flagrantly with her lawyer (Kevin Cahoon), and a rogue's gallery of medical men pay a flattering amount of attention to Argan's farts.

Ushering these quacks in and out is a mischievous hurricano, namely, Peter Dinklage in a mobcap. As the impudent maid Toinette, Dinklage dines eagerly on the scenery, so that most of his scenes turn into hilarious, binging, ham-bone sprees. The whole cast seems to be in a competition for funniest performance, though—I cannot decide among Vick's portrait of a fatuous young doctor with a tickle in his nose, Sadleir's flustered ingenue or Dinklage's soubrette.
Schmidt gives them room to compete with a surgically reduced text (characters gone, rhymes excised), while also choosing a wonderful invalid to lord it over them all. Phillips is the key here, and holds the stage at one point simply doing his accounts. He made us all sick three times over: sick with laughter, sick with admiration and sick with longing for this vibrant, silly, wicked show to come to New York.

Get tickets to The Imaginary Invalid.
You might also like:
Greatest adaptations of Shakespeare for the screen
Theater this summer: 20 shows you have to see
New York Musical Theatre Festival: A complete guide