Heads up! We're working hard to be accurate – but these are unusual times, so please always check before heading out.
All 17 Subway sandwiches ranked worst to best
From the meatball marinara to the chipotle chicken melt, we tasted every single sandwich so you don't have to
New York may have some of the best restaurants in the world, but sometimes, we're just too busy to take advantage of that. That's why, when we're desperately trying to find something to cram down our throats at lunchtime (and we can't even find a bagel shop), we sometimes turn to the ubiquitous chain for a hasty six inches (12, if we're feeling feisty) of salty, customizable sandwich. But which ones are good, and which are just taking up valuable space on the menu? Time Out New York's staff courageously tried all 17 Subway sandwich options and ranked them from Jared's not-quite-best to actually pretty good.
17. Sweet Onion Chicken Teriyaki
Well, it has flavor, we'll give it that. Though the most common complaint against the chain is blandness, this went in an entirely different—even less pleasant—direction. The near-candy level of sweetness left us gasping for water (and looking for a toothbrush).
There are two things that should never be allowed to leave Philly: the sports fans, and this sub. Of all the tasting notes the sandwich received, "This made me sad" sums it up best.
"So BORING, not delightful at all," wailed one person who echoed the voice in the hearts of many. The highest ranking anyone was willing to give this poor bastard was a 12 out of 17. "The peppers were good," one lonely voice whispered, but it was lost in the bitter uproar.
14. Chipotle Chicken Melt
This one wasn't really all that bad, but it suffered, like so many things in New York, from high expectations. One person reported, "It should have been my favorite, but it's too bland," while another simply stated, "Not as good as it sounds." We were into the guacamole, though.
13. Chicken and Bacon Ranch Melt
Our favorite of the hot chicken choices, which isn't saying much. The cheese and the slightly smoky flavor were okay, but the chicken's texture was still a bit like Silly Putty.
We'll just cut to the chase: If you're ordering this sandwich, you're probably really into roast beef. Which is fine. It takes all kinds. Your kind is wrong, but you're entitled to your weirdo taste buds. Oddball.
11. Turkey Breast & Black Forest Ham
Subway finally answered the question no one was asking: Just what happens when you combine the two blandest sandwich meats of all? As can be expected, the responses it received ranged from "Meh," to "Fine," to "It's a sandwich."
Remember when you were a kid and you loved Chef Boyardee? How you thought all those annoying noodles were just getting in the way of the meatballs? For nostalgia lovers, this vegetable-free option will make it worth splashing red sauce all over your face, hands and work-appropriate shirt.
The most "basic" sandwich of the Subway family. "Yawn," said one of our tasters, and they were not wrong. Not even mustard could liven this one up.
No one could seem to agree on why this combo didn't deserve a higher ranking. Did it have too little baloney or not nearly enough? Was it too light or too heavy? One thing's for sure: No one was talking about the ham.
The chicken of the sea dives into an ocean of creamy mayonnaise in this version of a lunch favorite. Sure, it's a bit soggy, but it still tastes like tuna. Solidly good.
The no-frill, little black dress of subs. It's good for anytime—day or night—and can be dressed up or down with any veggies, cheese or sauce you feel like that day. In a chain that specializes in blandness, it's not surprising this nearly cracked the top five.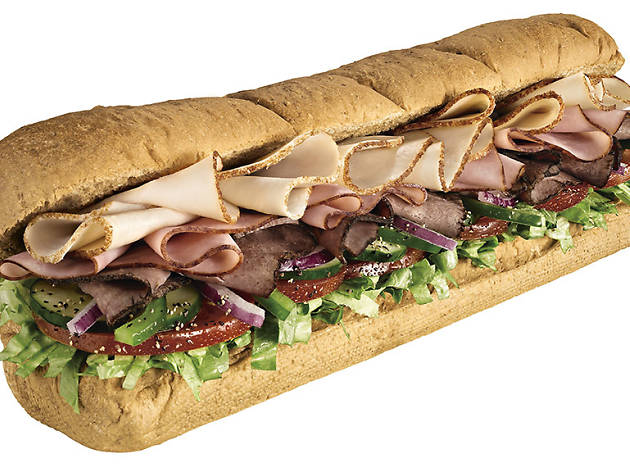 Considering the insipid nature of Subway's turkey, ham and roast beef on their own, our intrepid employees were a bit timid to try this signature sammie. Yet those that did were pleased with what they got. Some of the most glowing reviews included, "Good!" and "Actually pretty tasty!"
4. Turkey & Bacon Avocado
When Subway added avocado to their metal trays a few years back, we have to believe that the company's master sandwich artist—the Julia Child–like figure that all sandwich artists aspire to be—had this concoction in mind.
Oh Genoa salami, pepperoni and Black Forest ham, you are a hot menagé à trois we wish to join in a delicious after-hours orgy. After we've had a few and it's late at night, your 800 calories of salty spice is the only meat our bodies desire. Seven separate ballots agreed you were "a classic" (try not to think about that too much, it'll only depress you).
Something surprisingly pleasant happens when you combine turkey with the spicier meats of the Italian BMT, and no one should feel embarrassed to be seen sitting on a park bench shoving this foot-long in their mouth. As one writer commented, "The vinaigrette is ON POINT!"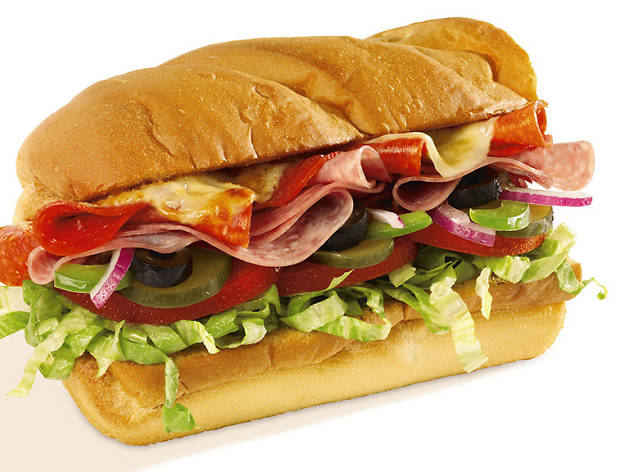 One thing this taste test has made abundantly clear is that if a Subway sandwich doesn't have pepperoni and salami, we don't want to know. All other subs must bow before the glory of this king of sammies, free of the distractions of lesser meats. Is it actually spicy? Not even a little bit. Did we care? Absolutely not.