Arepas icon: The ascension of the Arepa Lady
María Piedad Cano dishes on food-cart politics, the family legacy and building a permanent home for her beloved arepas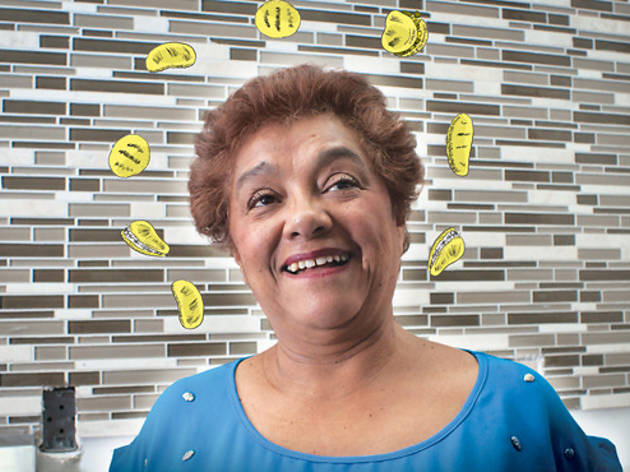 The legend of the
Arepa Lady
is a powerful one, stretching well beyond the Roosevelt Boulevard corner where she's been sizzling Colombian corn cakes for the better part of three decades. Most don't know her actual name—María Piedad Cano, FYI—but they've heard the reverent whispers about the buttery maize patties she griddles to order at her
Jackson Heights
food cart. The folklore is fueled by the cart's elusiveness, creeping out on Friday and Saturday nights during warm-weather months only, but much of its popularity can be credited to Cano herself, whose motherly smile and spatula-flipping finesse have garnered legions of
cheap-eats
devotees and "sainted" status in the Gotham food scene. Now Cano & Co. are answering prayers and launching their first real-deal restaurant, to feed arepa cravings all year long.
From court to cart
Born in Medellin, Colombia, Cano began her career in the courtroom, as a lawyer and, eventually, judge. When the country was rocked by political unrest in the '80s, she headed to New York with four young sons in tow. "I couldn't find a job, and a friend who had a food cart told me I should give it a try, because it would allow me to work flexible hours," she says. Cano had no prior culinary experience, but a fellow vendor taught her the art of arepa-making—and Cano found her calling.
Spotting the gold nugget
The menu started solely with traditional arepas de queso—slightly sweet rounds padded with salty white cheese—but Cano's inner business whiz came to the fore when she realized no one was offering choclo arepas (made with large-kernel corn). "They're harder to make: They're thinner and you fold them like empanadas," she says. After endless trial-and-error, Cano felt she'd finally mastered the formula. "Everyone always asks me what I put into my arepas," she says. "I use the same ingredients as everyone else, but I think that the love I put into them influences the flavor.
Lay of the land
Since she lacked legal permits, Cano rolled the cart out at night, when there were fewer cops looming around. She followed a trail of booze to her current location, on Roosevelt between 78th and 79th Streets. "A friend of mine who had a bar told me to move over there because he had tons of customers," says Cano. Business boomed, but territorial battles ensued. "Local shop owners always think of you as competition, even if you're selling different products," she says.
Reaching legendary status
Cano started building street cred in the early '90s, thanks in part to Chowhound founder Jim Leff. In a 1993 New York Press profile, the food writer spared no compliments, praising Cano's "beatific smile" and dubbing her corn cakes "magical." After that, hungry throngs flocked to Cano's corner with the newspaper clipping in hand, eager to have the religious experience themselves. "They come and ask me if I'm the Arepa Lady," she says humbly.
A mass of worshippers
"People who moved to the Bronx or to Jersey still come all the way here to get their arepas," says Cano. "I've had people from all over the world: China, India, Japan." The legend has even crossed over to film: David Kaplan's 2009 flick, Today's Special, features a couple that stops by Cano's corner on their first date. "My daughter-in-law was at a library in Indiana and found the movie," laughs Cano. "I wasn't in it, but they did use my arepas!"
All in the family
Eldest son Douglas helps out with cooking and cart duties, while younger bro Alejandro takes charge of all Internet-related activity. "I'm so glad I have [them] to help out with all of this," says Cano. "When I was younger, I would have been able to manage on my own, but I'm 70 now!"
Building an arepa temple

Located at Roosevelt and 77th Street, the new 16-seat, terracotta-walled restaurant will be called—of course—Arepa Lady and will dole out a list of Cano's greatest hits: arepas, chorizo and charcoal-grilled chuzos (chicken or beef skewers). Offerings might expand in the future, "but for now we're sticking to my specialties," says Cano. And purists can rest assured—Cano will graciously divide her time between the restaurant and the cart, which made its annual curbside comeback on April 18.
Sponsored listing
District Saigon
This Vietnamese restaurant in Astoria serves both traditional dishes and modern updates, all made with locally sourced ingredients. Perhaps you'd like to start with a cocktail. The Mawashi, a combination of shiitake-infused blended scotch, Aperol, black currants, smoked syrup and cardamom bitters ($12) or the Old G, a martini made with cucumber-basil vodka, house green juice, Szechuan peppercorn syrup, rice vinegar, absinthe and celery bitters ($14) might intrigue you. The menu includes street snacks like pickled mango summer rolls ($7) and chicken satay with peanut sauce ($7) to start. For the entree, order pho with wood- and herb-smoked brisket ($13), vermicelli with soft-shelled crab salad ($15), Hanoi-style pork belly ($12) or a crispy whole sea bass with pineapple puree ($24). Room for dessert? You might go for the grilled rum pineapple with coconut sorbet ($6), an avocado milkshake ($6) or the Bangkok Backpacker, a Thai iced tea spiked with cachaça and absinthe ($14).