Best drinks to pair with lobster rolls from NYC booze experts
Beer, wine and cocktail gurus gave us their picks for the best drinks to wash down iconic summertime sandwich the lobster roll.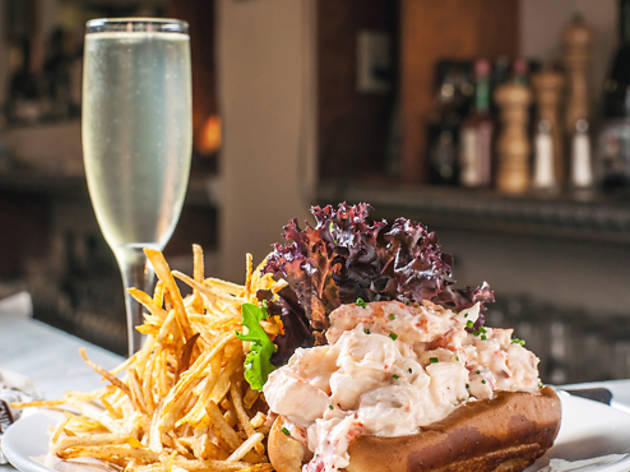 Stumped by deciding which beer, wine or cocktail to order with your lobster roll? Get a tip from the pros to find the right partner for the ultimate seafood sandwich.
Beer
"My two favorite beer styles for pairing with lobster rolls both hail from Belgium. The Belgian-style wheat beer (witbier) is very light, but wheat gives it a zing of acid, and the addition of orange peel and coriander accentuates its nice fruity flavors. My other favorite is saison, the Belgian-style farmhouse ale. [Both beers] are bone-dry, peppery and citrusy, with enough bitterness to cut through the richness of the lobster."—Garrett Oliver, editor-in-chief, The Oxford Companion to Beer; brewmaster, Brooklyn Brewery (79 North 11th St between Berry St and Wythe Ave, Williamsburg, Brooklyn; 718-486-7422)
Wine
"I like lobster rolls with a variety of wines, depending on the way the lobster roll is prepared. For [a classic mayonnaise-based lobster roll], I recommend a white wine with some richness, and more important, acidity, to cut through the fat. I like the idea of a zesty Greco di Tufo or Fiano di Avellino from Campania in Southern Italy because of its intensity of flavor and refreshing finish. I also like white wine from Santorini, Greece. Assyrtiko that has been aged slightly in barrique would be perfect for lobster rolls with French fries, or for when there is extra butter on the buns. If the lobster roll isn't as rich or is served without mayo (rare, I know), then feel free to try it with a blanc de blancs champagne. It brings out the toasty flavor of the bun and still cuts through the richness of the lobster, but it doesn't compete for intensity."—Laura Maniec, master sommelier and owner, Corkbuzz Wine Studio (13 E 13th St between Fifth Ave and University Pl; 646-873-6071)
Cocktails
"For me, the two routes to go for cocktails [paired with lobster rolls] are gin or tequila. For gin, you could go one of two ways: a lovely summer gimlet, bold and fresh—like a Corpse Reviver #2 topped with sparkling wine—or you can never go wrong with a crisp, well-made martini. For tequila, you can go straight spirit (blanco or reposado with one medium-sized ice cube), or perhaps a tequila smash with fresh mint, or a sour highball topped with ginger beer for a nice balance of sweet and spice." —Allen Katz, co-owner, New York Distilling Company and the Shanty (79 Richardson St between Leonard and Lorimer Sts, Williamsburg, Brooklyn; 718-878-3579)
You might also like
Best summer seafood dishes in NYC
Best lobster rolls in NYC
Reigning queens of lobster rolls: Rebecca Charles and Susan Povich
Best lobster-roll kits
Best seafood restaurants
See more in Food & Drink