Best new BBQ restaurants: NYC's top smokehouses
Chow down on ribs, brisket and sausage at the best new BBQ restaurants north of the Mason-Dixon Line.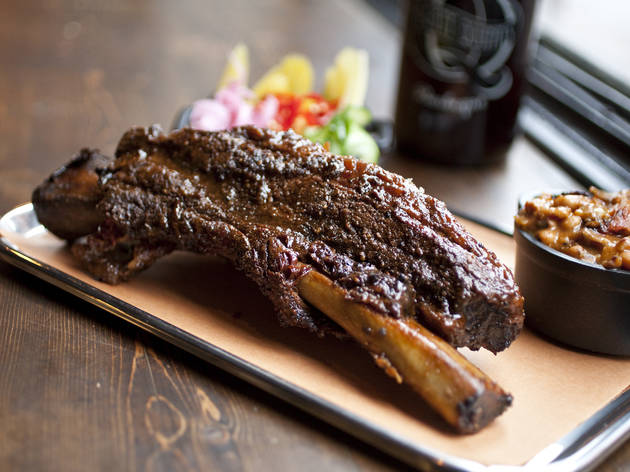 1/9
Photograph: Virginia Rollison
Best BBQ in NYC: 1. Mighty Quinn's When confronted with city 'cue, purists are often quick to add the begrudging qualifier, "It's pretty good…for New York." Hugh Mangum's low-and-slow meat haven needs no such addendum—it's mighty good barbecue, period. The drummer turned chef first hawked his Texalina—Texas spice meets Carolina vinegar— specialties at his immensely popular Smorgasburg stand, and when the operation went brick-and-mortar in December 2012, the hungry throngs followed. Lines snake through the steel-tinged East Village joint, gawking as black-gloved carvers give glistening meat porn a dash of Maldon salt before slinging it down the assembly line. Paprika-rubbed brisket ($8.85)—slow-cooked for 22 hours—boasts a quarter-inch smoke ring and a girdle of fat that will have your taste buds cheering, if not your arteries. The thick campfire bark of the pulled pork ($7.75) elevates it from the usual saucy porcine slop you're used to, and the Jurassic-sized beef rib ($23), which looks like a prop from The Flintstones, is so impossibly melt-in-your-mouth tender, one bite will quiet even the pickiest of BBQ hard-liners. 103 Second Ave at 6th St (212-677-3733, mightyquinnsbbq.com)—Christina Izzo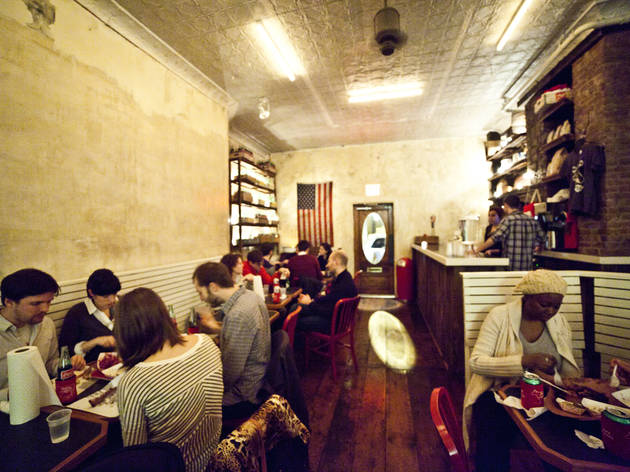 2/9
Photograph: Jolie Ruben
Best BBQ in NYC: 2. BrisketTown Jersey-born Daniel Delaney—a bespectacled former Web journalist—might not seem like an obvious poster child for purist Texan 'cue. But the Yankee is turning out some seriously craveworthy meat. The Food & Drink Award–winning Delaney takes the traditionalist route, coating chunks of heritage beef in salt and pepper before smoking them over oak-fueled fire for 16 hours. That deep-pink brisket ($25/lb), along with remarkably tender pork ribs ($19/lb), draws Williamsburg's jeans-and-plaid set, who hunker around tables, wiping their mouths with paper towels as mellow blues and indie tunes, like Mac DeMarco's "Ode to Viceroy," jangle over the speakers. 359 Bedford Ave between South 4th and 5th Sts, Williamsburg, Brooklyn (718-701-8909, delaneybbq.com)—Patty Lee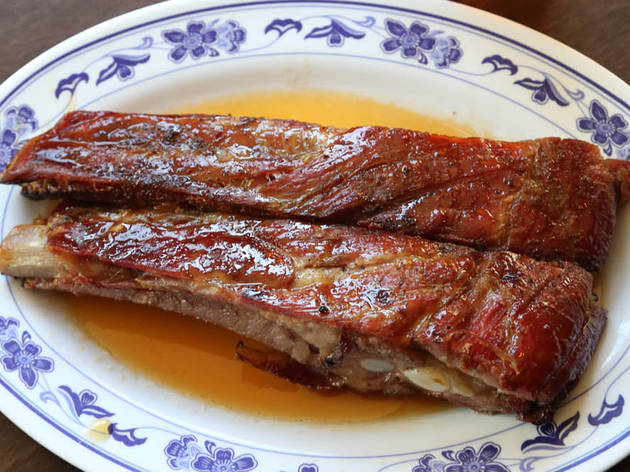 3/9
Photograph: Whitney Lawson
Best BBQ in NYC: 3. Fatty 'Cue The aroma of burning oak wafts down the block from Zak Pelaccio's newly reopened 'cue house (shuttered for more than a year to rework the menu and decor). Join a rowdy crowd of off-shift restaurant folk at the downstairs bar for a cocktail created by Mayahuel's Philip Ward, or slide into tufted green banquettes upstairs and feast on plates of Asian-accented BBQ from Anthony Masters, who mans the spot's two Ole Hickory smokers. Pork ribs ($11) arrive in a pool of palm-sugar-infused fish sauce, while crispy lamb ribs sit atop cool fermented tofu yogurt ($14). And an irresistible plate of brisket ($23) lands on the table with zippy fixins—rhubarb kimchi, vinegar aioli and steamed white buns. 91 South 6th St between Bedford Ave and Berry St, Williamsburg, Brooklyn (718-599-3090, fattycue.com)—Patty Lee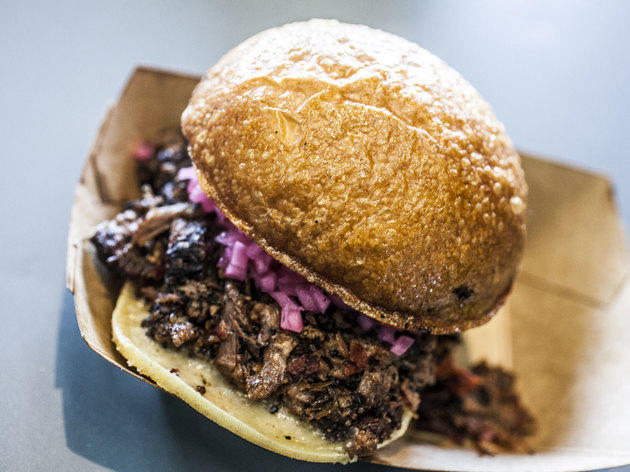 4/9
Photograph: Krista Schlueter
Best BBQ in NYC: 4. Smokeline 'Cue newcomer Daniel Delaney had one hell of a banner year: After sparking a cult following at BrisketTown (No. 2 on our list), the pit master debuted this satellite in April. He supplies High Line strollers with Central Texas–style grub, sodas sweetened with P&H syrup and seasonal pies. Red-blooded beauts like Delaney's top-notch brisket, an exemplar of sweet, no-sauce-needed meat and expertly charred peppercorn crust, come stuffed in butter-grilled rolls: The Mess, a SmokeLine exclusive, is just that—a four-napkin combo of chopped brisket, pulled pork, Vermont cheese, onion relish and piquant chili sauce ($10). But as at the flagship, once the meat's gone, the joint closes for the day, so be prepared to take down a tourist or two as you haul ass for a glorious bite of stellar beef. High Line at Tenth Ave and 15th St (718-701-8909, delaneybbq.com)—Christina Izzo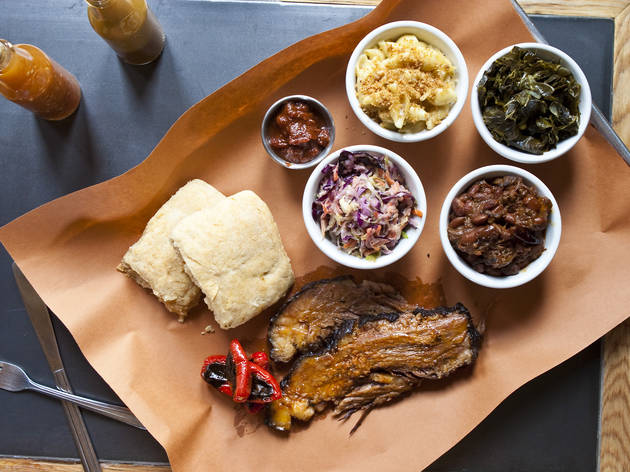 5/9
Photograph: Jakob N. Layman
Best BBQ in NYC: 5. Fort Reno Before January 2012, barbecue lovers had nowhere to satisfy their carnivorous cravings in smoked-meat-barren Park Slope. Jacques Gautier (Palo Santo) filled that void when he opened this wood-clad 60-seat den. And you get exactly what you'd expect at a Brooklyn barbecue spot: grass-fed meats, artisanal quaffs stirred by a mustachioed barkeep and house-made mason-jar lights hanging preciously overhead. But don't let twee Park Slope prejudice derail you from bellying up to Reno's crave-inducing provisions. North Carolina transplant Tim Coughlan mans the Cookshack smoker, churning out supple Pat LaFrieda brisket, copiously rubbed in a striking coffee-chocolate-chipotle mixture and roasted for up to 24 hours. Macaroni and cheese gets a chefly update via an übercreamy béchamel loaded with Monterey Jack, smoked Gouda and cheddar, while those scruffy bartenders give cocktails an unexpected but welcome meaty touch with locally made bacon bitters. 669 Union St between Fourth and Fifth Aves, Park Slope, Brooklyn (347-227-7777, fort-reno.us)—Christina Izzo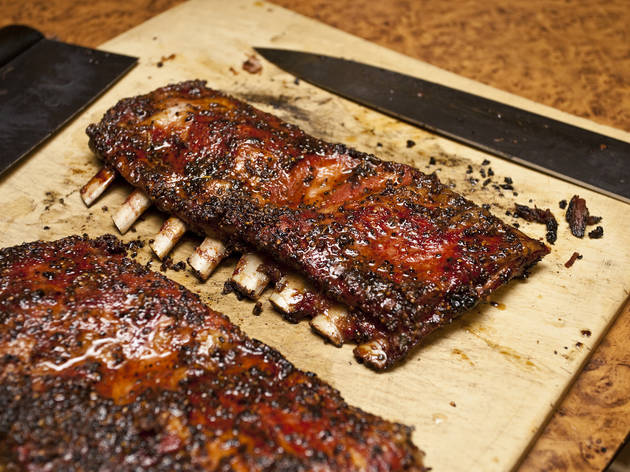 6/9
Photograph: Virginia Rollison
Best BBQ in NYC: 6. Alchemy, Texas The meat-peddling counter at the back of Legends Sports Bar—once home to Pearson's and Ranger Texas Barbecue—changed hands yet again in April. Its newest iteration is a smoke lab helmed by Josh Bowen of John Brown Smokehouse. The Queens pit master nods to his Hill Country training with Lone Star State standards, reimagining the usual salt-and-pepper rub with fenugreek, guajillo and pasilla chilies. He pulls offbeat creations from a J&R smoker: beef ribs ($28/lb) mopped with foie gras vinegar; pork-and-beef sausage laced with fiery paprika ($9/lb). But you can also find traditional bites, like moist pork ribs ($12/lb). Cap-wearing teens and local businessmen tackle the mounds of meat at red-and-white-checked tables, moaning or cheering at games playing on hi-def TVs. Even if your team doesn't win, Bowen's jazzed-up Texan goods certainly score.71-04 35th Ave between 71st and 72nd Sts, Jackson Heights, Queens (718-803-8244, facebook.com/alchemytexasbbq‎)—Patty Lee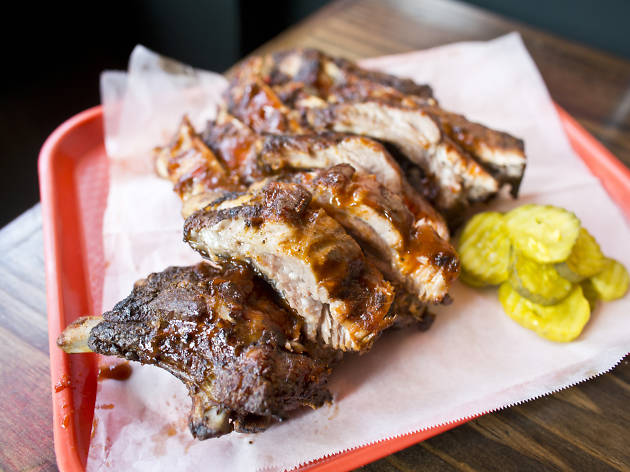 7/9
Photograph: Caroline Voagen Nelson
Best BBQ in NYC: 7. Pork Slope In August 2012, Dale Talde, David Massoni and John Bush (Talde, Thistle Hill Tavern) expanded their Park Slope mini-empire with this sottish roadhouse. Living up to its punny name, the focus is on the other white meat: Beneath a taxidermied boar's head named Piggie Smalls, sink your teeth into sticky, succulent St. Louis ribs ($30 for a rack) or slow-smoked pulled pork doused in tangy-sweet barbecue sauce on buttered Texas toast ($13). Booze-soaking sides like crispy mac and cheese—capped with a golden-brown, griddle-pressed crust—and crunchy Tater-Tots (both $4) flesh out the carnivorous feast.A rye-addled rendition of "Freebird" crooned on a wobbly barstool may make you hang your head in shame the next day, but this is 2am drunk food you won't be embarrassed by in the morning. 247 Fifth Ave between Carroll St and Garfield Pl, Park Slope, Brooklyn (718-768-7675, porkslopebrooklyn.com)—Christina Izzo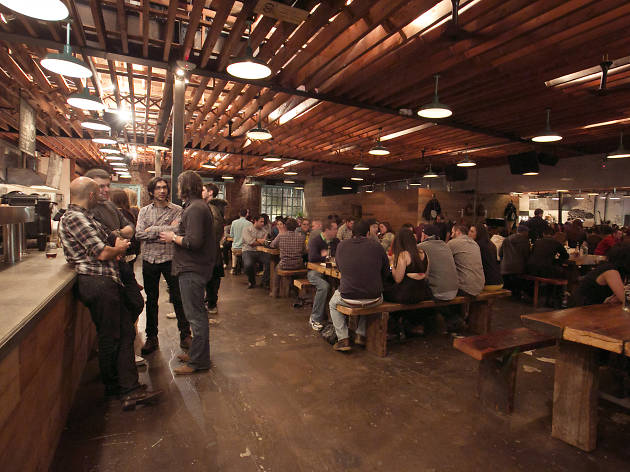 8/9
Photograph: Caroline Voagen Nelson
Best BBQ in NYC: 8. The Strand Smokehouse Astoria is home to Greek taverns, Egyptian coffeehouses and the city's oldest biergarten, but Southern comforts were harder to find until this cavernous honky-tonk, helmed by Queens native John Zervoulakos, opened last November. The sprawling 6,000-square-foot hall—decked out with reclaimed lumber, long picnic tables and dangling turquoise lights—doubles as a beer garden, drawing a boisterous, whiskey-swigging crowd. Zervoulakos, who studied KC 'cue at John Brown Smokehouse, rewrites the rules, using his Italian and Greek heritage to create uniquely New York blends: supple duck pastrami crusted in black pepper and cardamom ($28/lb); moist pulled pork spiced up by cumin, paprika and mustard powder ($6–$12); and leg of lamb brightened with fresh sprigs of rosemary ($18/lb). Toting booze-filled mason jars, Astorians zigzag between the tiled grub counter—dubbed a mouth-filling station—and the stage, where a bluegrass band keeps the party going into the wee hours. 25-27 Broadway between Crescent and 29th Sts, Astoria, Queens (718-440-3231)—Patty Lee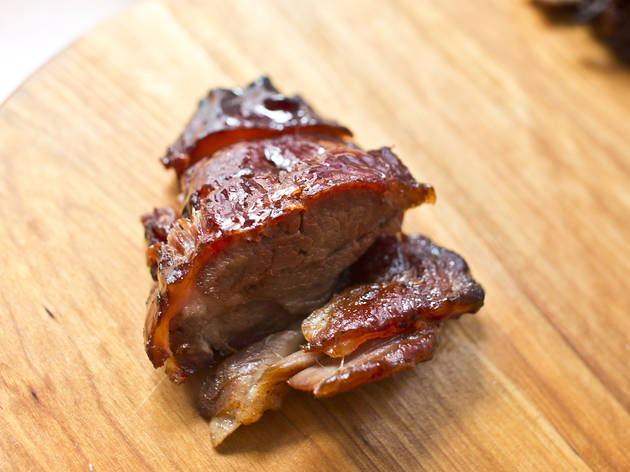 9/9
Photograph: Caroline Voagen Nelson
Best BBQ in NYC: 9. Fletcher's Brooklyn Barbecue Gowanus's burgeoning restaurant row got a meaty boost when this streamlined cafeteria opened on Third Avenue in November. Barbecue nuts Matt Fisher (Rub NYC) and Bill Fletcher met and bonded over the smoky craft at the Grillin' on the Bay BBQ cook-off in Sheepshead Bay, and decided to turn their shared interest into a full-time gig. While the J&R smoker was trucked in from Mesquite, Texas, the duo have kept their low-key chophouse Brooklynized. Upholding the borough's locavore ethos, the protein is sourced from Rodman, New York's Lucki 7 Farms and the pit's fueled with upstate sugar maple and red oak. Flanneled regulars nurse local pints over house-cured fridge pickles and chili-drenched mac and cheese, and graphic prints of crushed beer cans line the walls. Even the meat itself gets an urban upgrade: Along with grill staples like sauce-slathered ribs and 18-hour-smoked brisket, the chalkboard menu features funkier stuff like char siu ($7/quarter-pound), pork lubricated in a ginger-hoisin marinade and smoked to succulence for six hours. 433 Third Ave between 7th and 8th Sts, Gowanus, Brooklyn (347-763-2680, fletchersbklyn.com)—Christina Izzo
There's no better way to welcome summer than with a good ol' Southern cookout. Let Gotham's newest 'cue contenders—including a sprawling honky-tonk in Astoria and a Top Chef's Park Slope pork temple—do the work for you. Here are the best new BBQ restaurants in NYC.

RECOMMENDED: Full coverage of BBQ in NYC
Sponsored listing
Antique Garage
Plush carpeting controls the acoustics at this auto-repair shop turned restaurant. The garrulous crowd gathers under faded paintings and timeworn mirrors to feast on generous portions of burekas (feta-stuffed phyllo), thyme-laced haloumi cheese wrapped in grape leaves, and tuna steaks swimming in red-pepper puree. Regulars are as devoted to the live music as they are to the Mediterranean menu: Jazz performers wail Tuesdays between 7:30 and 10:30pm and on weekends from 1 to 5pm.
Venue says: "SoHo's best kept secret for over a decade. Lunch, Dinner, Brunch on weekends, and live Jazz music every night!"