Best new wings: Chicken and duck wings in New York City
New chicken (and duck!) wings are flying high at restaurants all over NYC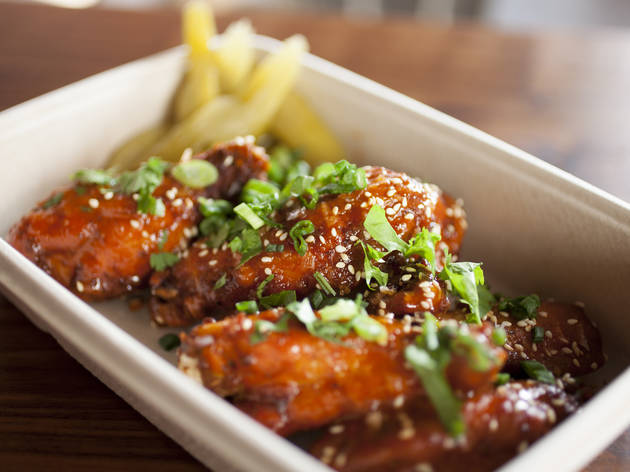 1/10
Photograph: Jennifer Arnow
The smoked sleeper hit Wings at Mighty Quinn'sCompared with "Brontosaurus Ribs" and towering piles of gleaming brisket, the chicken wing appears a meek underdog at Hugh Mangum's barbecue mess hall. But these smoked-then-fried bites have punch: After a salt-pepper-and-paprika dry rub, the wings are bathed in a sticky coating of chili, honey, garlic and lime, and  finished with toasted sesame seeds. 103 Second Ave at 6th St (212-677-3733). $7.25.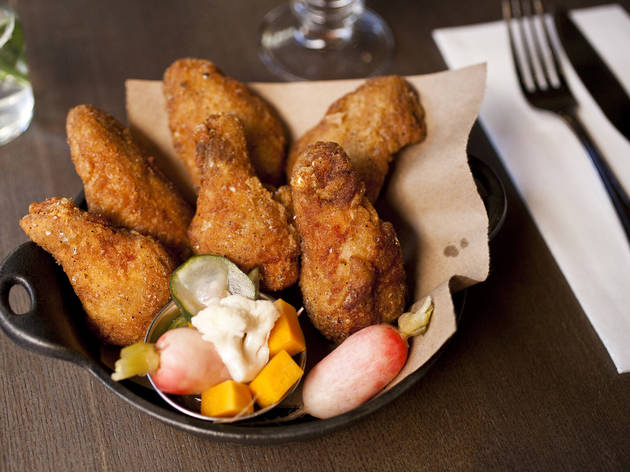 2/10
Photograph: Jessica Lin
The BonChon upgrade BJ Wings at Barn JooRest assured—the "BJ Wings" at this Asian gastropub are more sophisticated than their giggle-inducing name. The puffy snacks bear all the hallmarks of good Korean fried chicken—the crackling skin shatters with each bite. The wings are available in garlic-soy sauce or hot-pepper paste, but the best option is the most simple: the sea-salt-and-pepper variety, with seasoning clinging wickedly to crags of batter. 893 Broadway between Fifth Ave and Park Ave South (646-398-9663). $13.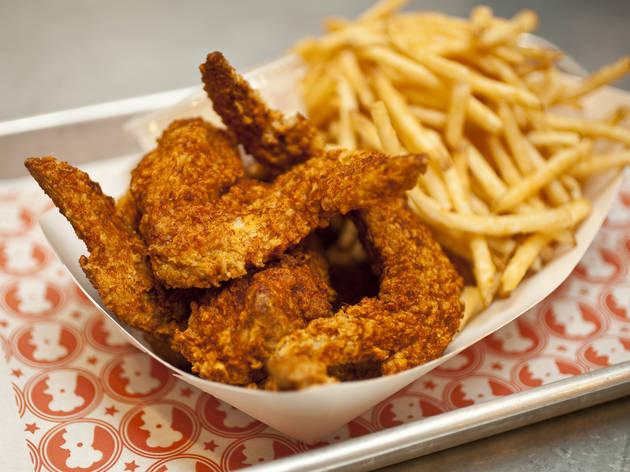 3/10
Photograph: Virginia Rollison
The booze-sopping drumette Chicken wings at Bromberg Bros. Blue Ribbon Fried ChickenThe Bromberg brothers were crisping up fowl long before Gotham's fried-chicken frenzy, and their decades-honed experience is put to good use at this birdcentric canteen. Crusted in matzo meal—lending a light Colonel Sanders-esque crunch—the prized poultry is double-dunked in the deep fryer, dusted in spices (paprika, cayenne, garlic powder) and drizzled with flavored honey (wasabi, chipotle). 28 E 1st St at Second Ave (212-228-0404). $1.75 each.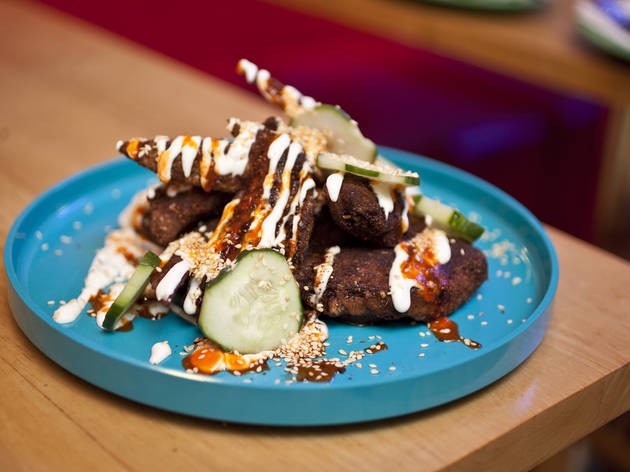 4/10
Photograph: Virginia Rollison
The South of the Border eccentric Chicken wings at Mission CantinaThe wings at Danny Bowien's Mexican follow-up are as invigorating as anything served at Mission Chinese Food, though graciously milder than their taste-bud-assaulting Chongqing cousins. Hitting the spicy-salty-sour trifecta, the deep-fried, dry-rubbed chicken is cast in a dark, heady mole blend of árbol chili, coffee and cocoa powder. Jackson Pollock splashes of zippy chili vinegar and cooling crema—along with cotija and sesame seeds—decorate the snappy pieces. 172 Orchard St at Stanton St (212-254-2233). $11.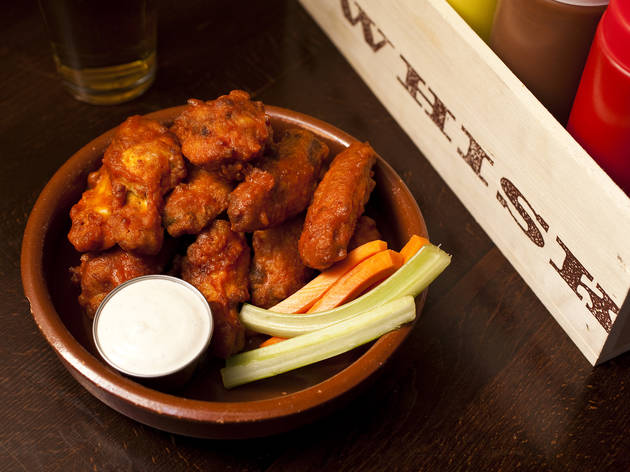 5/10
Photograph: Jessica Lin
The buffed-up buffalo descendant Chicken wings at Pork SlopeAt Dale Talde's saloon, the rice-flour-breaded, all-natural bird is sprinkled with cayenne, doused in tangy Frank's and lip-smacking sriracha, and rounded out with butter and a side of buttermilk ranch. A lesser wing would go soggy under the sauce, but Talde's stays crunchy until well into the game's last quarter. 247 Fifth Ave between Carroll St and Garfield Pl, Park Slope, Brooklyn (718-768-7675). $13.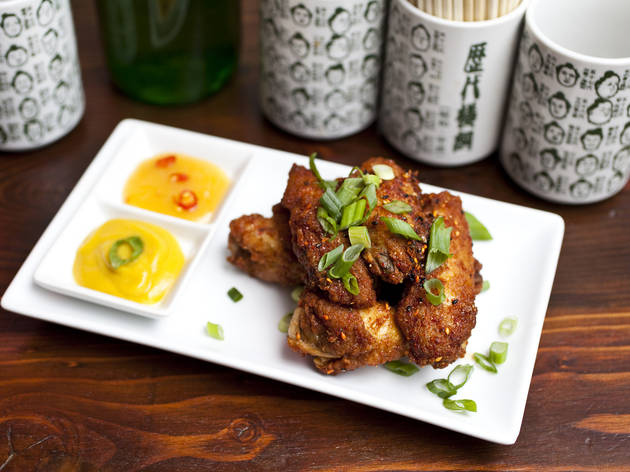 6/10
Photograph: Jessica Lin
The standout noodle-joint starter Tebasaki chicken wings at DassaraYou'll want—and need—two orders of the tebasaki wings at this lively ramen-ya. The petite flats teem with garlic and a black-pepper bite, all lacquered in a salty-sweet soy glaze. Sans batter or breading, the izakaya-style snacks are double-fried for rice-cracker crispiness, their frizzled nooks and crannies primed for catching beads of Chinese mustard and mango-mirin dipping sauce. 271 Smith St between DeGraw and Sackett Sts, Carroll Gardens, Brooklyn (718-643-0781). $9.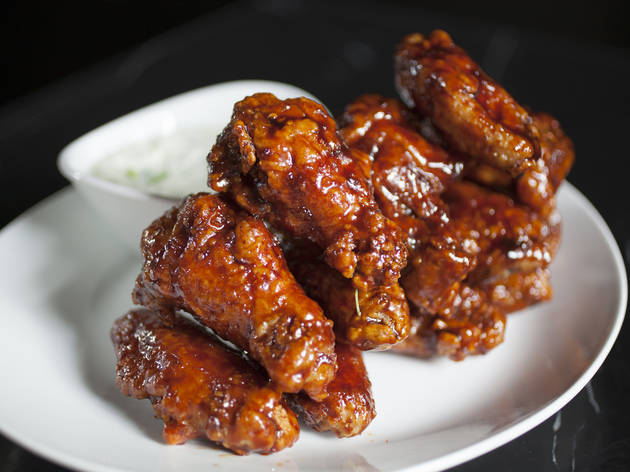 7/10
Photograph: Jennifer Arnow
The next-level pub staple Distilled wings at DistilledBorrowing from his days rifling through Momofuku's spice cabinets, Shane Lyons slicks his double-fried wings with a quick freeze in between for a candy-apple crackle—with a tangy mix of mirin, ginger, garlic and that Korean pantry warrior, gochujang (fermented soybean-and-chili paste). Delicate micro celery and creamy Point Reyes blue cheese—offering a great fromage funk—make for upmarket accompaniments. 211 West Broadway at Franklin St (212-601-9514). Six for $13, twelve for $22.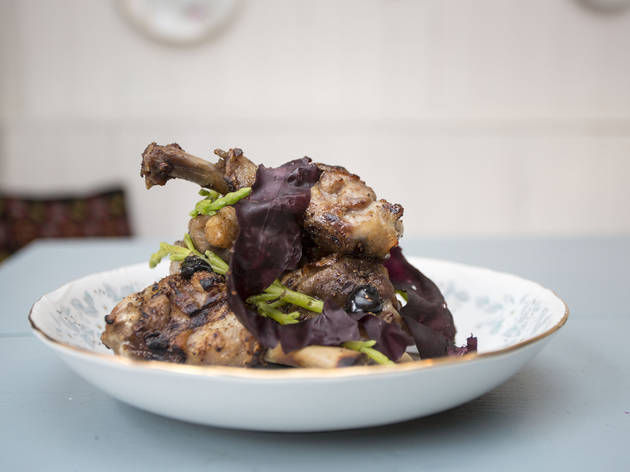 8/10
Photo: Caroline Voagen Nelson
The highbrow Nordic finger food Confit duck wings at SkálA touchdown jig would be out of place at this rustic Icelandic bistro, and the wings here don't resemble your standard game-time fare, either. Swapping out populist chicken for pricier duck, chef Ben Spiegel's Nordic version looks like a prop from a Tim Burton film: The meaty mallard is hay-smoked and grilled, before it's dressed with swatches of pickled dulse (dried red seaweed) and inky pools of pureed mussels, affectionately known as "black mayo." Giving off equal parts bonfire and brine, the duck proves a wonderfully weird new addition to New York's wing canon. 37 Canal St at Ludlow St (212-777-7518). $14.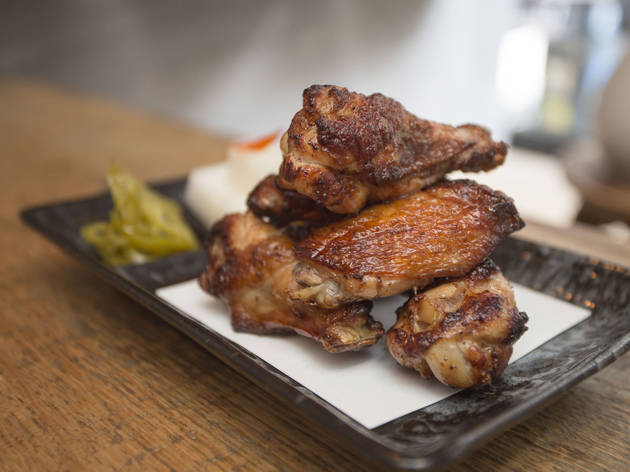 9/10
Photo: Caroline Voagen Nelson
The joomak wonder Grilled chicken wings "freshly killed" at HanjanAmish-country cluckers are slaughtered at Borough Park's LaPera Bros. a few hours before Hooni Kim breaks them down at his Korean gastropub. The Seoul-born toque marinates the ultrafresh pullet chicken in sake and soy, and then grills the sticky-sweet wings until moist on the inside, confit-crisp on the outside and imbued with a subtle smokiness. A side of chili pickles and diced daikon add a jolt of acidity. 36 W 26th St between Broadway and Sixth Aves (212-206-7226). $12.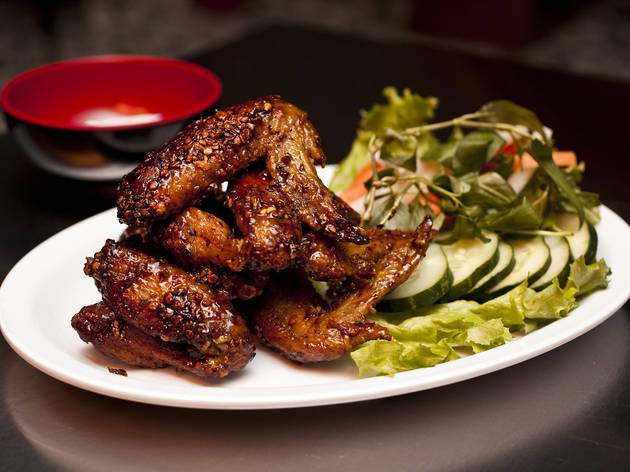 10/10
Photograph: Jessica Lin
The hype-warranted bar bite Ike's Vietnamese Fish Sauce Wings at Whiskey Soda Lounge NySomewhere, there's a dude named Ike whom we should all thank. Andy Ricker's esteemed wings—named after employee Ich "Ike" Truong, who inspired the recipe when Pok Pok was a mere Portland, Oregon, street cart—are just as stickily addictive at this corner canteen as they are down the street at flagship Pok Pok Ny. The large, twice-fried joints—sealed in a crispy rice-flour-tempura coating—get tossed with a mixture of garlic, palm sugar and nuoc cham (Vietnamese fish sauce) as both a marinade and, later, a finishing glaze, studded with nibs of fried garlic. It's the drinking snack you won't regret after your fourth dram of whiskey. 115 Columbia St at Kane St, Cobble Hill, Brooklyn (718-797-4120). $15.
Buffalo, NY
's Anchor Bar in 1964. Sauced descendants are popping up at restaurants all over New York, including hyped
Mexican
canteens, Japanese ramen bars and quaint Nordic charmers. While our neighbors to the northwest argue over whose
wings
are better, Anchor's or nearby rival Duff's, we'll be busy digging into these au courant takes on the sports-fan favorite.