Critics' pick
Garden variety Leave the exclusive practices of secret supper clubs to the Whisk & Ladles of the world. For four years, chef Matthew...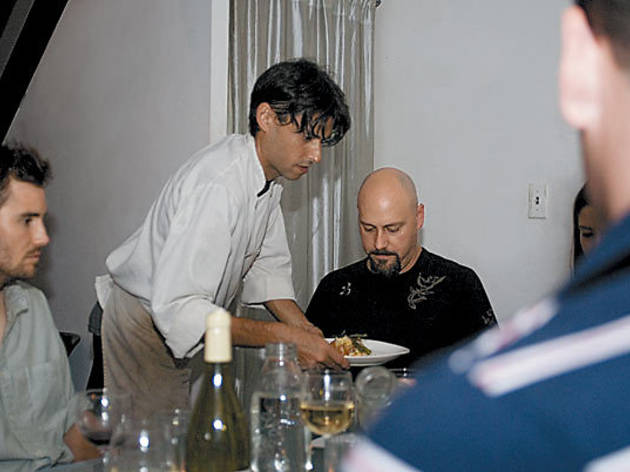 Garden variety
Leave the exclusive practices of secret supper clubs to the Whisk & Ladles of the world. For four years, chef Matthew "Matteo" Silverman, 31, has conjured a far more diplomatic underground dinner party at his weekly meatless feast, 4 Course Vegan. For a mere $40, guests can tuck into an ever-changing menu of vegan vittles—that's no animal products of any kind—while kibitzing family-style with their fellow diners. TONY's recent visit found us breaking bread in the company of 13 other adventurous eaters clustered around two tables in Matteo's hidden loft (reachable via a maze of hallways, courtyards and staircases on a shady Billyburg block). Matteo delivers each course before tiptoeing back to the kitchen—a closet-size corner of his apartment—to conjure more elegantly styled, cleverly articulated eats that won't leave you asking, "Where's the beef?" Thinly sliced rounds of jicama were folded over creamy "cashew cheese"—a blend of soaked and ground cashews and fermented water—forming delicate half-moon ravioli propped against cubes of watermelon. Shockingly spicy dehydrated onion rings were dipped in tahini, rolled in black and brown sesame seeds and Turkish chilies, and served over cooling sliced beets and peppery watercress. Sautéed okra and savory chickpea succotash thickened with homemade almond milk topped pillowy cornmeal beignets. It's a no-risk proposition for vegans and omnivores alike. Should meat pangs strike, Peter Luger is just five blocks away.

For more info or to make reservations, call 718-599-5913 or visit 4coursevegan.com. $40.
Sponsored listing
Blake Lane
This California-style eatery brings a touch of Venice Beach sunshine to the Upper East Side. The bright, airy space gives off some serious West Coast vibes, as does the fresh, health-conscious menu. Along with the typical drink menu of lattes ($4) and cappuccinos ($3.75), Blake Lane also offers a trendy golden milk latte made with almond milk, ginger and turmeric ($5.50). In need of atonement for last night's sins? Sip one of five tonics, ranging from a hot hibiscus number with ginger and cinnamon ($4) to an apple cider vinegar and bay leaf infusion ($3.50). The brunch menu tilts similarly healthy, with a coconut rice porridge topped with roasted pear ($12), a spiralized squash bowl with basil pistachio pesto ($14) and the obligatory avocado toast ($9) on offer. Blake Lane also serves dinner—think a little gem salad with grapefruit and pink peppercorn ($12) and locally sourced chicken confit served with collards and brown rice ($24).
Venue says: "New restaurant on the UES serving California-influenced food for breakfast, lunch, dinner, and everything in between."