Danny Bowien: The TONY interview
The chef of Mission Chinese Food storms Manhattan (and has an eye on Brooklyn, too).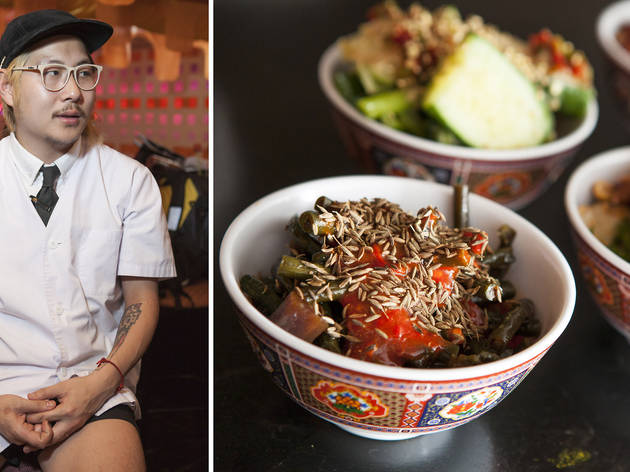 Chef Danny Bowien stepped into the national spotlight with the launch of San Francisco's Mission Chinese Food in 2010. The innovative joint—run out of another Chinese restaurant in a seedy 'hood—won over diners and critics alike with its eclectic Far East–inspired plates and DIY charm, and garnered nods on both GQ's and Bon Appétit's Best New Restaurants lists, as well as a 2012 James Beard Rising Star chef nomination for Bowien. In May, a highly anticipated spin-off opened on the Lower East Side, and it's been packed ever since. We sat down with the white-hot toque to talk about whether authenticity matters, the importance of charity and sucking as a line cook.
TONY: One of the most distinctive elements of Mission Chinese Food is its commitment to charity. You donate 75 cents from every large dish to a local nonprofit. Given how thin restaurant margins are, that seems like a big chunk of change.
Danny Bowien: I don't make millions of dollars, but I want to make a difference. The charitable aspect is really important to me. We've raised almost $150,000 in San Francisco for the Food Bank, [which makes] you feel like you can mess up a little bit and still be okay. I'm not taking a salary here [in New York], so that I can just put everything back into the restaurant and our cooks.
TONY: The Mission Chinese Food website calls your fare "Americanized Oriental." What does that mean exactly?
Danny Bowien: My business partner [Anthony Myint] came up with that term a while ago. We were actually trying to make Americanized Oriental food, but I don't even know what to call what we make now. It's definitely evolved since the beginning— we've scaled back the heat and it's getting a lot lighter. I went to Szechuan, and [comparatively] the Szechuan restaurants here [in America] are super spicy. I liken it to Italian food in Italy and then Italian food here [in the U.S.] You don't need to put a fuckload of cheese on something. It's a crutch. We could make everything spicy as fuck, but it doesn't make a ton of sense. We just want to make food that we're happy with. We take inspiration from Chinese dishes, but we're not shooting for authenticity.
TONY: Some people seem to get hung up on authenticity when it comes to certain cuisines. Diners will drop hundreds of dollars on a meal at a New Nordic restaurant, but if a Chinese spot charges more than a few bucks for dumplings, even if they're using high-quality ingredients, people will complain that you can get cheaper, more authentic versions in Chinatown. You also make mash-up dishes like kung pao pastrami and stir-fried rice cakes with Benton's bacon from Tennessee. Do you ever get accused of making food that isn't authentic?
Danny Bowien: I don't even let them get me riled up anymore—people saying that [our food] isn't authentic. Who cares anymore? What's the point? Authentic isn't even good sometimes. I've been to fucking China and I've had some of the best food and some of the worst food [there]. I had Peking duck in Beijing at Da Dong, which is the most famous place, and it fucking sucked. It's all a matter of taste. It's not, like, scientifically this is the best duck in the world. It's just, do you like the taste or not? That's what's so useful about food. If I stay closed-minded and say I'm not making it if it's not authentic, I can only get so far. To become great, you can't box yourself in. I won't allow that.
TONY: David Chang is another chef known for his creative takes on Asian food. Has he influenced you at all?
Danny Bowien:David Chang took Asian food to the next level. You have to give credit to Susur Lee and all the Asian chefs before him. But Chang aggressively took the reins and pushed it forward. What you get from his food is his personality. He inspired me to not be afraid of being myself and doing what I want.
TONY: Let's back up a little. How did you get started in cooking?
Danny Bowien: When I first came to New York, I was very new to [kitchens] and I went into fine dining. All the chefs were cooking circles around me. Some of the people I worked with hated me. I wasn't doing cocaine on the line and I wasn't drinking. Also, I wasn't a great line cook. I sucked back then. The [other cooks] were serious, but they didn't take themselves seriously. The whole time I was getting yelled at I just thought, You know what? At the end of the day, I'm going home to think about work and I'm going to come back and try to be better tomorrow. You guys are already great, but you're blowing it now. You're just going out and spending all your money on drugs and alcohol. You have no quality of life. [One time] I looked at this guy who treated me like shit and basically beat me all the time and said, "One day you'll respect me." They hit me and threw stuff at me. I never want to treat my cooks like that.
TONY: So what happened after that?
Danny Bowien: I [thought] I'm not a great line cook yet and I need to start from the basics again. I know French food, but I'm not going to bump somebody off in a French kitchen. I can learn to make something I want to make. So I said, All right, well, fuck this. I'm gonna go learn how to make sushi. So I went back to San Francisco and got a job at a sushi restaurant. I took a step back and redid everything. They started me out washing rice. It was all really old-school Japanese guys. [When they found out] I could speak some Spanish, [they made me] the new kitchen manager. I really wanted to cut fish, but they said, "You can't cut fish. You're the kitchen manager. Just go check in the produce." So I got a job at another sushi restaurant, and on my day off, I was staging. I went through seven or eight hard-core years of working at three different jobs. Eventually I got tired and thought, I don't want to do fine dining anymore, I want to do something else.
The first day of Mission Chinese Food was April 24th of 2010. It was a pop-up for Mission Street Food [a series of guest-chef dinners that preceded Mission Chinese Food in the Lung Shan restaurant]. Anthony, my business partner, was opening this restaurant Commonwealth and he said, "You've got to work as the chef." I said I can't work at fine-dining restaurants anymore. I'm going to stay here and cook Chinese food.
TONY: So things are better now than your early days?
Danny Bowien: At the end of the day, I still suck. I just have fucking awesome cooks around me to make me look good. We're not revolutionizing anything. We're not doing what Wiley [Dufresne] did at wd~50. We're just making tasty Chinese food.
TONY: What are your plans for the future?
Danny Bowien: The goal is to open in Brooklyn, off of Metropolitan, next year. I don't see myself making anything besides Chinese food for a long time…except, I'm going to open a sushi restaurant way down the road—maybe three years.
I just turned 30. I'm going to try and retire when I'm 35 if that's possible. I'm going to move back to Oklahoma, where I'm from. I'll play music again and cook for my family. I just want to make sure that I still enjoy cooking.
You might also like
Now trending: Nouveau Chinese restaurants including Mission Chinese Food, Biang! and more
Best Chinese food restaurants in Gotham
Sponsored listing
Battery Harris
Vets of Village Pourhouse and the Taïm truck turn to Caribbean comfort food and Latin cocktails with this 144-seat bar. The Queens-born owners pay tribute to the Rockaways with the name—a nod to an abandoned beach bunker in Fort Tilden park—and shore-inspired decor, including colorful stained-wood interiors, a transparent geometric roof and a wraparound deck. Richard Gibbs (Caracas Arepa Bar) dispatches spiced plates like jerk chicken wings, jalapeño mac-and-cheese pie and roasted-corn-and-cabbage slaw tossed in a Scotch-bonnet vinaigrette. Rum-heavy tipples include the Double Impact (lemon, kumquat shrub, vanilla and orange-blossom water) and the Quest (lime, basil and Angostura bitters). Also on offer: nearly 20 domestic beers and four wines on tap.
Venue says: "Beach Bar and Kitchen! Mon, Tue & Wed Happy Hour 4-7PM, Thur SUNDUB (Reggae & Roots) Live Band, Fri & Sat DJs 11-4am, Sat and Sunday Brunch!"