Far-flung sweets
Sample these international treats without leaving NYC.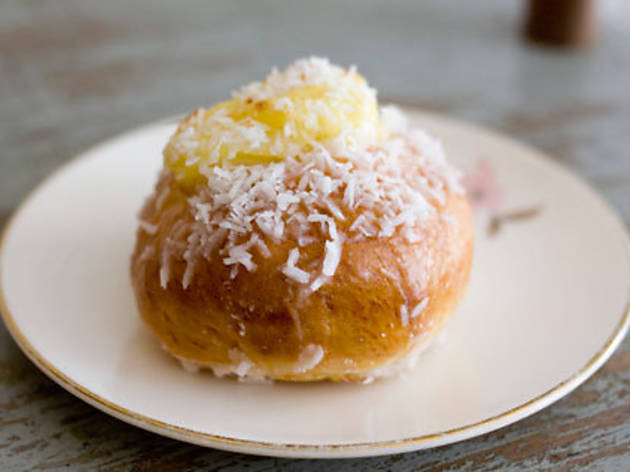 1/9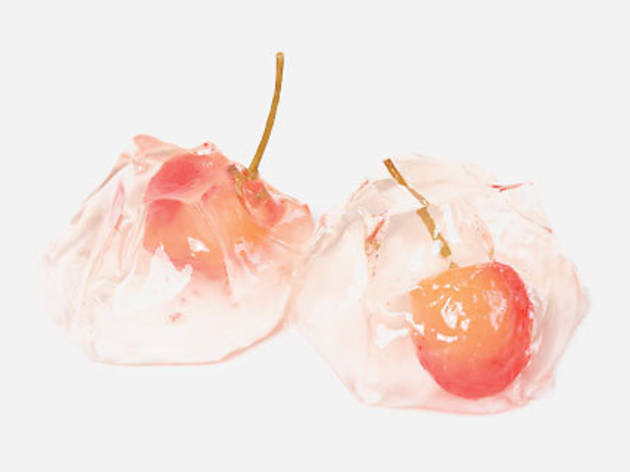 2/9
Candied cherries and plums at Minamoto Kitchoan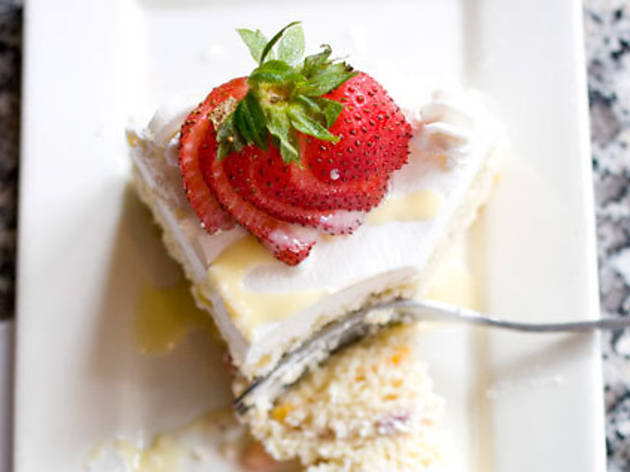 3/9
Tres leches cake at La Flor Bakery and Caf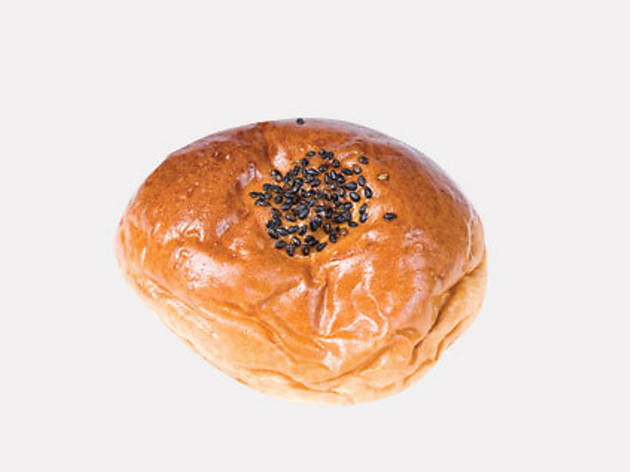 4/9
Sweet bean treats at Koryodang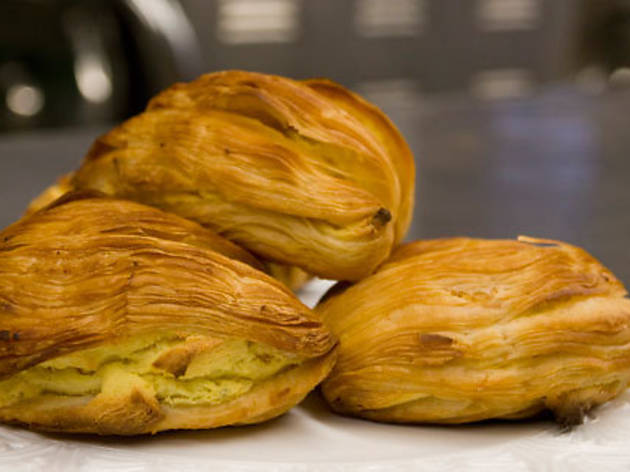 5/9
Sfogliatelle at Villabate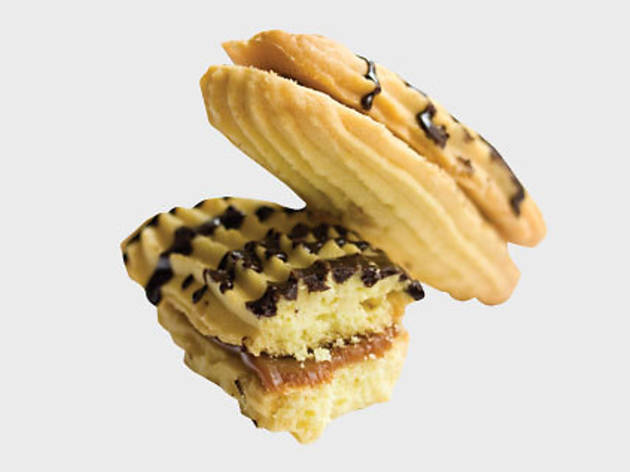 6/9
Sandwich cookies at La Nueva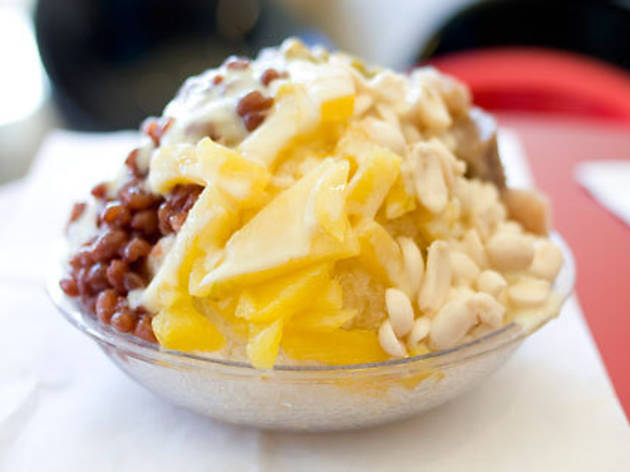 7/9
Shaved ice at Ice Fire Land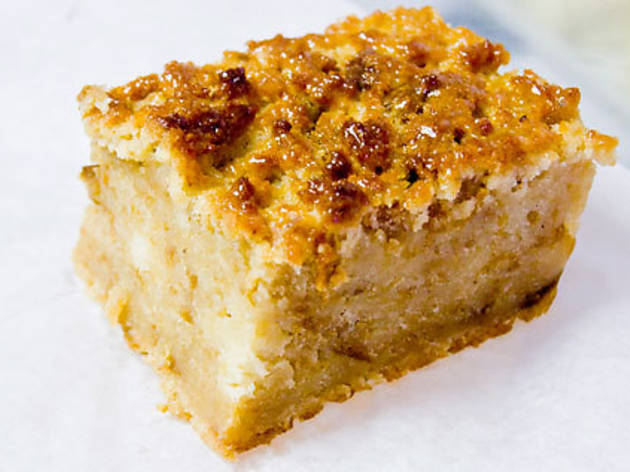 8/9
Bread pudding at Royal Roti House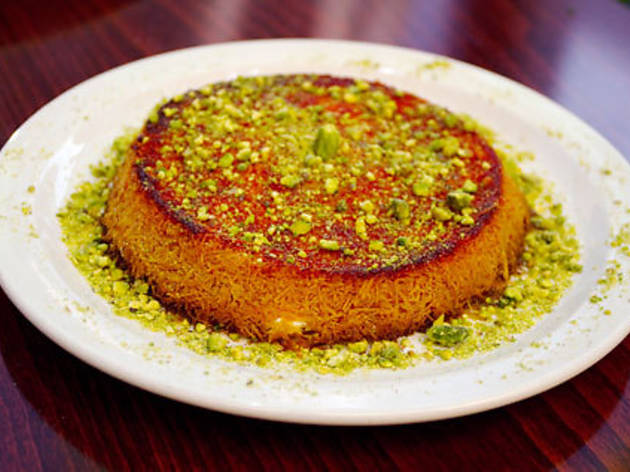 9/9
Skolebrod bread at Bakeri
Owner Nina Brondmo began baking Norwegian skolebrod ("school bread"; children are typically sent to class with a roll) to satisfy the craving of her visiting brother. But the doughnutlike rounds swelling around a center of vanilla-bean-flecked pastry cream have garnered their own following. 150 Wythe Ave between North 7th and 8th Sts, Williamsburg, Brooklyn (718-388-8037, bakeribrooklyn.com). $3.
Candied cherries and plums at Minamoto Kitchoan
Japanese wagashi are whimsical sweets meant to be consumed in traditional tea ceremonies. We like the delicate, gemlike candied cherries encased in crystal-clear gele known as sakuranbo ($3.50 each) and kohakukan ume ($4 each), which feature candied plums in wine gele. Make sure to ask for the chilled ones kept in the back. 608 Fifth Ave, entrance on 49th St between Fifth and Sixth Aves (212-489-3747, kitchoan.com)
Tres leches cake at La Flor Bakery and Cafe
At first glance, the moist tres leches cake at this French-Mexican caf underneath the 7 train looks like any other—but creamy, dairy-doused sponge layers, fresh pieces of peach and strawberry, and white cream frosting elevate it to more sophisticated heights. It's damp enough to ooze cream across your plate, but the strawberry and peach topping keeps it from being overly rich. 53-02 Roosevelt Ave at 53rd St, Woodside, Queens (718-426-8023). Slice $5.95.
Sweet bean treats at Koryodang
Our favorite Korean treats at this Asian minichain are the sugared red-bean doughnuts ($1.50) and gombo, their denser, crackly-shelled cousins ($1.35), which are made with white flour and covered with peanut-cookie chunks. The shop also boasts more than 100 varieties of bread, cake and cookies. 39-02 Union St between Roosevelt and 39th Aves, Flushing, Queens (718-762-6557) * 156-19 Northern Blvd between 156th and 157th Sts, Flushing, Queens (718-762-0104) * koryodang.com
Sfogliatelle at Villabate
This classic Brooklyn patisserie dishes out multilayered sfogliatelle, crispy cones of dough filled with fresh sheep's-milk ricotta ($2.25). Chew on a few of the fragile delicacies, but leave room for tender cannoli ($2) any nonna would be proud to call her own. 7001 18th Ave between 70th and 71st Sts, Bensonhurst, Brooklyn (718-331-8430, villabate.net)
Sandwich cookiesat La Nueva
This teeming caf sells a staggering number of pastries, including sweet and crumbly sandwich cookies stuffed with South American dulce de leche. Also look out for the hard-to-find alfajores—buttery rounds smeared with more silken dulce and edged with shredded coconut. The cookies come in both a regular size ($1.25) or a massive, fist-size version ($1.75). 86-10 37th Ave between 86th and 87th Sts, Jackson Heights, Queens (718-507-4785)
Shaved ice at Ice Fire Land
Dessert interlopers like legumes (beans and nuts), taro balls and fruit-juice jellies are buried in a bowl of freshly shaved ice and surrounded by condensed milk. You can get Taiwanese-style shaved ice in Manhattan, but true fanatics make the trip to score this authentic version of the crunchy, protein-rich sugar rush that puts those rainbow-hued cones to shame—all served amid some Star Trek--esque decor. 135-11 40th Rd between Main and Prince Sts, Flushing, Queens (718-886-8600). $4.25 each.
Manja pudding at Malagueta
A cousin of flan, manja is a baked Brazilian pudding of coconut milk, usually served with cooked prunes and sugar syrup. The smooth, comforting version at this Long Island City bistro trades the prunes for fat blackberries—a perfectly tart counterpoint to silky, tropical-scented spoonfuls of rich custard. 25-35 36th Ave at 28th St, Long Island City, Queens (718-937-4821, malaguetany.com) $5
Bread pudding at Royal Roti House
This nondescript neon-lit storefront slings Caribbean bonbons of the well-worn bakery path, like a dense hunk of bread pudding ($1) that features a drier texture than most custardy American versions, plus a crunchy, sticky cherry and bread topping. Offset the tanginess with a slug of rich peanut punch, a nap-inducing libationof sweetened milk blended with Elvis's favorite sandwich spread ($2.50 for a small bottle). 618 Nostrand Ave between Dean and Pacific Sts, Bedford-Stuyvesant, Brooklyn (718-604-0200)
Knafeh at Tanoreen
Chef Rawia Bishara's sublime rendition of this classic Middle Eastern sweet ($12) is composed of crunchy kataify (shredded, baked phyllo dough) stuffed with mild farmer's cheese, then topped with rosewater syrup and crushed pistachios. The golden tart arrives at your table like a crown jewel, with its nutty crunch and enticing perfume. 7523 Third Ave at 76th St, Bay Ridge, Brooklyn (718-748-5600, tanoreen.com)
Sponsored listing
Butterfunk Kitchen
The menu of Southern soul food favorites at this Windsor Terrace restaurant takes inspiration from chef Chris Scott's childhood. Some of the dishes, like scrapple ($6), a pork loaf that's seared and served with okra chow chow, are adaptations of his nana's recipes. Others put a playful spin on beloved classics: The whites of the deviled eggs are deep-fried, then topped with an egg yolk mousse and collard green cracker ($7) while the corn-on-the-cob is dusted in cornmeal, fried, then doused with homemade ranch and bacon ($5). The list of entrees includes a lemonade-buttermilk fried chicken and biscuits ($18), pepper pot shrimp with peppers and onions ($21) and beer-braised brisket with grits and molasses gravy ($22). Order up a side of baked mac n' cheese ($8) or green beans cooked with smoked turkey neck ($5) if your stomach can handle it, or save your appetite for the banana pudding ($6) or church cake ($7).
Venue says: "Come and See us in the Mac and Cheese Smackdown, hosted by Time Out New York at Berg'n on April 24th!"