First look at the food at Mission Cantina
Danny Bowien follows up Mission Chinese Food with a highly anticipated Mexican restaurant.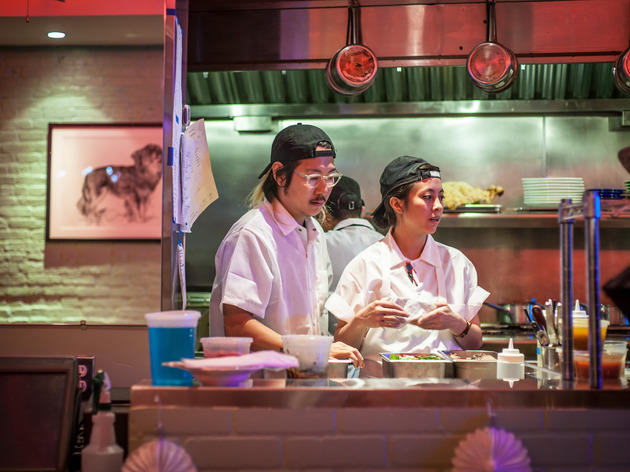 1/6
Photograph: Paul Wagtouicz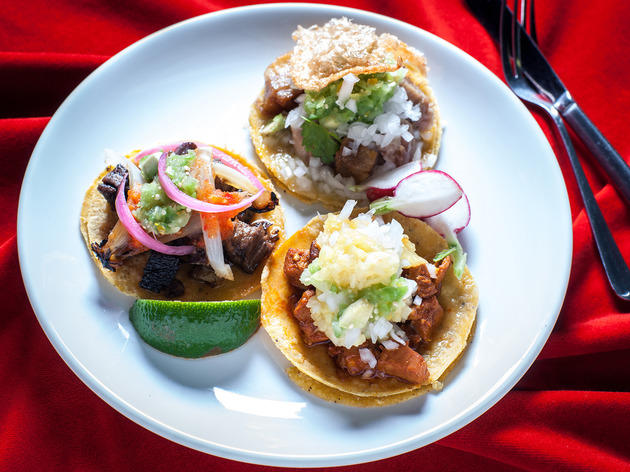 2/6
Photograph: Paul Wagtouicz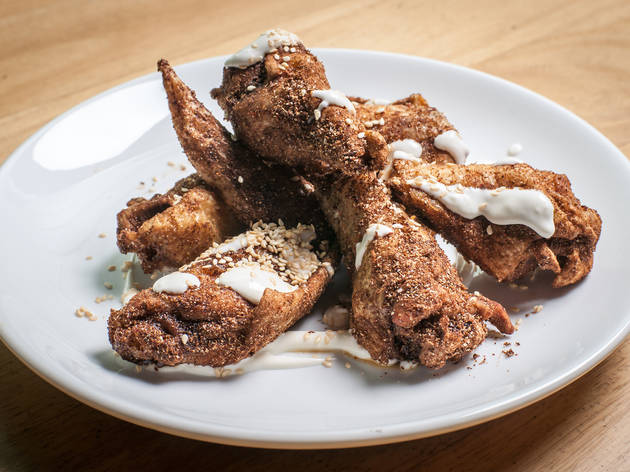 3/6
Photograph: Paul Wagtouicz
Chicken wings at Mission Cantina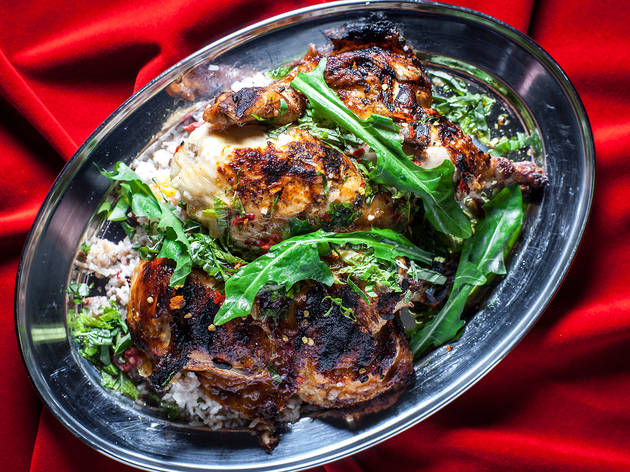 4/6
Photograph: Paul Wagtouicz
Rotisserie chicken at Mission Cantina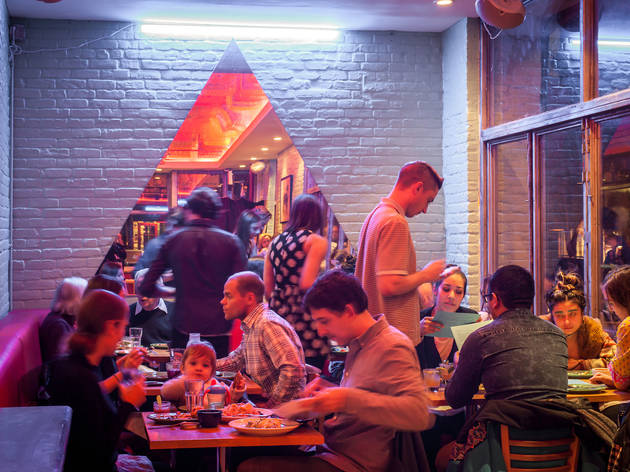 5/6
Photograph: Paul Wagtouicz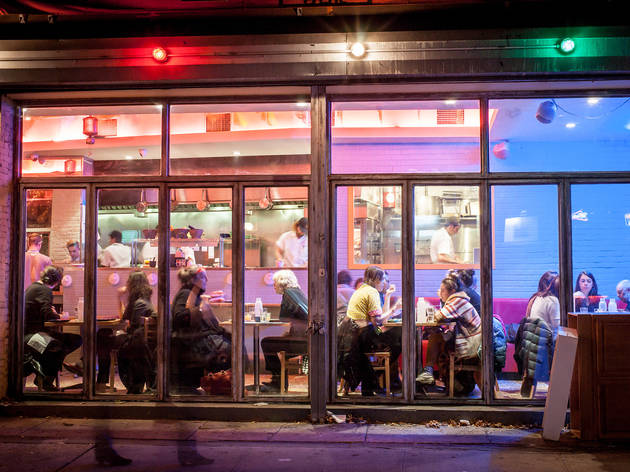 6/6
Photograph: Paul Wagtouicz
Last summer, a liquor-license meeting spurred rumors that the next move for rock-star chef Danny Bowien would be a Mexican joint called Mission Cantina, located a block from the beloved (but currently shuttered) Mission Chinese Food. Bowien was tight-lipped about the space until just this month, when he revealed plans for the 41-seat spot. Turning from his brand of innovative Szechuan eats, he changes the tune for his sophomore act, with a fresh take on Mexican fare. Like his flagship, Bowien puts in work little seen elsewhere, nixtamalizing Anson Mills corn for fresh tortillas and making creamy, stretchy Oaxacan-style cheese—the Mexican equivalent of burrata—in house. He also puts the Bowien touch on classic dishes, like a ceviche made with Hokkaido scallops and beef heart, and rotisserie chicken, which he stuffs with rice and chorizo, an idea he picked up in Korea. Tacos include traditonal versions like al pastor, as well as offbeat offerings, such as chicken liver. We've got the first look at food in the slide show above; check out the soon-to-open restaurant's the full menu below. 172 Orchard St at Stanton St (212-254-2233)

PRELIMINARY MISSION CANTINA MENU:
APPETIZERS
Hokkaido scallop and beef heart ceviche- capers, olives, citrus
Soft scrambled eggs- sea urchin, jalapeno pickles, chicharron
Fresh queso Oaxaca- hickory smoked, olio nuovo, marinated poblano peppers
Chicken wings, llaxacalla- mole spices, crema, sesame
Ensalada Caesar cardini- romaine lettuce, anchovy dressing

TACOS, MEAT
Lamb- beer braised and dry spiced, coriander, crema
Al pastor- rotisserie pork, fermented pineapple
Chicken liver- tostada, creamed white beans, pickled chili morita
Carnitas- three textures of pork- gently cooked in pork fat
Beef tongue- cooked in whey, steamed onions, peanuts
Alambres- beef brisket, smoked bacon, peppers and onions
TACOS, VEGETABLES
Hongos- 5 types of mushrooms, epazote, charred queso Oaxaca
Spicy greens- fresh corn, toasted seeds
BROTHS
Chicken- garbanzo beans, epazote, mint
Lamb- lima beans, chili and onions
Pork- fresh hominy, cabbage, radishes
SHARED
Rotisserie chicken- stuffed with rice and chorizo
SIDES
Arroz con pollo– tomato, chicken fat, egg
Lechuga al mojo de ajo– steamed lettuce, dried shrimp, fresh butter and garlic sauce
Lima beans – pickles, olives
Broken black beans– schmaltz, hoja santa
Spicy carrot pickles – pineapple, clove, cinnamon and anise
Charred cauliflower escabeche – rosemary, rice vinegar
Cebollitas – grilled spring onions, butter, citron
BEER
Negra Modelo
Modelo Especial
Sapporo

COCKTAILS
Cantina sangría
Lil' Luche– soju, pineapple, yuzu, calpico, spice
Como la Flor– soju, cantaloupe, orange, mint, prosecco

Sponsored listing
Alachi Masala
Whether you're looking for takeout or a casual dinner on the Upper West Side, Alachi Masala has you covered. Not only is this restaurant BYOB, but it also doesn't charge any corkage fees. Whether you're dining in or taking your dinner to go, you have a long menu of Indian favorites to choose from. Go the traditional route with vegetable samosas (two for $4.95) or vegetable pakora ($6.95) to start. You'll find classics like chicken tikka masala ($15.95) and saag paneer ($13.95) alongside specialty dishes like emlyka murg, boneless chicken cooked in peppercorns, tamarind and garam masala ($14.95). Of course you'll want some naan—what Indian feast would be complete without it? Try it flavored with garlic ($3.95), stuffed with spiced potatoes ($3.95) or studded with cherries, raisins and coconut ($4.95). Hungry for something sweet? Sample some of the traditional Indian desserts on offer, like the cardamom- and rose-scented pudding called kheer ($4.95) or ice cream flavored with saffron ($4.95).
Venue says: "New York's Best B.Y.O.B. Indian Restaurant famous for the Chicken Tikka Masala and other gluten free and vegan options available!"