Gato opens in Noho
Bobby Flay launches a Mediterranean eatery downtown, his first new NYC restaurant in a decade.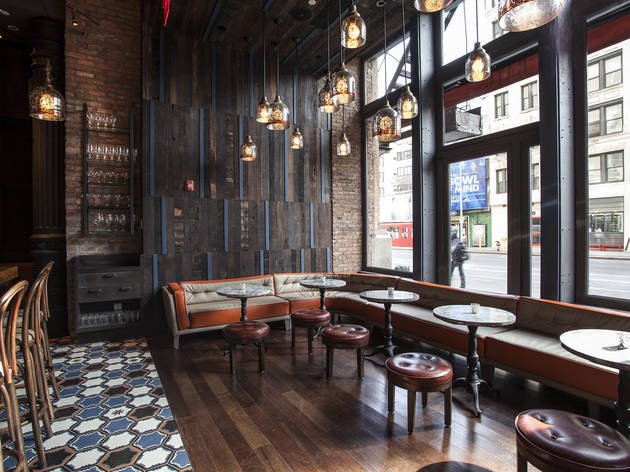 1/3
Photograph: Virginia Rollison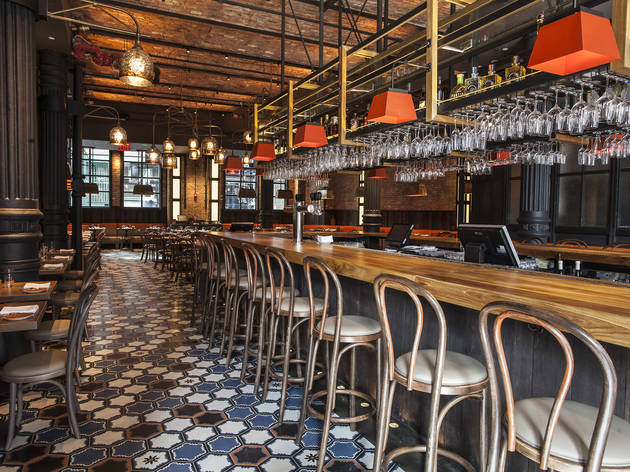 2/3
Photograph: Virginia Rollison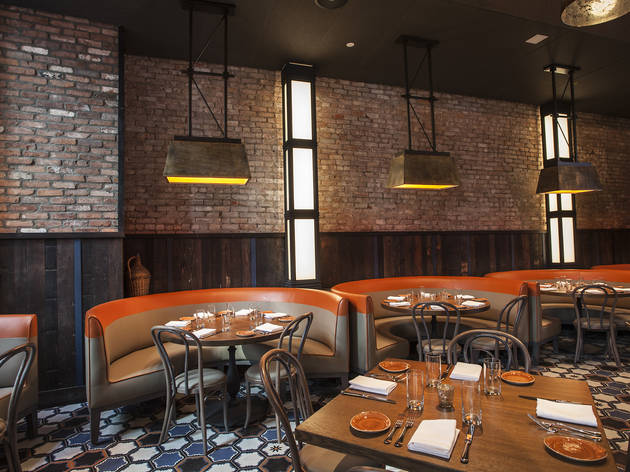 3/3
Photograph: Virginia Rollison
Food Network megastar Bobby Flay—who made his bones with Mesa Grill (1991–2013) and Bolo (1993–2007)—makes his big return to the New York dining scene. With eight—count 'em!—TV shows on rotation, the flame-haired toque puts the chef's whites back on for this 130-seat Noho canteen. From a fan-baiting open kitchen, Flay dispatches Mediterranean-influenced plates, like mushroom-kale-and-egg paella, lamb tenderloin with salsa verde, and oven-blistered chicken with goat cheese and dandelion. At the rectangular wood bar, find small plates like scallop tartare and toasted tomato bread, alongside cocktails like the Paco (vodka, blood-orange juice, cava). Furbished with tiled floors, steel-and-glass chandeliers and 22-foot-high ceilings, the digs are spacious, but with Flay at the helm, expect it to be more jam-packed than a paella pan. See the bar and kitchen menus below. 324 Lafayette St between Bleecker and W Houston Sts (212-334-6400)
BAR MENU:
CHOOSE 3, $17
Wild mushrooms, ricotta, hazelnuts
Duck liver, sherry vinegar black pepper, honey
Squid, bacon, garlic
Lamb tenderloin, salsa verde
Mussel and razor clam salad, saffron pickled shallots
Artichoke heart, quail egg, sea urchin
Eleven layer potato, caramelized shallots, fried sage
Toasted tomato bread, spek, serrano chile
Garroxta, quince, horseradish bread salad
Piquilla filled with raw salmon, saffron sauce
White anchovies, sour orange
Chorizo crepinette, apricot mostarda, pickled brussels sprouts
Crispy prawn, green romesco mayonnaise
Eggplant, manchego, oregano, balsamic

KITCHEN MENU:
GATO SPREADS, with buckwheat pita, $16
Greek yogurt, charred green chile pesto
Chick pea, Meyer lemon, smoked paprika
White bean, feta, garlic, walnut-piquillo relish

APPETIZERS
Oven roasted shrimp diavolo oil, oregano, $15
White chicory salad, chorizo, egg, fontina, apricot-almond dressing , $14
Gato salad, greens & reds, ceci, ricotta salata, pomegranate, crunchy wheat, $12
Roasted octopus, tangering, bacon, oregano, $17
Scrambled eggs, almond romesco, boucheron cheese, tomato confit toast, $14
Crispy squid, anchovy vinaigrette, green chile pesto, $14
Crab risotto, garlic bread crumbs, Calabrian red chile, $18/28
PAsta antica, tomato-piquillo sauce, eggplant, black olive ricotta, $14/24
Pizza with goat cheese, tomato, olives, capers, garlic oil, $16
Pizza with lamb sausage, tomato jam, mozzarella, mint, $17

VEGETABLES
Charred carrots, parsnip chips, harissa, mint, yogurt, $10
Crispy potatoes, poached egg, smoked paprika, parimigiano, $10
Roasted cauliflower, padron peppers, agro dolce, $10
Brussels sprouts, pomegranates, pistachios, $10

ENTREES:
Blistered tarragon chicken, crispy potatoes, goat cheese, dandelion, $28
Steamed halibut, Sicilian olives, mint, anchovy, saffron-tomato broth, cous cous, $29
Kale and wild mushroom paella, crispy artichokes, egg, $27
Lamb, fregula sarda, oven dried tomato, black olives, mustard greens, $32
Charred beef, valdeon blue cheese brown butter, red wine, broccolo rabe-farro, $35
Porterhouse pork chop, tomato pan juices, romesco polenta, $29
Wild striped bass, roasted lemon, black and pink pepper olive oil, piquillo pesto, $29
Fresh fettucine, squid ink, Spanish red prawns, mussels, green onion sauce, $34

Sponsored listing
Bread
Located just around the corner from its original Spring Street location, this cafe inside the Nolitan Hotel offers 80 indoor seats, a 40-seat outdoor cafe and rustic Italian sandwiches like Sicilian sardines with pepper mayo on a baguette, aged salami with imported taleggio on ciabatta, and gorgonzola with honey on walnut bread. The new space also expands with a full breakfast, lunch and dinner menu.  
Venue says: "We are Bread Nolita would love to host your next event or large party. We're available for corporate, special events, & restaurant buyout."