Global mash-ups
These days, the hottest restaurants are cross-border affairs, each menu a study in contrasting world flavors.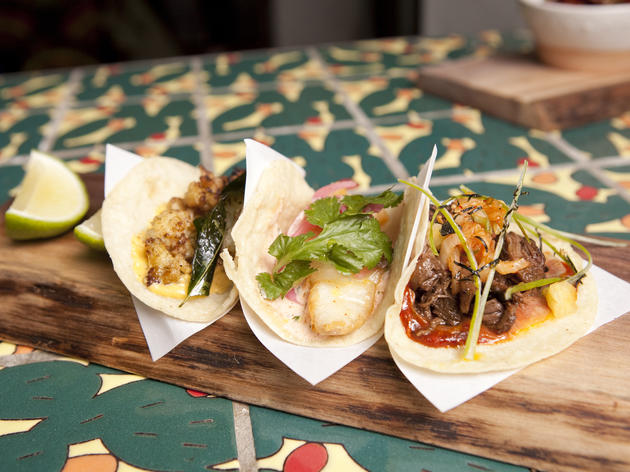 1/13
Photograph: Jessica Lin
Cauliflower, fish and Korean BBQ tacos at Salvation Taco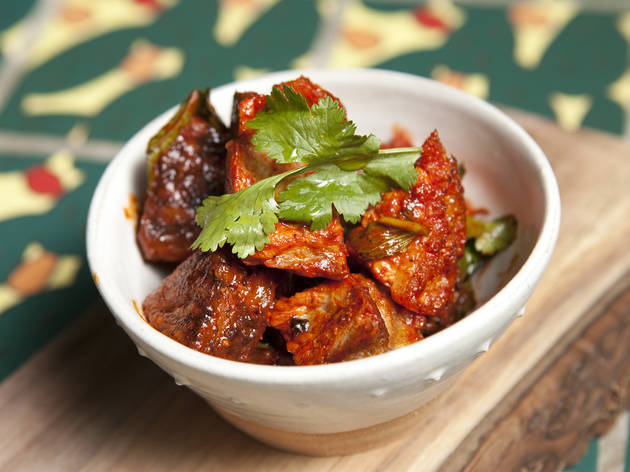 2/13
Photograph: Jessica Lin
Pork belly and pineapple salad at Salvation Taco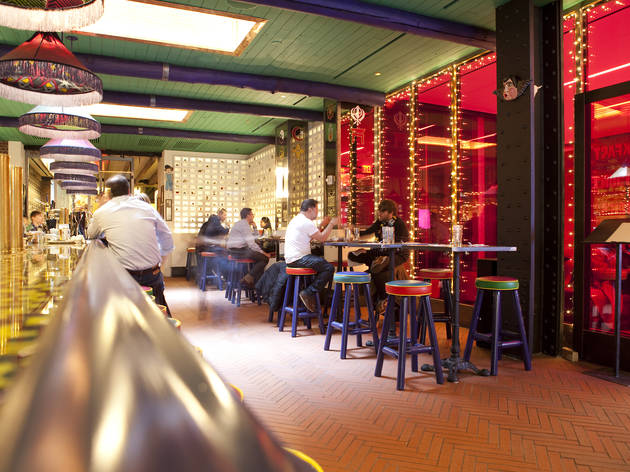 3/13
Photograph: Jessica Lin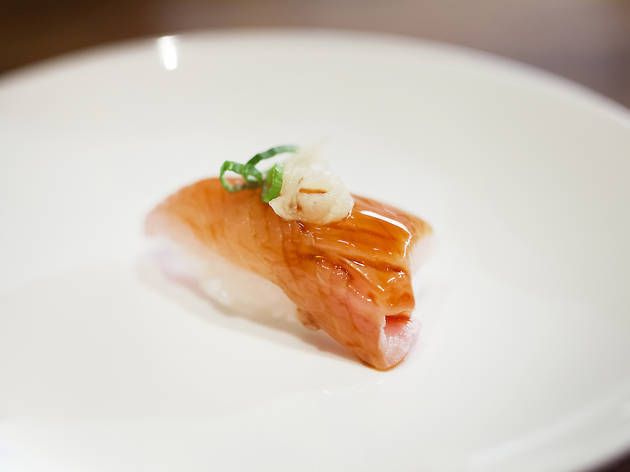 4/13
Photograph: Dominic Perri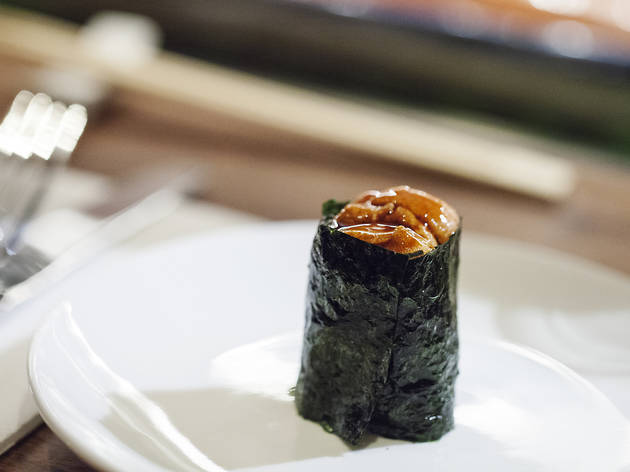 5/13
Photograph: Dominic Perri
Chopped beef with uni sushi at Chez Sardine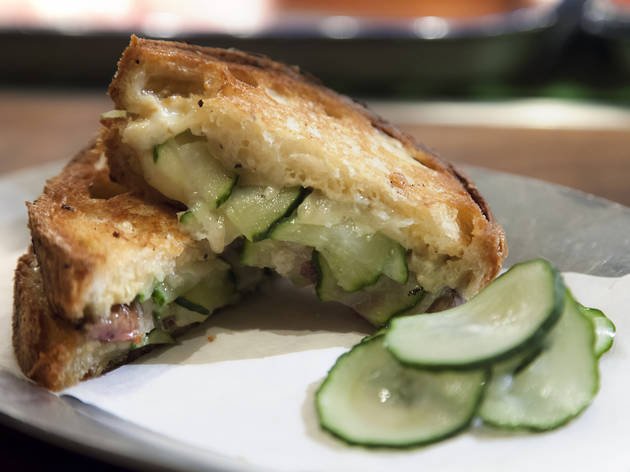 6/13
Photograph: Dominic Perri
Smoked cheddar and foie gras grilled cheese at Chez Sardine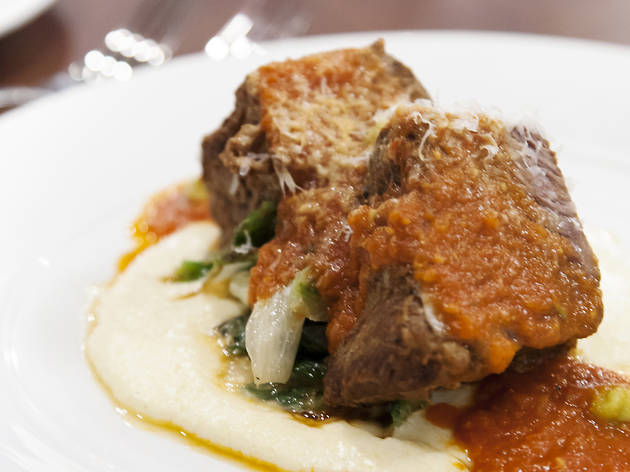 7/13
Photograph: Dominic Perri
Braised beef brisket braciola at the Marrow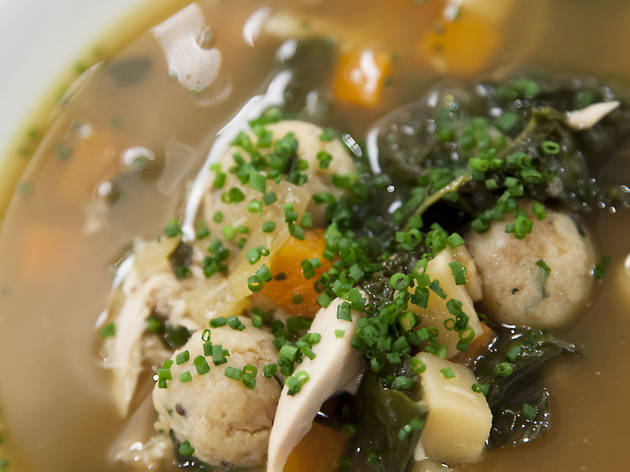 8/13
Photograph: Dominic Perri
Braised duck soup with pretzel dumplings at the Marrow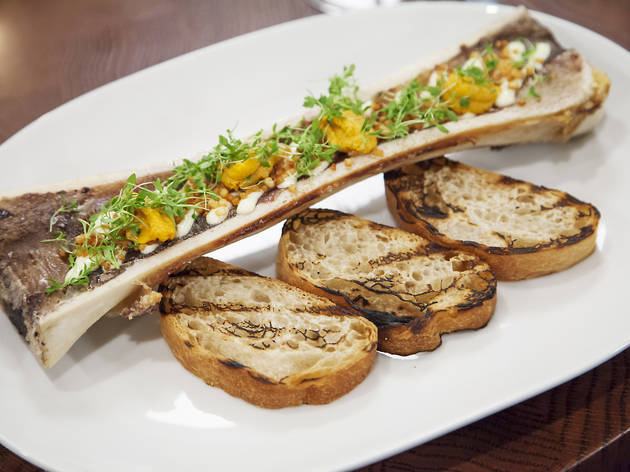 9/13
Photograph: Dominic Perri
Bone marrow at the Marrow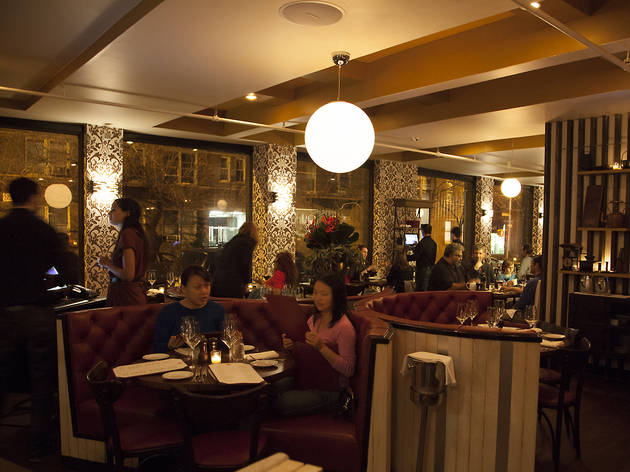 10/13
Photograph: Dominic Perri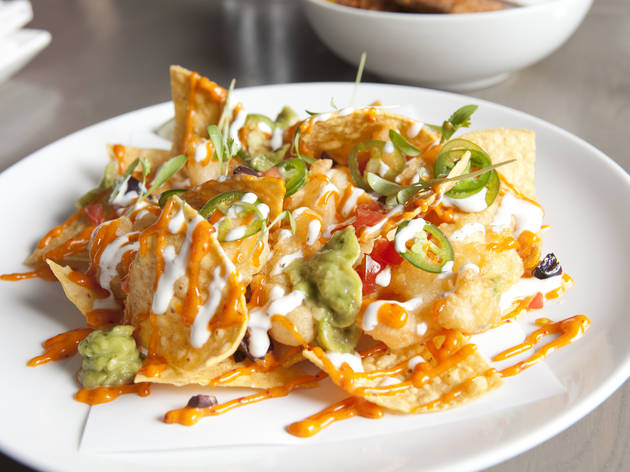 11/13
Photograph: Jessica Lin
Shrimp nachos at Tribeca Canvas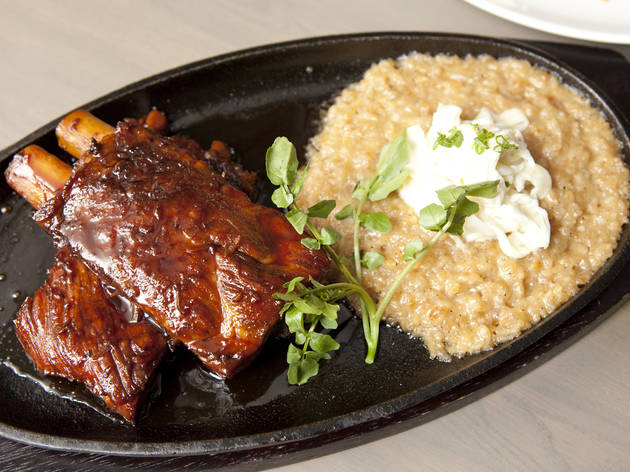 12/13
Photograph: Jessica Lin
Braised pork ribs with fried rice risotto at Tribeca Canvas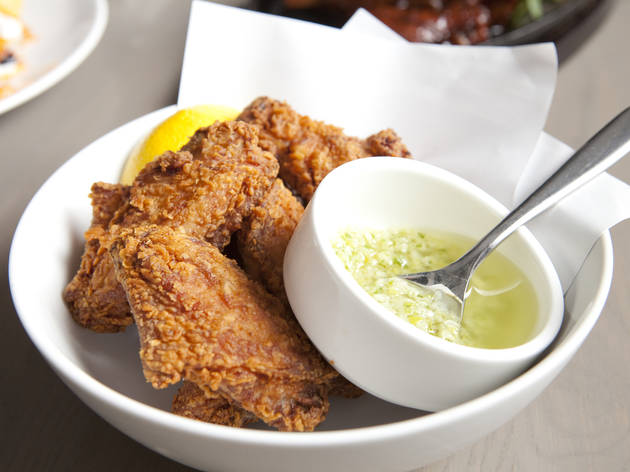 13/13
Photograph: Jessica Lin
Fried chicken at Tribeca Canvas
Fusion, once a dirty word, may not have returned to the accepted culinary lexicon, but with white-hot joints like Mission Chinese Food and Momofuku splicing different cuisines together, the idea is back big time. The latest updates on fusion cuisine (by a another name) include an internationalist taqueria (Salvation Taco), a French-inflected izakaya (Chez Sardine) and a German-Italian ristorante (the Marrow). The chefs at these international restaurants are drawing from their various heritages and world travels to dish out boundary-busting plates.
Salvation Taco
In December, chef April Bloomfield—Manhattan's queen of elevated pub grub—teamed up with South of the Border specialist Roberto Santibañez (Fonda) to tackle tacos at this Murray Hill newcomer. The result: A cantina-inspired lounge—outfitted with colorful murals, strings of Christmas lights and Ping-Pong tables—beckons midtown suits for postoffice wind-downs over potent margaritas and fiesta-style grub.
In the mix: Mexican, European, Asian
On the plate: Bloomfield remixes the iconic Mexican bite with continent-jumping flavors. In a hat-tip to Britain, a fish-and-chips-inspired taco enfolds crunchy nuggets of beer-battered striped bass with an earthy "Mayan" mayo, spiced with habañero and toasted pepitas ($4). A couple tacos channel India—in one, a zippy curry-coriander crema punches up tender roasted cauliflower florets ($3); in another, fluffy mini nan takes the place of a tortilla, crowned with shredded and seared lamb hunks, cool cucumber cubes and drizzlings of crema ($5). Among the starters, Bloomfield sneaks an Italian note into a juicy pineapple dish, with chewy pork belly hunks roasted in Mediterranean spices (oregano, mint), all doused with a ginger-guajillo adobo sauce ($10). But the toque keeps a few things traditional: At the front bar, you can watch a pair of cooks press corn tortillas by hand. 145 E 39th St between Lexington and Third Aves (212-865-5800)
Chez Sardine
Impresario Gabriel Stulman and Quebecois toque Mehdi Brunet-Benkritly pushed culinary boundaries at Fedora, with eclectic tavern fare pulling strands of influence from all over the planet. Downtowners have lined up for their latest internationalist venture. Inspired by izakaya, the cool, wood-clad 30-seater opened in November.
In the mix: Japanese, French, Canadian
On the plate: Reimagined sushi bites share menu space with comfort-food updates that take cues from both the from both East (beef-cheek curry) and West (iceberg wedge). Off the seven-item sushi list, buttery hamachi gets a Latin update thanks to chicharron crumbles ($7), while slips of nori and creamy uni encase French-style beef tartare ($7). The Japanese-style fried chicken thighs and breast ($12)—supremely moist with an airy tempura crust—are served with accompaniments of varying origins: Korean (fiery kimchi) and French (creamy aioli). Among the mains, Brunet-Benkritly infuses his Canadian tree-tapping heritage into a roasted salmon head, which is caramelized with a maple-syrup–mirin sauce ($12). Maple (the tree) is worked into another dish: A grilled cheese oozes with wood-smoked cheddar and paper-thin rounds of foie gras ($19). Asian-style quick pickles offset the über-rich sandwich offset. 183 W 10th St at 4th St (646-360-3705)
The Marrow
For his third project, Top Chef stud Harold Dieterle (with partner Alicia Nosenzo) traced his roots back to Germany and Italy, via homestyle European plates riffing on his formative culinary memories. The West Village well-to-do set pack the pattern-wallpapered space, sinking into tufted maroon leather banquettes and posting up at the gold-flecked granite bar.
In the mix: Italian, German
On the plate: Mimicking the chef's family tree, the menu is split between "Famiglia Chiarelli" (his maternal Italian side) and "Familie Dieterle" (the paternal German line). Hailing his Boot lineage, Dieterle serves fork-tender beef brisket braciola with silky house-ground polenta and garlicky escarole ($25). The restaurant's namesake bone marrow is also roasted Italian-style, but the the chef modernizes the rustic dish with bright lemon aioli, fresh baby celery greens and richness-boosting sea urchin ($16). A nod to Deutschland, the fragrant duck soup ($12) is studded with braised hunks of the dark poultry meat and pillowy salt-crusted knödel (pretzel dumplings). Also repping Bavaria, the moist stout cake features a robust gingery spice, mellowed by its accoutrements: tender roasted pear slices and tangy sour-cream ice cream ($10). 99 Bank St between Greenwich and Hudson Sts (212-428-6000)
Tribeca Canvas
In November, celebutoque Masaharu Morimoto, Iron Chef's Japanese maestro, waded into the deep-fried world of American comfort food with this cavernous, monochromatic canteen. With a 4am closing time and Michael Jackson hits pumping out of out of the speakers, the 80-seat Tribeca hot spot lures clubhoppers for a late-evening fuel-up before (or after) they hit the dance floor.
In the mix: Asian, American, Latin, European
On the plate: The globe-trotting fare touches on Japanese (gyoza) and American (mac and cheese) with other cuisines (tuna tostada) thrown in. Chow down on reworked late-night standards: In a creative nacho plate, traditional tortilla chips are layered with tempura-battered baby shrimp, wasabi-ginger guacamole and an herbaceous ranch dressing ($13). The chicken kara age (fried Japanese-style) showcases Southern accents with a buttermilk marinade, and it's served alongside a zingy soy-ginger sauce flavored with ginger, scallion and jalapeño ($8). For a hybrid Chinese-Italian dish, succulent, soy-glazed pork ribs accompany fried-rice risotto—wok-crisped Arborio grains are crisped in the wok and folded with creamy béchamel and Parmesan ($22). 313 Church St between Lispenard and Walker Sts (917-720-2845)
Sponsored listing
Amoun Moroccan Mediterranean Cuisine & Lounge
It's possible to taste the flavors of Marrakech without ever leaving New York City at this authentic Moroccan restaurant in the East Village. Start with a meze plate of hummus, baba ghanoush and bakoula, a spinach-chickpea spread ($13.95). For the main course, you might try a tagine, or slow-simmered Moroccan stew, either with lamb shank, chickpeas and apricots ($22.75) or chicken, preserved lemon and olives ($16.95). Other entrees include couscous with chicken, caramelized onions, raisins and chickpeas ($16.95), a mixed grill of lamb, chicken and merguez sausage ($19.75) and chicken bastilla, a phyllo pastry filled with meat, almonds, eggs and herbs and topped with cinnamon sugar ($18.75). Satisfy a sweet tooth with baklava ($7), homemade fig ice cream ($6.50) or kunafa, a traditional cheese pastry ($7). Freshly brewed Turkish coffee ($3.50) or Moroccan mint tea ($4) might be nice, or you can finish the meal with some hookah, if you're so inclined.
Venue says: "Enjoy authentic home-made cuisine and a chill lounge experience for late nights. Celebrate the weekend with belly dancing performances."