Island style
We check out three new eateries where West Indian grub---and tropical drinks---are the draw.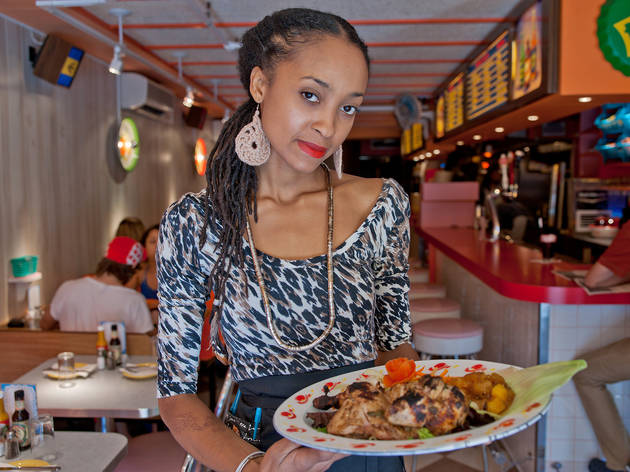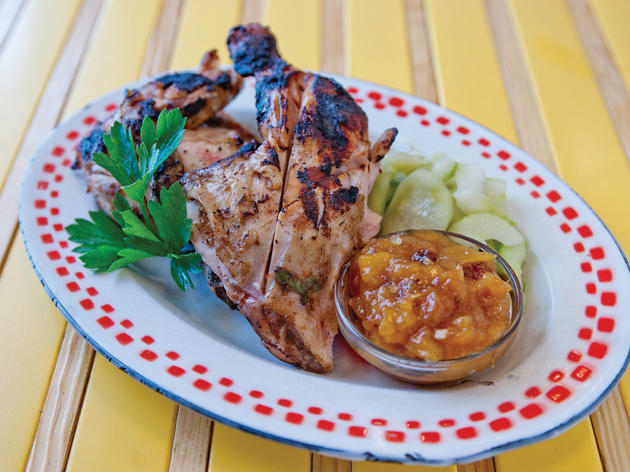 Miss Lily's
Before it even opened its doors, this Jamaican spot was already radiating heat—not least because of neighbor Anna Wintour's fierce opposition to the project. The eatery lost out on a hard-liquor license in its battle with the Vogue editrix, but no matter: The downtown flock seems perfectly happy to sip creative cocktails built with sake and champagne, including a spicy, sherry-spiked dark-and-stormy riff called Roots & Culture.
Among the spot's heavyweight collaborators is restaurateur Serge Becker, whose brand of casual cool will be familiar to La Esquina loyalists. The front room feels like a sexed-up version of a Caribbean takeout joint in Bed-Stuy, with orange Formica tables and retro backlit menu boards above the bar, while the darker and rowdier space in back features deep booths and walls plastered with old-school reggae records. Stunning waitresses, seemingly plucked right off the runway, ferry rounds of Red Stripe while the sound system blasts "Here Comes the Hotstepper."
Despite all of the hype, Miss Lily's isn't the impossible table you'd expect—we easily scored primo Friday reservations by calling the day before. And more importantly, it's not all scene and no substance. Service is warm and accommodating, and chef Bradford Thompson, a James Beard Award winner, brings real chops to Jamaica's trademark dishes.
Shareable appetizers include some standard-issue party grub like "jaquitos"—bland mini tortillas cradling an overly salty mix of cod and ackee (a savory fruit common in Jamaica). Bypass those in favor of the Middle Quarters Pepper Shrimp, named after a tiny Jamaican village renowned for its spicy crustaceans sold at roadside stands. The version at Miss Lily's is a knockout: juicy peel-and-eat specimens resting in a puddle of brick-red sauce, vaguely sweet and plenty fiery.
Satisfying main courses showcase Thompson's knack for elevating island comfort foods without losing their essential appeal. His curry goat—pasture-raised and cooked on the bone alongside hunks of carrots and potatoes—is remarkably tender. His jerk chicken, meanwhile, has a real pedigree (the sauce is adapted from a version his late mother-in-law cooked at her Flatbush restaurant, Glen's Original Jerk Chicken). The bird is exceptionally well prepared, still moist and juicy beneath its blackened skin. But the heat's MIA, and we couldn't help but wonder if the recipe has been neutered for the Soho crowd.
The full name on the restaurant's awning—MISS LILY'S FAVOURITE CAKES—seems like a non sequitur until you get to dessert, a surprising highlight of the meal. We devoured homey banana pudding, and a chubby slice of moist white cake slathered in merenguelike icing and shards of toasted coconut.
Miss Lily's
132 W Houston St between MacDougal and Sullivan Sts (646-588-5375). Subway: C, E to Spring St; 1 to Houston St. Mon--Fri noon--2am, Sat 11am--2am, Sun 11am--midnight. Average main course: $20.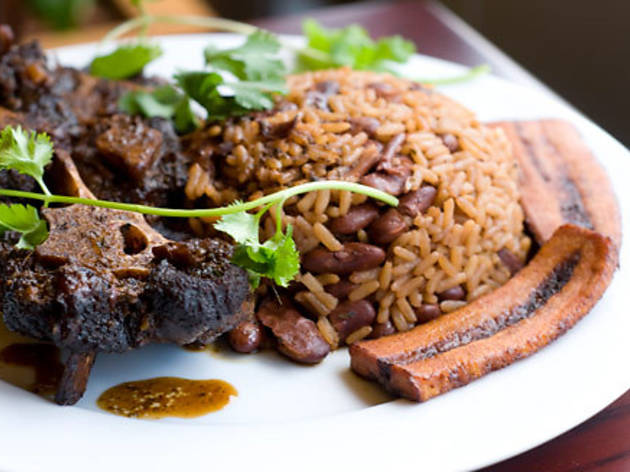 Janelle's
While Miss Lily's creates buzz for Caribbean cuisine, this brightly painted Prospect Heights canteen has far more in common with those humble mom-and-pops that have long been a staple of the boroughs. You can find West Indian standbys like brown stew chicken and curry goat, but chef-owner Russel Baptiste also delivers some harder-to-find specialties from his native Trinidad and Tobago.
Any order should start with Baptiste's excellent jerk chicken wings, which make up for their paltry proportions with a killer balance of sweetness and spice (he uses honey, ginger, orange juice and Scotch bonnet peppers in addition to the usual
jerk seasoning).
Larger dishes, meanwhile, reflect Trinidad and Tobago's patchwork food traditions. There's Trinidad-style lo mein, as junky and addictive as it sounds, with dry-rubbed strips of chicken breast and more pungent seasoning than the average Chinese-takeout version. From the East Indian playbook, there's roti—ours was dry and mealy, but we pillaged the accompanying platter of mashed-up pumpkin, apple achar (similar to a fruit chutney), and curried chickpeas and potatoes. And while the classic braised oxtail is too sticky with collagen, the rice and beans that come with it are superb—thick-grained and moist with rich coconut milk.
The place is low on atmosphere and doesn't yet have a liquor license, but the upbeat waitresses keep diners in good spirits, and you can BYO rum to top up a glass of tangy house-made sorrel juice.
Janelle's
671 Washington Ave between Prospect Pl and St Marks Ave, Prospect Heights, Brooklyn (718-576-6270). Subway: 2, 3 to Grand Army Plaza. Tue--Fri 11:30am--11:30pm; Sat, Sun 8:30am--11:30pm. Average main course: $14.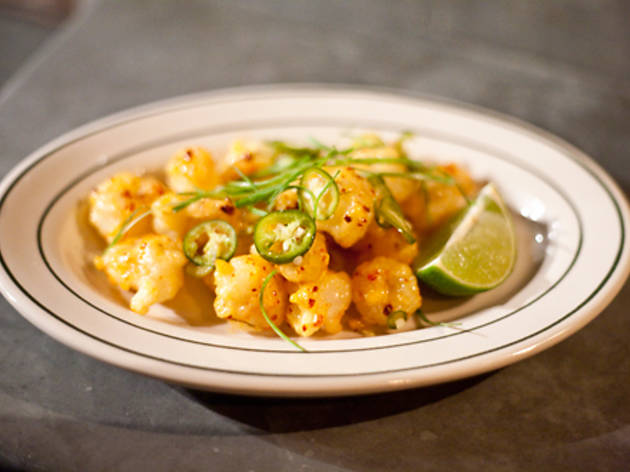 Nights and Weekends
For a more impressionistic ode to the Caribbean, grab a stool in this breezy barroom. Here, the team behind Five Leaves looks not only to the West Indies, but also to Latin countries like Brazil, Peru and Mexico. Though the space is a bit tight, garage-style doors and massive windows flung open to the street give it sultry appeal on sticky late-summer nights.
Escapist boozing takes center stage, using warm-weather spirits like rum, cachaa and pisco as building blocks for smart riffs on familiar cocktails. The lush Improved Malecon Old-Fashioned swaps out the usual bourbon for Ron Zacapa and Black Strap rums, while Mi Corazon is a creamy twist on a pia colada, balancing rich coconut puree with cachaa, lime juice and spicy Fresno peppers.
At first glance, chef Ken Addington's menu reads like a random jumble, with reference points plucked liberally from the Greater Antilles and large swaths of Latin America. But its tight focus becomes clear once the plates start arriving: These are classic bar snacks brightened by fresh ingredients and tropical flavors. Crispy rock shrimp—plump crustaceans battered tempura-style and kicked up with orange-chili aioli and thinly sliced serranos—makes a strong case for the return of popcorn shrimp. Mariquitas Pie, meanwhile, reimagines nachos with a Cuban twist, losing the tortilla chips in favor of long, wavy fried plantains that stand up to an onslaught of thick black beans, Oaxaca cheese and queso fresco, avocado, and smoky tomato-chipotle salsa. And instead of mozzarella sticks, there's Argentine-style provoleta—seared slabs of provolone cheese with chimichurri and Aleppo-pepper flakes.
While you can make a meal out of these shareable plates, they're best suited for nibbling over languorous rounds of drinks. Even as summer fades, it's a fine place to settle in and daydream about your next vacation.
Read more
Insider eats: Jamaica
Nights and Weekends
1 Bedford Ave at Nassau St, Greenpoint, Brooklyn (718-383-5349). Subway: G to Nassau Ave. Mon--Fri 5pm--3am; Sat, Sun 10am--3am. Average dish: $9.
Sponsored listing
Sushi Sushi
The two outposts of this sushi joint—in Harlem and Greenwich Village—offer a nearly identical menu of Japanese classics. Start the meal with some shrimp shumai, edamame or a light seaweed salad ($5). If you're after a roll, there are plenty of options to choose from, including classics like a spicy tuna roll ($5.50) or signature options like a rainbow roll ($10). Sashimi lovers might want to go all in on a 13-piece box with everything from striped bass to yellowtail ($23). If raw fish isn't your style, Sushi Sushi also offers plenty of cooked options, like teriyaki rice bowls with your choice of seafood—salmon, squid, tuna, fluke or sea bass—and broccoli, asparagus, onions, cucumber and avocado ($19). For dessert, try a sweet roll with PB&J or banana, nutella and strawberries or a tempura-battered and fried Twinkie (all $5).
Venue says: "Now delivering fresh, tasty sushi anywhere in Manhattan! Order now by calling 212-477-4000, catering also available."