New York City's best handheld snacks: Arepas, beef patties and more
From the Caribbean's aloo pie to Mexico's tamale, New York City is chock full of delicious and cheap handheld snacks.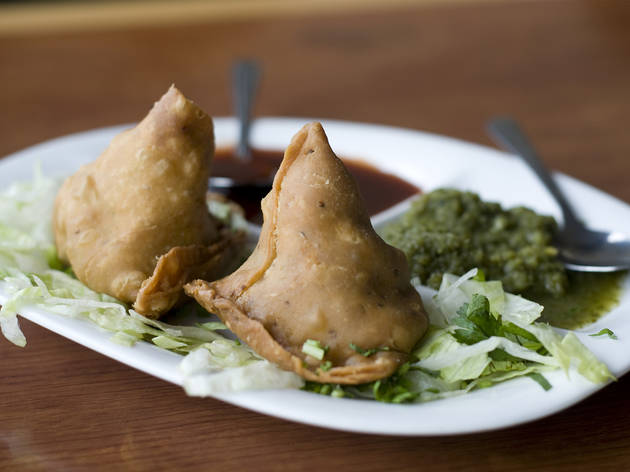 1/10
Photograph: Alex Strada
Indian: Samosas at Five Star Punjabi Diner You'll forgive this Northwest Indian dive's drab digs when you bite into one of its stellar samosas. The shatteringly crisp deep-fried shell is plump with cubed and mashed masala-accented potatoes, studded with boiled peas and sweet cashews, and zipped up with cilantro and green chilies. Two small bowls of condiments accompany the plate: an herbaceous mint sauce and a tart, spice-tempering tamarind chutney. 13-15 43rd Ave at 21st St, Long Island City, Queens (718-784-7444). Two for $3.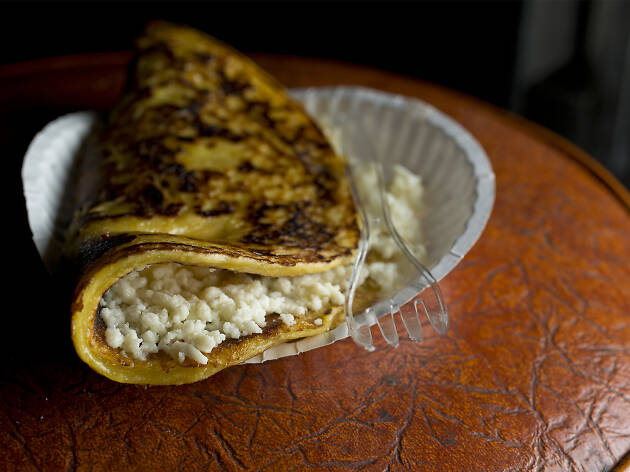 2/10
Photograph: Todd Coleman
Colombian: Arepa de choclo from Arepa Lady Medellín, Colombia native, Maria Piedad Cano—known to fans simply as the "Arepa Lady"—became part of New York food lore in the mid-'80s when she began slinging her legendary corn cakes to support her four children. A far cry from the wan versions served at street fairs, three varieties are on offer: tela (the Colombia's equivalent of bread, made with plain corn flour), queso (featuring mozzarella baked into the batter) and choclo (made from early-season, fresh yellow corn). To make the third option, Cano finely grinds the kernels, lending the thick disk its bright canary hue and sweet flavor. She fills each arepa to order with salty queso blanco, then grills the pucks until the cheese has melted and the exterior is crunchy, drawing hungry hordes to her cart under the subway tracks at all hours of the night. For location and hours, visit twitter.com/arepalady. $4.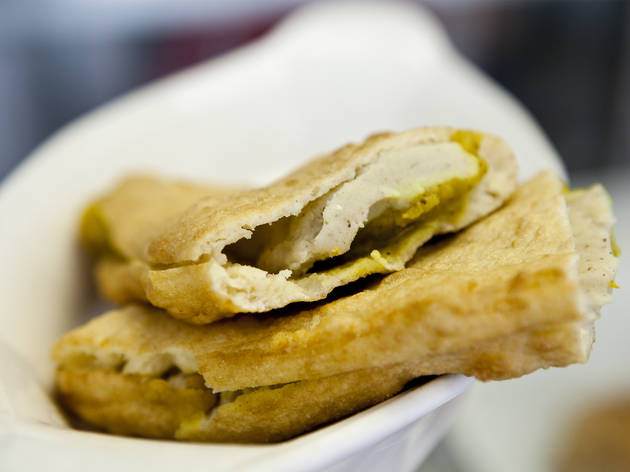 3/10
Photograph: Jessica Lin
Trinidad and Tobago: Aloo pie at Royal Bakery and Roti House This well-worn, counter-service bakery—opened by Trinidad transplant Ramesh Nankhar 26 years ago—caters to a homesick Bed-Stuy clientele. The takeout spot offers a host of Caribbean grub—including goat roti, saltfish pies and fried shrimp wontons—but we're suckers for the aloo (potato) pie. The Trinidad and Tobago street-food staple has a fried, calzone-shaped bun; a soft, spongy crumb; and a piping hot center of garlic and cumin mashed potatoes, dappled with curried whole chickpeas. The package is pint-size, but the piquant, carbo-loaded mix oozes at the edges and proves uber filling. Be sure to ask for a side of sweet-tangy tamarind sauce to cut through the spice. 618 Nostrand Ave between Dean and Pacific Sts, Bedford-Stuyvesant, Brooklyn (718-604-0200). $1.75.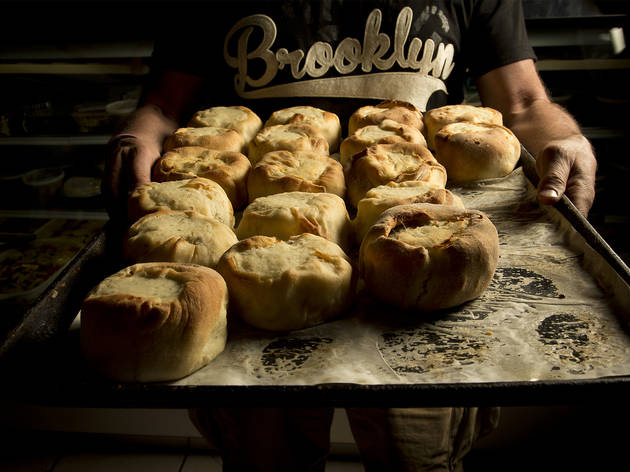 4/10
Photograph: Todd Coleman
Eastern European: Potato knish at Knish Nosh Since 1952, this Forest Hills institution has been feeding Jewish soul food to locals and pilgrims alike, though a spruced-up revamp from new owner Haig Schneiderman debuted in 2003. Despite the update, the restaurant's old-world knishes remain venerable. Clocking in at 10oz each, these gut-busting potato cakes are hand-rolled daily in nine different flavors. For the purist potato option, a flaky baked bun is stuffed with a fluffy mound of mashed spuds. We recommend slicing the hefty snack in half and squirting spicy mustard down the middle for a sinus-clearing kick. 100-20 Queens Blvd at 67th Rd, Forest Hills, Queens (718-897-5554, knishnosh.com). $3.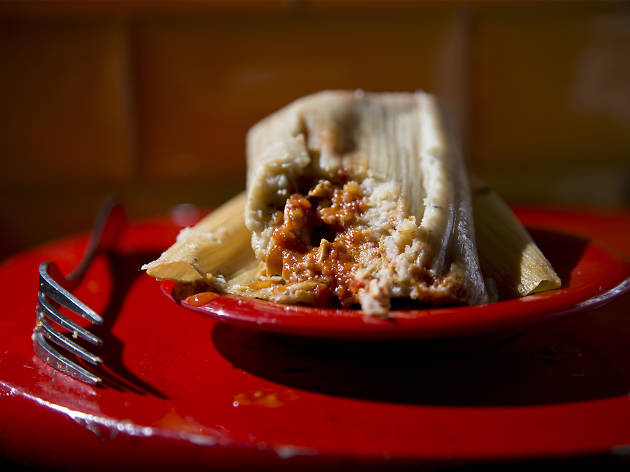 5/10
Photograph: Todd Coleman
Mexican: Chipotle tamale at Tortilleria Nixtamal This Queens masa factory—which soaks and grinds maize grains in the traditional Aztec method—supplies many of NYC's top Mexican spots (Empellón Taqueria, Dos Toros) with their standard-bearing tortillas. But the purveyor-eatery hybrid also turns out superlative tamales. Its fluffy rendition uses a coarser corn masa for earthy-sweet flavor and pillowy texture. Among the seven offerings, we favor the chipotle: Chicken breast and leg plus pork butt and leg, from Corona butcher Franco's just down the street, are slow-simmered with garlic and cumin for two hours. The tender, smoky meat is swathed in a rich tomato-based sauce made with three types of chilies (ancho, morita and pulla), then shredded, tucked into the masa logs and shrouded in corn husks. 104-05 47th Ave at 104th St, Corona, Queens (718-699-2434, tortillerianixtamal.com). $3.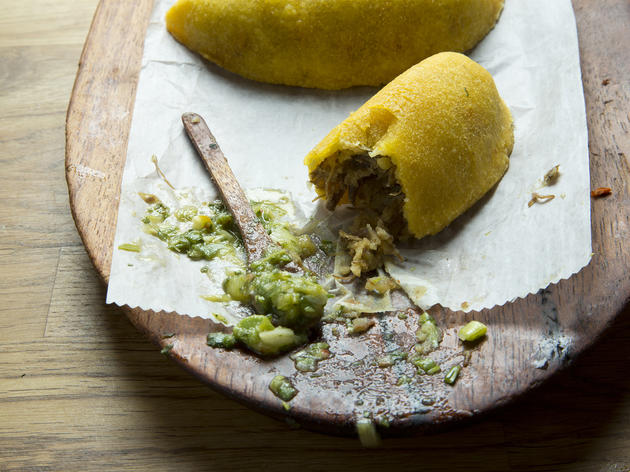 6/10
Photograph: Todd Coleman
Latin American: Shredded beef empanada (corn flour) at Empanadas Cafe This bustling, compact joint serves more than 30 varieties of the Latin American classic, with casings ranging from white-flour to organic whole-grain, and fillings both traditional (ground chicken and cheese) and unorthodox (ham, mozzarella and pineapple). We're particularly smitten with the corn-flour-crust option packed with chopped boiled potatoes and juicy pulled beef, falling apart from a three-hour stew in a pressure cooker. Like all empanadas here, it comes with an addictive, cilantro-spiked hot sauce, whose jalapeño and scallion bite is muted by creamy avocado. 56-27 Van Doren St at 108th St, Corona, Queens (718-592-7288, empanadascafe.com). $1.50.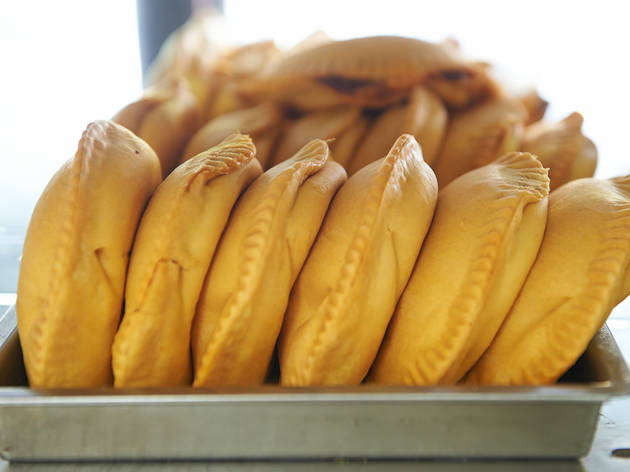 7/10
Photograph: Filip Wolak
Jamaican: Beef patty at Kingston Tropical Bakery Bakery Inc. There's always a line out the door for the oven-fresh hard-dough and coco loaves at this family-run shop—a neighborhood fixture since 1970, run by husband-and-wife team John and Jessie Levi—but the fragrant, flaky beef patties are also worth the wait. They're stuffed and baked throughout the day and served scalding hot (scarf with caution). The thin-crust, butter-rich pastries burst with a fiery, finely ground mixture of beef, onions, sweet peppers and savory thyme. 4000 White Plains Rd between 226th and 227th Sts, Bronx (718-798-0076). $2.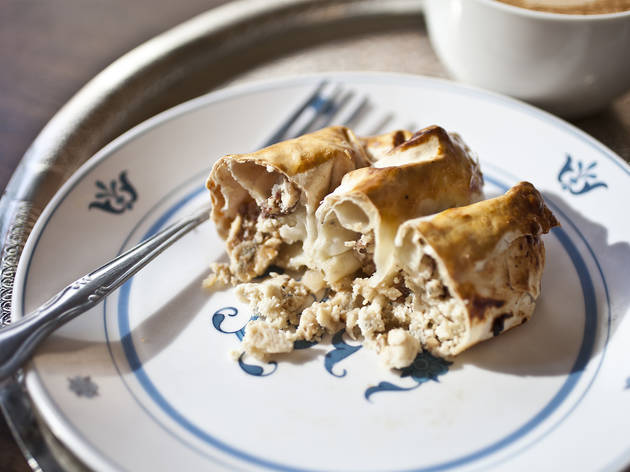 8/10
Photograph: Virginia Rollison
Turkish: Borek with blue cheese, dates and ricotta at Bedford Baking Studio At this teeny coffee shop, Tolga Eyidemir bakes a dizzying array of Turkish-inflected confections, including boreks, phyllo pastries traditionally stuffed with feta, marinated potatoes or ground beef. Eyidemir—who hails from the eastern Turkish city Malatya—combines the classic cooking he learned from his grandmother with NYC's modern influences, resulting in combos like potato, dill and almond, or hummus with black beans and roasted peppers. Our pick is filled with French blue cheese, its sharpness balanced by creamy ricotta and sweet, chewy dates. 347 Bedford Ave between South 3rd and 4th Sts, Williamsburg, Brooklyn (347-278-4548, bedfordbakingstudio.com). $4.50.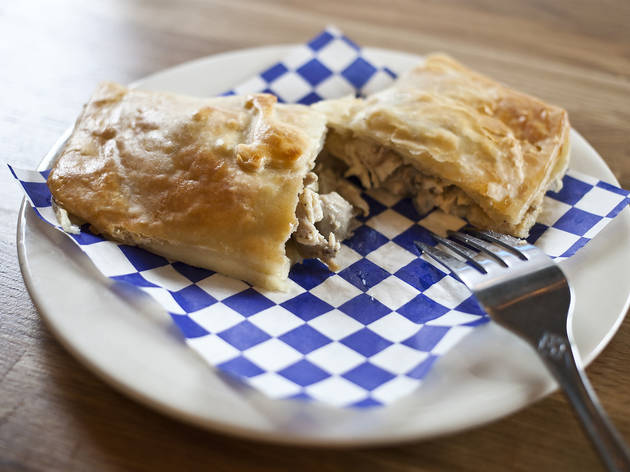 9/10
Photograph: Virginia Rollison
American: Hand pie with chicken and buttermilk gravy at Pie Corps Following up on the popularity of their chicken pot pie, chef-partners Felipa Lopez and Cheryl Perry produced an individual-sized version of the family-sized dish. A touch of apple cider vinegar in the pâte brisée plays off the savory filling, comprised of moist, roasted thighs from pasture-raised Pennsylvania chickens. Boiled peas and diced carrots stud the meaty base, and a creamy buttermilk gravy—a testament to the classic comfort food's Southern origins—smothers the stuffing and adds a lemony tang. 77 Driggs Ave between Kingsland Ave and Monitor St, Brooklyn (917-582-2769, piecorps.com). $6.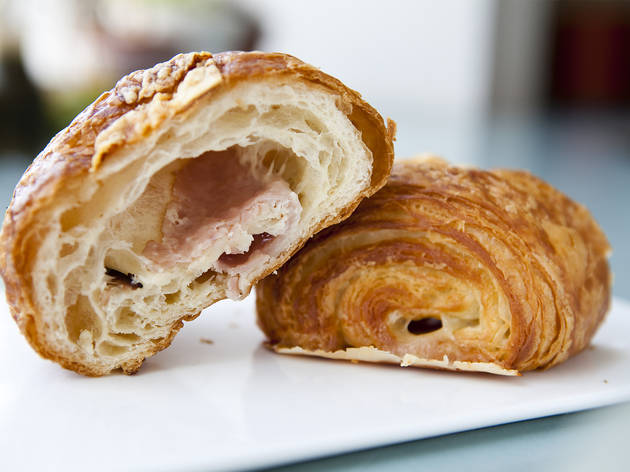 10/10
Photograph: Jessica Lin
French: Ham-and-cheese croissant at Dominique Ansel Bakery Pastry wunderkind Dominique Ansel (ex-Daniel) is known for his excellent sweets, like the TONY-approved DKA and the social-media-mania-inducing cronut (a croissant-and-doughnut amalgam). But he also uses his ultra-flaky dough to riff on the French café classic: the ham-and-cheese croissant. In this version, Ansel swaps out the traditional salty white ham and nutty Gruyère for smoky Black Forest ham and gooey, funky fontina, then rolls them inside the dough like a deli-style wrap; as the pastry rises, the buttery layers around the savory base become airy and fluffy. An extra grating of fontina on top before a turn in the oven adds another salty pop. 189 Spring St between Sullivan and Thompson Sts (212-219-2773, dominiqueansel.com). $3.75.
Around the world, handheld snacks offer satisfying, portable meals. Eat your way through our city's best versions in this borough-hopping tour. From a Queens masa factory slinging top-notch Mexican tamales to a Soho bakery turning out ham-and-cheese croissants, you'll find delicious, cheap snacks in every corner of Gotham.

RECOMMENDED: Best cheap eats in NYC 2013