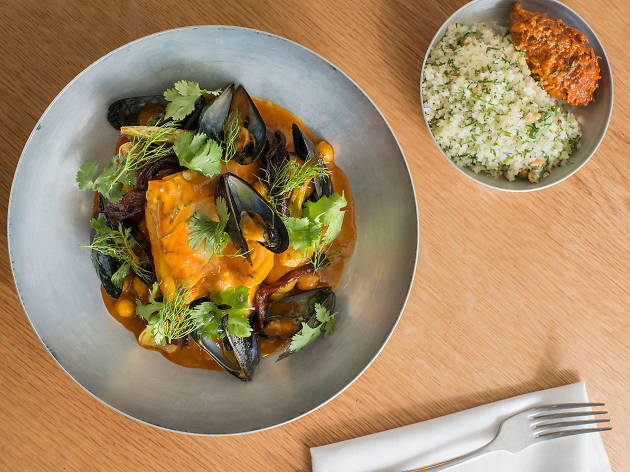 1/5
Photograph: Cayla Zahoran
Casablanca chraime at Nur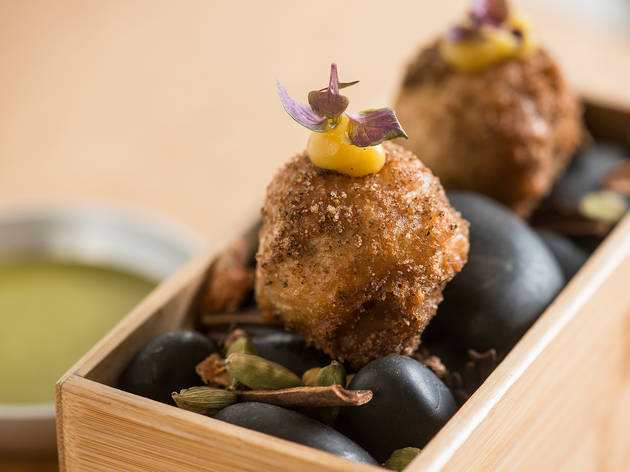 2/5
Photograph: Cayla Zahoran
Date doughnuts at Nur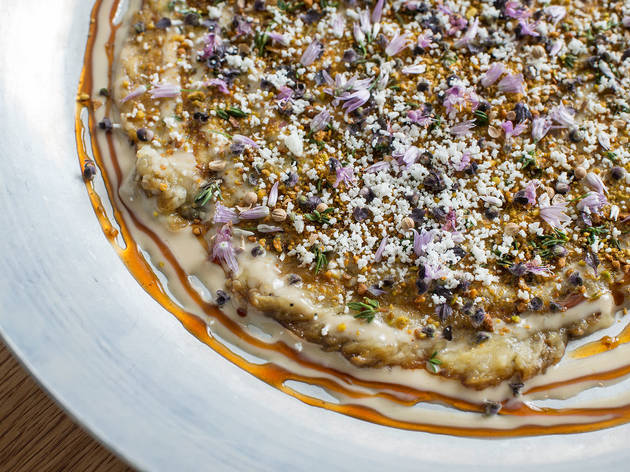 3/5
Photograph: Cayla Zahoran
Eggplant carpaccio at Nur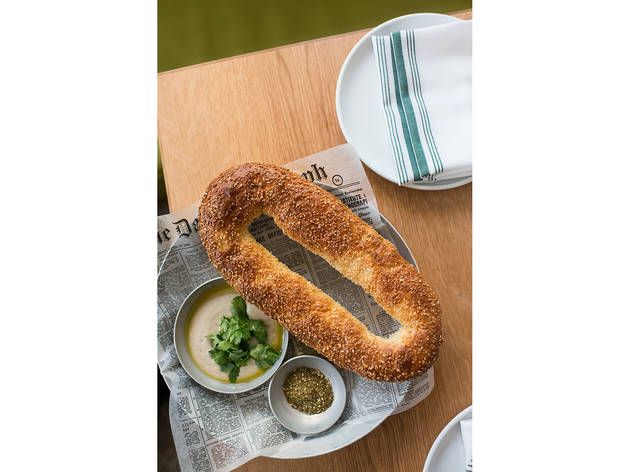 4/5
Photograph: Cayla Zahoran
Jerusalem bagel at Nur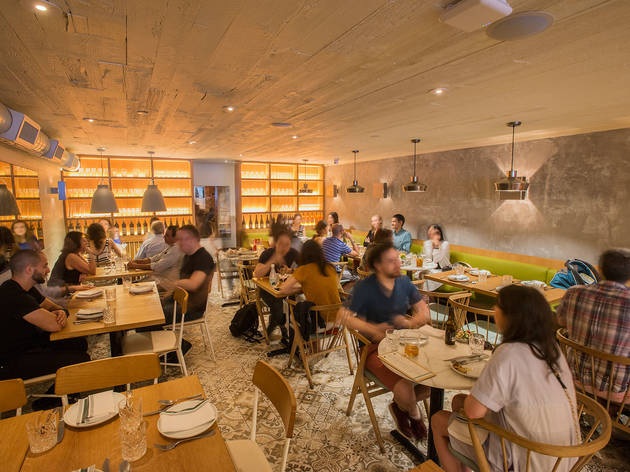 5/5
Photograph: Cayla Zahoran
Nur
If you want falafel, go to Mamoun's. You won't find the chickpea spheres anywhere at Nur, the forward-thinking, pan–Middle Eastern restaurant in Gramercy from Israeli-Moroccan celebutoque Meir Adoni (of Tel Aviv's acclaimed Blue Sky and Lumina) and Breads Bakery founder Gadi Peleg.
Instead, Adoni—the latest in a growing line of chefs who are retooling Israeli eating in New York, such as Dizengoff's Michael Solomonov and Miss Ada's Tomer Blechman—stretches beyond Israeli comfort cooking to pull influences from all over the Levant, from Jewish and Arab traditions as well as his own North African roots. (Nur is a word found in both Hebrew and Arabic, meaning "light." It's a fitting name for a 60-seat brasserie-style room that positively glows.)
Those myriad influences are upfront in pointedly named dishes like a Palestinian tartare ($24), comprising hand-cut beef splotched with sheep's yogurt, raw tahini and smoked eggplant cream that gets better the longer you eat it, as the disparate parts meld into something deliciously cohesive; and a Casablanca chraime ($36), a solid if stoic poached-fish stew that tastes like a French bouillabaisse you could serve at the Shabbat table. (The fluffy-as-a-cloud fine-grain couscous on the side is worth the order alone.)
The restaurant's four excellent breads, all produced at Breads Bakery, include a yeasty, oblong Jerusalem bagel served alongside a fresh pool of lima-bean messbaha ($10) and a soft, supple kubaneh with green Yemenite schug ($11). Save pieces of those loaves to drag through the sauces and dressings of later-in-the-meal plates such as a lovely carpaccio of fire-roasted eggplant fitted with feta, pistachios and sticky dates ($17) and plump, glazed octopus tentacles warmed with Moroccan spices and dotted with cardamom yogurt ($33).
As proud and vibrant a melting pot as the city it's in, Nur is a front-runner in boosting Middle Eastern as one of NYC's most exciting cuisines.
Venue name:
Nur
Contact:
Address:
34 E 20th St
New York
10003

Cross street:
between Park Ave S and Fifth Ave
Opening hours:
Daily 5–11pm
Price:
Average main course: $27
Do you own this business?