Heads up! We're working hard to be accurate – but these are unusual times, so please always check before heading out.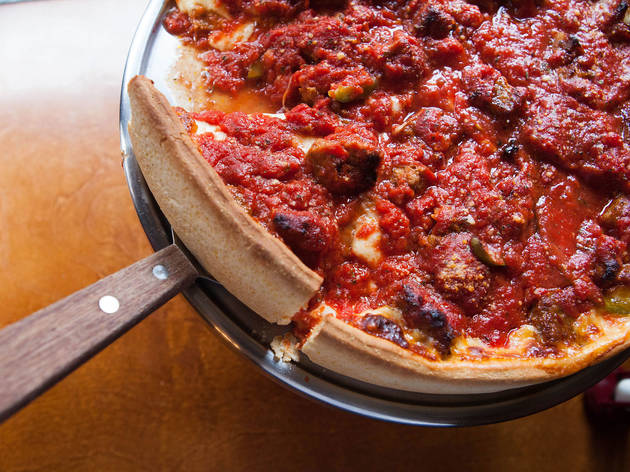 1/4
Photograph: Lauren Spinelli
Deep-dish pizza Home: ChicagoTeam: Emmett's, 50 MacDougal St between E Houston and Prince Sts (917-639-3571)Position: Jon Stewart may question the legitimacy of deep-dish pizza—"it's a fucking casserole"—but Windy City locals are fiercely proud of their hometown specialty. Pizzeria Uno is the official birthplace of this hefty pie, with a buttery crust that seems thick enough to hold the contents of Lake Michigan.Batting average: New York's first Chicago-style pizzeria fills out its rounds with sweet tomato sauce, melted mozzarella and toppings like juicy sausage; the tough crust doesn't justify the waits both outside (up to two hours) and indoors (the baking time is 40 minutes). If you can weather the downtime for this novelty, pull a De Blasio and attack your slice with knife and fork. On base: Small pie $16, medium pie $20, family-sized pie $28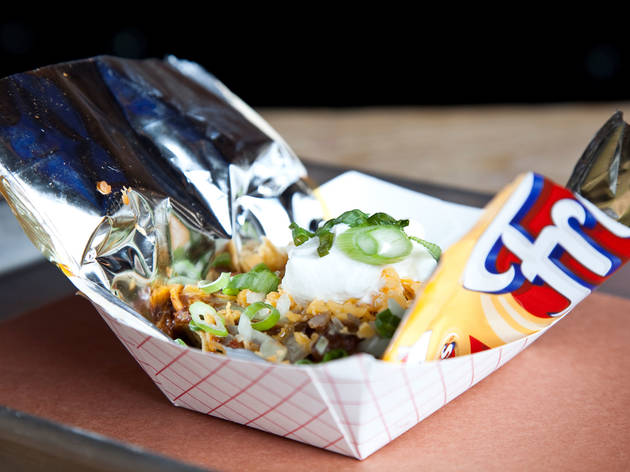 2/4
Photograph: Melissa Sinclair
Frito pie Home: TexasTeam: Morgan's Brooklyn Barbecue, 267 Flatbush Ave at St. Marks Ave, Prospect Heights, Brooklyn (718-622-2224, morgansbrooklynbarbecue.com)Position: Legend has it that Daisy Dean Doolin, mother of Frito Company founder Charles Elmer Doolin, is the mastermind behind this classic: a bed of Fritos topped with chili, cheese, sour cream and sometimes beans. Served in a baking dish or in its portable version known as a "walking taco," the junky mess is a favorite at high-school football games and state fairs.Batting average: At this Lone Star State–inspired canteen, chefs tear open a single-serving bag of Fritos and cloak it with warm red Texas chili, cool sour cream, shredded cheddar and chopped onions, a home run alongside a pile of smoked meat. On base: $6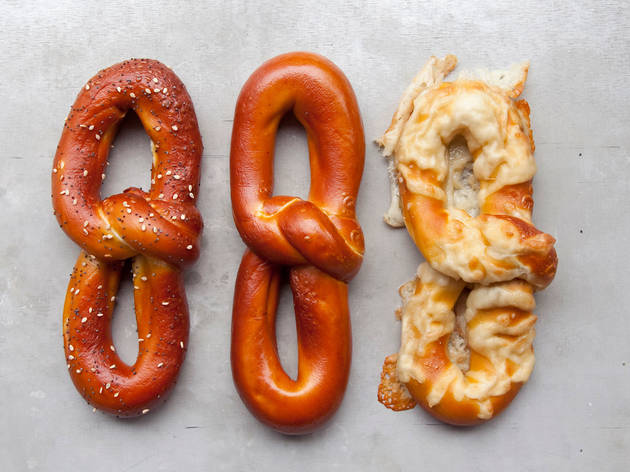 3/4
Photograph: Melissa Sinclair
Pretzels Home: PhiladelphiaTeam: Pelzer's of Philadelphia Pretzels, 724 Sterling Pl between Bedford and Franklin Aves, Crown Heights, Brooklyn (718-552-2998, pelzerspretzels.com)Position: German immigrants brought these doughy treats stateside in the 1700s. More elongated than their rotund New York equivalents, the soft bowties are ubiquitous in Philly, where they're doled out from carts salt-crusted, before getting a slathering of yellow mustard. Batting average: City of Brotherly Love transplants Leon Kirkland and wife Barella are no purists: At their Crown Heights shop, they offer six flavors of the light, chewy snacks, including jalapeño-cheddar, everything (a mix of onion and garlic, topped with poppy and sesame seeds) and Balboa (pepperoni, Italian herbs, mozzarella, white cheddar and provolone). Bench the over-the-top varieties and head to bat with a classic, juiced up with extra salt and spicy beer mustard.On base: Vegan $3, meat and cheese $3.50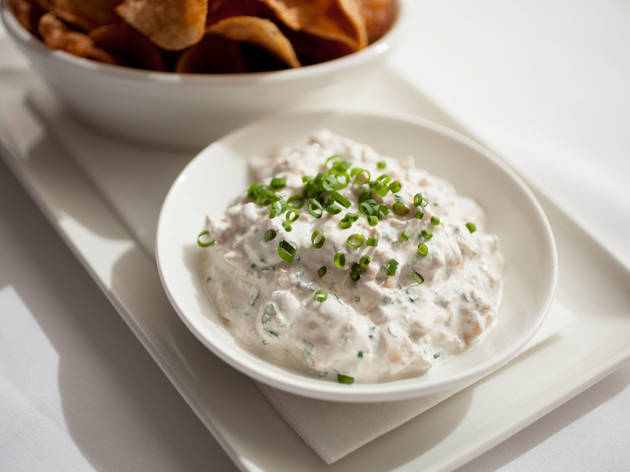 4/4
Photograph: Jennifer Arnow
Clam dip Home: Boston Team: The Clam, 420 Hudson St at Leroy St (212-242-7420, theclamnyc.com)Position: Although lesser known than its chowder counterpart, this creamy appetizer is also pure New England. The traditional recipe calls for minced clams—fresh or canned—mixed with cream cheese or sour cream and seasonings like lime juice and white pepper. Not to be confused with its baked cousin,"hot clam dip," this starter is served chilled. Batting average: For his refreshing take on the starter, chef Mike Price folds chopped top-neck clams with sour cream, bolstering it with reduced clam stock, at this bivalve-boosting seafood shack. He seasons the mix with cayenne pepper, lemon juice, chopped chives and Tabasco, and serves it alongside excellent zesty potato chips, bringing it into home base.On base: $9
Regional American-food grand slams
A new baseball season kicks off March 22. We nod at Opening Day with regional American fare right here in NYC.
MLB fans marked their calendars months ago, waiting for the ceremonial first pitch to bring back America's pastime. To honor the big day, we're covering all the bases of American food, from
BBQ
joints to fresh
seafood
spots–and a very controversial
pizza
.