Rice revolution: The grain rises at New York restaurants
New York restaurants elevate rice from side dish to main course, showcasing risottos, paellas and more.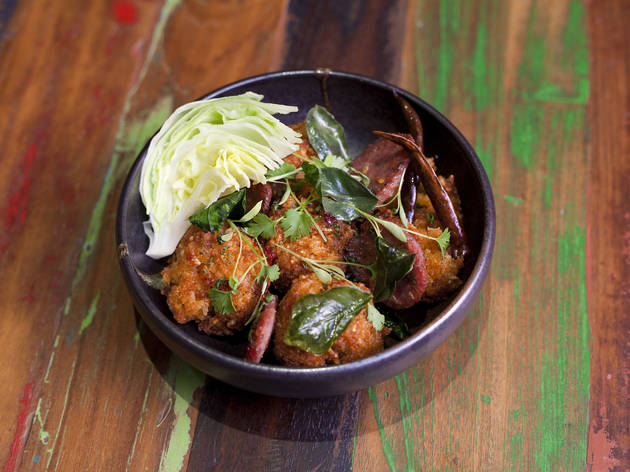 1/8
Photograph: Jessica Lin
Nam khao (crunchy coconut rice) at Khe-Yo In his home country of Laos, rice is eaten and shared by hand, a tradition that chef Soulayphet Schwader pays homage to with these fried balls. The rounds—flavored with shredded coconut, red curry and fish sauce—are smashed tableside and accompanied by slices of Kaffir-lime sausage and iceberg lettuce slicked with honey-sambal. 157 Duane St between Hudson St and West Broadway (212-587-1089, kheyo.com). $10.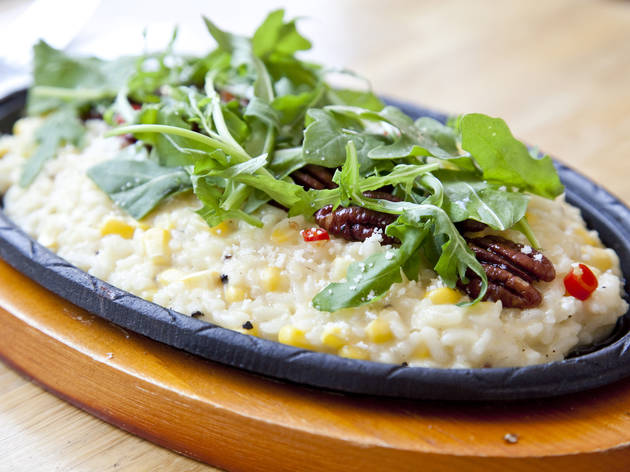 2/8
Photograph: Melissa Sinclair
Charleston Gold "risotto" at Marietta Craig Samuel debuted this South Carolina–meets-Italy mash-up in April, using a recently revived Charleston Gold rice from heritage producer Anson Mills. Summer corn and market vegetables brighten the stick-to-your-ribs risotto, while a dusting of aged goat cheese adds a mild tang. 285 Grand Ave at Clifton Pl, Clinton Hill, Brooklyn  (718-638-9500, bcrestaurantgroup.com). $12.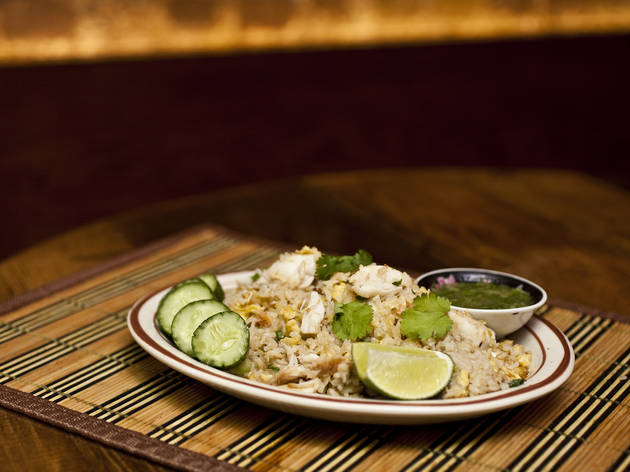 3/8
Photograph: Virginia Rollison
Kao pat pu (crab fried rice) at Uncle Boons To fashion this childhood favorite, Thai native Ann Redding boils, then air-dries jasmine rice till fluffy. The cloudlike grains are tossed in a flame-licked wok with lumps of sweet crab and garlic, then finished with fragrant cilantro. 7 Spring St between Bowery and Elizabeth St (646-370-6650, uncleboons.com). $25.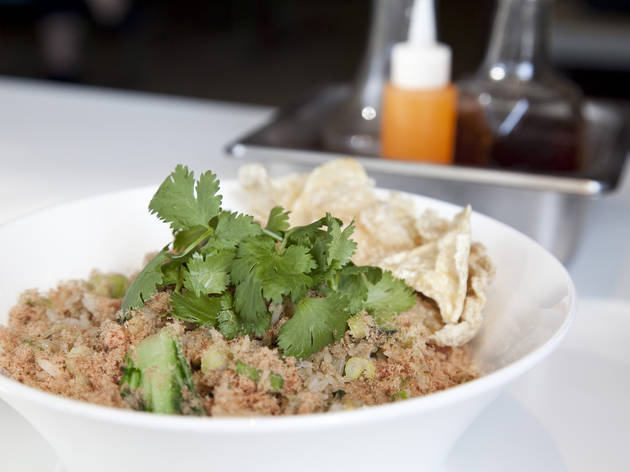 4/8
Photograph: Melissa Sinclair
Wok-fried jasmine rice at Nightingale 9 Seersucker's Robert Newton remixes the humble fried rice with a Southern twang, available at his Vietnamese canteen since February. Aired overnight, then cooked in lard, the rice is ethereally light—jasmine grains mingle with tender soybeans, wilted market greens and fluffy powdered country ham. 345 Smith St at Carroll St, Carroll Gardens, Brooklyn (347-689-4699, nightingale9.com). $9.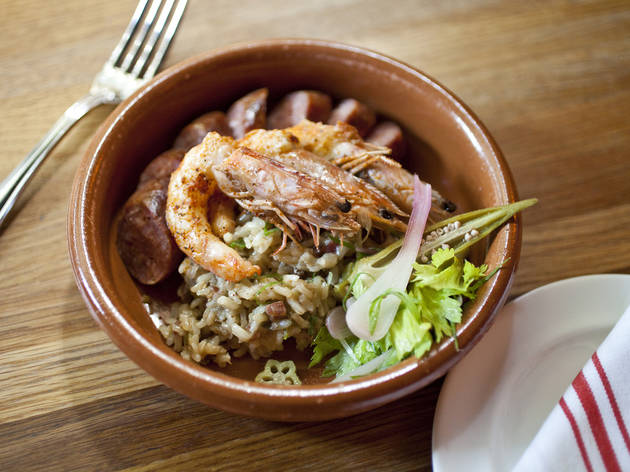 5/8
Photograph: Virginia Rollison
Cajun andouille sausage and dirty rice at The Dutch Chef de cuisine Jason Hua started dishing out this Creole classic in May. Along with sweet head-on shrimp and smoky pork sausage, Hua's take employs nutty Cajun Grain brown rice, cooked al dente to retain crunch. 131 Sullivan St at Prince St (212-677-6200, thedutchnyc.com). $17.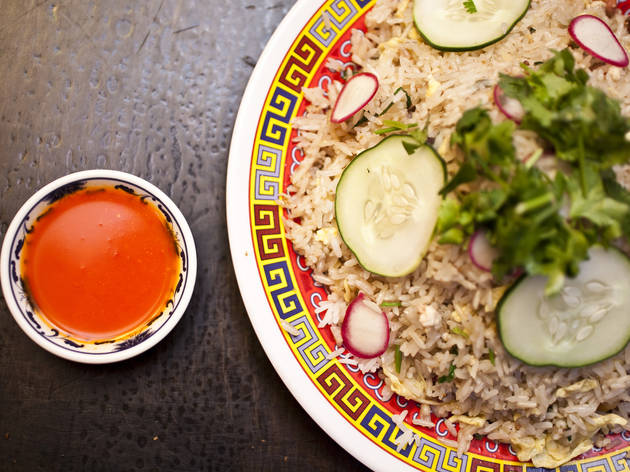 6/8
Photograph: Virginia Rollison
Chicken fried rice at Mission Chinese Food Danny Bowien's salt-cod fried rice was a 2012 gastronaut favorite, leading Bowien to add a full rice section to the menu this year. A Jewish-inflected chicken rendition ($13) combines pillowy, ginger-flecked kernels with schmaltz, livers and hearts. 154 Orchard St between Rivington and Stanton Sts (212-529-8800, missionchinesefood.com). $13.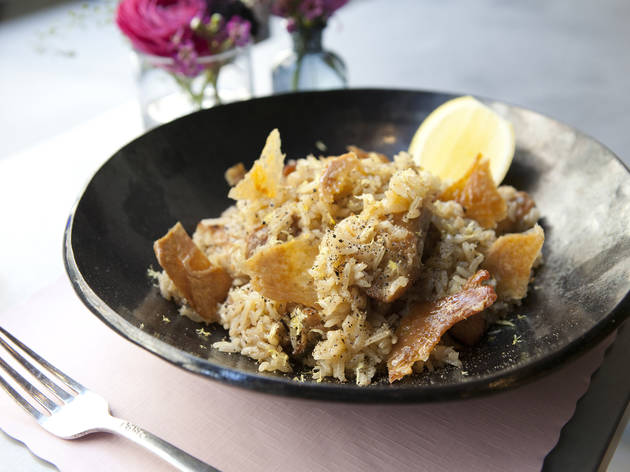 7/8
Photograph: Jessica Lin
Arroz con pollo at ABC Cocina For chef Ian Coogan's arroz con pollo, chicken cubes and jasmine kernels are first sautéed with an onion-garlic-and-jalapeño sofrito, then simmered in stock to amplify the poultry flavor. Rosemary adds an extra aromatic punch, while shards of cracklings lend crunch to the bowl. 38 E 19th St between Broadway and Park Ave South (212-677-2233, abccocinanyc.com). $22.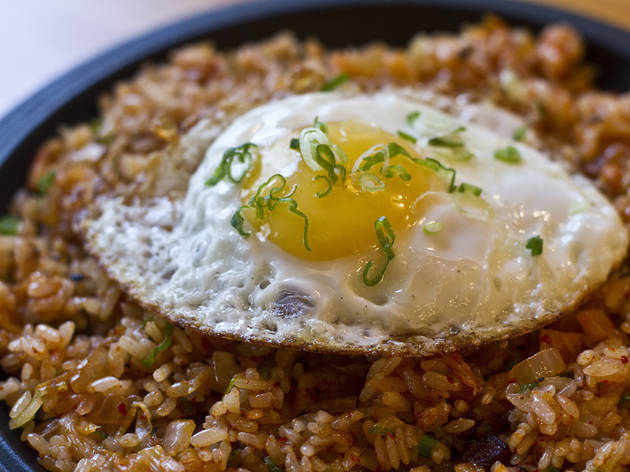 8/8
Photograph: Caroline Voagen Nelson
Kimchi bacon spam paella at Danji In March, Hooni Kim added a new ingredient to his popular kimchi paella: Spam. The iconic canned meat—a staple in Korea since it was introduced in the 1950s by American soldiers—imparts a salty-sweet flavor to the glutinous short-grain morsels. An oozing fried egg crowns the sizzling rice, spread thin on an iron skillet for a crisped bottom. 346 W 52nd St between Eighth and Ninth Aves (212-586-2880, danjinyc.com). $18.
You may not have noticed, but rice—once a lowly supporting player—is staging a revolt. No longer a mere sauce-soaking filler, the previously overlooked staple has been elevated to main-course status by the city's voguish new restaurants. Leading the surge are nouveau Southeast Asian restaurants like Khe-Yo and Uncle Boons, while Southern joints rep regional favorites. Some restaurants—such as hot spots Mission Chinese Food and ABC Cocina—are devoting whole menu sections to rice entrées. The upstart grain is even challenging pasta's supremacy as the headlining Italian starch. In October, Chris Cannon and chef Chris Jaeckle will debut their trattoria All'onda, named after the Venetian-style risotto. "Noodles have had their time in the spotlight," says Jaeckle. "Rice has been neglected, and it's time to bring it to the forefront."
Sponsored listing
Angelenos who find themselves on the opposite coast can get a taste of home at Cholo Noir, a Southern California–style Mexican joint in the East Village. Start with some chips and spicy guacamole ($10) or elotes, grilled street corn topped with mayo, chile, cojita cheese and lime ($5). The menu includes al pastor tacos named after Echo Park ($13 for three), beer-battered fish tacos a la San Diego ($5 each) and Venice Beach–style grilled shrimp tacos with pico de gallo ($5). Then there are Cholo Noir's massive burritos stuffed with everything from vegetarian beans and cheese ($11) to carne asada, beans, pico de gallo, cojita cheese and avocado ($15). Wash it all down with one of the restaurants extra-large margaritas served in pint glasses or some creamy horchata ($4).
Venue says Bottomless Brunch 2hr all you can drink margs, bloodies, mimosas and sangrias Saturday and Sunday from 11:30am-5pm! Sunday Mariachi 1-4pm.