Surf and turf steps up its game in New York City
Forget tired beef-and-reef plates—next-level surf and turf is washing ashore in NYC, ranging from pork-studded crab flan to anchovy-sauced lamb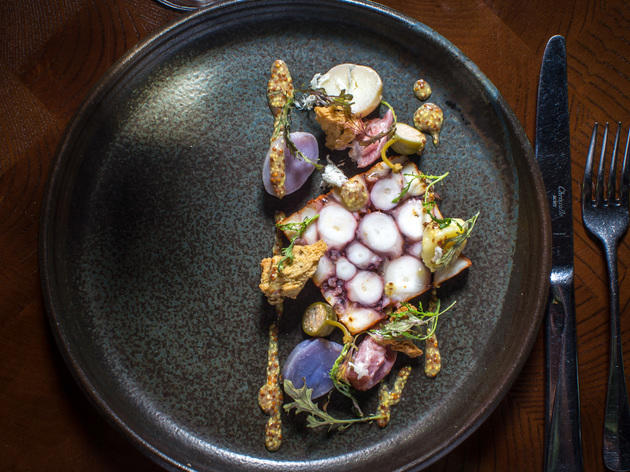 1/6
Photograph: Paul Wagtouicz
Octopus pastrami at Batard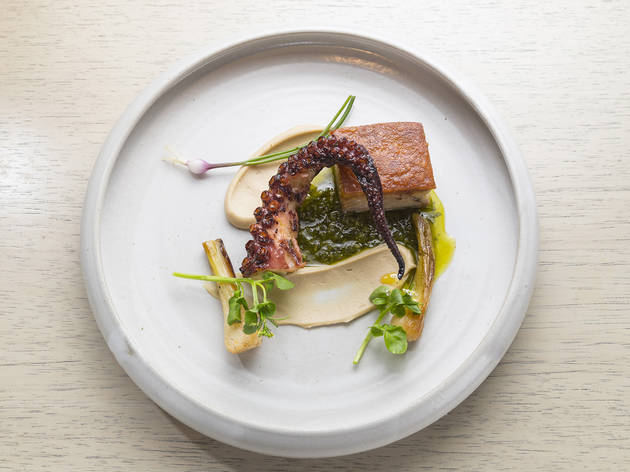 2/6
Photograph: Atsushi Tomioka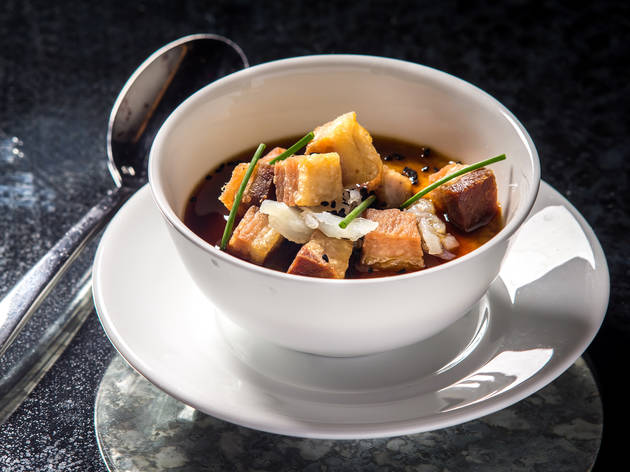 3/6
Photograph: Paul Wagtouicz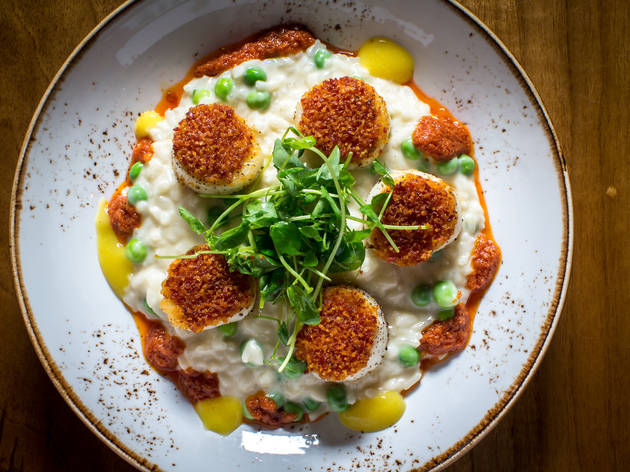 4/6
Photograph: Paul Wagtouicz
Chorizo-crusted scallops at Tessa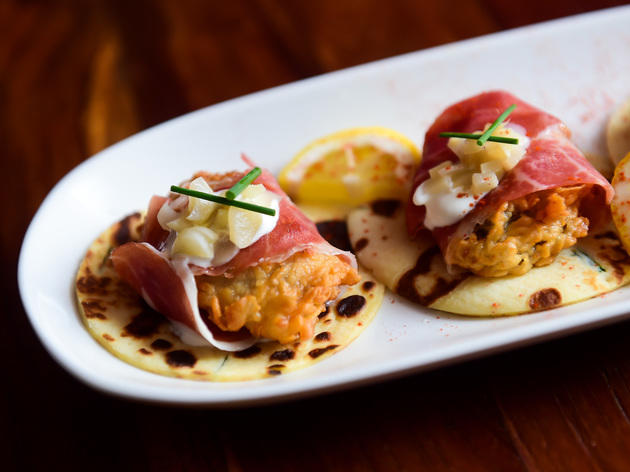 5/6
Photograph: Max Flatow
Pistols on horseback at Cull & Pistol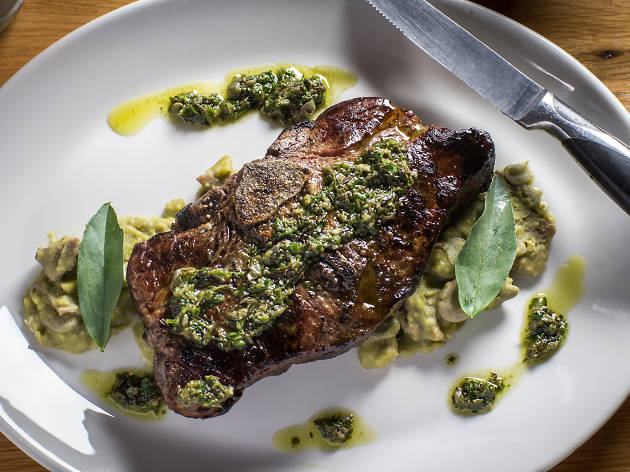 6/6
Photograph: Paul Wagtouicz
Lamb porterhouse at Barchetta
At
Bâtard
(239 West Broadway at White St, 212-219-2777)
, the swank Corton replacement from Drew Nieporent and John Winterman, chef-partner Markus Glocker (Gordon Ramsay at the London) offers two takes on the meat-and-fish model: mild Kusshi oysters crowned with fried pigs' tails, laid on a peppercorn-studded salt bed; and a standout pastrami-spiced octopus number, winkingly served with grainy Pommery mustard, shredded ham hock and toasty tears of rye bread to evoke the deli-case standard ($55 for two courses, $65 for three, $75 for four).
Poulpe
meets pig in the Peninsula Hotel's dining room,
Clement
(700 Fifth Ave at 55th St, 212-903-3918)
, where Asiate alum Brandon Kida winds a charred octopus tentacle around succulent slabs of crackle-skinned porcelet ($32), served with dashi-stock-cooked white beans and a tide pool of chimichurri sauce. Hearty cubes of pork belly also stud a seafood stunner at French-accented
Beautique
(8 W 58th St between Fifth and Sixth Aves, 212-753-1200)
, lending crispy contrast to chef Craig Hopson's bowl of rich malt-caramel-topped crab flan ($18), while his seared scallops come shellacked with Pollock dollops of foamy foie-gras sabayon and diablo sauce ($32).
For their own bivalve renditions, chef Cedric Tovar (
Rosemary's
,
Bobo
) bookends tender scallops with a robust chorizo crust ($28) at Mediterranean tavern
Tessa
(349 Amsterdam Ave between 76th and 77th Sts, 212-390-1974)
, and at Chelsea Market seafoodery
Cull & Pistol
(75 Ninth Ave at 15th St, 646-568-1223)
Jean-Georges vet Dave Seigal serves a play on angels on horseback, wrapping Chesapeake fried oysters with salty Surryano ham and serving the bundle atop parsley-and-chive crepes with smoked aioli ($12).
And "fish whisperer" Dave Pasternack makes good on his nickname with the rustic lamb porterhouse at sea-to-table Chelsea trattoria
Barchetta
(461 W 23rd St between Ninth and Tenth Aves, 212-255-7400)
, lacquering the grilled meat with briny, brawny Sicilian anchovy vinaigrette.
Sorry, Red Lobster—
this
is how you surf and turf.
Sponsored listing
Dayboat
The very name of this restaurant reflects its commitment to fresh fish: the word "dayboat" means seafood that is caught and brought to shore on the very same day. It's no surprise, then, that the menu centers around raw fish. Diners can select from five varieties of ceviche featuring fluke, squid and octopus ($16–$19), as well as tiradito, a Peruvian dish similar to sashimi, served with flavorful or spicy sauces ($14–$16). Dayboat also offers some anticuchos, or skewered meats like heart ($12) and octopus ($14), as well as entrees like seafood paella with shrimp, mussels and squid ($26) and purple pasta with the catch of the day ($25). Not a huge fan of seafood? Try one of the salads, like miso-maple glazed winter squash with beets ($13), or a fish-free entree like the Cornish game hen served with turnips and cabbage ($19).
Venue says: "Experience ceviche at its best. Now open for brunch, post a picture of your meal with #AllAboardDayboat for a Mimosa, Bellini or Champagne."