The best new burgers
From pedigreed fast-food joints to nouveau chophouses, the battle for patty supremacy rages on. TONY tracks down 20 contenders to add to your list.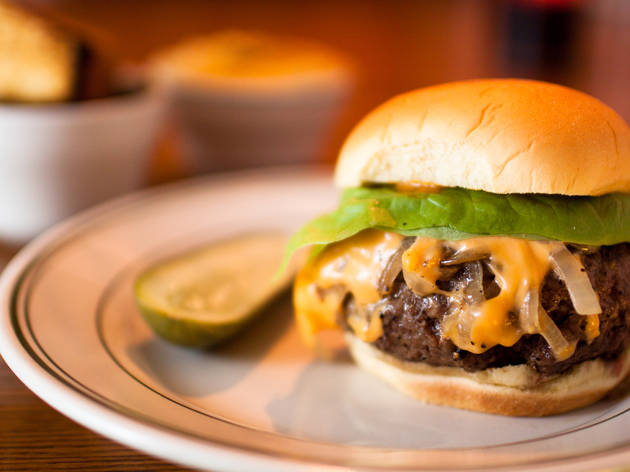 1/20
Photograph: Vicky Wasik
The Cardinal This refreshingly simple cheeseburger reminds us of the best kind of backyard cookout. While there's no charcoal grill hiding in his kitchen, North Carolina native Curtis Brown does right by the proprietary Ottomanelli Brothers patty, trapping its copious juices with a sear in a cast-iron skillet, then serving it with American cheese, onions, Bibb lettuce and a Martin's potato roll. A zingy mustard-BBQ sauce adds some understated Southern flair, and house-made pickles and chips complete the platter. 234 E 4th St between Aves A and B (212-995-8600). $13.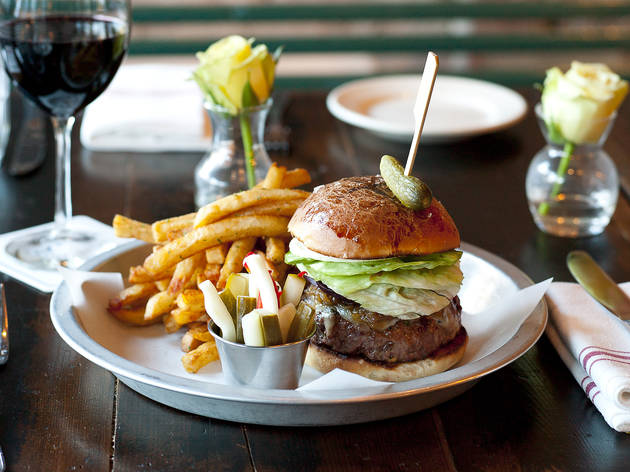 2/20
Photograph: Dominic Perri
Whitehall Bar + Kitchen British comforts dominate the menu at this London-inspired tavern, but chef Chris Rendell reps his Aussie roots with this messy burger. Purists shouldn't be put off by the baroque ingredient list, which includes house-pickled beets, a sunny-side-up egg, caramelized onions and aged cheddar. The beets match the texture and earthiness of the juicy patty, adding just a hint of sweetness, and a liberally buttered, Maldon-salt-flecked brioche bun does a fine job of soaking up the egg yolk that gushes when you bite into it. 19 Greenwich Ave between Christopher and W 10th Sts (212-675-7261). $16.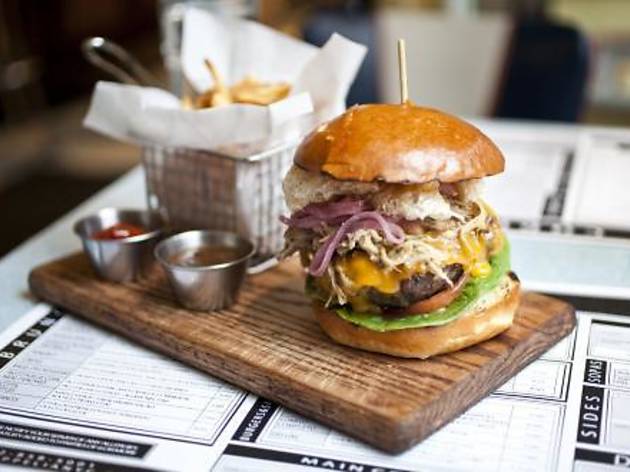 3/20
Photograph: Virginia Rollison
Coppelia With every buzzy new eatery flaunting its own chefly burger, pricey patties are on the rise. But Julian Medina bucks the trend with his affordable entrant, the Frita Cubana, at this 24-hour Latin diner. He doesn't skimp either---the jaw-stretching stack features airy chicharrns and spiced roasted pork, piled atop a plump Swiss-covered burger made with sirloin, short rib and skirt steak. Pickles, red onion, crisp Boston lettuce and fresh tomato slices offset the richness, a slick of sambal-spiked mayo adds some zip, and a golden-brown potato bun holds it all together. 207 W 14th St between Seventh and Eighth Aves (212-858-5001). $8.95.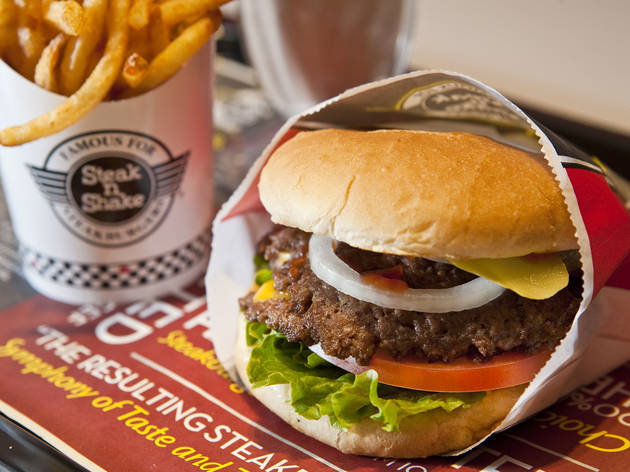 4/20
Photograph: Jakob N. Layman
Steak 'n Shake Signature When this pedigreed Midwest import made its triumphant NYC debut earlier this year, it became an instant contender for the city's best under-$5 burger. The original Double 'n Cheese Steakburger features two patties smashed thin and crispy on the griddle, then draped with just-melted American cheese and sandwiched inside a soft, buttery bun. Since the Gotham storefront maintains the same prices as the chain's nationwide locations, the whole greasy package will set you back just $3.99, including fries. 1695 Broadway between 53rd and 54th Sts (212-247-6584). $3.99.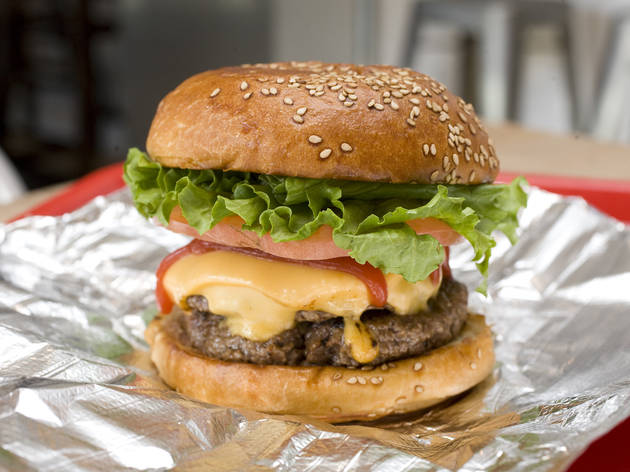 5/20
Photograph: Alex Strada
F. Ottomanelli Burgers & Belgian Fries Meat man Frank Ottomanelli takes on the dual role of butcher and chef at this burger joint, a spin-off of his 52-year-old shop nearby. For his house grind, he uses 100 percent USDA prime beef (brisket, short rib, chuck and sirloin), which he crafts into four-ounce patties and cooks la plancha, upsetting the discs only to perform a single, well-timed flip. Opt for the double, served on a sesame-seed bun with a slice of American cheese, two dripping patties, lettuce, tomato and pickles. 60-15 Woodside Ave at 61st St, Woodside, Queens (718-446-7489). $5.99.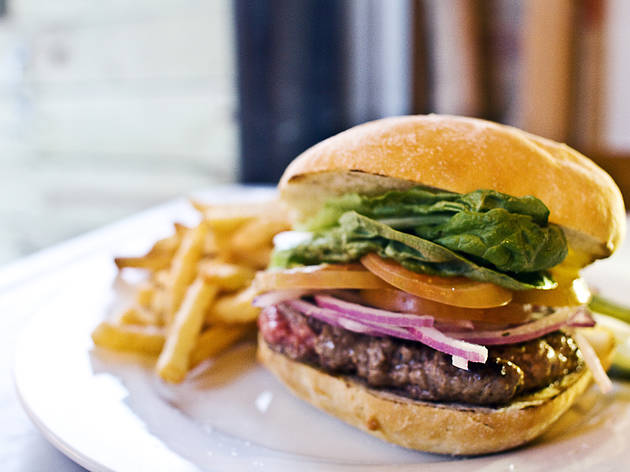 6/20
Photograph: Caroline Voagen Nelson
Littleneck Name-brand butchers may be all the rage on the burger scene, but this clam shack turned to lesser-known purveyors to build its version. The beef (a blend of brisket, shoulder and fatty strip-steak trimmings) is sourced from Meatpacking stalwart London Meat Company, and the ciabatta roll comes from 50-year-old Brooklyn bakery Caputo's. Chef Alan Harding gives the juice-gushing patty a caramelized crust on the flattop and crowns it with traditional toppings (romaine lettuce, roma tomatoes, red onion), plus spicy pickles punched up with Thai chilies. 288 Third Ave between Carroll and President Sts, Gowanus, Brooklyn (718-522-1921). $12.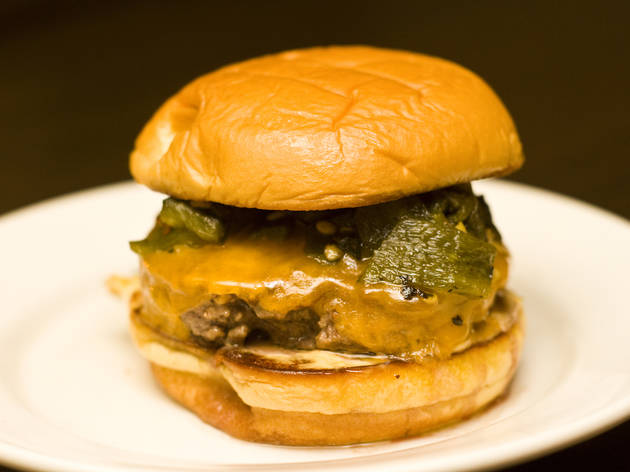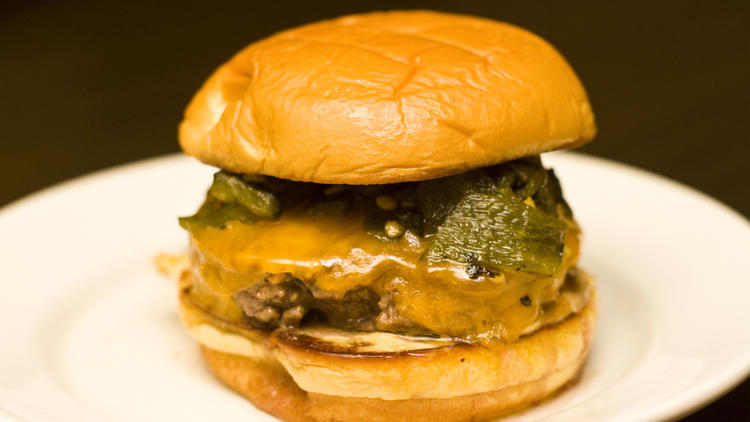 7/20
Photograph: Caroline Voagen Nelson
Two 8 Two Bar & Burger For the signature creation at his burger-and-brew tavern, owner Billy Thanopoulos uses a proprietary blend of chuck, brisket and short rib, delivered twice daily from neighborhood butcher Los Paisanos. The griddled five-ounce patty is cloaked in mild cheddar, covered in roasted poblanos and wedged into a Martin's potato roll. To bolster the mellow heat of the chilies, Thanopoulos douses the whole thing with Two 8 Two special sauce---a spicier version of Thousand Island dressing made with mayo, ketchup, mustard, chopped dill pickle and cayenne pepper. 282 Atlantic Ave between Boerum Pl and Smith St, Cobble Hill, Brooklyn (718-596-2282). $9.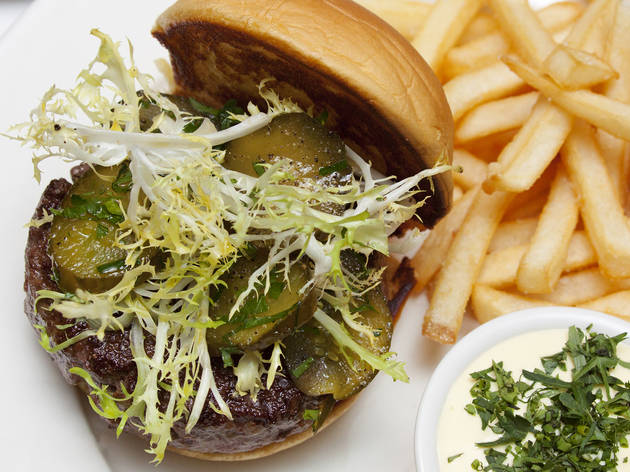 8/20
Photograph: Dominic Perri
King Chef Francis Derby borrows from the steak frites tradition for his bistro burger, serving the patty with a barnaise sauce dappled with fresh chopped herbs. He aerates the classic condiment, a puree of yolks and clarified butter, in a whipped-cream canister to give it extra fluff, and serves it in a ramekin alongside his rich Pat LaFrieda short-rib burger. A butter-griddled Martin's bun, bitter frise and Derby's own tangy bread-and-butter pickles round it out. 5 King St at Sixth Ave (212-255-0700). $14.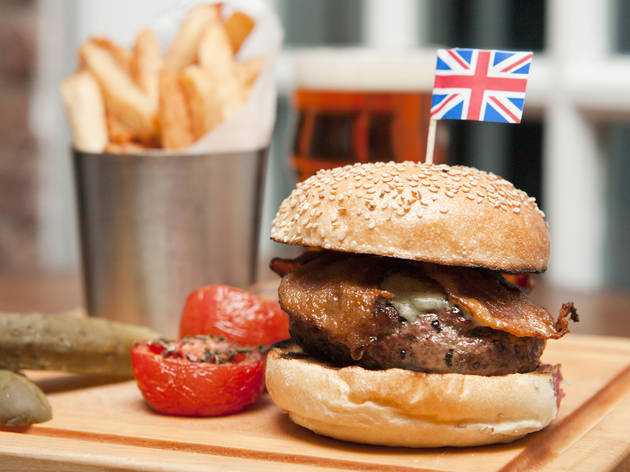 9/20
Photograph: Dominic Perri
Jones Wood Foundry At this British-inspired uptown eatery, chef Jason Hicks builds his luxe, char-grilled JWF Burger with a dry-aged-brisket-and-short-loin blend from DeBragga. A Union Jack flag speared into the bun may seem cutesy, but other Anglo upgrades are well conceived: slow-roasted tomatoes that spread easily into the bun; a thin layer of melted Stilton cheese that adds a hint of salty funk to the richness of the beef; and fat, thrice-cooked chips served in a cone of newspaper. 401 E 76th St between First and York Aves (212-249-2700). $18.
10/20
Photograph: Jolie Ruben
Roberta's Chef Carlo Mirarchi has amassed acclaim for his composed plates at Roberta's, but for his purist patty he leaves well enough alone. The burger sports just American cheese, onion and romaine, letting the quality of its main ingredients shine. The pan-seared round, a custom blend from Pat LaFrieda, bursts with complex dry-aged flavors. Equal attention is paid to the accompanying roll: The house-made beauty boasts a moist buttery crumb. 261 Moore St between Bogart and White Sts Bushwick, Brooklyn (718-417-1118). $12. Lunch only.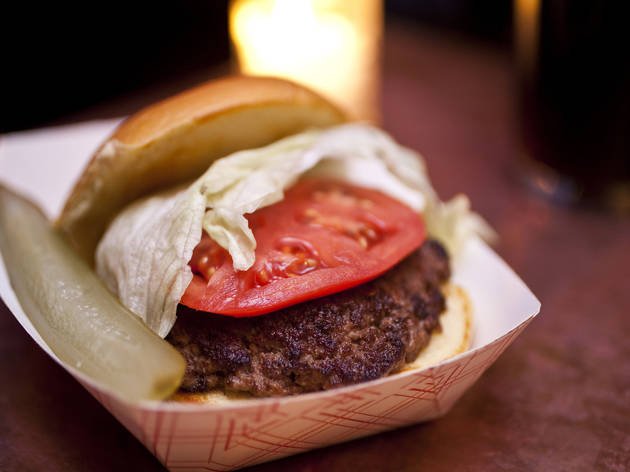 11/20
Photograph: Virginia Rollison
Sea Witch St. Louis native Andy Hawkins takes his burger cues from the beloved Midwest chain Steak 'n Shake, the same source of inspiration for Danny Meyer's Shake Shack. At his nautically themed drinkery in Sunset Park, Hawkins upgrades the thin smashed-and-seared patty with a robust mix of short rib, brisket and chuck from  Los Paisanos. He keeps the accoutrements simple: melted American cheese, thick-cut tomato and iceberg lettuce layered on top, and a bright mix of chopped onion and ketchup below, all cradled by a soft, toasted potato bun. 703 Fifth Ave between 21st and 22nd Sts, Sunset Park, Brooklyn (347-227-7166). $5.50.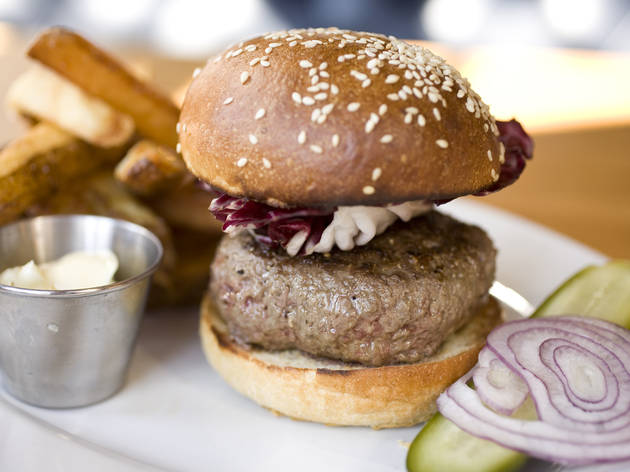 12/20
Photograph: Alex Strada
Allswell Chef-owner Nate Smith's burger doesn't feature any dry-aged cuts, but the dark-hued beef (pasture-raised shoulder from Vermont Quality Meats) is so deliciously funky, you'd never know it. Smith covers the rotund patty with smooth-melting Grafton cheddar, packs it in a slightly sweet sesame-seed bun (baked by his wife, Sophie Kamin) and serves it alongside homemade mayonnaise. Bitter radicchio, sharp red onion and a tart pickle sliver on the side balance out the richness. 124 Bedford Ave at North 10th St, Williamsburg, Brooklyn (347-799-2743). $16. Lunch and brunch only.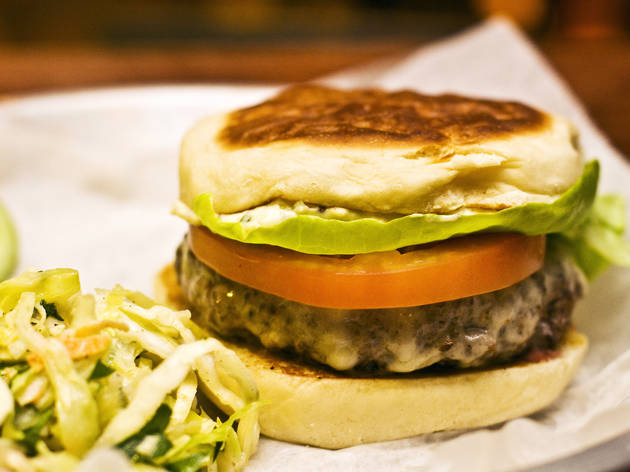 13/20
Photograph: Caroline Voagen Nelson
Burger on Smith In 2009, chef Kyle Huebbe won a Brooklyn Paper contest with his tweaked cheeseburger recipe, laced with horseradish-chive aioli and topped with sharp cheddar. That award-winning creation now has pride of place on the menu at the new Cobble Hill joint, where Huebbe shares the kitchen with Blessing Schuman-Strange. The burger is built around a custom blend of grass-fed brisket and chuck from Los Paisanos, and a griddled Portuguese muffin serves as a bun, providing a hint of sweetness to balance the kick from the horseradish. 209 Smith St at Baltic St, Cobble Hill, Brooklyn (718-694-2277). $13.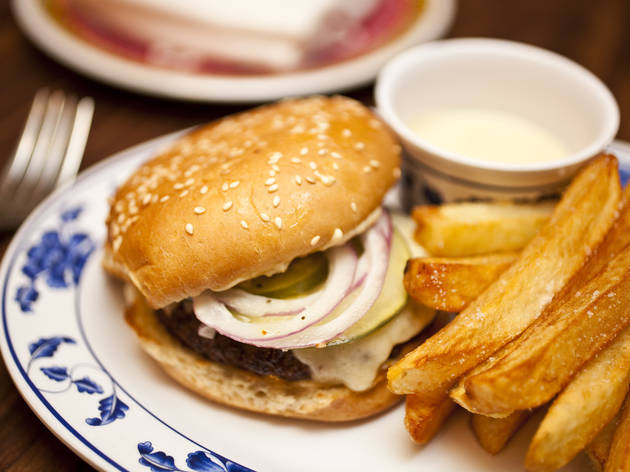 14/20
Photograph: Virginia Rollison
Fatty 'Cue Those craving a burger after a night of boozing in the West Village can hit up Zak Pelaccio's Southeast Asian barbecue joint. For its late-night (Thu--Sat midnight--2am) and brunch (Sat, Sun 11am--3:30pm) menus, the kitchen rolls out the Fatty Johnson, made with house-ground Brandt beef from Texas, seared in drippings from the smoker, and topped with salty-sweet aged Gouda, mustard aioli and B&B pickles. Order the "Full Ride" ($19) and you'll also get a PBR tall boy and a pickleback. 50 Carmine St between Bedford and Bleecker Sts (212-929-5050). $12.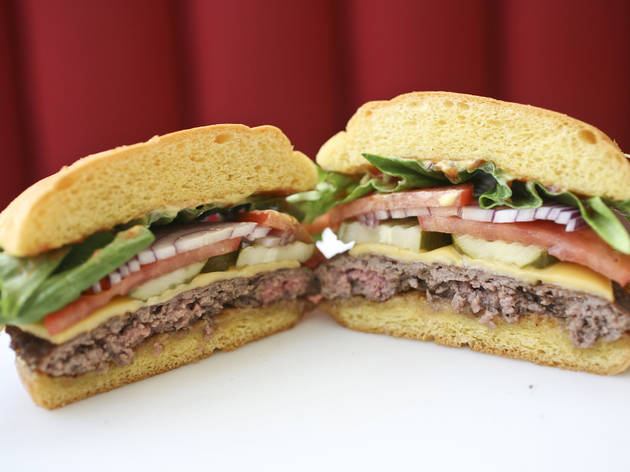 15/20
Photograph: Alex Strada
Smashburger This Denver-based chain has won a cultish following for its commitment to the smash technique, which was the norm at quick-service joints before major chains started using frozen patties. The retro maneuver---in which pucks of chopped all-Angus chuck are tossed onto a butter-greased griddle, then pressed into thin discs for a ten-second sear---produces a superlative crust-to-interior ratio. While the menu is full of creative riffs, we like the simplicity of the All-American, featuring gooey American cheese and an absorbent egg bun. 80 DeKalb Ave between Hudson Ave and Rockwell Pl, Fort Greene, Brooklyn (718-222-1101). $4.99.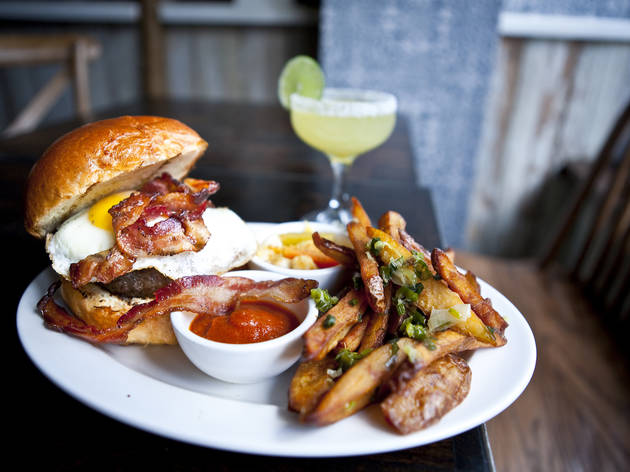 16/20
Photograph: Jakob N. Layman
Masak Singapore native Larry Reutens (Aquavit) reimagines beef rendang---a stew popular in Indonesian and Malay cooking---into American comfort food with his spicy international burger riff. The coconut-based sauce, flavored with kafir leaves, lemongrass and chilies, is mixed with ground Pat LaFrieda brisket, which is then grilled with a slice of Vermont cheddar. Before it's served, the patty gets another dose of the addictive sauce, plus a smear of chili-and-shallot spread. The sammie comes with ginger-scallion fries, and you can top it with bacon and a fried egg if you like. 432 E 13th St between First Ave and Ave A (212-260-6740). $15.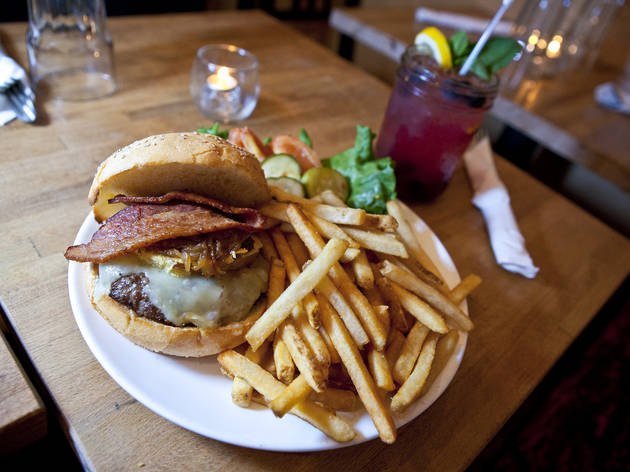 17/20
Photograph: Jakob N. Layman
Peaches HotHouse Last September, co-owner Craig Samuel added the Full JimCade---a layered creation named after his insatiable uncle-in-law---to the menu of his soul-food shack. Black Angus beef from Creekstone Farms and a springy Il Forno bun form the spine of the over-the-top burg'. Samuel piles it on with sharp Swiss, sauted onions and two meaty strips of applewood-smoked bacon, plus a crispy, tart disc of fried green tomato. 415 Tompkins Ave at Hancock St, Bedford-Stuyvesant, Brooklyn (718-483-9111). $11.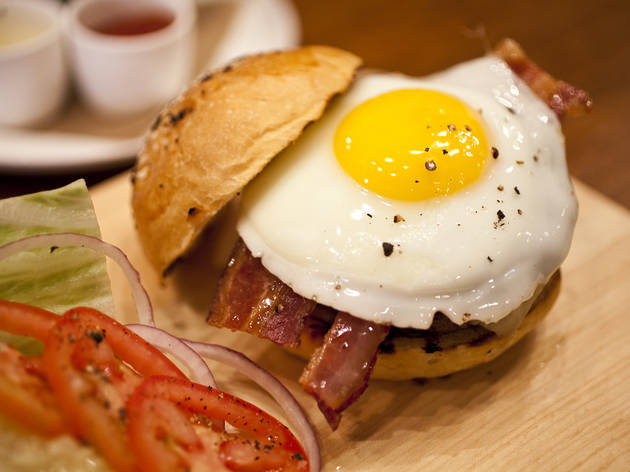 18/20
Photograph: Virginia Rollison
Saxon + Parole For a splurgeworthy steakhouse-style burger, look to Saxon + Parole's meaty half-pounder. While chef Brad Farmerie (Public) pimps it out with plenty of upmarket tweaks---a fried egg, nutty Pennsylvania Havarti, maple bacon and a house-made "everything" brioche bun---they all play supporting roles to the deeply flavorful dry-aged Angus beef blend. Order it medium-rare to best appreciate the distinct mineral tang of the meat, which remains juicy and pink beneath a thick, gorgeously charred crust. 316 Bowery at Bleecker St (212-254-0350). $18.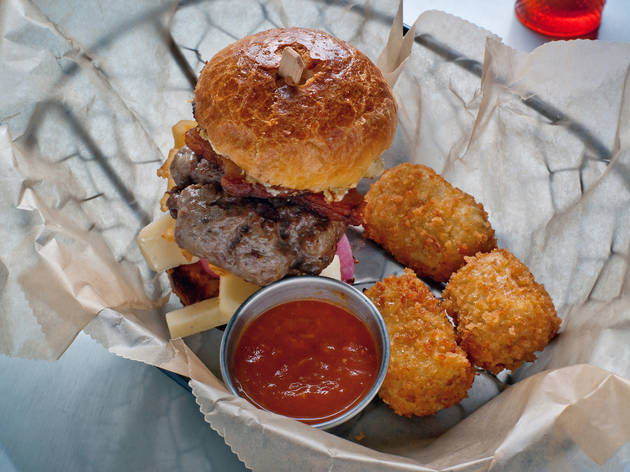 19/20
Photograph: Paul Wagtouicz
Pocket Burger at ABV Chef Corey Cova helped put Earl's Beer and Cheese on the map last year with madcap bar-food riffs like an Eggo waffle topped with foie gras. These days, he's turning out a more expansive menu around the block at ABV, but fans of his stoner-friendly experiments will want to beeline for the "pocket burger." The stacked creation---bigger than a slider, yet not quite a full-size burger---features a plancha-griddled three-ounce patty, a single chubby waffle fry, coriander-pickled red onion, aged Cabot cheddar and pilsner-braised pork belly, all piled into a mini Grandaisy brioche roll. We like it best slathered with the house "fancy sauce," made with sriracha, vinegar and fried eggs. 1504 Lexington Ave at 97th St (212-722-8959). $8.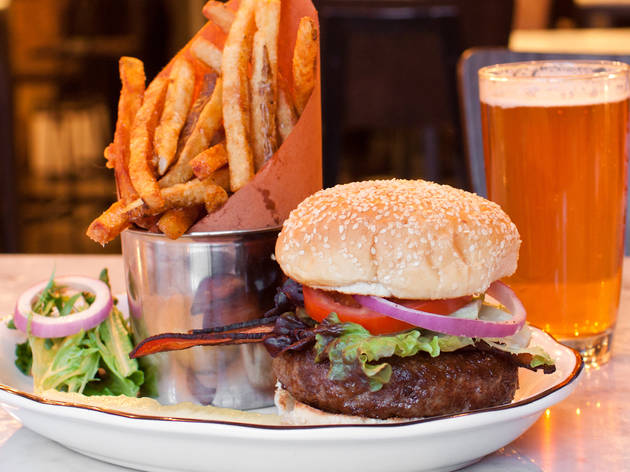 20/20
Photograph: Vicky Wasik
Prima Simply prepared seafood is the focus at this candlelit East Village eatery, but chef David Malbequi still serves a mighty fine burger. Malbequi sources local grass-fed beef from D'Artagnan and grinds the black-Angus cuts in-house. He chars a hefty round of the meat la plancha, blankets it with aged cheddar and stuffs it in a Martin's sesame-seed bun with fresh slices of red onion and tomato. Crispy Old Bay--dusted french fries come on the side. 58 E 1st St between First and Second Aves (646-559-4823). $16.