The best new pizzas in NYC: Anselmo's Coal-Fired Brick Oven Pizzeria
TONY eats through the city's newest pies.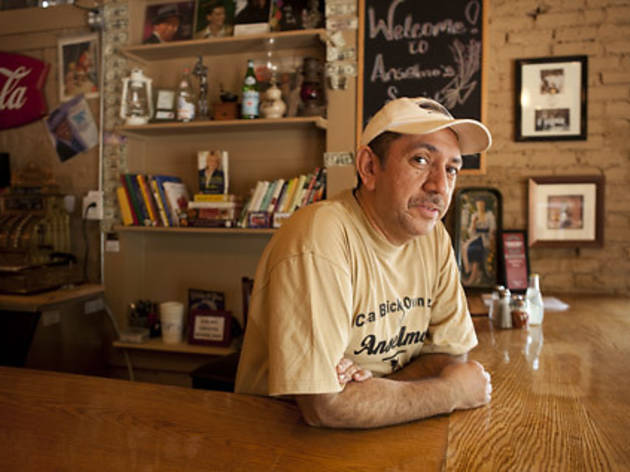 1/3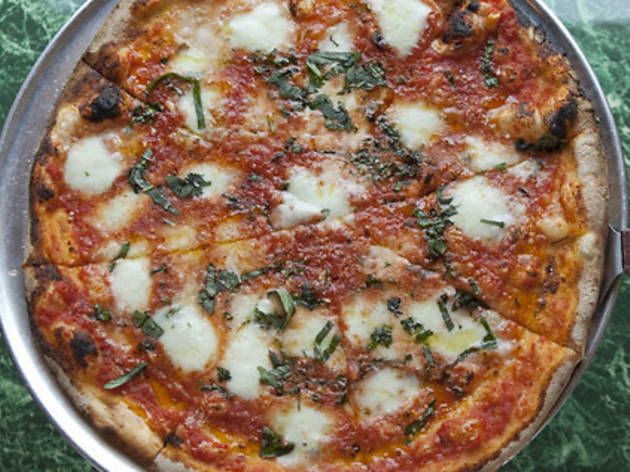 2/3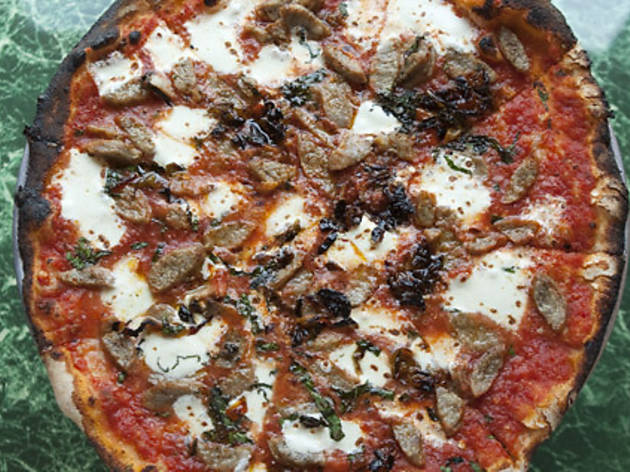 3/3
The hot-pepper-and-sausage pizza
RECOMMENDED: Complete New York pizza guide
354 Van Brunt St at Sullivan St, Red Hook, Brooklyn (718-313-0169)
The muscle:
There are no theatrics or authenticity worship at Anselmo's. In fact, without this Red Hook pizzeria's coal oven—auspiciously discovered while owner Roger Fischer was renovating the space—the pies might be generic. But after just one to two minutes inside that brick beast, loaded with white-hot briquettes and cranked, per pizzaiolo Anselmo Garcia's specifications, to a blistering 820--900 degrees, the thin-crusted rounds are transformed into blackened beauties that could easily jump in the ring with that other coal-fired standby, Grimaldi's.
The result:
Naturally, the crust does most of the talking here. Garcia's dough isn't given to bubbles, but the oven's searing temperature yields a gorgeously charred base. Anselmo's is a top-your-own affair, with just two departures from its corner-pizzeria cousins: buffalo mozzarella and grana padano, both available as optional add-ons. The standard mozzarella, sourced from old-school dairy Michael Aiello in Carroll Gardens, is diced, resulting in a uniform veil of cheese rather than the molten puddles preferred by artisanal joints. The rest of the unpretentious toppings—we liked hot peppers and sausage from Pastosa on Staten Island—bring a welcome everyman vibe to the table.
Anselmo's Coal-Fired Brick Oven Pizzeria
Sponsored listing
Tri Dim Shanghai
This Upper East Side restaurant offers a wide range of Shanghainese, dim sum and Szechuan dishes. You'll find plenty of classics among the starters, like scallion pancakes, Peking crispy duck roll, egg drop soup and steamed shrimp dumplings. As for entrees, traditionalists might go for the Szechuan-style twice-cooked pork or crispy whole sea bass. To try the beggar's chicken—a whole bird marinated in Chinese five spice, then wrapped in lotus leaves and slowly roasted—you must order a day ahead of time. Other specials, like the lion's head casserole of braised pork meatballs and cabbage, can be requested that same night. You'll probably need to order some fried rice or spicy dan-dan noodles to round out your meal, too.
Venue says: "We offer the best lunch deal in the city - $7.75 for soup or a spring roll along with an entree. Also join us for brunch on Sat or Sun 12-3"