The Feed first look: Sayra's Wine Bar
The Rockaway food scene moves to terroir territory with the neighborhood's first wine bar, serving hang-ten varietals and tapas.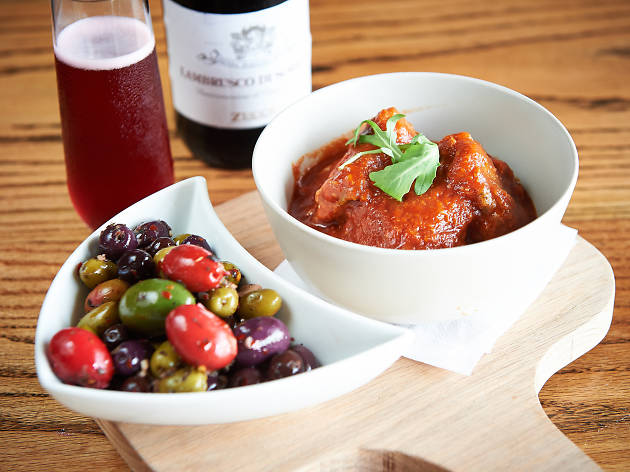 1/6
Photograph: Filip Wolak
Marinated olives and spicy meatballs at Sayra's Wine Bar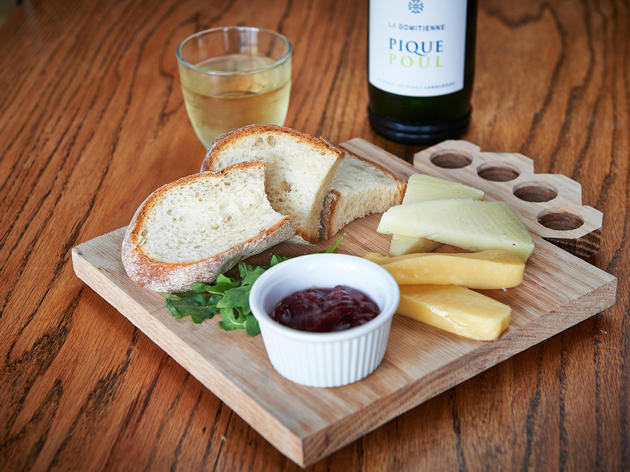 2/6
Photograph: Filip Wolak
Cheese plate at Sayra's Wine Bar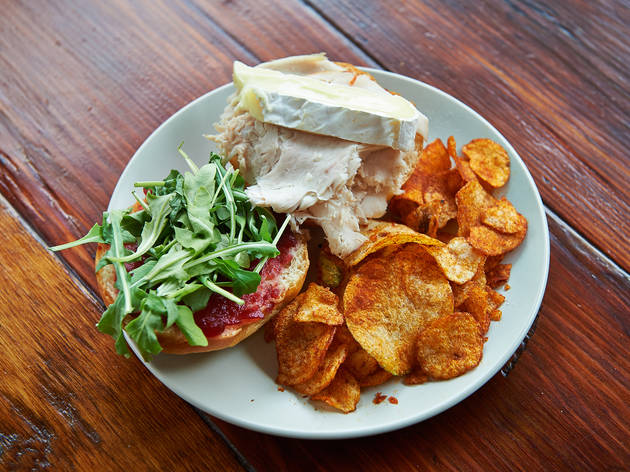 3/6
Photograph: Filip Wolak
Pepper turkey sandwich and paprika-rosemary chips at Sayra's Wine Bar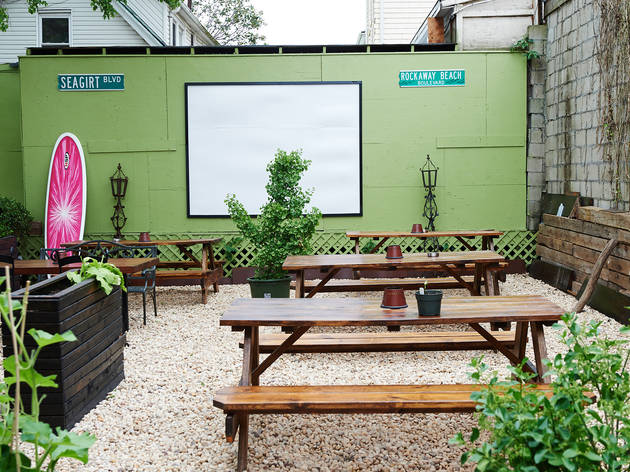 4/6
Photograph: Filip Wolak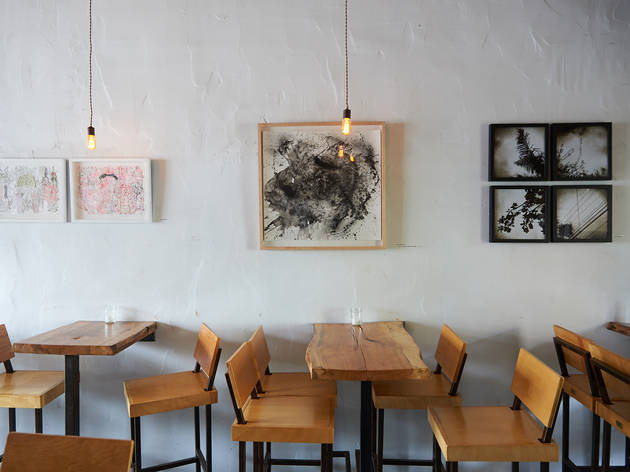 5/6
Photograph: Filip Wolak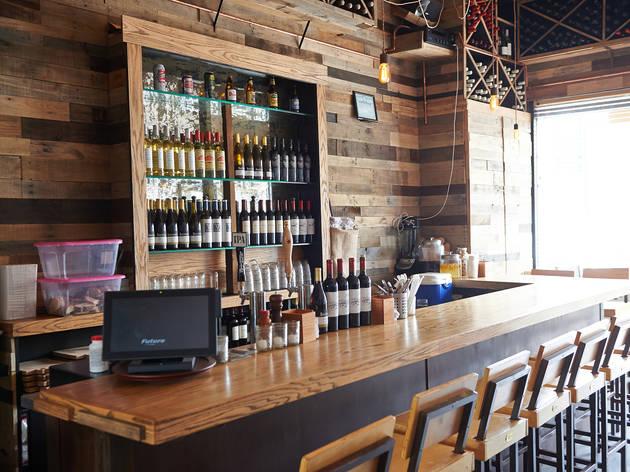 6/6
Photograph: Filip Wolak
Joining cool-kid spots Rockaway Taco and Rippers, the Rockaway's first wine bar brings a bougie element to the 'hood's shoreside culinary scene. The brainchild of local surfer Rashida Jackson and artist Patrick Flibotte, the 28-seat drinkery showcases seasonal vino from hang-ten regions around the world: chardonnay from Cali's Sonoma Coast, sauvignon blanc from New Zealand's Sandy Cove and cava from Catalonia, Spain. Along with the 13-bottle wine list, eight beers are available at the oak-and-steel bar: Sixpoint Crisp Lager and Lagunitas IPA on draft, Duval and Allagash White in bottles. Soak up the suds with tapas including smoked-paprika–rosemary chips, marinated olives and BBQ pulled-pork sandwiches, piled on silver-dollar brioche from Brooklyn Bread. Out back is a 1,200-square-foot garden fitted with beach rocks and wooden picnic tables. Settle under the tin canopy for live jazz on Thursday nights or black-and-white flicks on Saturdays. 91-11 Rockaway Beach Blvd between Beach 91st and 92nd Sts, The Rockaways, Queens (718-945-9463)
TAPAS MENU
Patatas frita, $2
smoked paprika & rosemary chips

Marinated olives, $3
house mixed olives with lemon zest, crushed red pepper flakes and sea salt

Cheese plate, $11
chevre, blue, sheep and brie cheese served with sourdough toast & orange marmalade

BBQ pulled pork sandwiches, $9
on silver dollar brioche

Pepper turkey sandwich, $7
cranberry dressing, bried cheese and arugula on silver dollar brioche, served with chips.

Spicy homemade meatball, $7
in a tomato sauce served with sourdough toast

Peanut butter costini, $4
two slices

Pesto costini, $4
two slices

WINE LIST
Pinot Grigio- Il Conti, Veneto, Italy 2012, $6/24
Chardonnay- Bacchus, Central & Sonoma Coasts, California '11, $7/28
Picpoul de Pinet- La Domitienne, Languedoc, France 2013, $8/32
Sauvignon Blanc- Sandy Cove, Marlborough, New Zealand '11, $9/36
Cava- Raventos Brut L'hereu, Penedes, Cataluna, Spain 2009, $7/28
Tempranillo- Garduno, Vino de la Mesa, La Mancha, Spain, $6
Cabernet Sauvignon- Jeanne Marie, Central Coast, Paso Robles, Napa Blend 2011, $7/28
Pinot Noir- Bacchus-Ginger's Cuvee, Monterey, California 2011, $10/40
Malbec- Ernesto Catena "Tahuan" Mendoza, Argentina 2011, $10/40
Tempranillo- Bodegas Volver, La Mancha, Spain 2012, $12/48
Lambrusco- Zucchi Sorbara, Italy 2013, $10/40
Sponsored listing
Gran Sasso
This Italian restaurant on the Williamsburg waterfront serves both the old standbys and more inventive dishes. Start with a classic like buffalo mozzarella served with prosciutto di parma and crispy bread ($17), or go for something more unusual, like the asparagus flan served with steamed spears and parmesan fondue ($16). The chef's fresh pasta stars in a variety of dishes, including a traditional lasagna ($19) and the beet gnocchi with sage pesto and crispy cauliflower ($19). The veal saltimbocca ($19), brick oven–cooked Cornish game hen marinated in meyer lemon and rosemary ($19) or pizza topped with buffalo mozzarella, pancetta, radicchio and Calabrian chiles ($18) might also tempt you. For dessert, order the almond, hazelnut and caramelized banana semifreddo, panna cotta with creme caramel or hazelnut cake with nutella foam (each $8) to enjoy with an affogato ($8) or glass of amaretto ($11).
Venue says: "Al fresco dining! Water & skyline. Classic cocktails. Movies and food truck coming. Sasso's response to Williamsburg's laid-back gastronomy."