The Feed first look: Sunshine Co.
The owners of Milk Bar—along with chef Julian Calcott (Corton)—open a stylish New American restaurant in Prospect Heights.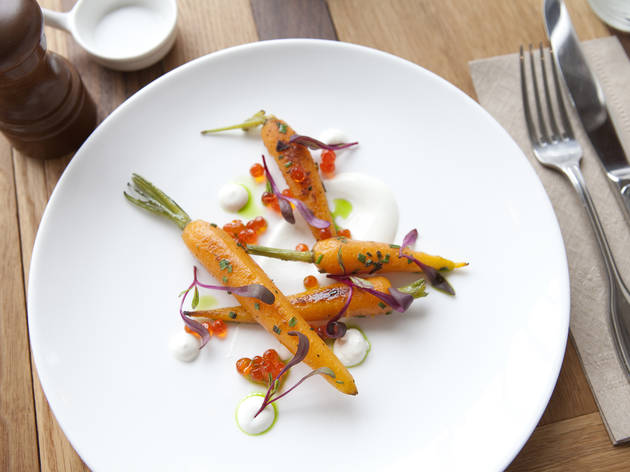 1/9
Photograph: Jessica Lin
Roasted carrots at Sunshine Co.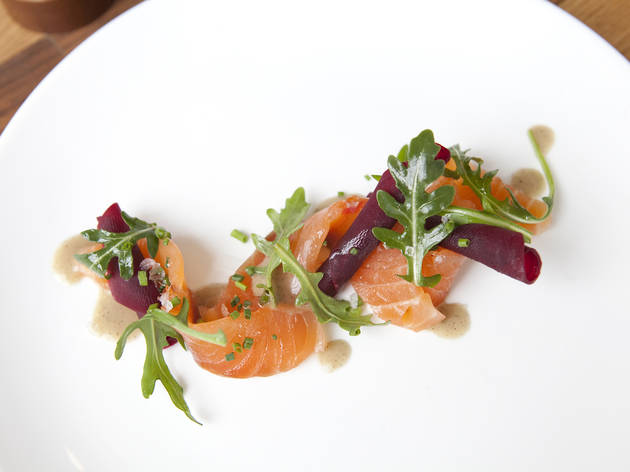 2/9
Photograph: Jessica Lin
Salmon crudo at Sunshine Co.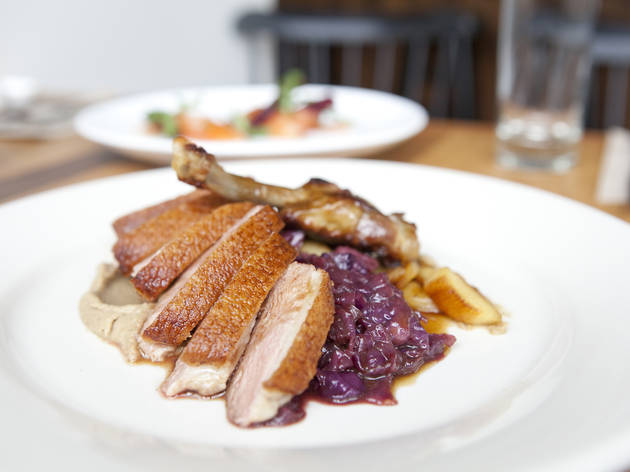 3/9
Photograph: Jessica Lin
Duck breast at Sunshine Co.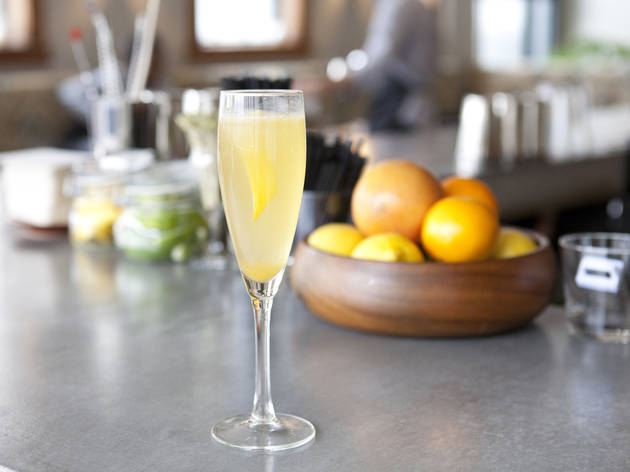 4/9
Photograph: Jessica Lin
Viking Culture at Sunshine Co.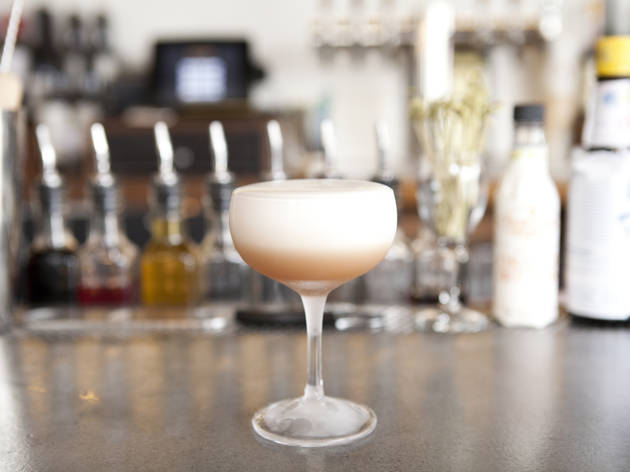 5/9
Photograph: Jessica Lin
Shadow Cat at Sunshine Co.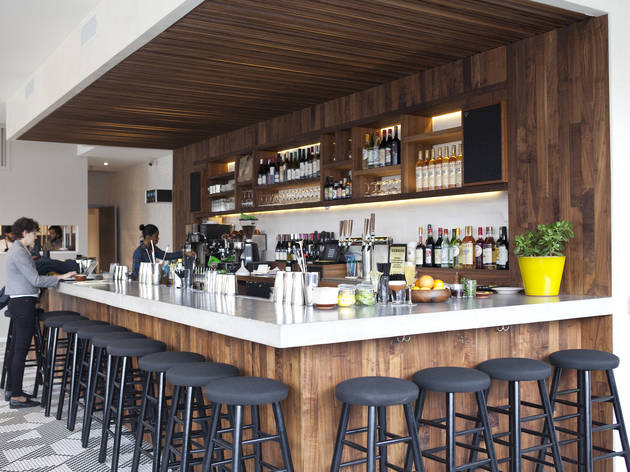 6/9
Photograph: Jessica Lin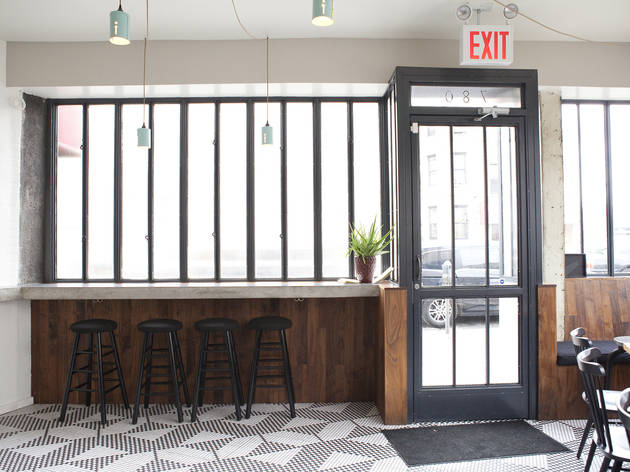 7/9
Photograph: Jessica Lin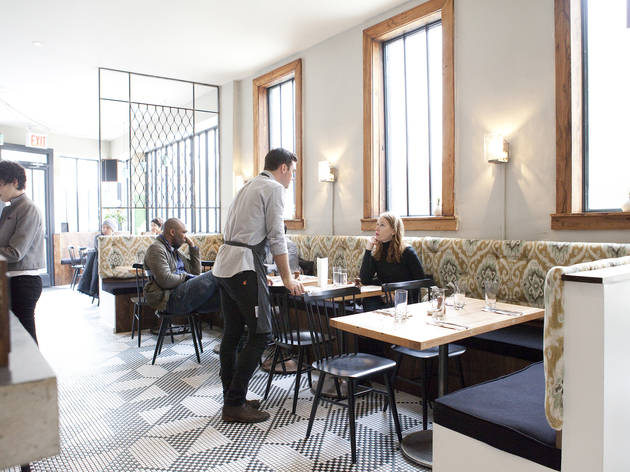 8/9
Photograph: Jessica Lin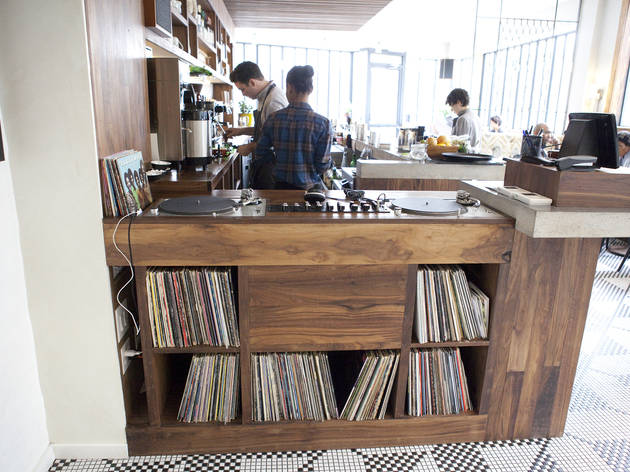 9/9
Photograph: Jessica Lin
Julian Calcott (Corton) serves upscale American plates at Sunshine Co., a glassy, modern restaurant from the owners of beloved neighborhood café Milk Bar. Lunch and brunch menus offer upgrades on standard midday fare (chicken-liver terrine, salted-cod hash and poached eggs), while dinner (salmon crudo with pickled beets, grilled duck and root vegetables) touches on contemporary seasonal trends. Bar vets Jeremy Oertel (Donna) and Natasha David (Maison Premiere) consult on a herbaceous cocktail menu, including drinks like the Viking Culture, made with carroway-infused Cocchi Americano, lemon, peach preserve and sparkling wine. Beer drinkers can choose from among six taps behind the thick concrete counter, where bartenders pour craft brews like Green Flash IPA and St. Bernardus Abbey Ale. Check out the dinner menu below. 780 Washington Ave at Sterling Pl, Prospect Heights, Brooklyn (347-750-5275)

SMALL PLATES
Grilled endive with nut brittle, pomegranate molasses and herbed fresh cheese $12
Roasted carrots with horseradish crème fraîche and salmon roe $9
Shemogue oysters with mignonette $15
Salmon crudo with pickled beets and burnt-lemon vinaigrette $13
Clams and cranberry beans with tomato broth and herb puree $12
Lamb belly with Taleggio cheese and radishes $12
MAINS
Lentils with grilled zucchini and feta cheese $15
Sea bass with black garlic, bulgur-wheat salad and bergamont lemon $18
Half chicken with anchovy-chili marinade and grilled romaine $18
Duck breast with mushroom caramel, root vegetables and braised cabbage $20
Grilled skirt steak with miso butter, baby potatoes and romano beans $22
SIDES
Green beans with sun-dried tomatoes and tomato vinaigrette $6
Arugula salad with hazelnuts, shaved Bianco Sardo cheese and balsamic vinaigrette $7
Sponsored listing
Hinata Ramen
Tucked into an unassuming storefront in Midtown East, this Japanese spot allows diners to build their own bowls of steaming ramen. Choose a type of ramen—classic ($12.50), spicy ($13.50), vegan ($14.50), rich miso ($14.50) or dipping-style ($14.50)—then pick one of the four varieties of noodles, roasted pork or chicken and any extra toppings. Hinata uses organic chicken broth, never adds MSG and makes all their own noodles, including vegan and gluten-free options. If you're not in the mood for hot soup, try one of the restaurant's other offerings, like pork gyoza (five for $7, 10 for $13), octopus carpaccio ($9), fried chicken ($7) or salmon sashimi and roe over rice ($8). To drink, choose from a wide variety of sakes ranging in flavor from fruity to dry ($57–$70 per bottle), or sip a Sapporo or glass of plum wine (both $6).
Venue says: "SPRING SPECIAL YUZU SHIO RAMEN IS HERE! MENTION TIMEOUT TO OUR SERVER AND GET ONE TOPPING OR EXTRA NODDLE FOR FREE!"