Weirdest burgers in NYC: Riffs on the cookout classic
NYC restaurants push boundaries with Gotham's weirdest burgers, adding black caviar, peanut butter and more.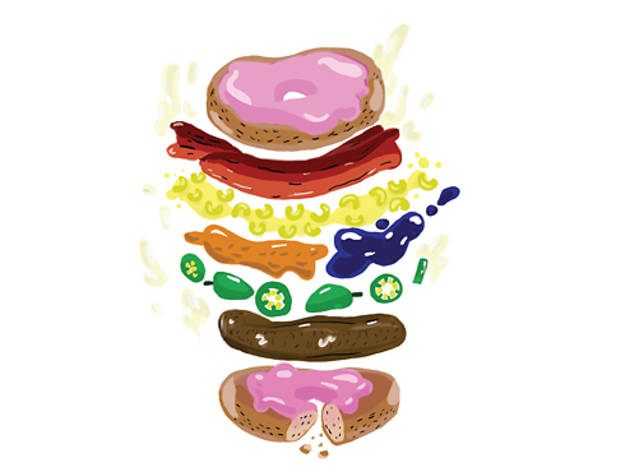 Fried eggs and bacon just aren't cutting it as burger toppings anymore, so patty slingers are letting their imaginations run wild. Glazed doughnuts? Fried mac and cheese? Ramen? Those are a few of the oddball ingredients crowning New York City's weirdest burgers.

RECOMMENDED: All of NYC's best burgers
The joint:Sun Noodle at Smorgasburg
The bizarro twist: Fried ramen
Last week, crowds lined up for the city's latest outré creation: Keizo Shimamoto's head-scratching Ramen Burger, a shoyu-glazed beef patty tucked inside two pan-fried ramen "buns" with arugula and scallions.

The joint:Whitman's
The bizarro twist: Peanut butter and bacon
This East Village spot is best known for its Juicy Lucy—a Midwestern specialty featuring oozing cheese in its core—but it's the PB&B Burger that makes us cock an eyebrow.

The joint:Burger Bistro
The bizarro twist: Glazed doughnut
As if a cheeseburger topped with a fried egg and crumbled bacon weren't gout-baiting enough, this gut-busting combo also features doughnut halves in place of a bun.

The joint:GO Burger
The bizarro twist: Macaroni and cheese
Like a elementary-schooler's wildest dream, a massive disc of fried cheesy macaroni crowns a beef patty covered in caramelized onions for the Mac and Cheeseburger.

The joint:Korzo Haus
The bizarro twist: Pork neck, sauerkraut, caraway seeds, juniper berries, Slovakian cheese and a fried dough shell
Building on its signature deep-fried burgers, the Slav takes an already outlandish technique over the top with a laundry list of Euro fixins.

The joint:Serendipity 3
The bizarro twist: Black caviar, cucumber slices and sour cream
Leave it to an eatery on the hoity-toity Upper East Side to slather the apex of luxe ingredients, caviar—albeit not likely the top-shelf stuff—onto the humble burger.