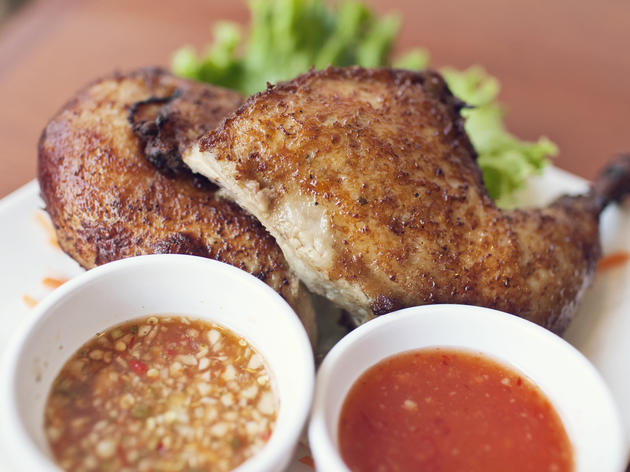 Time Out says
Manhattan's Thai restaurants are a pretty sad bunch, their goopy noodle dishes and wan Massaman curries mostly indistinguishable from one another. Gussied-up venues, like the clubby Spice chain—with dated, mood-lit branches all over the borough—only make matters worse, serving wontons with cream cheese and coconut shrimp, along with the usual Westernized standards.
In this context, the new Zabb Elee, the latest addition to the Spice family of restaurants, might be taken as an attempt to make amends. Although Thai menus in America can seem homogeneous, the country's cuisine is rather diverse. Which is why there's a good chance you won't recognize much of the fare at Zabb Elee. The low-key basement spot focuses on the fiery, funky foods of northern Thailand, and the roster is a challenging one, with categories like tod (fried meats), som tum (papaya salads) and yang (grilled meats) making up the more than five dozen choices. You wanted real Thai food, it taunts, let's see what you've got.
How about a tiny skewer of blackened gizzards? The $2 snack features chicken parts obliterated over an open flame. Are they supposed to be this burnt and chewy? And should the sour fermented pork sausage, served cold in a salad with ginger and peanuts, really come larded with all that gristle and fat? At a street stall in Chiang Mai, you might be politely steered in another direction. At Zabb Elee, the servers simply nod and smile, and bring out the food.
The kitchen works at a ferocious pace, dispatching dishes so quickly, it's hard to keep up—no matter how much you order, it all comes at once. It's meant to be shared family-style—as per Thai custom, there are no discernible starters or mains. And despite descriptions in English, there's no telling, really, what might show up on the plate. A salad? A stir-fry? A stack of fried fat (kor moo yang)? At these prices—there's not much over $9—you can certainly afford to make some mistakes.
The best course of action might be to order a few things, and then add on some more. Red-curry fish custard (hor mok), light like a seafood soufflé, would be a good choice for round one. And a larb for the table—the northern-Thai staple of ground meat, fish or fowl with pulverized rice—is certainly a must. The duck version here is beautifully tart and intensely hot from plenty of lime and finely diced chilies.
Getting to the perfect meal requires trial and error, a treasure hunt with some serious payoff. Order your crispy pork sautéed with Chinese broccoli (kana moo korb)—not fried up in a snack of leathery strips (moo kem tod). Fish, on the other hand, makes a real splash from the fryer—a golden tilapia's crispy nuggets piled onto its blistered carcass with red onion, lime, fresh mint and cilantro (larb pla korb). The steamed chicken (kao mun kai) is good—delicate, mild—served with a fragrant mound of ginger rice, but the fried chicken (kai tod) is better, its succulent meat marinated in a tenderizing mix of Thai herbs and lime.
While you'll certainly find food of this caliber in Thai enclaves out in Queens, on this side of the river it's still a real treat. For Manhattanites itching to move past pad thai, Zabb Elee is a restaurant worth returning to again and again.

Vitals
Eat this: Red-curry fish custard (hor mok), duck larb, crispy pork with Chinese broccoli (kana moo korb), fried tilapia (larb pla korb), fried chicken (kai tod)
Drink this: Put out the chili fire with cold beer—Singha or Lao ($6)—or a Thai iced tea with sweet condensed milk ($3).
Sit here: The least claustrophobic seats in this slim subterranean space are up front, near the windows looking out on the street.
Conversation piece: In northern Thailand, zabb elee means "delicious" and "spicy." At the New York restaurant by that name, the level of burn is listed nowhere on the menu. If you like your food incendiary, simply ask for it "Thai-style hot."
Details
Address:
75 Second Ave
New York
10003

Cross street:
between 4th and 5th Sts
Transport:
Subway: 6 to Astor Pl
Price:
Average dish: $9. AmEx, Disc, MC, V
Contact:
Opening hours:
Mon–Thu, Sun 11:30am–11pm; Fri, Sat 11:30am–midnight
Do you own this business?
Rating Breakdown
5 star:

0

4 star:

0

3 star:

0

2 star:

1

1 star:

0
The service was great. In the beginning, the service was a bit overbearing because three different waiters asked us in a span of three minutes if we ready to order, when we told them that we needed a few more minutes. There weren't a lot of customers at 7pm on Saturday night, which made me understand their anxiety, but it was annoying. However, later on in the night, they did a great job of refilling our order and bringing us extra plates when needed. Concerning the food, it was TOO SALTY. Thank goodness, I ordered a coconut juice or it would've been unbearable. My cousin ordered a papaya salad and I ordered a rice noodle dish with crispy pork and sweet chili lime juice. Instead of the expected sweet, sour and spicy taste I expected, we could only taste the salt. The spare ribs were fine. But this restaurant has definitely not been an upgrade from spice. Sad to say, this was worse than spice.