Heads up! We're working hard to be accurate – but these are unusual times, so please always check before heading out.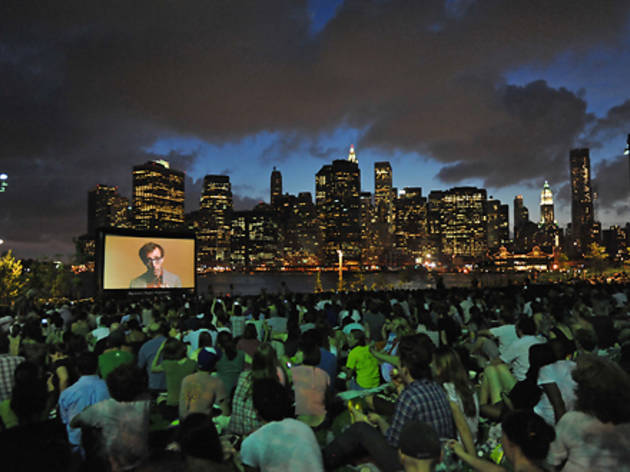 1/72
"The SyFy Movies with a View festival at Brooklyn Bridge Park [Pier 1 Harbor View Lawn, Doughty St at Furman St, Dumbo, Brooklyn; 718-802-0603, brooklynbridgepark.org]. The view is amazing, and it's a really nonthreatening environment. It's sort of like you're on a date with 50 people."---Jeremy Walsh, 22, student, East Village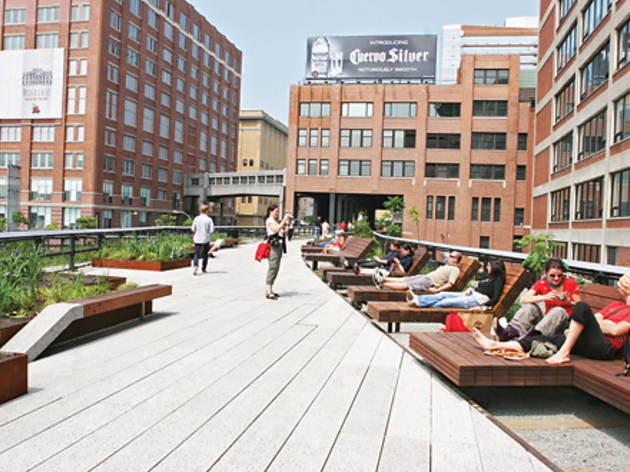 2/72
"The High Line [835 Washington St at Little W 12th St; 212-500-6035, thehighline.org]. If you are like me, you are probably in a bathing suit. Besides, it is a beautiful place and people just seem more inclined to speak to others."---Monica Rollins, 27; preschool teacher; Crown Heights, Brooklyn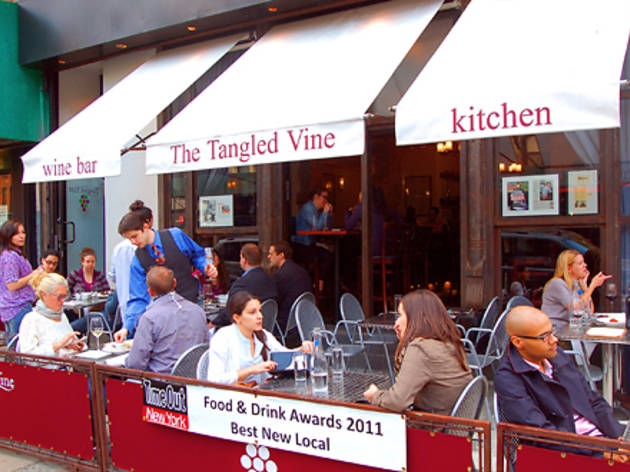 3/72
Photograph: Courtesy Tangled Vine Wine Bar & Kitchen
"Any outdoor cafe. If you are walking by you can shop the merchandise, if you know what I mean. You can go in and get a table if you see something you like. And you can always play it off like you are going out for a smoke and talk to people seated outside."---Chris Scott, 28; founder of a video-game website; Bushwick, Brooklyn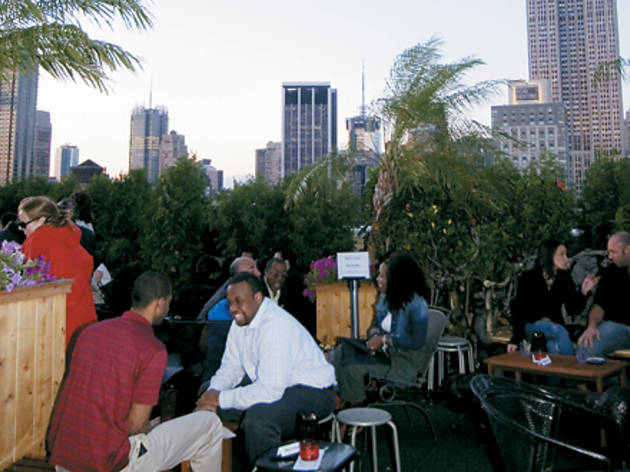 4/72
"The rooftop bar at 230 Fifth [230 Fifth Ave between 26th and 27th Sts; 212-725-4300, 230-fifth.com]. It seems like there is a professional crowd there that is interested in meeting people too. There is a good mix of downtown and midtown people."---Mario Ephriam, provider-services representative, Washington Heights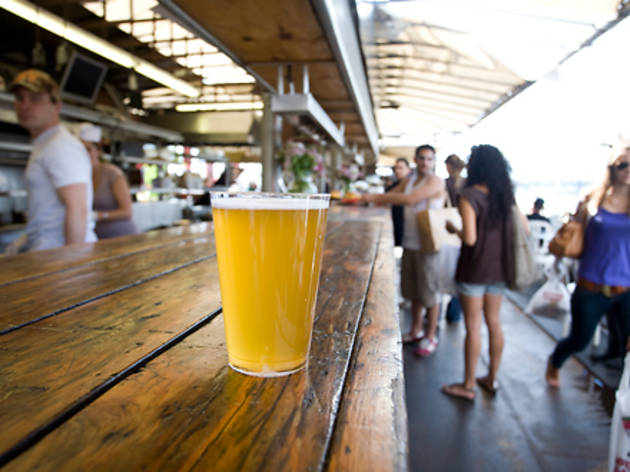 5/72
Photograph: Clotilde Testa
"The Frying Pan [Pier 66A, W 26th St at the Hudson River; 212-989-6363, fryingpan.com] is a good place. It's always full of people and has a relaxed atmosphere. [There's] lots of mixing between groups."---Paul Adams, 30, quality analyst, Gramercy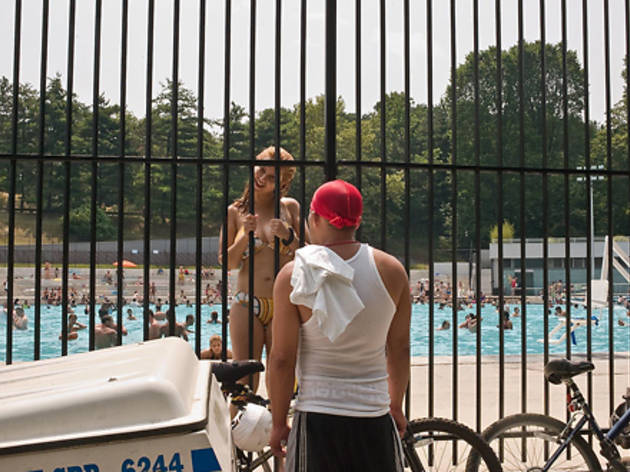 6/72
Photograph: Courtesy flickr.com/Susan NYC
"The Lasker Central Park Pool [Midpark between 106th and 108th Sts; centralparknyc.org] has a lot of girls and a lot of people doing picnics and barbecue. You'll have a good time. A lot of models take pictures there too. It's nice, I take my kids there."---Julio Riviera, 41, doorman, Harlem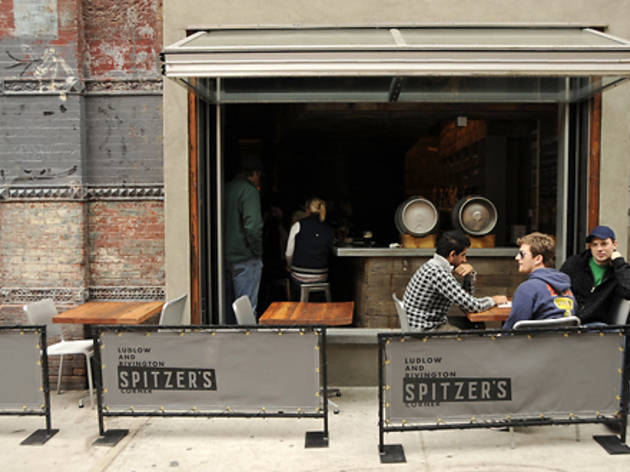 7/72
Photograph: Courtesy flickr.com/ZagatBuzz
"I think Spitzer's Corner [101 Rivington St at Ludlow St; 212-228-0027, spitzerscorner.com] is a good spot. Because of the communal tables it is easy to go with friends and strike up a conversation with the other groups sitting around you. I always tell strangers to try the Kobe burger."---Chris Galati, 27; project manager; Bushwick, Brooklyn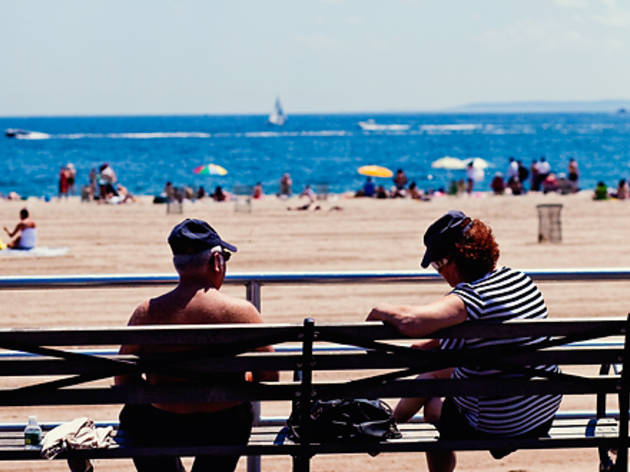 8/72
"Brighton Beach [Brighton Beach Ave, Brighton Beach, Brooklyn; brightonbeach.com] in Brooklyn. People are already half naked, calm, cool and collected. Generally people are more friendly and warmer when they are on the beach."--Kerron Fleary, 24; legal mail clerk; Flatbush, Brooklyn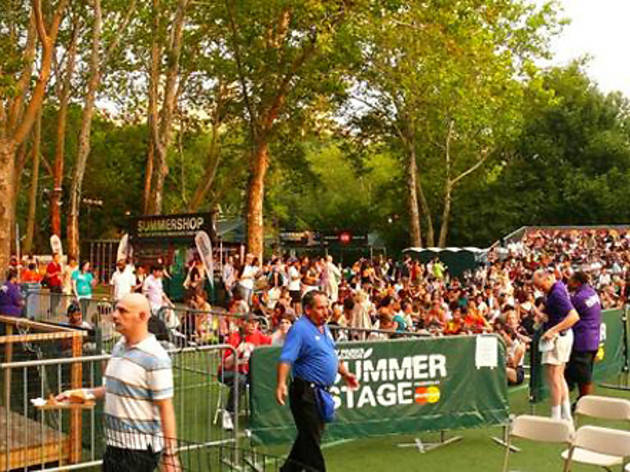 9/72
Photograph: Syd London
"Outside at SummerStage [Rumsey Playfield, Central Park, enter at Fifth Ave and 72nd St; 212-360-2777, summerstage.org]---not inside the venue, but right outside on the grass. A lot of people gather with picnic blankets and friends and there's a lot of BYOB. You can still hear the band. You get the show without paying!"---Carolyn Certilman, 24, licensing manager, Upper East Side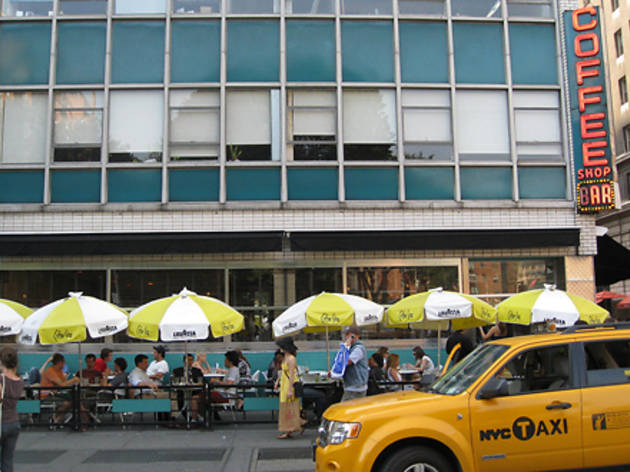 10/72
Photograph: Courtesy flickr.com/ alphabetjenn
"Coffee Shop [29 Union Sq West at 16th St; 212-243-7969, thecoffeeshopnyc.com]. There are so many pretty people there. They're too pretty, actually."---Adrianna Monterrosa, 32, office manager, East Village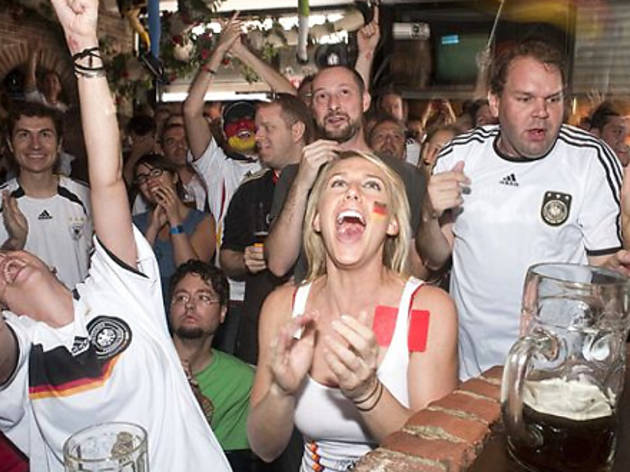 11/72
Photograph: Courtesy flickr.com/martakat83
"In the summer, Zum Schneider [107--109 Ave C at 7th St; 212-598-1098, zumschneider.com] is a great place to go. It's set up like a German brauhaus so they combine all the picnic tables, which makes it really easy to meet people. And all the employees are German too."---Katherine Bitnar, 21, student, East Village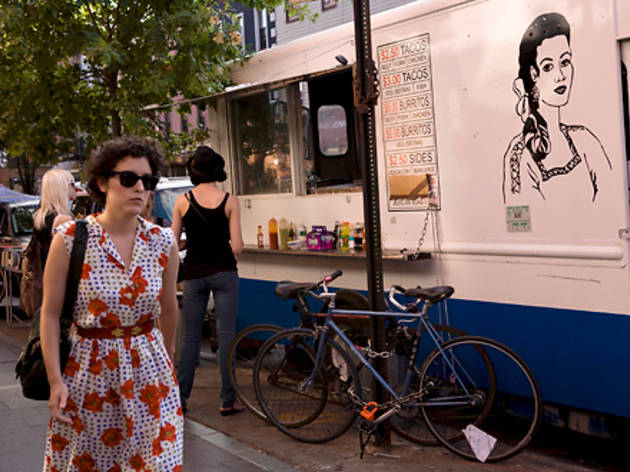 12/72
Photograph: Michael Kirby Smith
"Bedford Avenue in Williamsburg. Just wear something from Urban Outfitters and tell the first girl or guy you see that their tattoos are rad."---Katie Linger, 26; account executive; Williamsburg, Brooklyn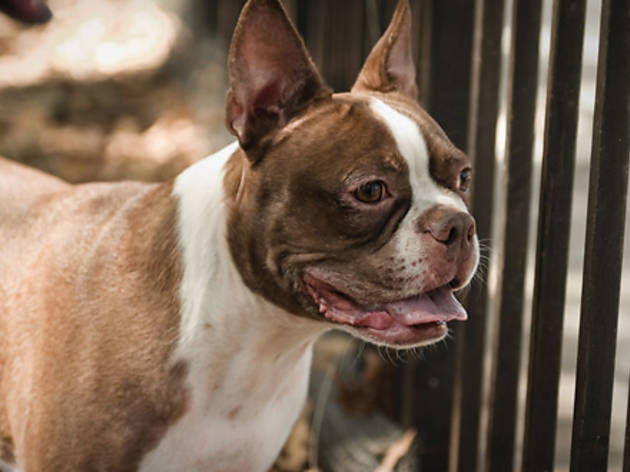 13/72
Photograph: Courtesy flickr.com/ritwikdey
"Cooper Park [Maspeth Ave at Morgan Ave, Williamsburg, Brooklyn; nycgovparks.org]. You are watching over your dog and you meet other owners. It would be easy to start a conversation because you already have something to talk about."---Christen Hat, 24; musician; Bushwick, Brooklyn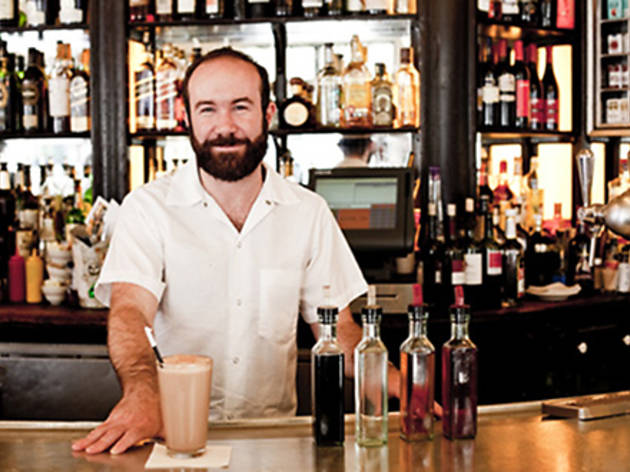 14/72
Photograph: Michael Kirby Smith
"Schiller's[131 Rivington St at Norfolk St; 212-260-4555, schillersny.com] is a good because the bartenders won't give you an option but to mingle. The bartenders get up in your business."---Danielle Prostrollo, 23, executive assistant, Washington Heights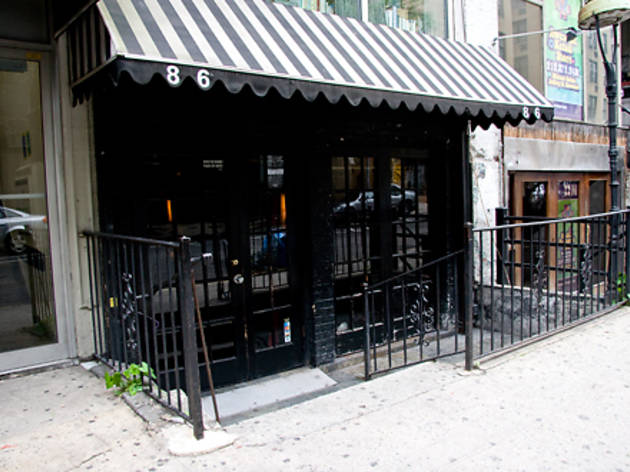 15/72
Photograph: Krista Schlueter
"If you are looking for those who don't know any better or you don't know any better, than Black & White [86 E 10th St between Third and Fourth Aves, 212-253-0246] works. It's a very rock & roll bar and very unassuming. Lots of NYU students who want to be East Village cool hang out there. It is reverse cougaring, preying on the young and stupid."---Roman Garcia, 37, personal relations professional, East Village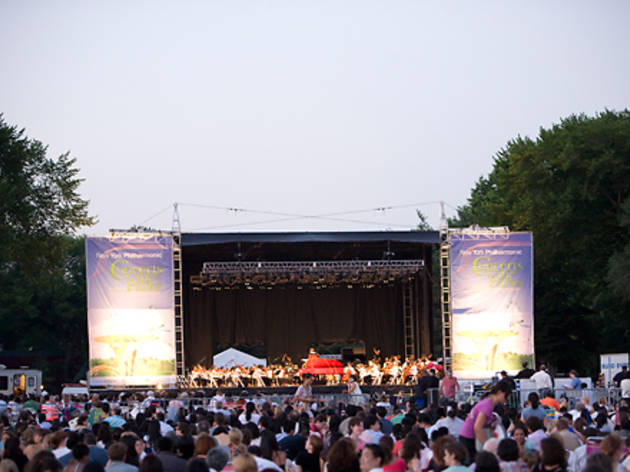 16/72
Photograph: Michael Kirby Smith
"Summer [New York] Philharmonic performances in Central Park[Great Lawn, midpark from 79th to 85th Sts; centralparknyc.org; schedule TBA] are great. You bring your picnic baskets and wine and everyone stretches out on the grass five hours early waiting for the music to start."---Sylvia Tschernyavsky, 33, ER doctor, East Village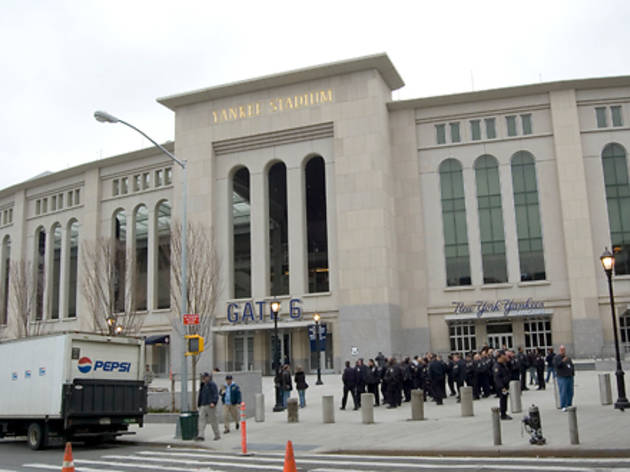 17/72
"Tommy Bahama Bar at Yankee Stadium [1 E 161st St between Jerome and River Aves, Bronx; 718-293-4300, newyork.yankees.mlb.com]. Everyone is wasted and wants to slide into home safely."---Eric C., 25, business analyst, Murray Hill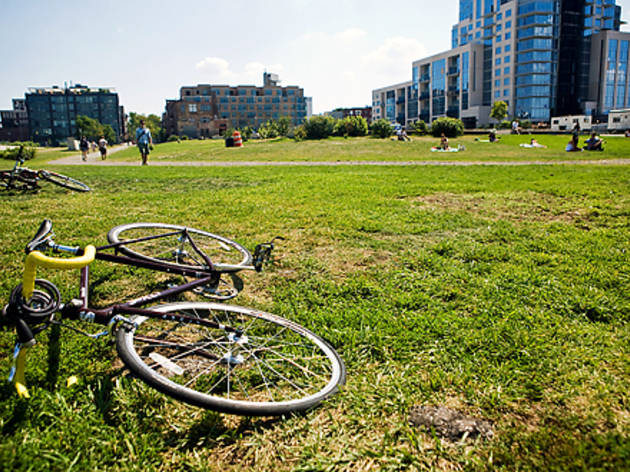 18/72
Photograph: Courtesy flick.com/chromewaves
"Around 6pm at East River Park [FDR Dr between Montgomery and E 12th Sts; nycgovparks.org]. You don't even have to exercise. There is a section where people stretch out and if you go there and stretch, people assume you are about to go on a five-mile run. People assume you are athletic and have stamina and staying power."---Arto Mesooti, 25, engineer, Murray Hill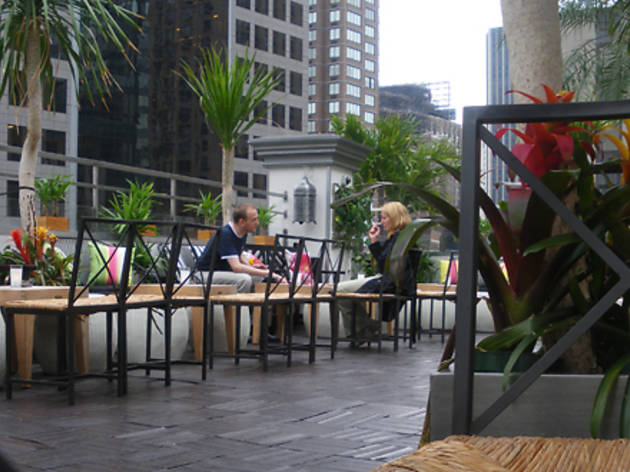 19/72
Photograph: Jolie Ruben
"Ava, on the roof of the Dream Hotel [210 W 55th St between Seventh Ave and Broadway; 212-956-7020, avaloungenyc.com]. Booze is a-flowin' and flirting is a-goin'."---Ksenia Kulynych, 21, bartender, East Village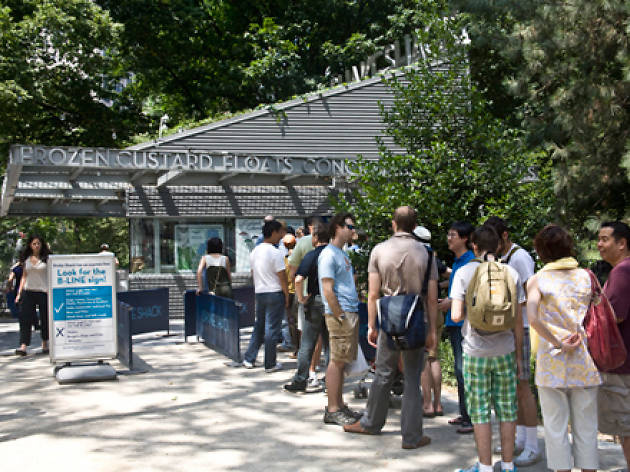 20/72
Photograph: Beth Levendis
"Shake Shack [Madison Square Park, E 23rd St at Madison Ave; 212-889-6600, shakeshack.com] in the summer. There's a line no matter what, and you are forced to talk to people while you are waiting for a burger."---Kat Radin, 26, cocktail waitress, Midtown East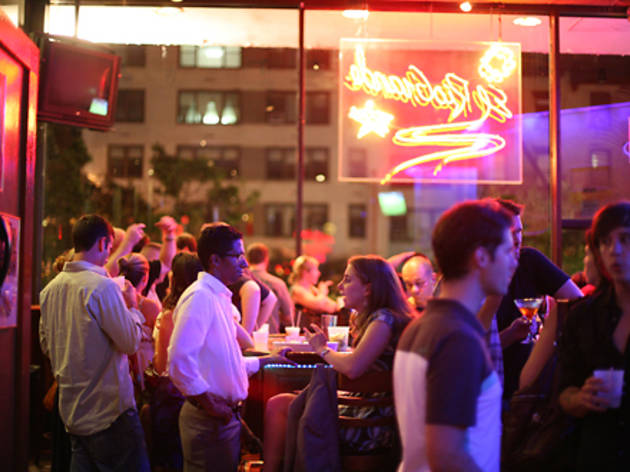 21/72
Photograph: Courtesy El Rio Grande
"El Rio Grande [160 E 38th St between Lexington and Third Aves; 212-867-0922, elriograndenyc.com]. It's a Mexican spot in Murray Hill. It has outdoor seating and strong margaritas. The only downside is everyone that goes there is from Murray Hill."---Andrew Blancato, 26, business developer, Hell's Kitchen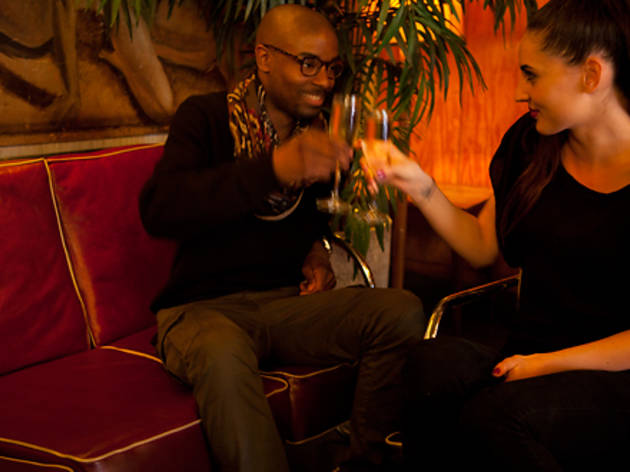 22/72
Photograph: Phyllis B. Dooney
"B Bar [40 E 4th St at Bowery; 212-475-2220, bbarandgrill.com]. There is a great outdoor atmosphere with multiple bars. However, it's a very yuppie postwork crowd. A lot of people go there, but you have to deal with assholes in suits. I guess I am one of those assholes."---Adam Gross, 25, advertising sales, Chelsea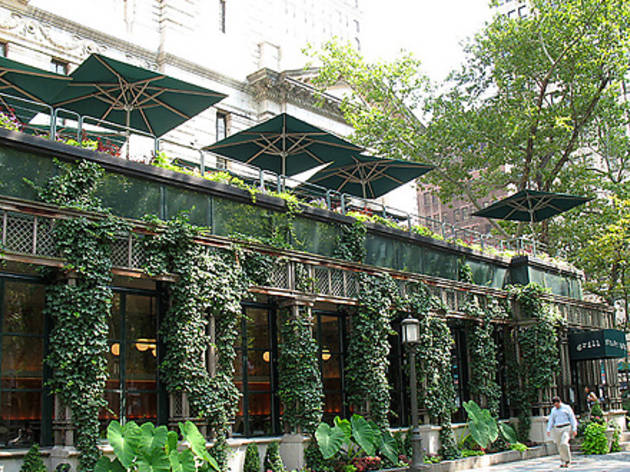 23/72
Photograph: Courtesy flickr.com/panduh
"The Bryant Park Grill [25 W 40th St between Fifth and Sixth Aves; 212-840-6500, bryantpark.org]; it's always hopping. Now that the weather is warmer a lot of people come out of hibernation and it's a nice place to hang out."---Chris McGuinness, 50, vice president of construction, Upper West Side
24/72
Photograph: Lindsay Maclean Taylor
"I am married so I wouldn't know, I have been out of the game for ten years, but the Hudson Hotel [356 W 58th St between Eighth and Ninth Aves; 212-554-6217] is a good place to go. You can go outside to drink and afterwards you can go inside and dance."---Ben Todd, 36, commercial-flooring-company owner, Upper West Side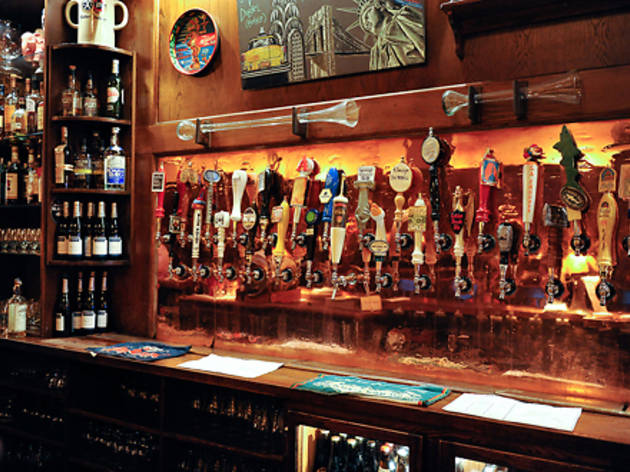 25/72
Photograph: Courtesy flickr.com/flickr4jazz
"I like the Ginger Man [11 E 36th St between Fifth and Madison Aves; 212-532-3740, gingerman-ny.com]. Quiet, really good beer selection, a place you could have a conversation."---Sae Suh, 28, bartender, Murray Hill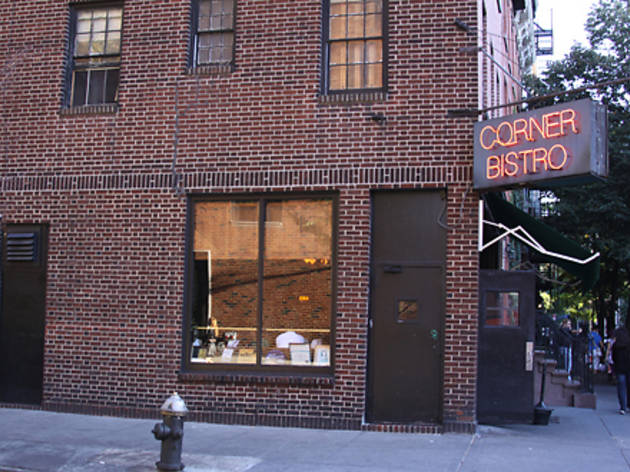 26/72
Photograph: Courtesy flickr.com/Rafael Chamorro
"Corner Bistro [331 W 4th St at Jane St; 212-242-9502, cornerbistrony.com] because there are a lot of people there. It's a popular place to go, and the burgers are arguably the best in the city!"---Keith Lowerre, 30, bouncer, East Village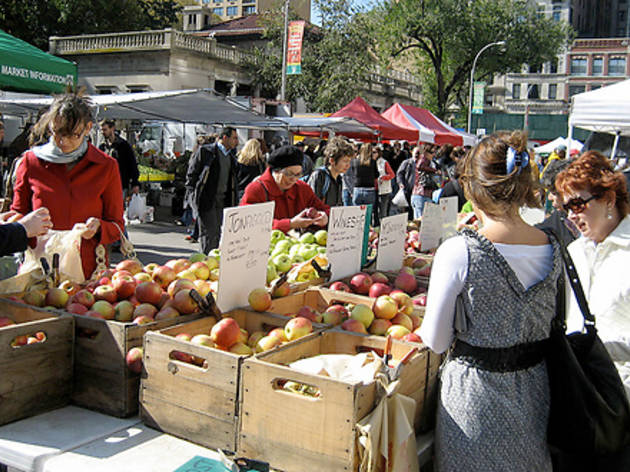 27/72
"The Union Square Greenmarket [Union Square East between 15th and 17th Sts; 212-788-7476, grownyc.org/unionsquaregreenmarket] is a great place to go. The people who are there seem to like eco-friendly stuff and being healthy, which is always good too!"---Charlotte B., 19, student, West Village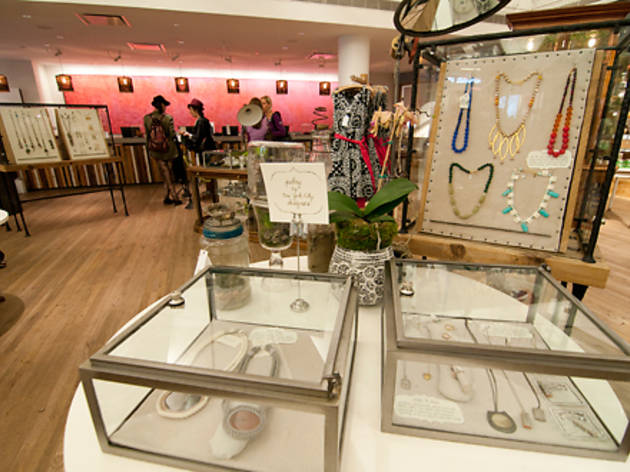 28/72
"I have a longtime girlfriend, but Anthropologie [multiple locations, visit anthropologie.com] seems good. A lot of women gather there, and when they a see a man there it throws them off a bit and they seem to notice. Also, their guard is already down because they are in a clothing store, not a bar, so they seem comfy."---Jason Rio, 37; music manager; Windsor Terrace, Brooklyn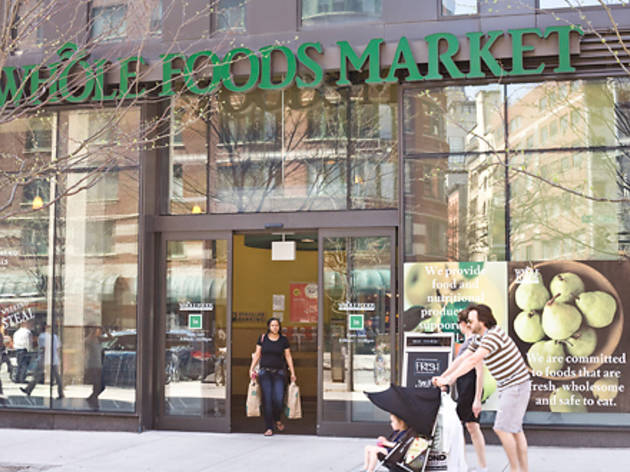 29/72
Photograph: Jay Muhlin
"I am out of the game, but I would say Whole Foods [multiple locations, visit wholefoodsmarket.com]. There is something about the cheese display that seems like an aphrodisiac. I think beautiful people flock to health-food stores."---Matt Williams, 32; music manager; Nashville, TN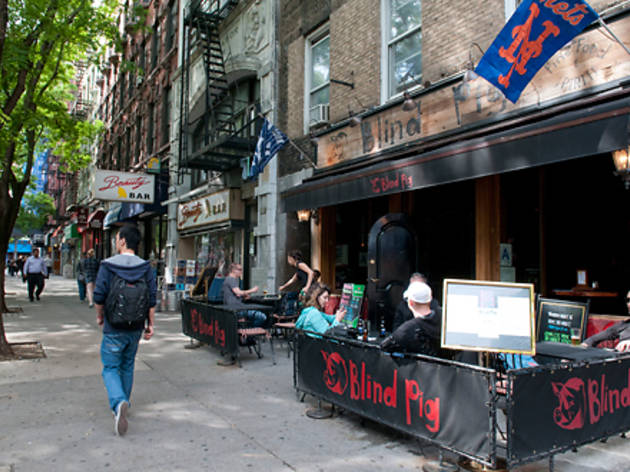 30/72
Photograph: Donald Yip
"Anywhere on Second Avenue, all the bars along there, north of 14th Street are great. The flora and fauna are diverse, well-dressed and they smell nice."---Kevin Johnson, 30; graphic design consultant; Greenwich, CT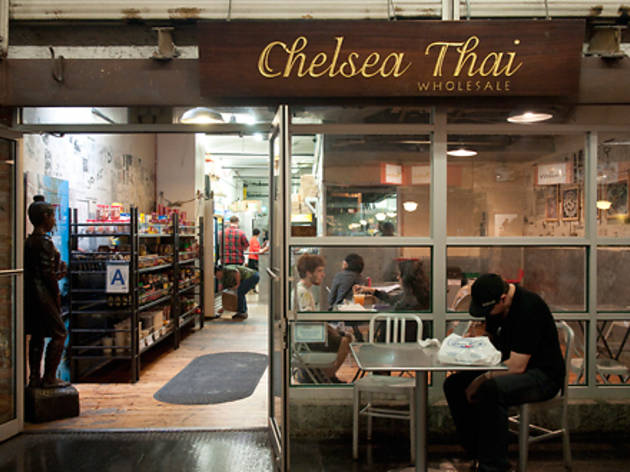 31/72
Photograph: Donald Yip
"Chelsea Thai in Chelsea Market [75 Ninth Ave at 16th St; 212-924-2999, chelseamarket.com]. Every time I've been sitting there I've had women come up to me and strike up a compelling conversation."---Kevin Morlock, 39; acoustic engineer; Washington, D.C.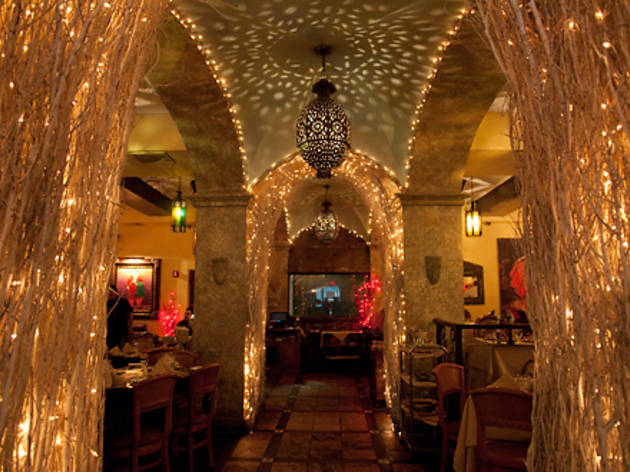 32/72
Photograph: Donald Yip
"I have a girlfriend, but if the singles scene was lucky enough for me to bless it with my presence again I would go to Iguana [240 W 54th St between Broadway and Eighth Ave; 212-765-5454 , iguananyc.com]. What better way to distinguish myself from my peers than showing off my Adonis-like physique, chiseled good looks and virtuoso dance maneuverings?"---Joe Friend, 35; sound engineer; Williamsburg, Brooklyn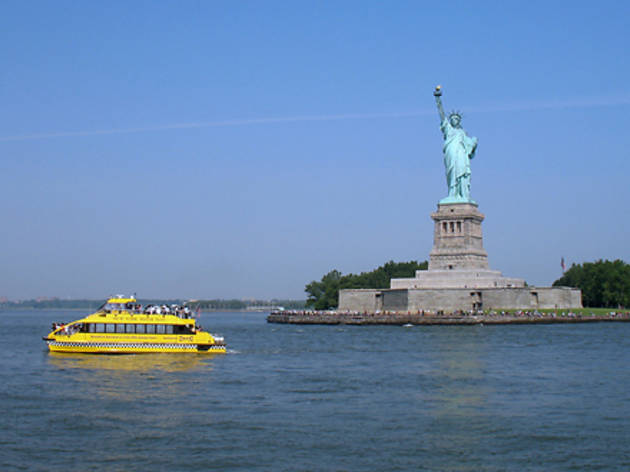 33/72
"Believe it or not, I hear about a lot of people meeting up on the Ikea ferry [Runs between Pier 11, Wall St at South St and 1 Beard St at Otsego St, Red Hook, Brooklyn; 212-742-1969, nywatertaxi.com; $5, weekends free]."---Karen Marsh, 33, advertising manager, midtown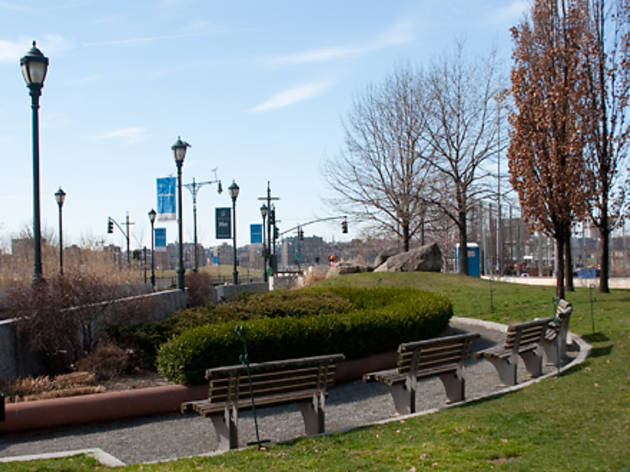 34/72
"I like that little grass knoll on Hudson River Park [at Pier 63, W 22nd to 23rd Sts at the Hudson River; hudsonriverpark.org]. There are lots of people Rollerblading and biking and looking hot. Please spell that 'haut.'"---Julia Blume, 23; bartender; Bedford-Stuyvesant, Brooklyn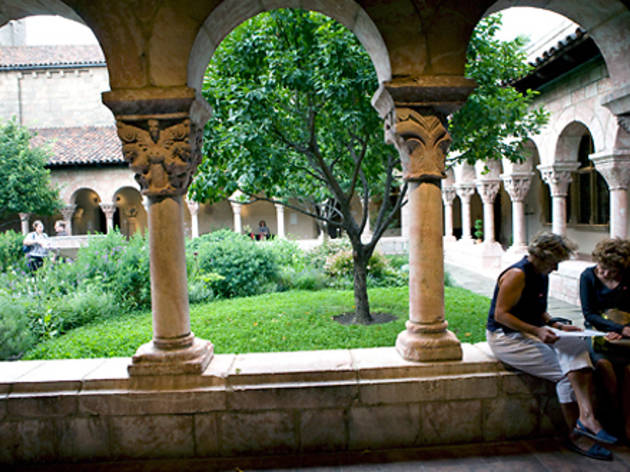 35/72
Photograph: Caroline Voagen Nelson
"The Cloisters [99 Margaret Corbin Dr (Fort Tryon Park); 212-923-3700, metmuseum.org] is gorgeous in the spring---and scenery is everything."---Jennifer Burton, 29, designer, West Village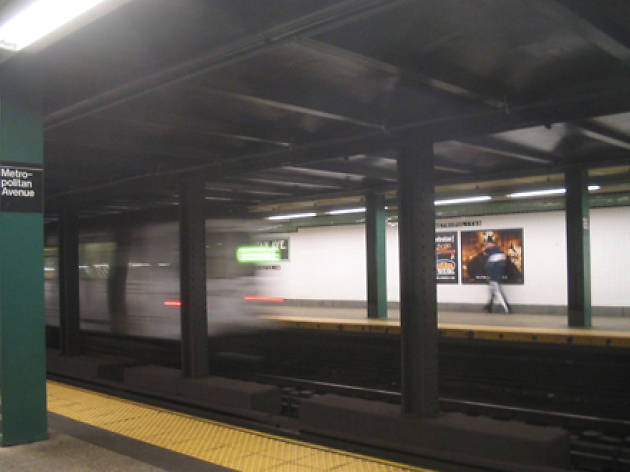 36/72
"I spend all my time in the subway, so most people I meet are at the Metropolitan stop on the G train [Main entrance at corner of Metropolitan and Union Aves, Williamsburg, Brooklyn; mta.info]. If you're waiting for the train for 25 or 30 minutes, eventually you'll start talking to people. Actually, the last girl I slept with I met on the G."---Matt Dallow, 30; performer; Bedford-Stuyvesant, Brooklyn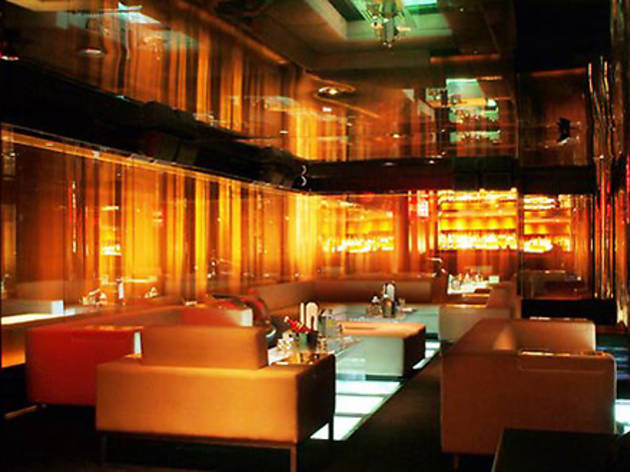 37/72
Photograph: Courtesy Kiss and Fly
"My personal favorite club is Kiss & Fly [409 W 13th St between Ninth Ave and Washington St; 212-255-1933, kissandflyclub.com]. Very cool venue with really good music. I don't know what the prices are like though, because I don't pay."---Paul Smith, 18, model and actor, Upper West Side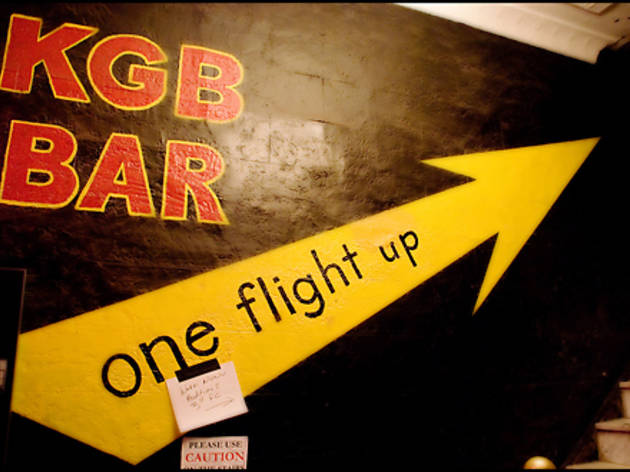 38/72
Photograph: Alex Strada
"KGB Bar [85 E 4th St between Bowery and Second Ave; 212-505-3360, kgbbar.com] doesn't have outdoor seating, but it used to be a communist facility for a long time. Now it is a low-key bar with a good crowd."---Ryan Bukowski, 23; freelance filmmaker; Greenpoint, Brooklyn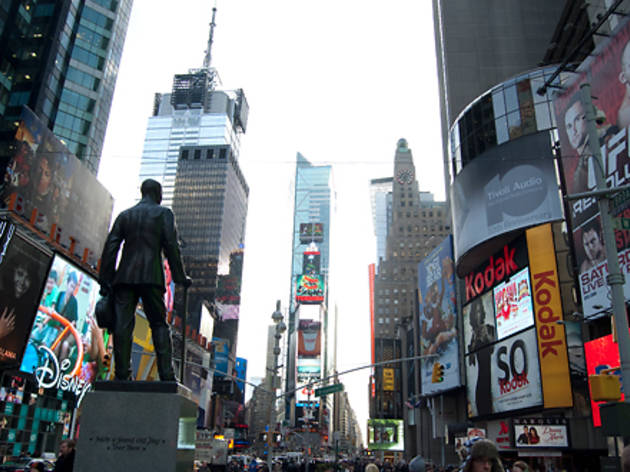 39/72
"I think Times Square [Broadway between 42nd and 47th Sts; timessquarenyc.org]. Everybody is social there. Everywhere else people are minding their own business or heading to a destination."---Lisa Heider, 34; cashier; Jersey City, NJ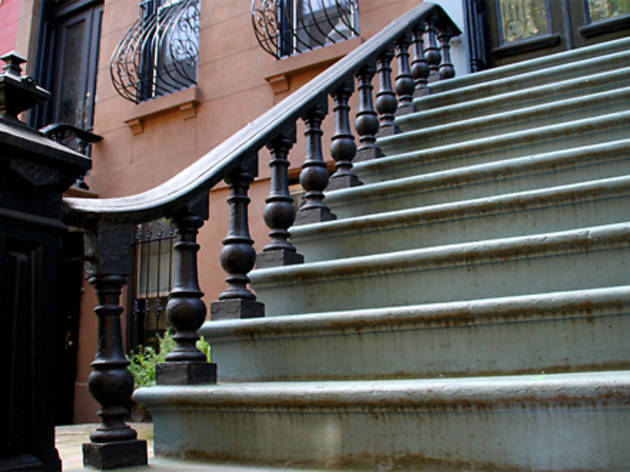 40/72
"I was standing outside on my stoop last night and was picked up by a nice gentleman."---Ally Goldman, 29, server, East Village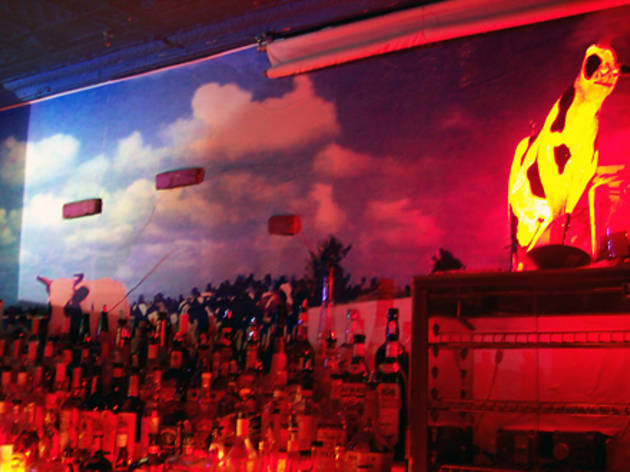 41/72
"My favorite spot is the Sunburnt Cow [137 Ave C between 8th and 9th Sts; 212-529-0005, thesunburntcow.com] in the East Village. It's filled with Australian boys, and sometimes you meet someone who is just in town for the weekend."---Shelley Mitchell, 23, student, East Village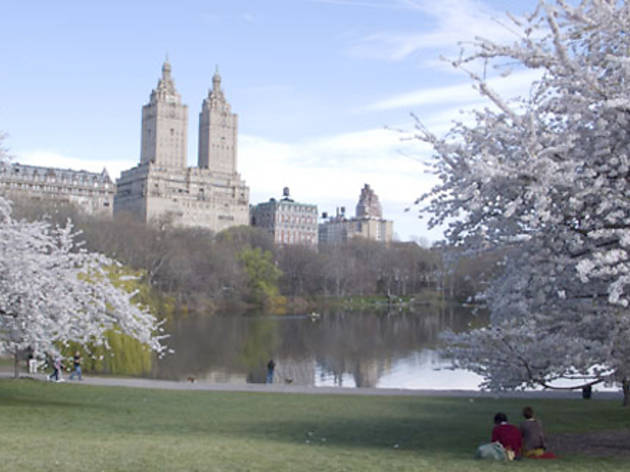 42/72
"Central Park [59th St to 110th St from Fifth Ave to Eighth Ave; 212-310-6600, centralparknyc.org] is a great spot, especially wherever there are cherry blossom trees. They're really beautiful and calming. I haven't met anyone there, but I do take my girlfriend there."---Sime Viduka, 24; actor; Fort Greene, Brooklyn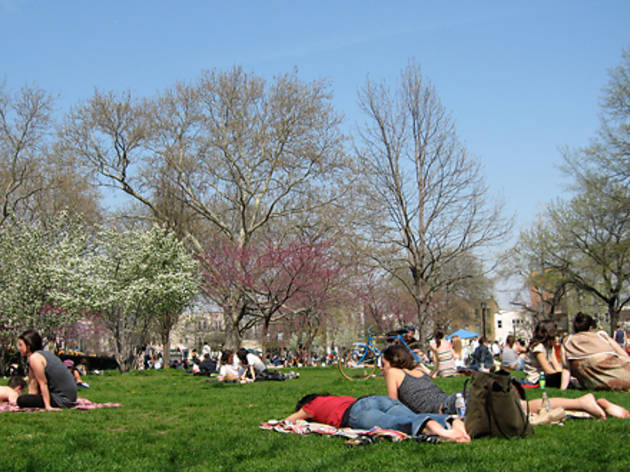 43/72
Photograph: Courtesy flickr.com/Steve and Sara
"McCarren Park [Bayard St to Nassau Ave between Leonard and North 12 Sts, Greenpoint, Brooklyn; 311, nycgovparks.org] is really crowded in the summer. Sorry if that's a boring answer, but it's an easy way to meet someone cute."---Chris McNamara, 30; production assistant; Greenpoint, Brooklyn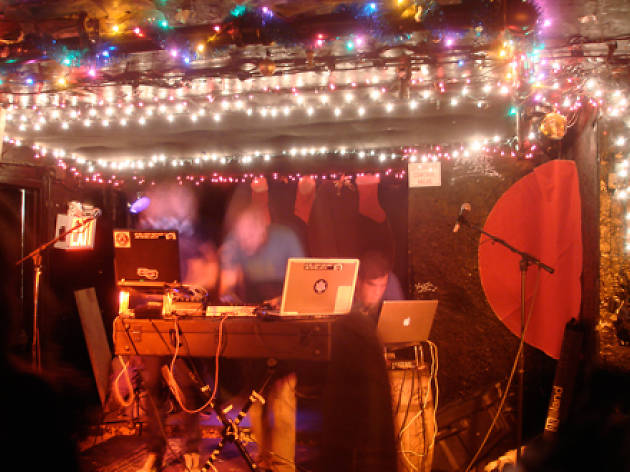 44/72
Photograph: Courtesy flickr.com/photosonecm
"Lit Lounge [93 Second Ave between 5th and 6th Sts; 212-777-7987, litloungenyc.com] is really cool. There's live music and people wear tight clothes. And when you want to ditch someone you can just run downstairs."---Madison Stein, 24, student, Lower East Side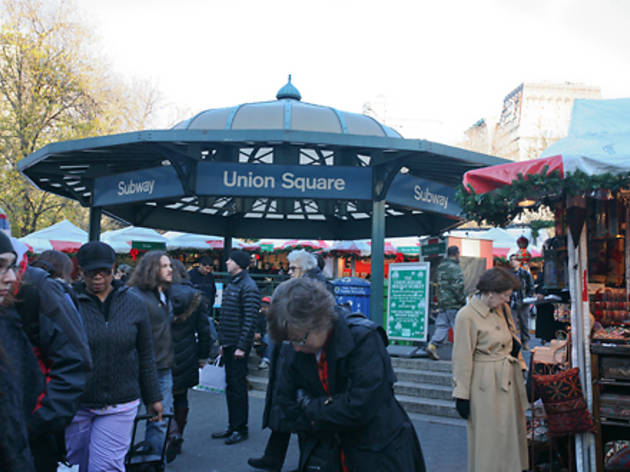 45/72
Photograph: Alexandra Strada
"Union Square [14th St to 17th St between Broadway and Park Ave South; 212-460-1200, unionsquarenyc.org] is the place to be. I take pictures and write about strangers I see here on my blog, so I start conversations with people. And you know, they say it's the Time Square for New Yorkers."---Normal Bob Smith, 40; graphic designer and artist; Bushwick, Brooklyn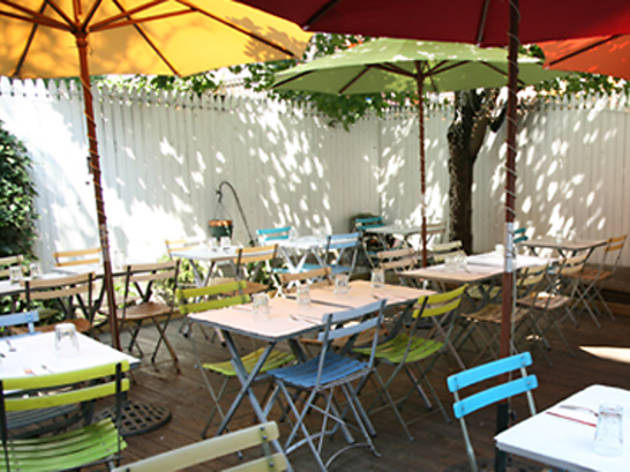 46/72
"Smith Street in Brooklyn has a few good places, like Coco Roco [139 Smith St between Bergen and Dean Sts, Cobble Hill, Brooklyn; 718-254-9933, cocorocorestaurant.com]. It's a Peruvian place that has tasty, decently priced drinks and a good atmosphere."---Stephanie Roscoe, 36; social worker; Kensington, Brooklyn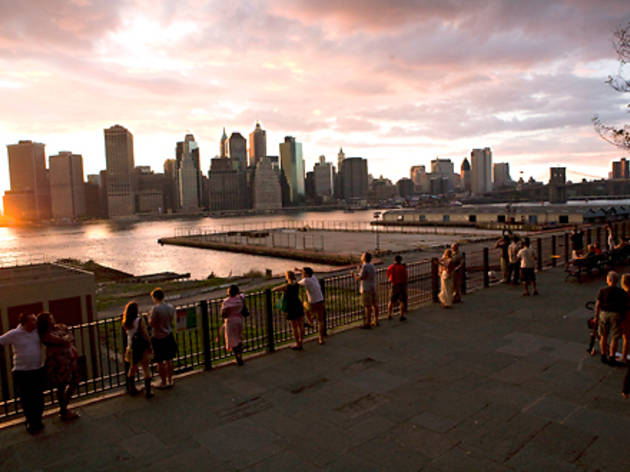 47/72
Photograph: Michael Kirby Smith
"The Brooklyn Heights Promenade [between Middagh and Remsen Sts, Brooklyn Heights; nyharborparks.org] by the Brooklyn Bridge is really beautiful when it gets warm. There's always people running and reading, and walking their dogs. It's just a really nice spot."---Lisa Kollas, 26; customer-service representative; Williamsburg, Brooklyn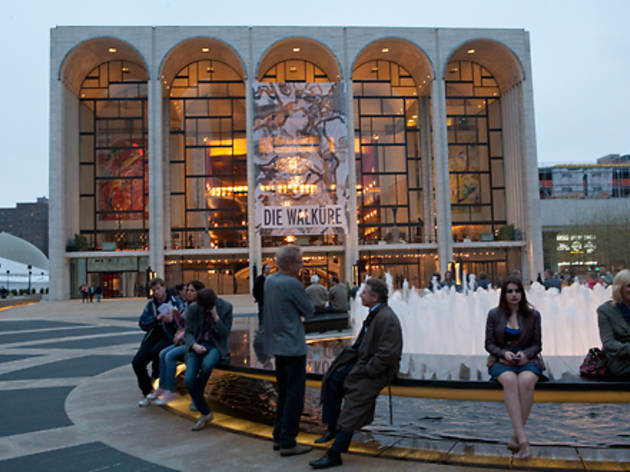 48/72
"Last time I got a woman's phone number was at Lincoln Center [62nd to 65th Sts between Columbus and Amsterdam Aves; 212-875-5456, lincolncenter.org]. If you go to a bar you can find a trashy girl, but at a place like Lincoln Center you can meet someone nice. Usually."---Luis Sten, 27, student, Chelsea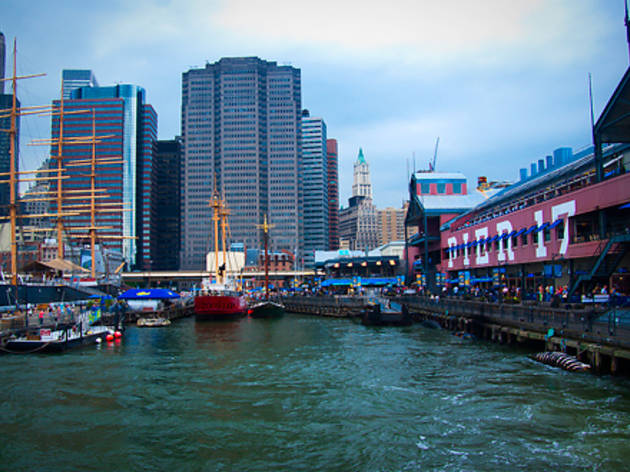 49/72
"Anywhere along South Street Seaport [Pier 17 at Fulton and South Sts; 212-732-7678, southstreetseaport.com] should be a safe bet. There's always people sitting outside, drinking, shopping, just hanging out. There's a lot of tourists, too, so that could be interesting."---Ryan Ward, 31, financial adviser, Union Square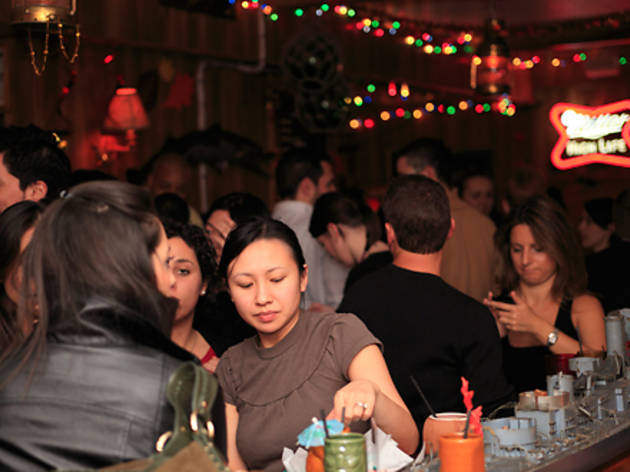 50/72
Photograph: Wendy Connett
"I like the Rusty Knot [425 West St at 11th St; 212-645-5668, therustyknot.com], near the West Side Highway. It's really chill, the music's always good and there's a nice vibe. It's hard to get people out there during the winter since it is nowhere near a subway."---Melissa Browne, 25, student, Union Square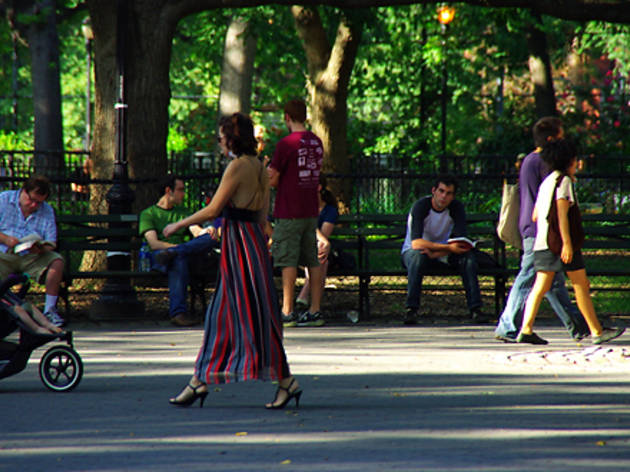 51/72
"Everything depends on the kind of person you're trying to bump into, but Tompkins Square Park [Ave A to Ave B between 7th and 10th Sts; 311, nycgovparks.org] is always a good location."---Christian Oppel, 33; musician; Bushwick, Brooklyn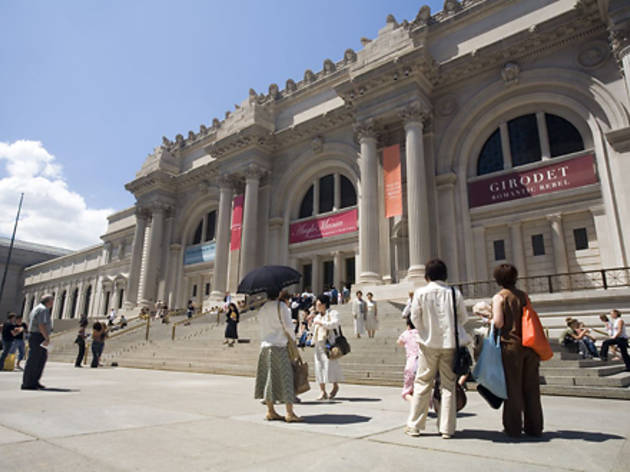 52/72
"I love just sitting on the steps of the Metropolitan Museum of Art [1000 Fifth Ave at 82nd St; 212-535-7710, metmuseum.org]. You do have to deal with a lot of tourists, but there's all sorts of people just hanging out around there. All you have to do is introduce yourself."---Graham Butler, 29, designer, West Village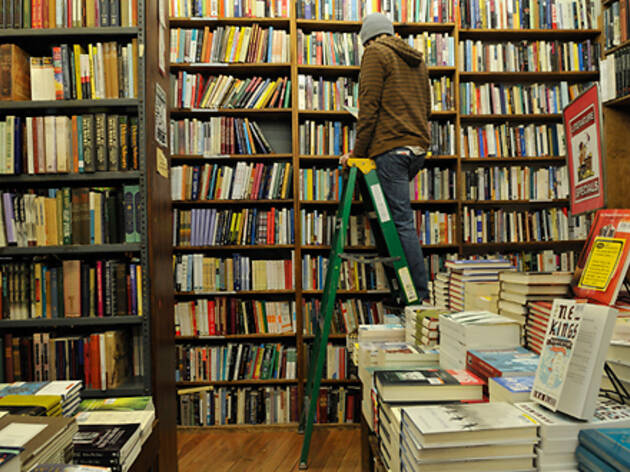 53/72
Photograph: Fumie Suzuki
"Okay, this might sound lame, but seriously: the Strand [828 Broadway at 12th St; 212-473-1452, strandbooks.com]. It's really easy to strike up a conversation while you're browsing for books. And everyone there usually has some sense of style."---Liz Harris, 25; editorial assistant; Astoria, Queens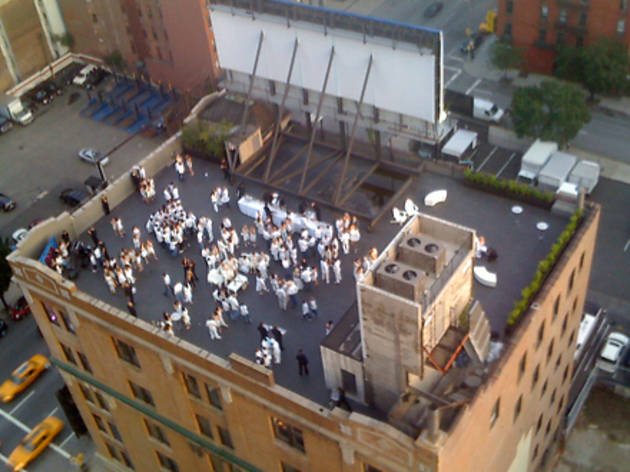 54/72
Photograph: Noah Fecks
"I don't really go to bars to pick people up too much. I don't know...roof parties? Do I sound like a pervert?"---Waleed Khan, 24; freelance artist; Boerum Hill, Brooklyn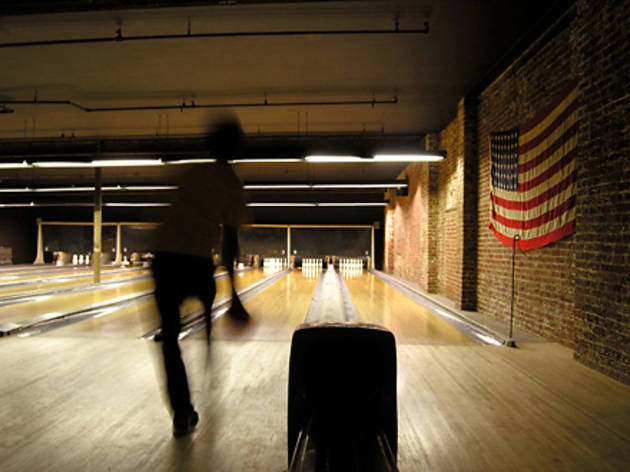 55/72
"Gutter [200 North 14th St between Berry St and Wythe Ave, Williamsburg, Brooklyn; 718-387-3585, thegutterbrooklyn.com] is a bar/bowling alley off the Bedford stop that offers two games for ten bucks before 1am, and it's always really crowded in the summer."---Tiffany Hogan, 25; director; Ridgewood, Brooklyn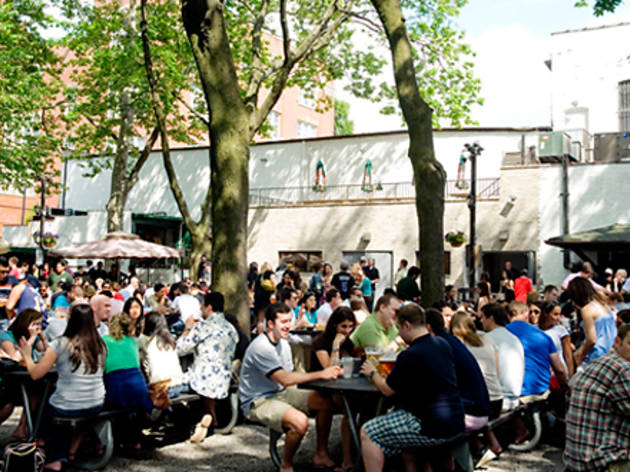 56/72
Photograph: Gabriela Herman
"I personally go to Brooklyn to party, so I would say Radegast Hall & Biergarten [113 North 3rd St at Berry St, Williamsburg, Brooklyn; 718-963-3973, radegasthall.com]. There's another one in Astoria, Bohemian Hall & Beer Garden (pictured) [29-19 24th Ave between 29th and 31st Sts, Astoria, Queens; 718-274-4925, bohemianhall.com], I think, and there's an outside deck that's only open in spring and summer. You can get beers for, like, ten dollars to fill you up."---Christine Slusarski, 21; student; Maspeth, Queens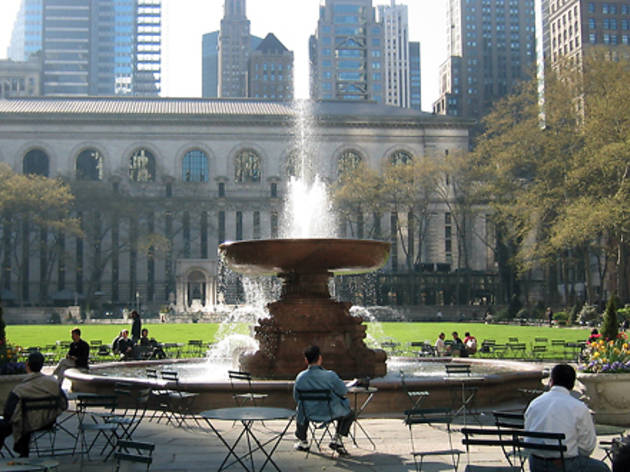 57/72
"Probably the New York Public Library up on 42nd Street [Stephen A. Schwarzman Building, Fifth Ave at 42nd St; 917-275-6975, nypl.org]. Bryant Park's really pretty, and you can learn a lot about a person based on their taste in books."---Maria Gonzalez, 24; student; Prospect Heights, Brooklyn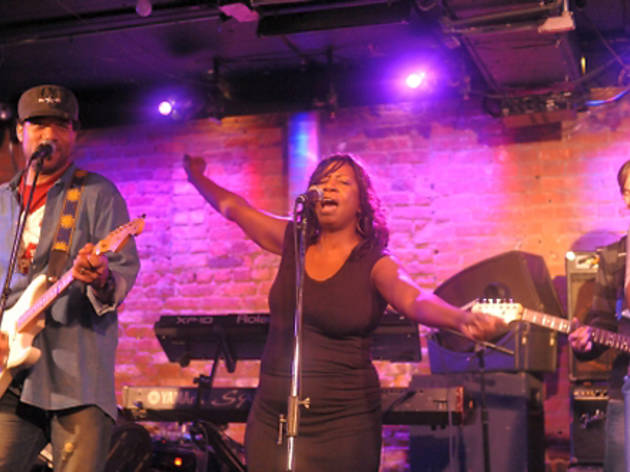 58/72
"The Village Underground [130 W 3rd St between MacDougal St and Sixth Ave; 212-777-7745, thevillageunderground.com] has live music and a cool atmosphere, so you have an opportunity to look around and see who's doing what."---Starr Busby, 23, singer and actor, Harlem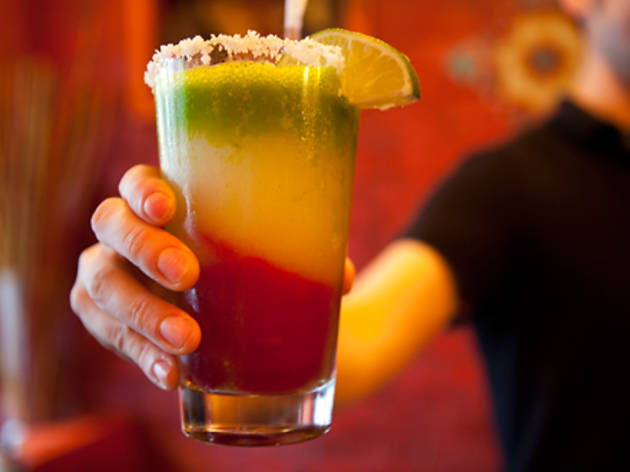 59/72
Photograph: Phyllis B. Dooney
"I haven't been here for a very long time, but my friends and I usually go to Mexican Radio [19 Cleveland Pl between Kenmare and Spring Sts; 212-343-0140, mexrad.com]. They've got really good margaritas and great food."---Melissa Garcia, 23, student, East Village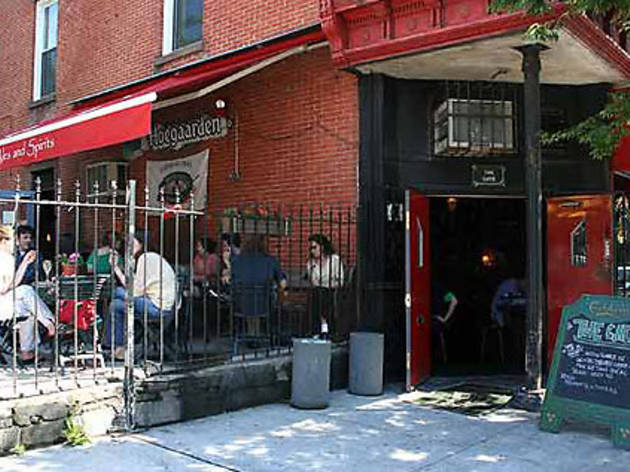 60/72
"The Gate [321 Fifth Ave at 3rd St, Park Slope, Brooklyn; 718-768-4329, thegatebrooklyn.blogspot.com] has one zillion kinds of beers. The crowd's covered in tattoos, but there's a 'bring a bike and your dog' vibe. Nothing like animals to bring people together."---Marykathryn Seltzer, 26; student; Prospect Heights, Brooklyn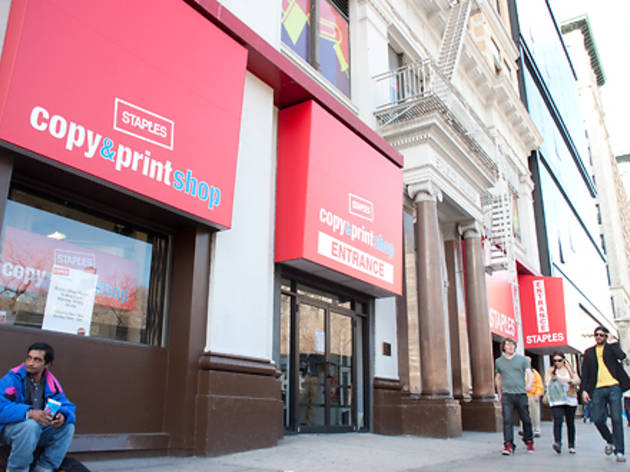 61/72
"Apparently the Staples [5-9 Union Square West between 14th and 15th Sts; 212-929-6323, staples.com] in Union Square is hot. I just had an encounter with someone with a very warm heart."---Robert Gerber, chef, Union Square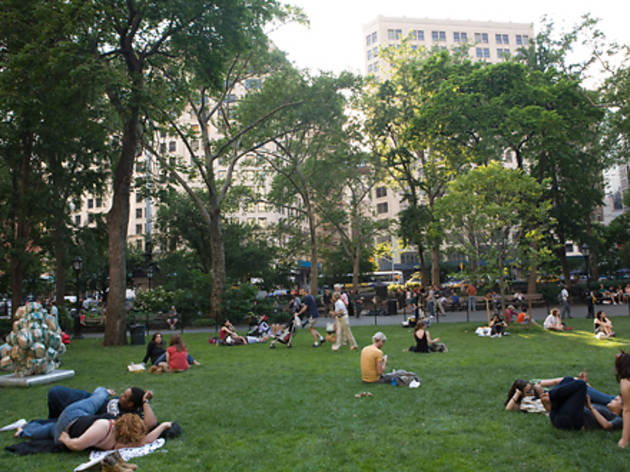 62/72
Photograph: Michael Kirby Smith
"The trees at Madison Square Park [23rd to 26th Sts between Fifth and Madison Aves; 212-538-1884, madisonsquarepark.org] in the spring are so beautiful. It's very easy to approach people for some reason, maybe it's the pink flowers. Or maybe the dog park makes conversation easier."---Tessa Mauclere, 23; artist; Bushwick, Brooklyn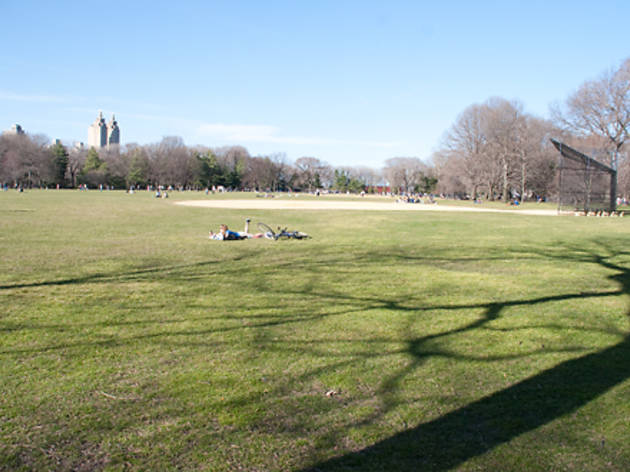 63/72
"The Great Lawn at Central Park [Midpark from 79th to 85th Sts; 212-310-6600, centralparknyc.org] is a really nice spot. There's always a lot of people there, and when it's sunny, it's beautiful."---Sandra Rosado, 35, doctor, Union Square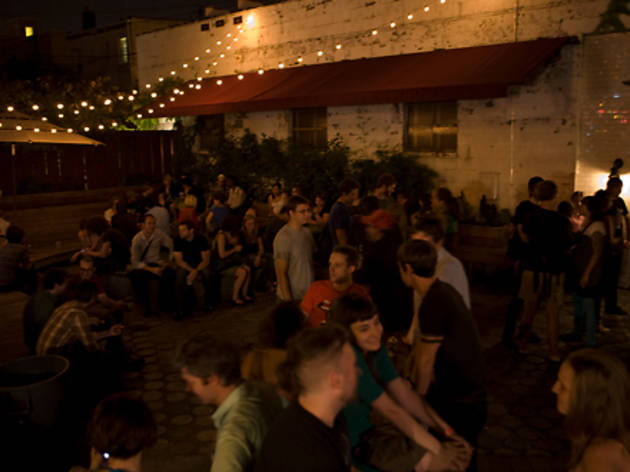 64/72
Photograph: Michael Kirby Smith
"Union Pool [484 Union Ave at Meeker Ave, Williamsburg, Brooklyn; 718-609-0484, union-pool.com] is a goddamned meat market. It's pure sex. People are sexing everywhere, in the fucking photo booth. Gross sex. Dirty, slutty hipsters. But maybe that's great."---Vanessa Meyer, 25; student; Bushwick, Brooklyn
65/72
"Every Sunday is Morrissey night at Sway [305 Spring St between Greenwich and Hudson Sts; 212-620-5220, swaylounge.com]. Although that could lead to trouble."---Ben Mitchell, 25; messenger; Greenpoint, Brooklyn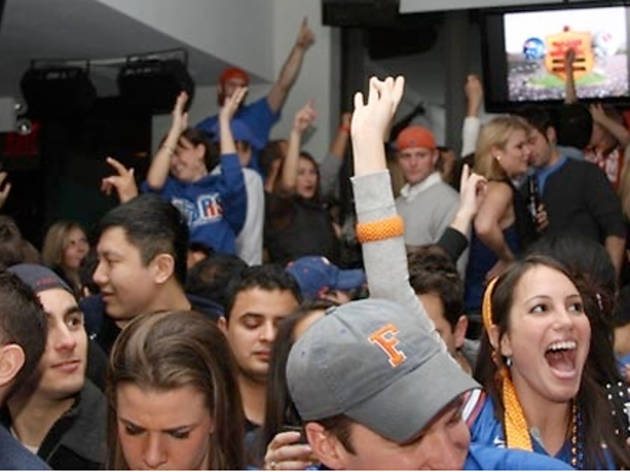 66/72
"I would, unfortunately, say SideBar [118 E 15th St at Irving Pl; 212-677-2900, sidebarny.com]. There's nothing really 'good' about it, but there's a lot of young people, NYU students. It's fraternity-run."---Netta Rawner, 24, dating coach, Union Square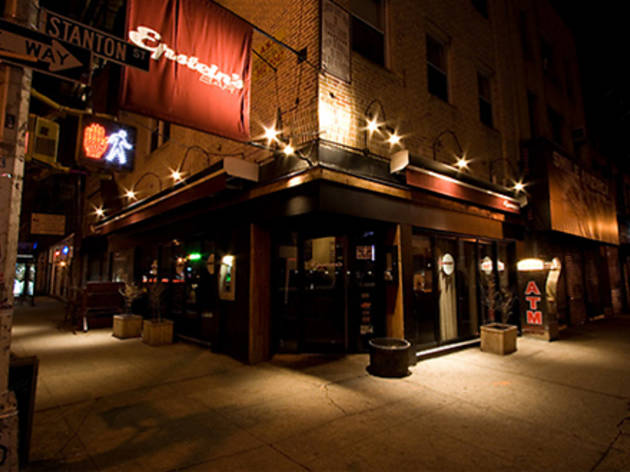 67/72
"Epstein's Bar [82 Stanton St at Allen St; 212-477-2232, epsteinsbarnyc.com] on the Lower East Side. When it gets warm they open up their windows, and there's a lot of boys there. They also have a pretty good happy hour."---Marisa Ryan, 27, designer, Lower East Side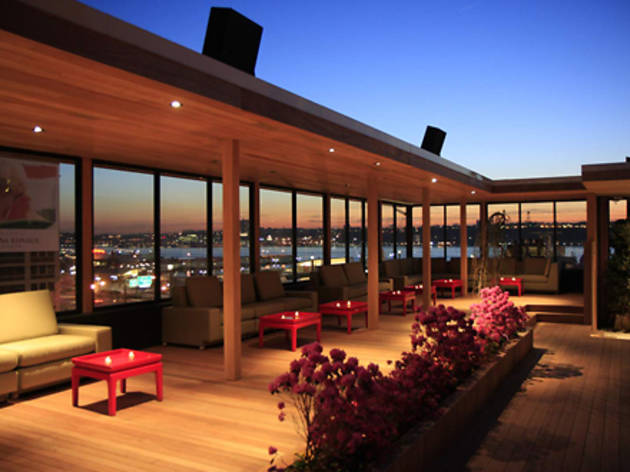 68/72
"The Hudson Terrace [621 W 46th St between Eleventh and Twelfth Aves; 212-315-9400, hudsonterracenyc.com] has an amazing multitiered outdoor space, and it's got a really hot crowd."---Adele Sterling, 34, lifestyle manager, Lower East Side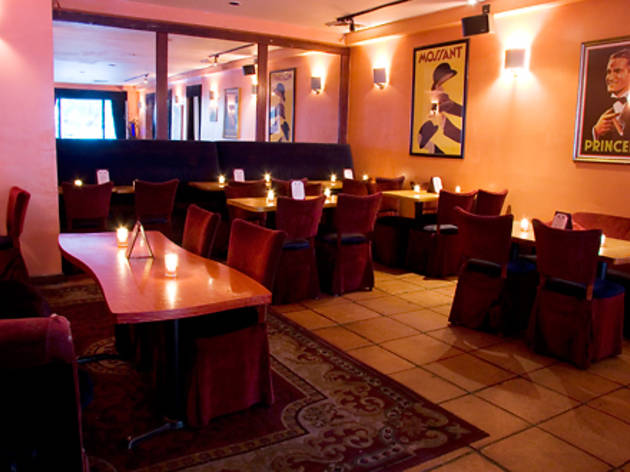 69/72
"Session 73 [1359 First Ave at 73rd St; 212-517-4445, session73.com] is known for being a singles hangout, specifically older men who like younger women."---Elyse Cowen, 22, sales assistant, Murray Hill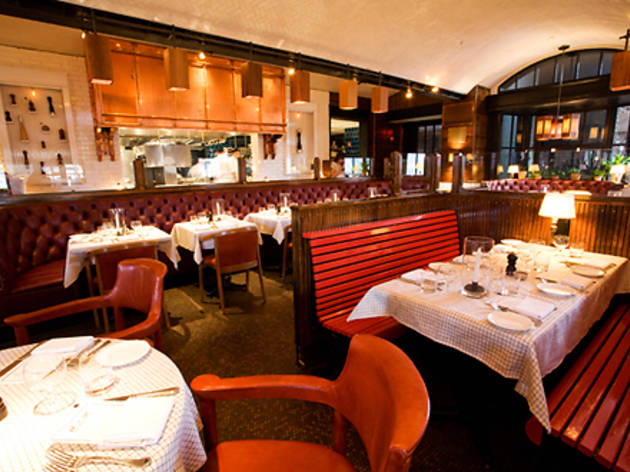 70/72
Photograph: Roxana Marroquin
"The grill underneath the Standard Hotel [846 Washington St at 13th St; 212-645-4100, standardhotels.com] is a really happening place. People from out of town and cool people in the know are usually there. It's a fun place."---David Cockrell, 39, designer, Financial District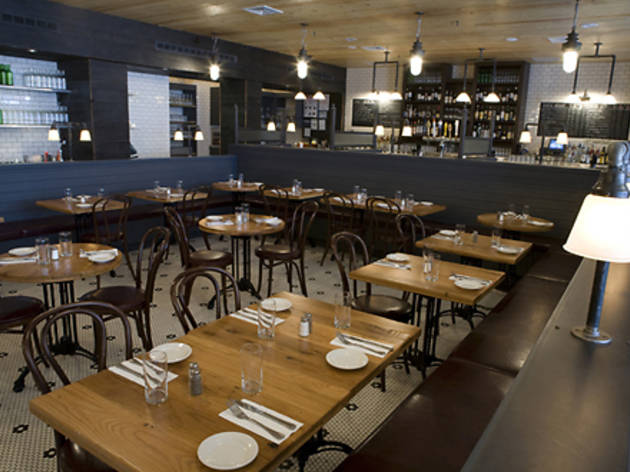 71/72
Photograph: Jeffrey Gurwin
"I'm not really the kind of guy who goes out and picks up girls, but if I was, I'd try the Smith [55 Third Ave between 10th and 11th Sts; 212-420-9800, thesmithnyc.com]. Cool people work there, and it's just a really cool place."---Josh Jones, 23; server; Williamsburg, Brooklyn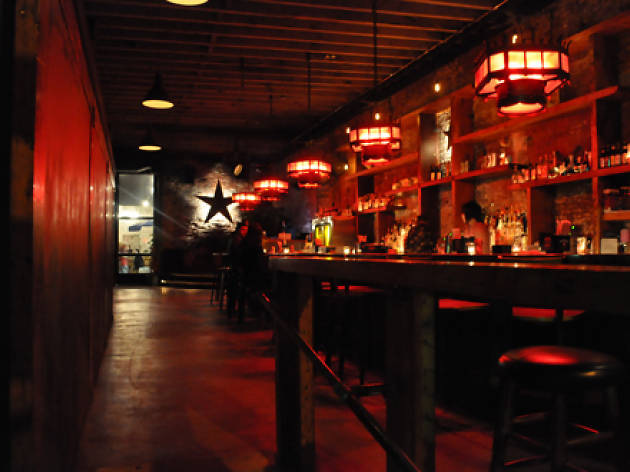 72/72
Photograph: courtesy Simon at http://www.flickr.com/photos/plateoftheday
"The Woods [48 South 4th St between Kent and Wythe Aves, Williamsburg, Brooklyn; 718-782-4955] in Williamsburg has a really sweet staff and a nice outdoor space. It's sort of like Union Pool but without the fire pit, which kind of sucks, but there's an awesome karaoke night on Tuesday nights. Tuesdays at the Woods are the jam."---Rosemary Stevens, 30; bookkeeper and comedian; Williamsburg, Brooklyn
72 warm-weather pickup spots