Meet The Undateables: Devon and Bobby
We took two New Yorkers who swear they're totally undateable, and put our matchmaking skills to the test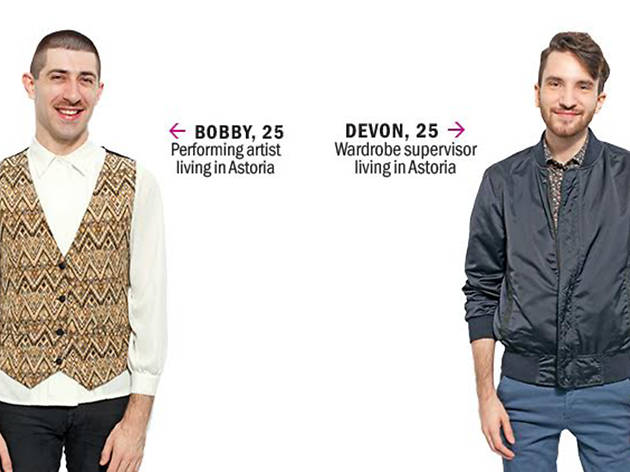 Each week, we take two New Yorkers who swear they're totally undateable, and put our matchmaking skills to the test. For this week's attempted connection, we sent our lonely-in-love daters out for omakase at Sushi By Bou and a performance of the critically-acclaimed new Broadway show, M. Butterfly. Afterwards, we found out what went right and what went wrong.
You only have a few more weeks to see the show – closes January 14, 2018. Get your tickets here.
Why they're single:
Bobby: He's very career focused and has trust issues.
Devon: He's holding out for the right person and doesn't go on too many dates.
Ideal date:
Bobby: Just hanging out and smoking with no pressure
Devon: Going out for a nice dinner and seeing a good show
THE DATE
First impression
Bobby: "My first thought was that he looked a lot like an ex of mine, but I didn't say anything because that's always so weighted. I thought he was cute and really sweet."
Devon: "He was very stylish, and I liked his sense of fashion. We started talking immediately, and the conversation really flowed. We have a similar sense of humor."
Chemistry
Bobby: "We had a lot in common. I always get lunch from the Chipotle on the west side of Bryant Park and he always goes to the Chipotle on the east side of Bryant Park."
Devon: "I think there was a little romantic vibe. We were both polite and nervous at first, but yeah, we definitely had some chemistry. We shared a lot of obscure pop culture references."
Awkward Moment
Bobby: "We went to a sushi restaurant, but neither one of us is that into sushi. We were really relieved that we felt the same way. We still tried everything they brought out!"
Devon: "I had to pee so bad during the first act of M. Butterfly that I leaned over and was like, 'Alright. There's a chance I may not make it.' At intermission, I ran straight for the bathroom."
Thoughts on M. Butterfly
Bobby: "I love Julie Taymor, so I was really excited to see it. It had a lot of interesting things to say about lying to yourself in a relationship, and how you can sometimes create idea of who the other person is and don't let them be themselves. We both agreed that Jin Ha was amazing."
Devon: "[The show] really reminds you not to lose yourself in a relationship. We're both artists, and we had a shared knowledge of theater so it was interesting to talk about it. We had to go out for drinks after to discuss it more."
After the show
Bobby: "I thought it was really interesting how the show stepped away from the obvious heartbreak of the story and played more to the humor of the script. It definitely gave us a lot to deconstruct and relate to some of our past experiences."
Devon: "I love all of the inspirations behind the show—from Madame Butterfly to Miss Saigon—so it was fun to talk about how they all connected. Overall, the show was great for a date because it gave us so much to talk about."
How the night ended
Bobby: "We both live in Astoria, so we took the train together, got food from a taco truck and then brought it back to my place. We kissed goodbye, then went in for a second kiss."
Devon: "We picked up some food and then hung out at his place for a bit. We kissed right before I left and exchanged numbers. I think we'll definitely see each other again."
Verdict
Bobby: ♥♥♥♥ "It was really nice. We had a lot in common. He's a very solid person, and he's very real. There was no put on or anything. He just seemed like himself."
Devon: ♥♥♥♥ "There was a good connection. We shared a lot of inside, obscure references and had similar interests. It definitely exceeded my expectations."
RECOMMENDED: See more Undateables
Want to be set up on a free blind date? Email undateable@timeout.com.