Heads up! We're working hard to be accurate – but these are unusual times, so please always check before heading out.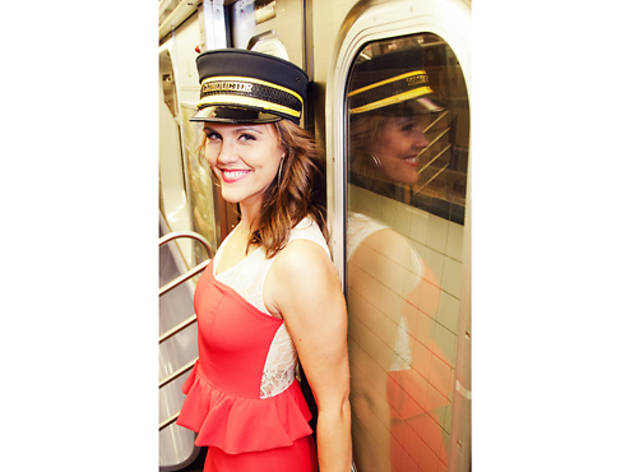 Meet the Love Conductor: Brooklyn matchmaker Erika Christensen
Since starting her business, Train Spottings, in 2011, Brooklyn matchmaker Erika Christensen has paired up single New Yorkers that she meets on the subway.
RECOMMENDED: More great dates in NYC 2013
Brooklynite Erika Christensen caught the matchmaking bug after setting up her best friend with her future husband. Hoping to become a professional relationship broker, she reached out to E. Jean Carroll of Elle's "Ask E. Jean" column. The two women hit it off, and in October 2011, Carroll helped Christensen start Train Spottings (trainspottings.com), an underground take on analog dating services. Christensen, who calls herself the Love Conductor, rides the subway looking for ladies and gents in all five boroughs to set up on blind dates. She strikes up a conversation with a straphanger and, if they have potential, offers them a card reading you've been spotted. After they register (one-month membership $100, three months $250, six months $475), she plans a date for the person and one of her other clients based on their shared interests, passions and goals. TONY spoke with Christensen about her work.
Why did you decide to target people on the subway?
It was such an untapped market. I go fishing for eligible singles because someone always catches my eye; maybe they have a sexy swagger, unique style or great eyes. The subway is ideal because it is so quintessentially New York. There are endless opportunities for conversation among strangers. It can be hard to compete with everyone using technology, but you know when someone is checking you out. Take the risk!
What guidelines do you use for pairing people up?
I share little nuggets of information before the date to get everyone excited. I'm generally looking for shared interests. I'm matching people who I have a hunch may find each other sexy. Is it scary? Yes. But you've started the night proving that you're adventurous and can take a chance.
Why are the dates blind?
This is the most critical element to my dates. I'm seeing serious fatigue with traditional dating websites' stat-based cruising. People who may have totally hit it off meeting in a bar wouldn't even get the opportunity to connect online, because they filtered each other out based on some preconceived notions about what they think they find attractive, or based on some picture that is often inaccurate. I challenge my clients to expand their definitions of datable. You may have totally missed out on my kind, sexy, well-employed and hilarious man because he's 5'9" and you filtered [online preferences] at 5'10".
Do you think people need to change their priorities when looking for a potential mate?
You want to be happy? Start getting attracted to qualities. Get turned on by how respectful your date was to the waiter, or how focused their attention was on you instead of every other girl in the bar. I would love to start hearing more of "Oh girl, that is one kind drink of water!"
If someone wants to approach another person they find attractive on the subway, what are your tips for striking up a conversation without looking like a creep?
Try a test with a neutral topic. Ask him for directions or about the book she's reading. I was on the A train with my guitar and a guy asked what kind of guitar was in the case. This started a conversation about music, and before I hopped off the train, he asked for my number. We went on a couple dates and he was a nice guy. Of course, no technique in the world will help you if you are, in fact, a creep.