Single men seeking women in NYC: Date these singles (January 2013)
We've found 13 single men seeking women in NYC, each waiting for you to ask him out. Plus, each reveals his perfect date—so wooing these guys will be easy.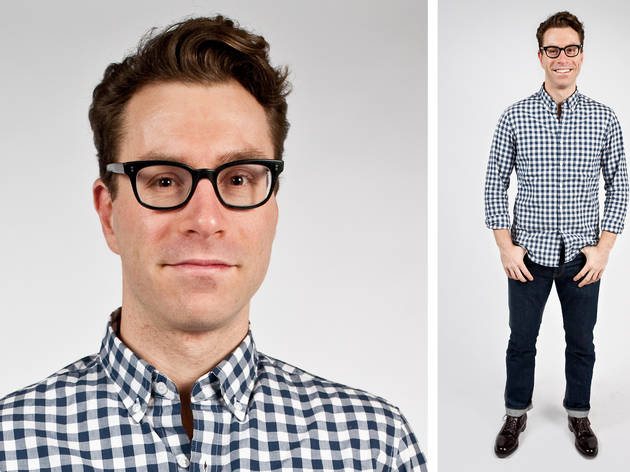 1/14
Photograph: Camille A Fernandez
Aaron, 32; lawyer; Williamsburg, Brooklyn His ideal date: "I race bicycles in my spare time (all the time), so I end up spending a lot of my time (all the time) training. It would be great if you had a similar hobby/career/problem. My ideal date would be doing something active that I've never done before. Anyone up for cave diving? We can communicate via chalkboard and glow sticks! I'm also down for the coffee-then-a-yoga-class date. Just not the moaning, ohm-ing, ahh-ing, hmm-ing, froufrou, chanty yoga. My mom likes that stuff. You can hang out with her for those things."Want to ask him out? E-mail: aaron1@tonypersonals.com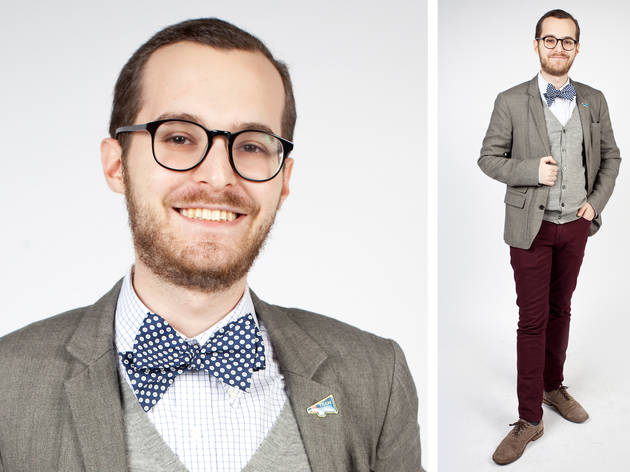 2/14
Alex, 24; business development manager; Upper West SideHis ideal date: "Despite being a native of the city, the sheer wonder I experience whenever I visit the American Museum of Natural History has yet to subside. I can narrate portions of the museum, but always seem to find something new every time. It's fun to share this with people, especially dates, as it allows for a good deal of conversation, and it's even better when they're more informed about a certain section than I am. If not that, then burger tourism. There will always be a new gourmet burger that I've yet to try, and I would be happy to go with someone."Want to ask him out? E-mail: alex2@tonypersonals.com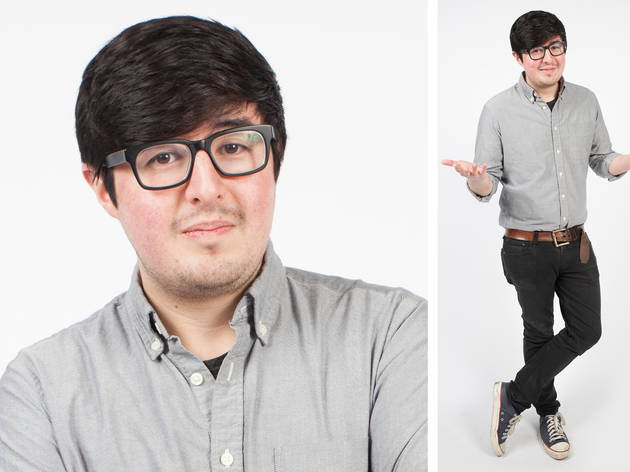 3/14
Alfie, 26; digital and retail manager at an indie record label; Greenpoint, Brooklyn His ideal date: "I enjoy any kind of activity that nurtures a conversation, so preferably something chill. Yes, there's always a bar (and I enjoy a good cocktail), but I also like eating out, and I especially enjoy just walking around. I'm from Queens originally and always like showing people around my native (highly underappreciated) borough. Plus, there's tons to do and see in Long Island City alone: Sage General Store, Dutch Kills, 5 Pointz and Gantry Plaza are some of my favorites."Want to ask him out? E-mail: alfie@tonypersonals.com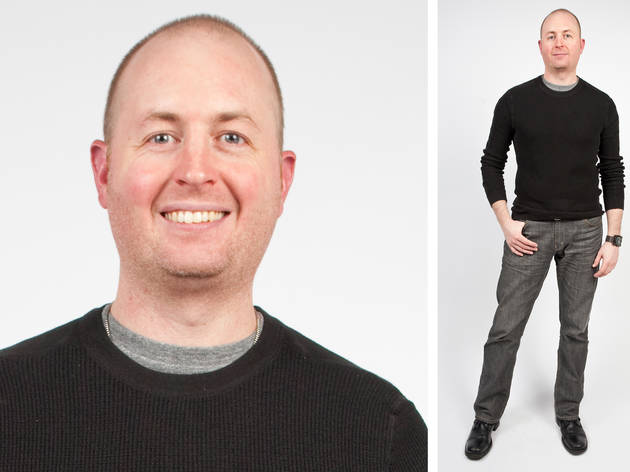 4/14
Andrew, 32, media adviser and writer, Inwood His ideal date: "My tastes are miles from what you'd call refined, but taking in the creations of others can spur great conversation. I'm a typical introvert. I get bored with small talk, and the prospect of talking about myself for more than two seconds is terrifying. So, an art gallery or a reading—something with external stimuli we can both observe and talk about but not fixate on—would be a good first date with me. Failing that, something that delivers the elusive combination of books, booze and banter, like Hudson Bar and Books, sounds just as good."Want to ask him out? E-mail: andrew2@tonypersonals.com
5/14
Bobby, 26; associate publicist; Bushwick, Brooklyn His ideal date: "I'm not really creative at dates, especially the first ones. I feel like they're to see if you connect and get along in that most basic way. So I tend to go the simple route of dinner and drinks, with some kind of quiet activity afterward, like ice-skating. I'm not interested in dating just for the experience of dating—when I go out with someone it's because I'm really hoping that we discover we're good for each other, and that something beautiful will develop."Want to ask him out? E-mail: bobby@tonypersonals.com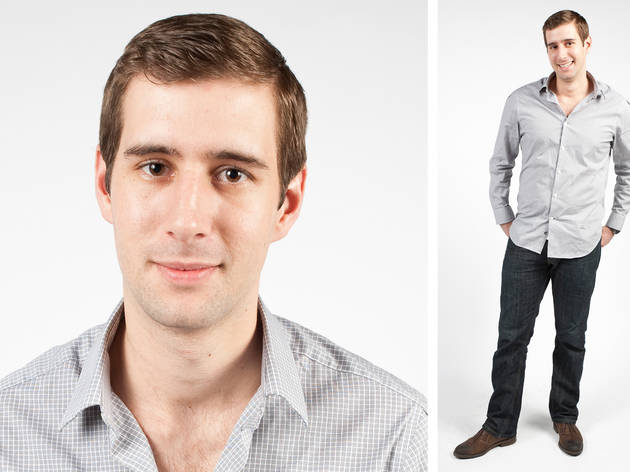 6/14
Photograph: Marielle Solan
Bryson, 23, financial-services membership sales associate, Kips Bay His ideal date: "Exploring the city, having a great meal, getting drinks and going dancing. The order depends on the vibe. Dates that stray from the ideal often end up being the most fun."Want to ask him out? E-mail: bryson@tonypersonals.com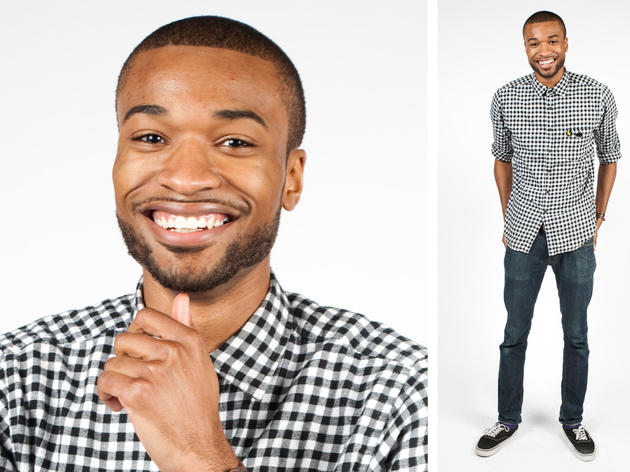 7/14
Photograph: Marielle Solan
Cameron, 24; fashion entrepreneur and Barnes & Noble bookseller; Ridgewood, Queens  His ideal date: "A casual hangout at a public place is the best way to go, like a park to sit or walk and talk, and maybe grab some coffee or tea—very mellow. It sends a no-pressure vibe to both parties, and you can spend more time conversing. With dinner and a movie, too many distracting factors come into play. You can't really get to know someone while watching Django Unchained, and I get very self-conscious when eating a steak dinner sitting across from a person I just met. Like, 'Is she staring at my mouth?!?… Oh no, I've been talking this whole time with chunks of porterhouse stuck in my teeth!'"Want to ask him out? E-mail: cameron1@tonypersonals.com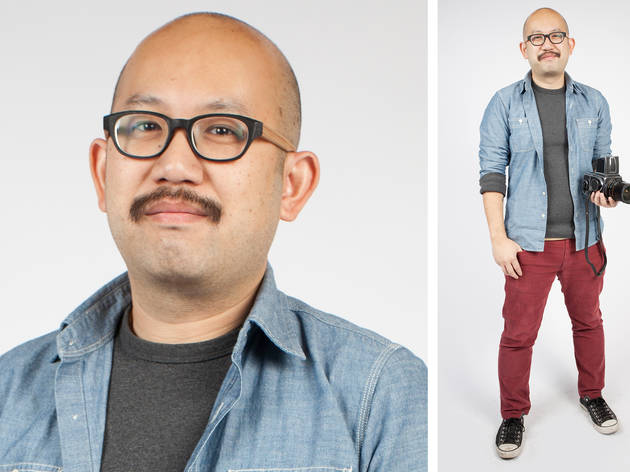 8/14
Donny, 34; freelance photographer; Park Slope, Brooklyn His ideal date: "It would start off with meeting at one of my favorite spots for cocktails and a few bites. This will probably be around 2pm, because there's nothing better than day drinking. Then, along with our cameras, we go and explore the neighborhood, finding secret spots to take photos. And when we get tired, we can sit at a bar for happy hour. Then it's off to dinner before catching a show. This is my ideal date because it combines my three favorite things: eating, photography and exploring this city."Want to ask him out? E-mail: donny@tonypersonals.com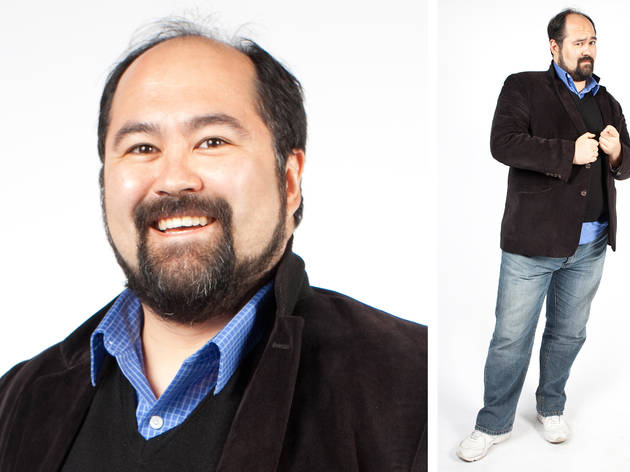 9/14
Fred, 38; senior digital project manager and product developer; Crown Heights, Brooklyn His ideal date: "It'd be cool to see and do some nifty stuff in the city that gives us a chance to talk, but also some experiences to remember. That way, even if the date sucks, you could say, 'I saw this awesome sunset, so that was good.' It'd be fun to go to the New Museum before we talk about movies and sci-fi, or Dutch mysteries, or whatever. If there was a mystery jazz band or random guitar duo playing somewhere nearby, that'd be cool. I'm thinking music, but not so loud you can't talk. A walk across the Manhattan Bridge at magic hour on a nice day is like lightning in a bottle. Keep walking, go to Grimaldi's or Superfine, or take a cab to Bar Tabac or Café Luluc. Then have a cocktail at Clover Club, and just talk-talk-talk, laugh-laugh-laugh. I'm also good with just a long, My Dinner With Andre kind of conversation over drinks, too."Want to ask him out? E-mail: fred@tonypersonals.com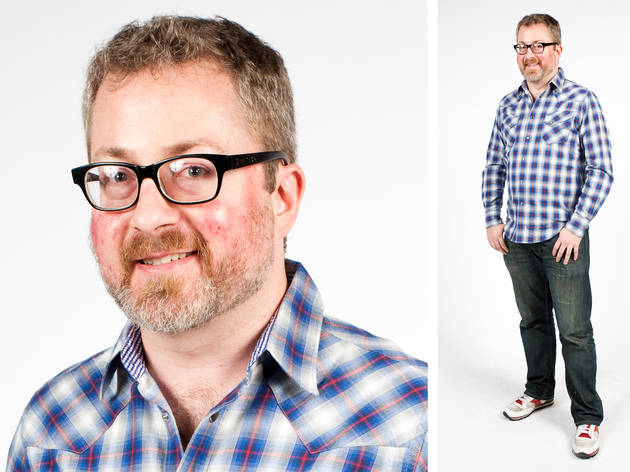 10/14
Photograph: Marielle Solan
Joe, 35; public-school teacher; Bushwick, Brooklyn His ideal date: "It would start with a spy-movie-style exchange of passwords in a nondescript location and proceed to delicious beers and/or bourbons at a bar with a good atmosphere; jokes would be made, stories told, eye contact established and the general 'hey, this is not only a person who seems unmurdery, but pretty fun' feeling is established. Next, we dine like hedonists on the last day of their lives. If possible, we eat an animal we haven't tried before. That's not a must, but it's always a good idea, on a date or not. Drinks are plentiful enough to get just shy of crossing the line of propriety on a first date. Conversation continues, even if it is primarily primal grunts of 'Yum' and offers to share. Of course we share. That way we get two dishes. At the end, we exchange playlists or mix CDs. You can always discover new music through someone you didn't know before, and tastes aligning can be pretty awesome. Why would this be an ideal date? It would be an ideal day alone, really. With someone, it can be even better. I'm not looking for someone to complete me or heal me, I'm looking for someone to enjoy life with even more than we already do."Want to ask him out? E-mail: joe3@tonypersonals.com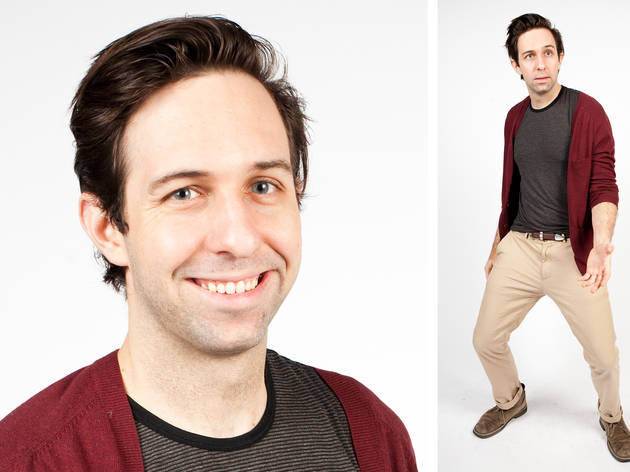 11/14
Photograph: Marielle Solan
Joey, 24, artistic director of a theatre company and waiter, Upper East Side His ideal date: "After convincing our consciences that we'll pay more than $2 to get in the Met when we're older, we'll grab some happy-hour oysters and bourbon, maybe at Maison Premiere. Still feeling guilty about cheating the art world, we'll take in a funky show at the Brick or the Bushwick Starr. And, finally, we end up talking late into the night over tortas and beers at Grand Morelos." Want to ask him out? E-mail: joey@tonypersonals.com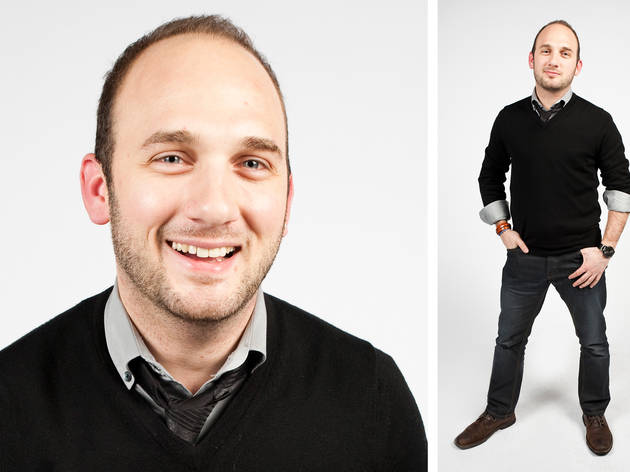 12/14
Photograph: Marielle Solan
Jonathan, 28; digital media supervisor; Chelsea His ideal date: "I think my ideal date would start off with drinks and some food at a bar, and then we'd head out to do something fun and different, like a rock show at an underground club, dancing at a dive bar that plays awesome jazz music, singing karaoke with strangers, or playing Ping-Pong or shuffleboard at a bar."Want to ask him out? E-mail: jonathan3@tonypersonals.com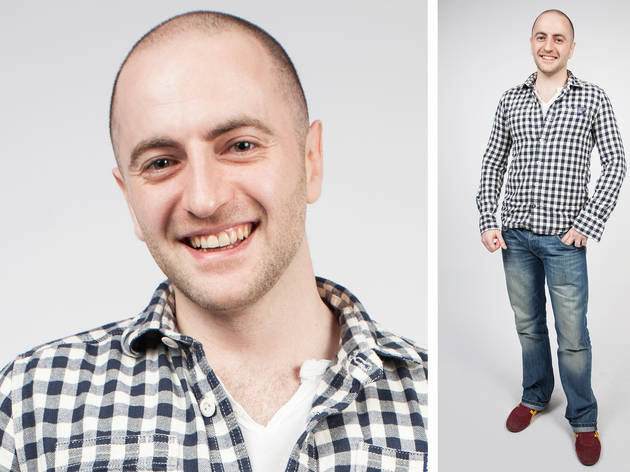 13/14
Karim, 30, consultant, Hell's Kitchen His ideal date: "To get the blood flowing we'd start with a trip to the batting cages or a game of bowling. There's nothing better than getting to know someone with some semi-competitive sporting action. Then we'd relax with a cheeky cocktail or two at Apotheke. Depending on how messy things are getting, we could either stroll up the road to Tartine for a light bite, a bottle of vino and a touch of sophistication, or jump in a taxi for some BBQ and live country music at Hill Country. We'd round off the night with something tasteful and sweet, preferably a doughnut sandwich with sprinkles from Holey Cream."Want to ask him out? E-mail: karim@tonypersonals.com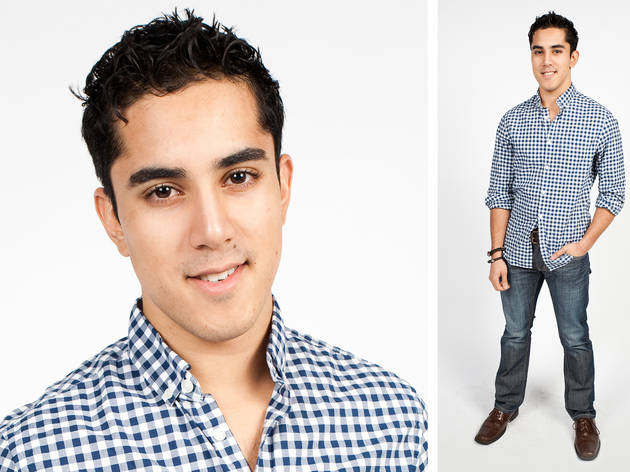 14/14
Photograph: Marielle Solan
Ruwan, 25, entrepreneur, East Village His ideal date: "It starts with a casual activity and ends wherever the night takes us. I hate structured interview dates. Life is about play. Play is about spontaneity. An example would be meeting somewhere we can talk: getting cocktails, or ice-skating, or visiting a museum. Soon we find out that we have a mutual interest in, say, karaoke, or tango, or people-watching. Then we actually go do that. Then we find that we're hungry, so we go to that unusual eatery in the Village that one of us has always wanted to try. Finally, we escape the cold by snuggling on the couch with hot cocoa and blankets. Mmm, blankets."Want to ask him out? E-mail: ruwan@tonypersonals.com
By

Nadia Chaudhury and Jonathan Shannon
|
It's something of a myth that single New York men drastically outnumber their female counterparts (at least according to an interesting analysis of census data by the New York City Economic Development Corporation). Still, that doesn't mean it's easy to find eligible men seeking women. You can try these pickup spots, dating events and other ideas for where to meet singles, or you could browse through our slide show of 13 gentlemen and e-mail one for a date. Each one has even described his ideal date, so there's no need to worry over where to go or what to do.
RECOMMENDED: Meet more New York singles and find a date