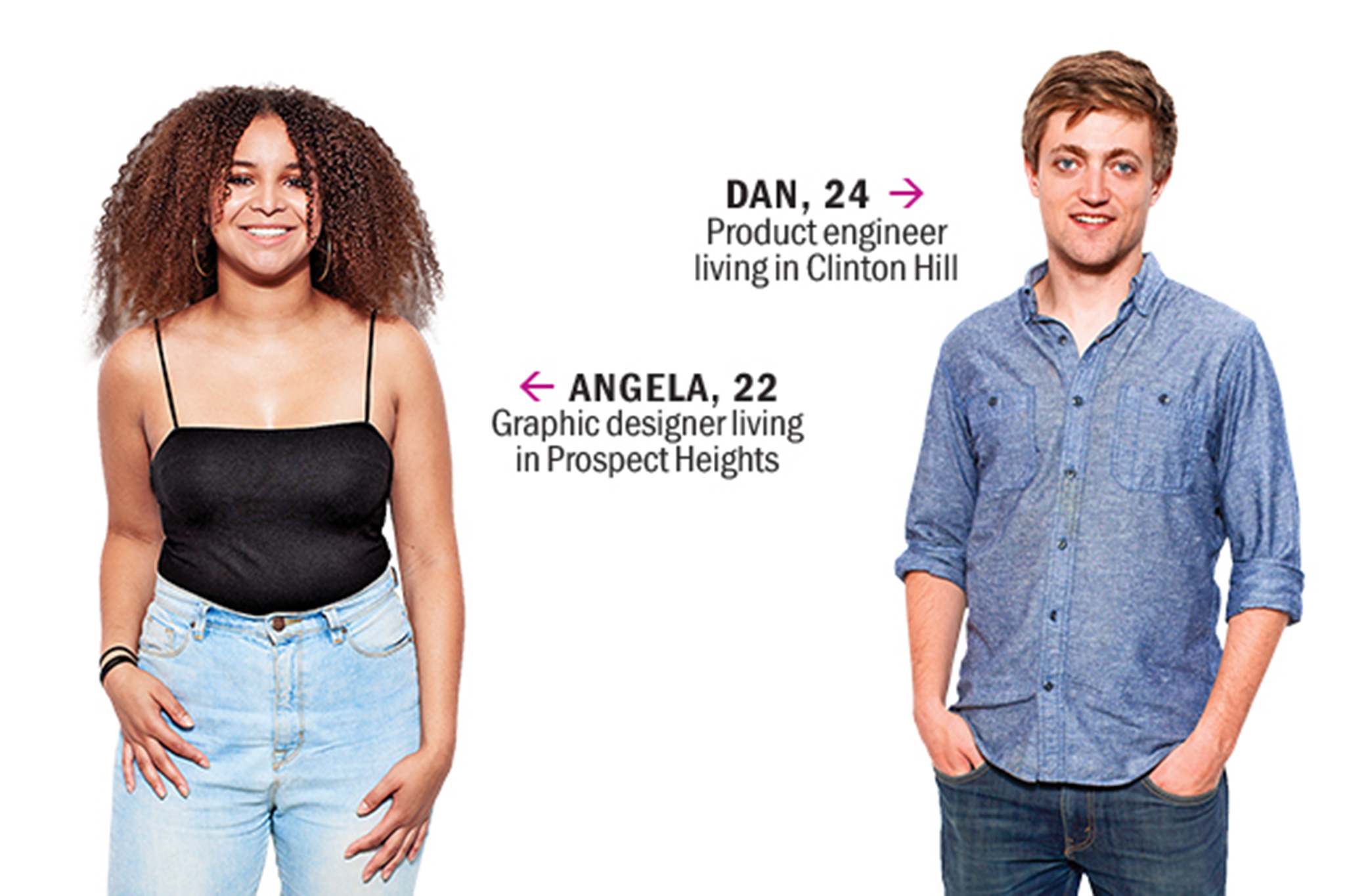 Why they're single:
Angela: She has very high standards and thinks it's hard to find someone who's smart, funny and attractive.
Dan: He picks the wrong people and has a tough work schedule.
Ideal date:
Angela: Going on a long walk
Dan: Getting lunch or dinner in a new neighborhood
THE DATE
First impression
Angela: "He was there before I was—I was running a little bit late. He was very nice but seemed kind of nervous. There was a good energy coming from him."
Dan: "I was sitting with my back to the door, so I was a little surprised when she came in. But it was fun right from the start! She was easy to talk to and very attractive."
Chemistry
Angela: "I didn't get a romantic vibe. It was kind of like a conversation you have with someone at a party where you don't know anybody and you end up talking."
Dan: "We were having a good time, and there was definitely something. It wasn't like a crazy, the-world-stopped-moving connection, but she was very engaging."
Awkward Moment
Angela: "At one point, he said he went to Columbia [University], and I was like, 'Oh, you must be really stupid,' and he was just like, 'What?' That joke didn't really land."
Dan: "I was saying something, and my hand flicked the straw from my drink across the table and onto her pizza. She just kind of laughed, took it off and kept talking."
Afterward
Angela: "We were about to leave when I found out that, growing up, I went to summer camp with his cousin, so that was crazy. He walked me to the train, and we hugged goodbye."
Dan: "She gave me her number, and we hugged goodbye. I've been waiting a bit since then. I think I'll reach out some day soon and try to set something up."
Verdict
Angela: ♥♥ "He was very nice and sweet, but there was nothing extraordinary. I don't really see it continuing at all, but it was a good conversation for a dinner."
Dan: ♥♥♥ "It went well. She was cute and interesting. I feel like everyone's always nervous on a first date—no one is really themselves. But she seemed like a cool person."
Our daters went to ZuriLee Pizza (755 Flatbush St, zurileepizza.com)
RECOMMENDED: See more Undateables
Want to be set up on a free blind date? Email undateable@timeout.com.