Meet the Undateables: Wandi and Sam
A fierce New York City FC fan and a die-hard New York Red Bulls fan swear they're incapable of finding love. To see if they're right, we sent them on a date to a match between the two teams.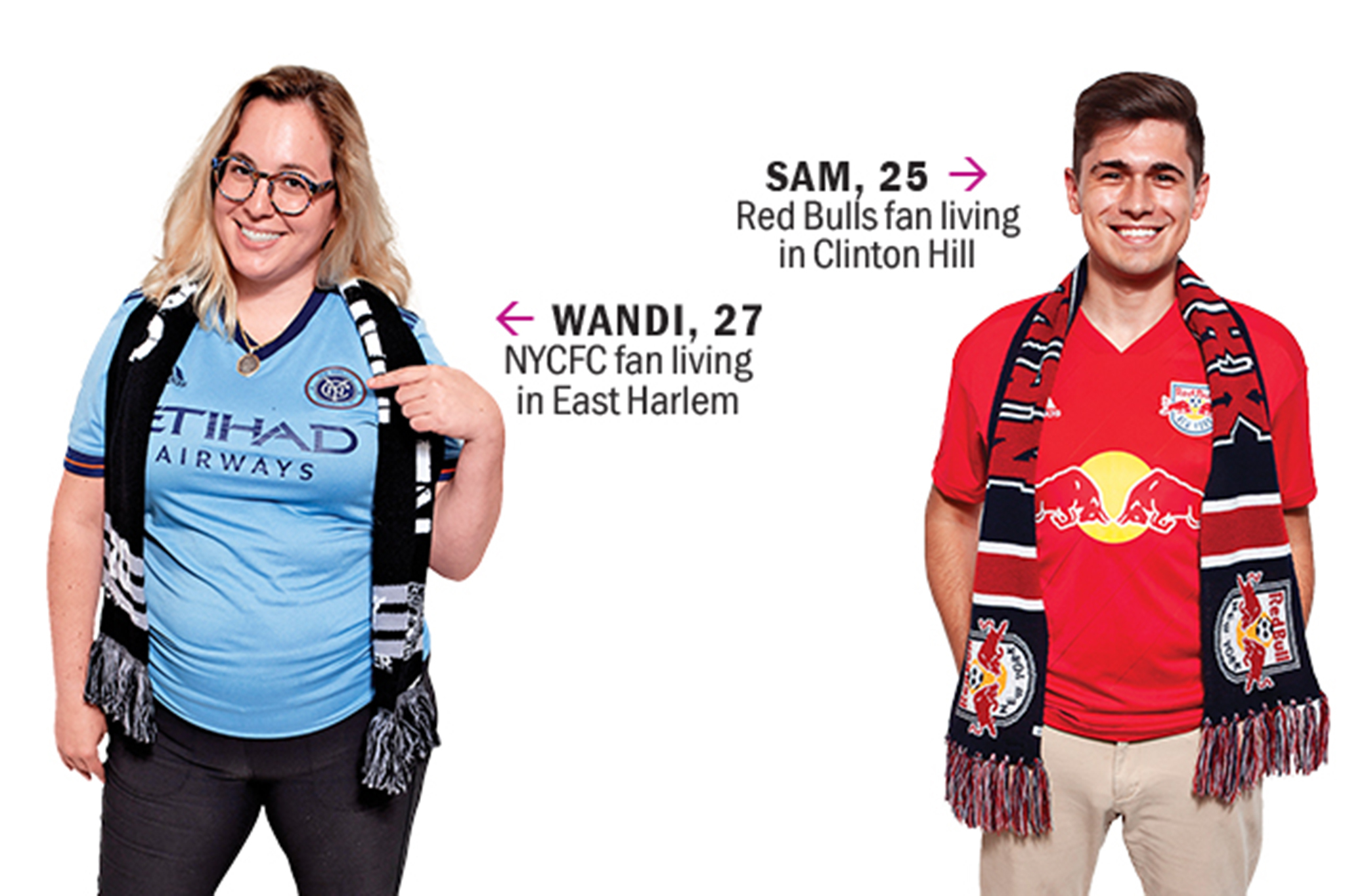 As told to Will Gleason
Why they're single:
Wandi: She works 60 hours a week and is prioritizing friendships over dating.
Sam: He finds the routine of dating apps to be really tiring.
Ideal date:
Wandi: Going to a soccer game
Sam: Going to a dive bar or checking out a museum
THE DATE
First impression
Wandi: "We hugged, and the first thing I noticed was that he had a really cute smile. He seemed smart and really passionate about his team. He was very into getting to know me."
Sam: "When I got there, we were both wearing our team's attire, but we exchanged pleasantries and walked into the stadium together. She was sharp, intelligent and funny."
Chemistry
Wandi: "I felt a good vibe from him. Once the game started, he asked me a lot of deep-seated questions, and we talked about why we both became season-ticket holders."
Sam: "There was chemistry. I went in with the assumption that anyone who would like NYCFC is pretty undateable from the start, but her personality kind of changed that."
Awkward Moment
Wandi: "Eighty-five minutes in, my team scored the first goal of the game. He was kind of quiet for, like, 10 minutes and just sipped his beer. I probably would have been worse."
Sam: "The Red Bulls lost, so that was tough. I made a joke to my friends before that the only way this could go well would be if it was a draw. But I think I handled it pretty well."
Afterward
Wandi: "We met up with friends and went to a couple of bars by the stadium. One of my friends was really into being a wingman. We exchanged numbers, and there was a kiss."
Sam: "We went out after the match, and she introduced me to some other NYCFC fans. There was a rivalry, but it felt like it was in good spirit. After that, we parted ways."
Verdict
Wandi: ♥♥♥ "I think where we got by the end was that we wouldn't try to convert each other, but it would be awesome if we go again and sit in the neutral section."
Sam: ♥♥♥♥ "We've been texting a bunch. I don't know what to call it—we haven't defined it or anything. But it was great. I'd be open to going to another game with her."
MLS Heineken Rivalry Week
Heineken is a worldwide leader in soccer, dedicated to providing fans with legendary experiences and engaging with current and future soccer supporters and stars in unique ways. As the Official Beer of Major League Soccer (MLS), Heineken is once again bringing the league's most epic rivals head-to-head with MLS Heineken Rivalry Week. From August 22 to August 26, fans will have the opportunity to witness the largest and most action-packed slate of matchups in league history, with seven national broadcasts throughout the week. The New York derby will heat up on Wednesday, August 22, at 7pm, when NYCFC faces off against the New York Red Bulls. For more information on MLS Heineken Rivalry Week, please visit heineken.com/us/soccer.
RECOMMENDED: See more Undateables
Want to be set up on a free blind date? Email undateable@timeout.com.