Heads up! We're working hard to be accurate – but these are unusual times, so please always check before heading out.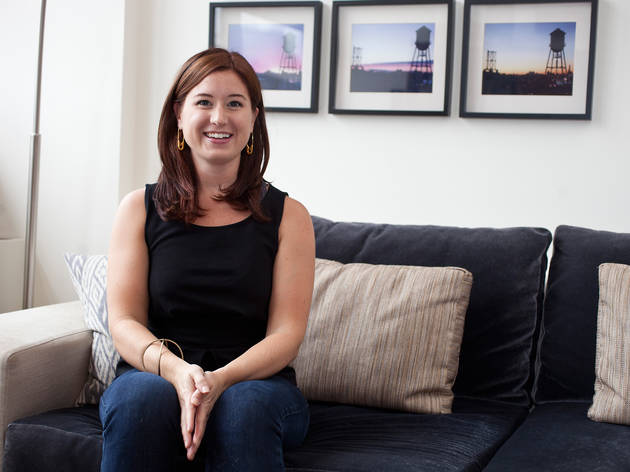 1/19
Photograph: Virginia Rollison
When interior designer Jessica De Kler and her husband, Glenn, purchased their 1,000-square-foot condo in 2006, they were some of the first people living in the newly renovated building, a former chemical-dye factory. "I've seen the same boom that the old-timers have," says De Kler of her gentrifying neighborhood. The 30-year-old founder of Deakins Design Group (deakinsdesigngroup.com) and her spouse, who works as a capital projects assistant at the Public Theater (publictheater.org), met at the University of Miami and have become involved in their community, co-owning local theater company Panicked Productions (panickedproductions.com). The duo's flair for the creative has spilled over to their apartment's aesthetic, which pairs modern decor with sentimental touches such as family heirlooms and travel souvenirs. "I consider myself eclectic," says De Kler. "I'm kind of a chameleon—if you give me a house, I could decorate it so many different ways."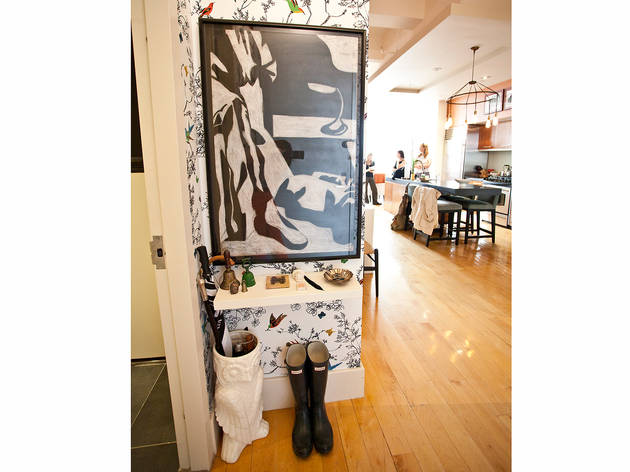 2/19
Photograph: Virginia Rollison
De Kler wallpapered the entrance with a whimsical floral, bird and butterfly print by Schumacher (fschumacher.com) and offset it with a charcoal drawing by her sister, mixed-media artist Alyce Delbridge. A West Elm shelf (1870 Broadway between 61st and 62nd Sts, 212-247-8077 • 112 W 18th St between Sixth and Seventh Aves, 212-929-4464 • 75 Front St at Main St, Dumbo, Brooklyn; 718-875-7757 • westelm.com) displays bric-a-brac, including a collection of bells De Kler inherited from her great-grandmother and picked up on a trip to Japan. Rainy day necessities, such as Hunter wellies and umbrellas stashed in a porcelain owl stand, rest beneath it.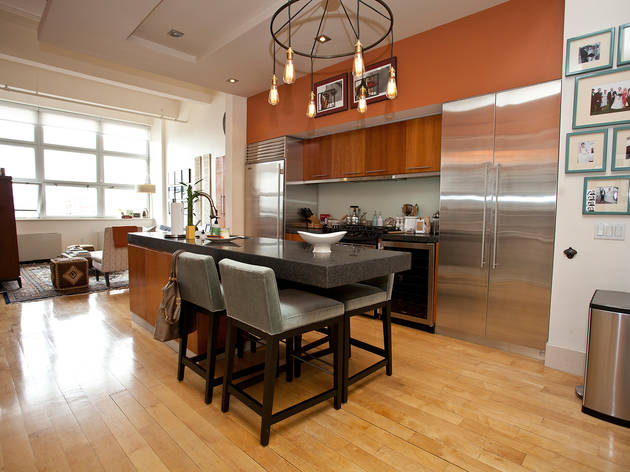 3/19
Photograph: Virginia Rollison
"I'm a clean freak," confesses De Kler, whose contemporary kitchen is devoid of clutter; adorning the sleek center island is an Eva Zeisel fruit bowl from Crate & Barrel (611 Broadway between Bleecker and W Houston Sts, 212-780-0004 • 650 Madison Ave between 59th and 60th Sts, 212-308-0011 • crateandbarrel.com). The counter stools hail from Room & Board (105 Wooster St between Prince and Spring Sts; 212-334-4343, roomandboard.com), but De Kler had them reupholstered in a custom velvet fabric by Rogers & Goffigon Ltd. An Edison-bulb chandelier from Roost (roostco.com) casts a warm glow over the space, while two mixed-media prints by Delbridge are proudly displayed above the stove. For an even more personal touch, De Kler hung photos from her Cape Cod wedding in different-sized blue frames purchased at Pottery Barn (100–104 Seventh Ave between 16th and 17th Sts, 646-336-7160 • 117 E 59th St between Park and Lexington Aves, 917-369-0050 • 1965 Broadway at 67th St, 212-579-8477 • potterybarn.com).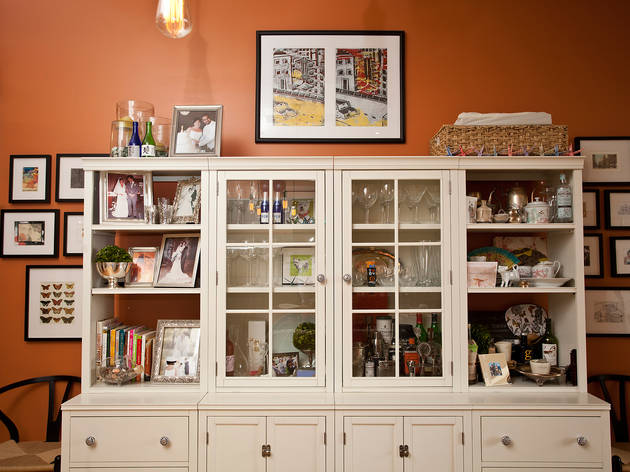 4/19
Photograph: Virginia Rollison
"For our wedding, we collected all the items for the centerpieces," says De Kler, who scoured antique shops and flea markets such as the Brimfield Antique Show (brimfieldshow.com) in Massachusetts for the vintage teacups and plates used in her nuptial decor. The keepsake china is now housed in a large Pottery Barn hutch—a bridal-shower gift from De Kler's mother—along with a menagerie of family photos and glassware. She also framed some of her favorite postcards and sketches to hang on either side of the hutch and bought two chairs from Room & Board for extra seating. De Kler loves to showcase her sister's artistic talent and incorporated two of Delbridge's cityscape drawings to complete the look.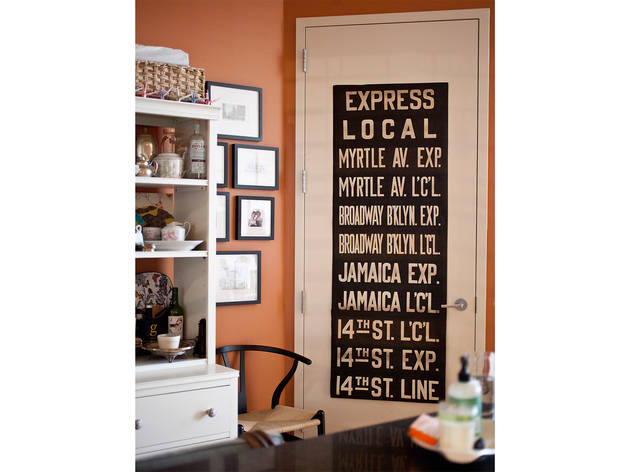 5/19
Photograph: Virginia Rollison
"Back in the day, subway signs used to be on rollers," notes De Kler, referring to this original purchased on eBay (ebay.com) that she thinks may date to the 1920s. The graphic piece pops against Benjamin Moore's (benjaminmoore.com) Sienna Clay paint.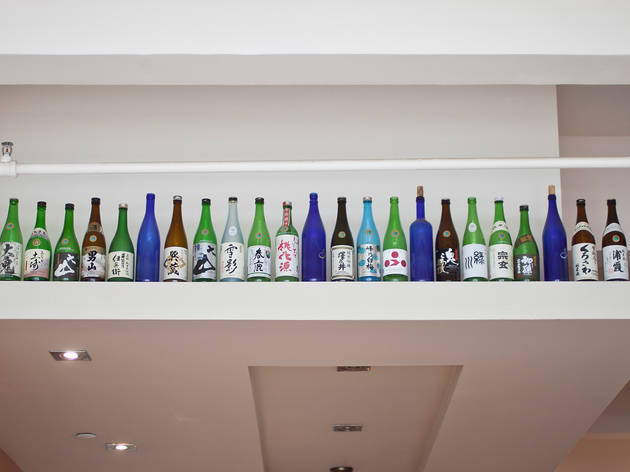 6/19
Photograph: Virginia Rollison
The couple displays a collection of empty sake bottles from their favorite neighborhood Japanese brasserie, Zenkichi (77 North 6th St between Berry St and Wythe Ave, Williamsburg, Brooklyn; 718-388-8985, zenkichi.com), along a high, shelflike space between the living room and kitchen. "It makes us feel like we are back in Kyoto on our honeymoon," muses De Kler.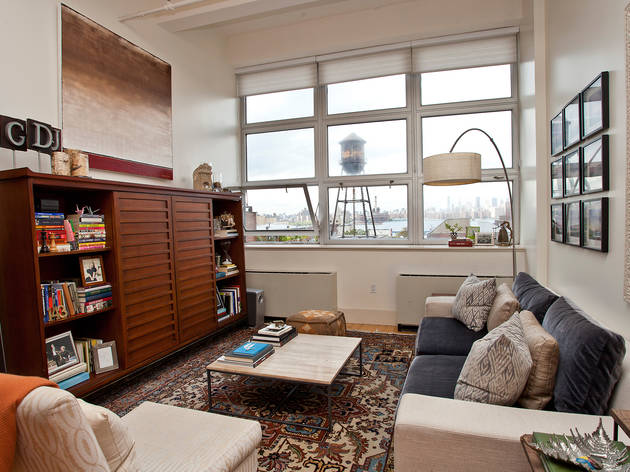 7/19
Photograph: Virginia Rollison
"I fell into this career by accident because of my mother," explains De Kler of her interior-design savvy. She inherited the elaborate Oriental rug in her living room from her mom, who serves as a mentor and also works in the trade. De Kler balanced the old-world look with a simple, modern coffee table and a printed cream chair from West Elm. An Arts and Crafts–inspired entertainment unit from Horchow (horchow.com) conceals the television, showcasing books instead. The Kevin Bain (kevin-bain.com) painting centered above it was a surprise birthday gift from De Kler's husband, and is accented by monogram statuettes from Anthropologie (locations throughout the city; visit anthropologie.com).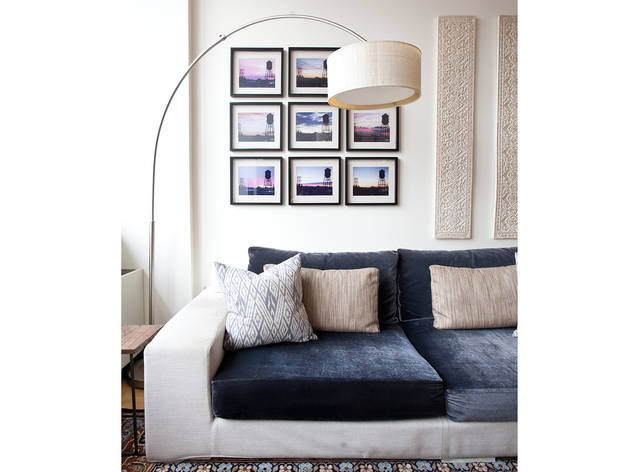 8/19
Photograph: Virginia Rollison
"We get the most amazing sunsets," gushes De Kler, whose large living-room windows provide lots of natural sunlight and a sweeping view of the Manhattan skyline beyond a picturesque water tower. After taking dozens of sunset photos between May and August of last year, she selected her favorites to frame and hang above her Design Within Reach couch (locations throughout the city; visit dwr.com). De Kler had Phoenix Custom Furniture (2107 41st Ave between 21st and 22nd Sts, Long Island City, Queens; 347-448-8416) reupholster the sofa seats in mohair velvet as a "less expensive way of making a store-bought couch feel custom." She added ikat-print throw pillows from John Robshaw (johnrobshaw.com), an oversize arc floor light from CB2 (451 Broadway between Canal and Grand Sts, 212-219-1454 • 979 Third Ave at 58th St, 212-355-7974 • cb2.com) and carved-wood panels from Roost to make the area feel cozy.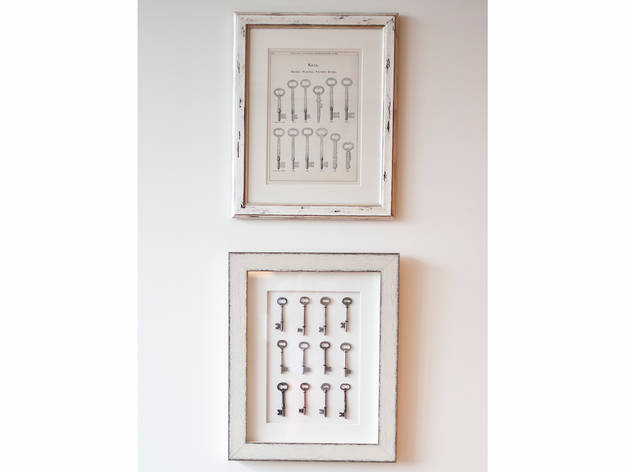 9/19
Photograph: Virginia Rollison
As a tribute to her design logo, De Kler's husband gave her this key print and an assortment of real antique skeleton keys, which she sewed onto fabric and framed. "A key is a very personal thing," she explains. "It [unlocks] your home."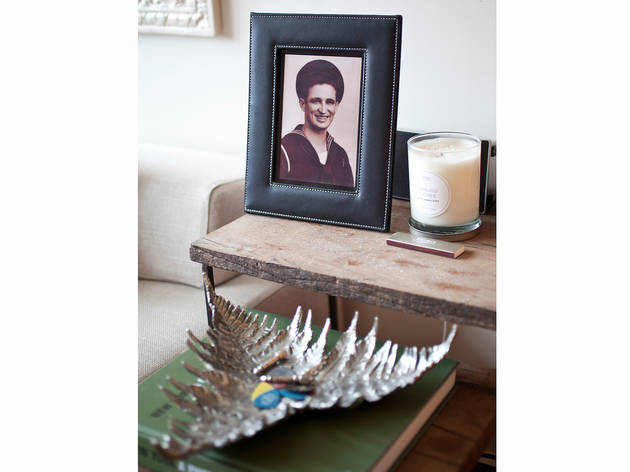 10/19
Photograph: Virginia Rollison
A photograph of De Kler's grandfather rests on the Roost nesting table beside her couch. It shares a space with a Kobo candle from Ochre and a silver leaf tray from Aero (419 Broome St between Crosby and Lafayette Sts; 212-966-1500, aerostudios.com), which her husband uses to store his guitar picks.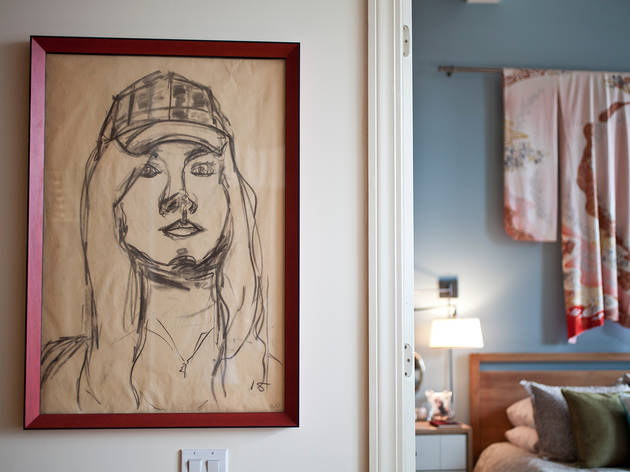 11/19
Photograph: Virginia Rollison
The condo is filled with the artistic creations of De Kler's sister, including this large self-portrait drawing.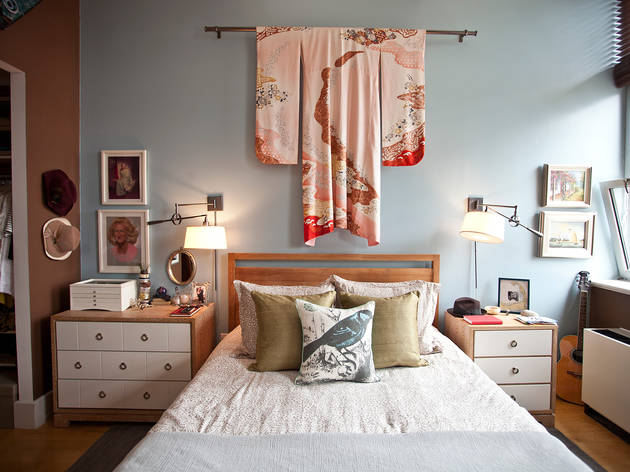 12/19
Photograph: Virginia Rollison
De Kler's bedroom combines vintage hand-me-downs, art and travel mementos, such as the Japanese kimono—a gift from her mother after a trip to Tokyo—that's mounted above the Crate & Barrel wood headboard. Marimekko sheets (200 Fifth Ave between 23rd and 24th Sts, 212-843-9121 • 1262 Third Ave between 72nd and 73rd Sts, 212-628-8400 • marimekko.com), a decorative bird pillow from Thomas Paul (shopthomaspaul.com) and green silk styles from Gracious Home (locations throughout the city; visit gracioushome.com) dress up the mattress. His-and-hers reading lamps from Robert Abbey Lighting (robertabbey.com) and nightstands purchased at Bungalow 5 Furniture (bungalow5.com) flank the bed.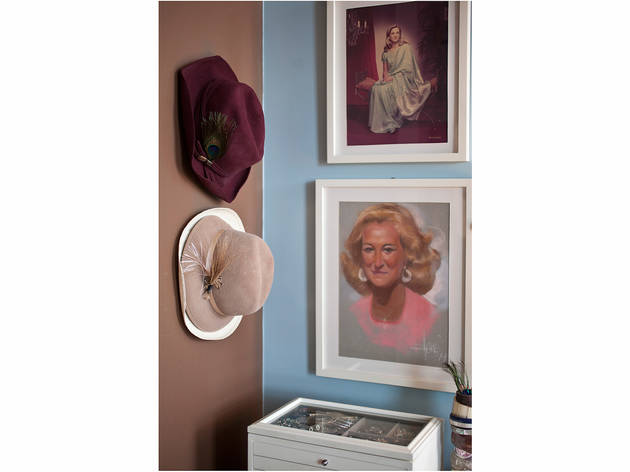 13/19
Photograph: Virginia Rollison
"When [my grandmother] passed away, my mom was the one to go through her stuff, and we found this," notes De Kler of the portrait of her maternal forebear. The photo above it is of her mother in the 1970s from "one of those glamour-shot places in the mall." A pair of hats that once belonged to her grandmother completes the vintage nook.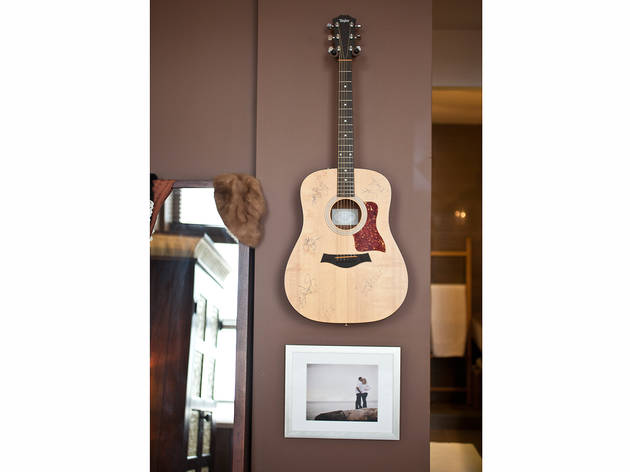 14/19
Photograph: Virginia Rollison
De Kler received this guitar, signed by members of the Dave Matthews Band and purchased at a charity auction, as a 21st birthday gift from her parents. It hovers above one of the couple's engagement photos taken on Cape Cod.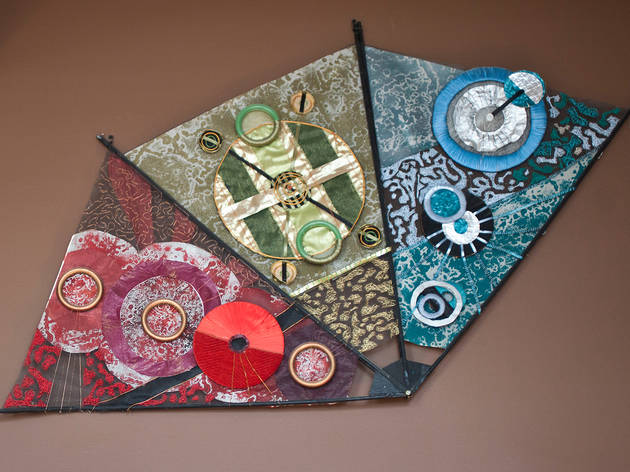 15/19
Photograph: Virginia Rollison
This colorful fan, which hangs over the couple's closet, is a mixed-media piece crafted by Delbridge. "She found a window screen on the side of the street and sewed stuff on it," explains De Kler.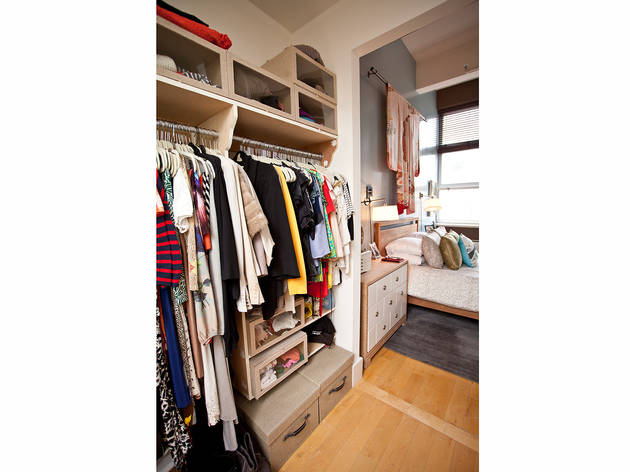 16/19
Photograph: Virginia Rollison
"My husband is a jack-of-all-trades," boasts De Kler. "When we moved in, we didn't want to spend the funds [on a custom wardrobe]." Instead, her carpentry-skilled spouse transformed the space between their bathroom and bedroom into a walk-in closet.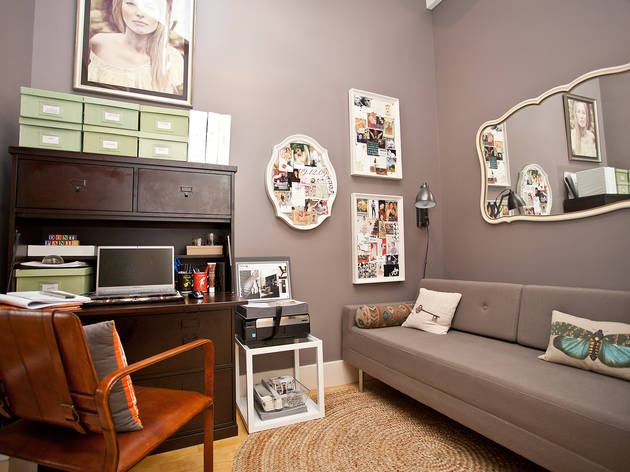 17/19
Photograph: Virginia Rollison
Since De Kler works out of her home office, it was important that she make the space feel inviting. She achieved this with a sofa from Blu Dot (140 Wooster St between W Houston and Prince Sts; 212-780-9050, bludot.com) strewn with tribal-print bolsters made by Phoenix Custom Furniture, a West Elm butterfly pillow and a cushion with her signature key design that was a gift from a friend. The mirror was a local street find that De Kler said she waited around for in fear that someone left it there by mistake. To tie it all together, she painted the walls with Benjamin Moore's Stone paint, adding a pearl finish for a little extra sheen.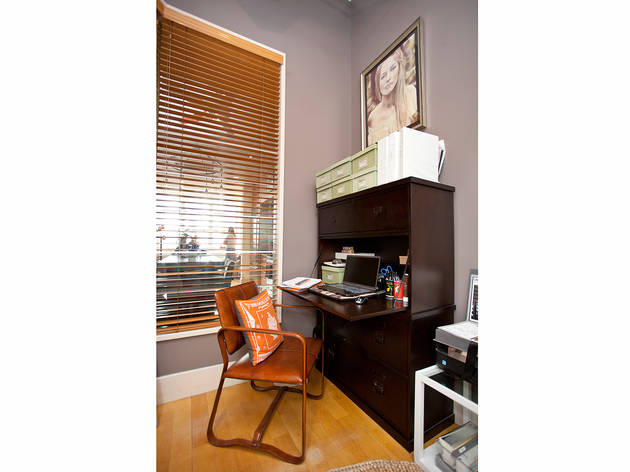 18/19
Photograph: Virginia Rollison
This Angela Wesselman-Pierce self-portrait spends half the year in De Kler's office and the other six months at the upstate home of her best friend, Michael. The two bought it together from Wesselman-Pierce's website after obsessing over the artist, who is featured in the cult movie Catfish. It currently holds court above a desk and chair from Restoration Hardware (935 Broadway between 21st and 22nd Sts; 212-260-9479, restorationhardware.com).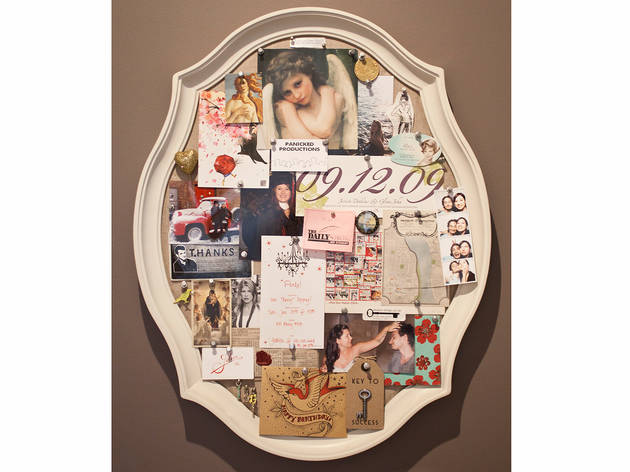 19/19
Photograph: Virginia Rollison
"I try to put people that I miss on these boards," says De Kler of her DIY pinboards, which she created by tacking photos of far-flung friends and family members inside cork-lined Anthropologie picture frames.
Apartment tour: 2BR in Williamsburg, Brooklyn
New York City interior designer Jessica De Kler incorporates family photos, heirlooms and artwork to make her condo feel like home.
NYC interior designer Jessica De Kler may shop at home-decor stores such as West Elm, Crate & Barrel, Room & Board and Pottery Barn for the contemporary furniture that fills her Williamsburg apartment, but when it comes to decorative objects, she favors artwork, heirlooms and photos from her family members, creating a space that feels like home.
Love the look? Get it here!
cityFoundry 365 Atlantic Ave between Bond and Hoyt Sts, Boerum Hill, Brooklyn (718-923-1786, cityfoundry.com)
"It has an amazing selection of everything from furniture and antique lighting to old steamer trunks," enthuses De Kler of this design shop. "And there is a [by-appointment-only off-site] warehouse with tons more."
Ochre 462 Broome St between Greene and Mercer Sts (212-414-4332, ochre.net)
"It's a tried-and-true shop that encompasses my style, so I always find something for my clients—and for myself," says De Kler. Among her favorite finds at the British furniture brand's boutique are antiqued silver votives and candles.
O'Lampia Studio 155 Bowery between Broome and Delancey Sts (212-925-1660, olampia.com)
This is De Kler's go-to lighting store for clients, and it sells designs similar to her kitchen chandelier. "It has quality lighting and offers lots of finishes, custom designs and sizes," she says.