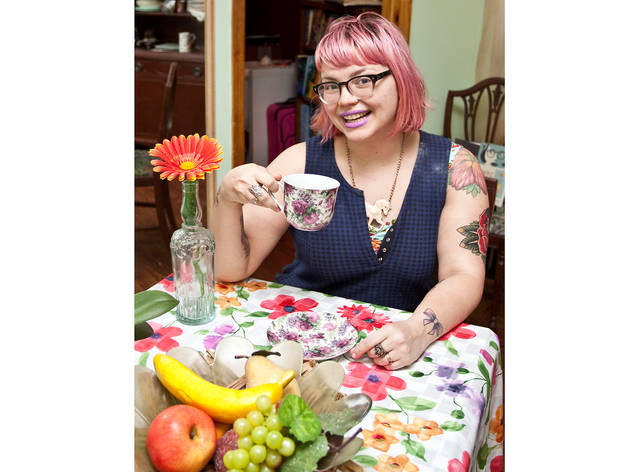 1/21
Photograph: Virginia Rollison
Over the past six years, Jessica "Ruby" Whalen has shared her 800-square-foot rental with one boyfriend and three different roommates, but it was only a year and a half ago that the hairstylist at Fringe Salon (248 Broome St between Ludlow and Orchard Sts; 212-674-8383, fringeny.com) took over the lease and made the space her own. She entrusted her good friend Jamey Hamm, an artist and owner of Roots Café (639A Fifth Ave between 18th and 19th Sts, Park Slope, Brooklyn; 205-246-2149, rootscafebrooklyn.com), to transform the apartment into a Tim Burton–inspired pad, complete with an at-home salon area. While she was busy snipping strands, Hamm was at work reupholstering chairs, hanging artwork and assembling found objects sourced from the street or local secondhand stores. "I love anything bright, glittery or pink," says Whalen, who was thrilled with the result once it was completed in March of last year.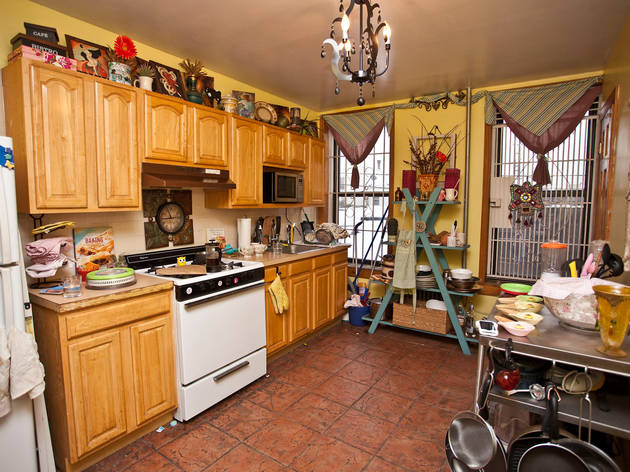 2/21
Photograph: Virginia Rollison
While watching the Tim Burton classic Edward Scissorhands, Whalen noticed that each house on the set was painted a different color. She decided to do the same with the walls of her apartment, using what she calls "ice-cream-shop colors," and moving from light to dark. "I wanted each room have a different theme," she explains. In the kitchen, Whalen used a sunny yellow paint to complement the terra-cotta floors. The black chandelier from Ikea (1 Beard St at Otsego St, Red Hook, Brooklyn; 718-246-4532, ikea-usa.com) was hung by her landlord, while Hamm hand-made the curtains.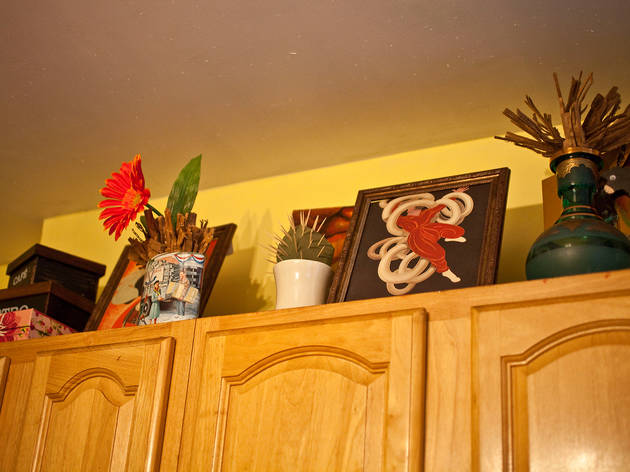 3/21
Photograph: Virginia Rollison
Hamm mixed in found objects such as tea canisters amid this collection of Whalen's sentimental keepsakes, including pictures from Turkey, a perfume box from Betsey Johnson (betseyjohnson.com) and a hookah given to her by her Lebanese neighbors when she was 7.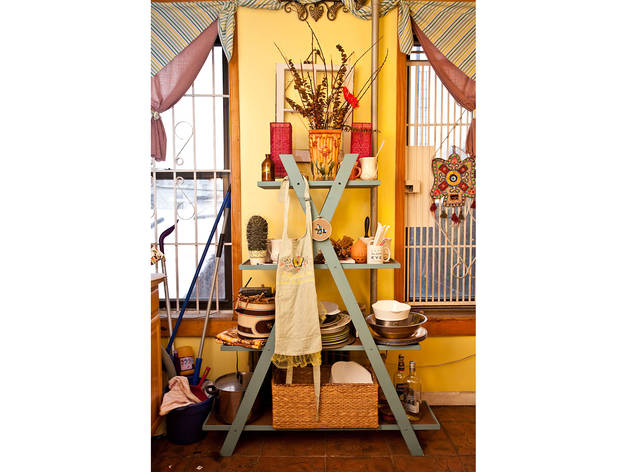 4/21
Photograph: Virginia Rollison
Part storage and part display unit, this bookshelf originally sat in the living room before Hamm decided to relocate it to the kitchen. It now supports mugs from Pier 1 Imports (locations throughout the city; visit pier1.com), a Florida-inscribed shot glass left behind by an old roommate who worked at nearby bar South (629 Fifth Ave between 17th and 18th Sts, Park Slope, Brooklyn; 718-832-4720, southpubnyc.com), and a cactus that Hamm crafted from yarn, toothpicks and floral foam—a nod to Whalen's former home of Arizona.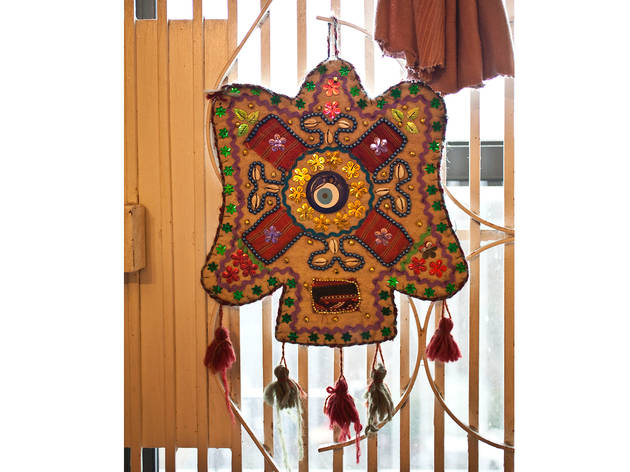 5/21
Photograph: Virginia Rollison
A decorative mat purchased in Istanbul in 2010 hangs in the kitchen window. "I love Turkey and Turkish people," says Whalen. "I want to travel the whole world." In the summer, Whalen will visit Iceland, Germany, Italy and France to cut hair and make new friends.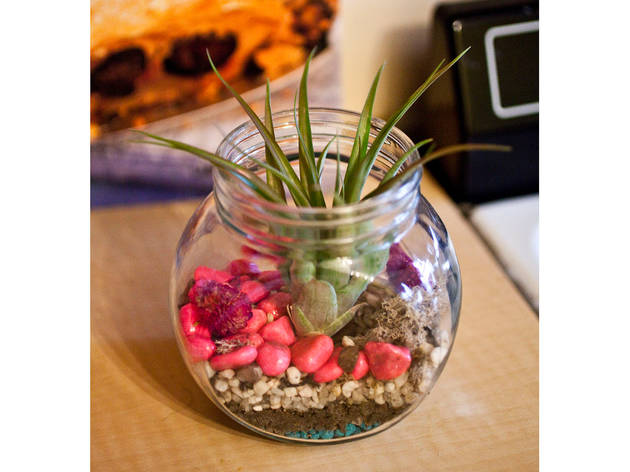 6/21
Photograph: Virginia Rollison
Whalen's friend, artist Melissa Diaz (melissadiazart.blogspot.com), created this cactus terrarium. After snapping up a few of her succulent creations, Whalen introduced Diaz to the Fringe Salon staff, who invited the artist to hang her paintings and tiny 3-D sculptures in the space this March.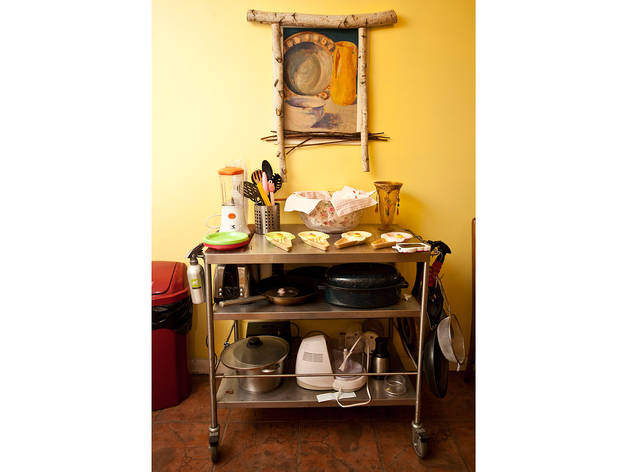 7/21
Photograph: Virginia Rollison
Another one of Hamm's creations, a painting edged in a handmade birch frame, hangs above an Ikea stainless-steel kitchen cart. Whalen dresses up a clear punch bowl she scored for $6 at local discount store Save on Fifth (421 Fifth Ave at 8th St, Park Slope, Brooklyn; 718-965-2040) with an Ikea rosebud bread-box liner for a feminine touch. Year-round, she displays four ice-cream-cone dishes she discovered at a yard sale on the Jersey Shore. A Swedish blender purchased from flash-sale site Fab (fab.com) and a glass vase picked up during one of her numerous trips to Turkey to visit family friends round out the tabletop display.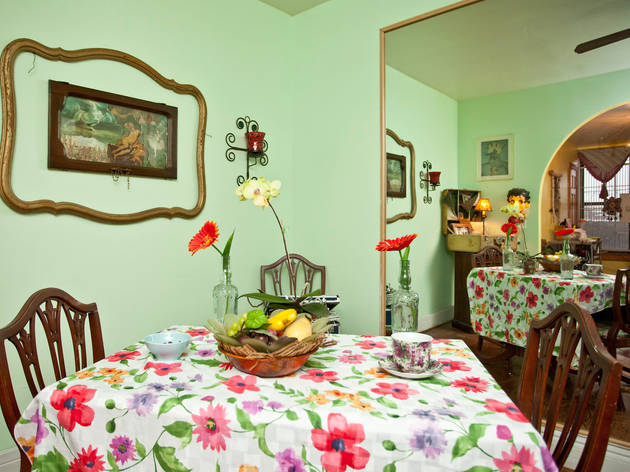 8/21
Photograph: Virginia Rollison
The mint-green dining room, which doubles as an at-home salon for friends, is filled with dark-wood antiques Whalen has acquired through the years. "I don't like new, modern, boring-looking things," she says. "They freak me out." Both the dining set and floral tablecloth from an Arizona supermarket were gifts from her mom, and are used often. "I love having dinner parties," she enthuses. "That's something hard to find in New York—everyone always meets in a bar or restaurant." When she's not hosting friends, Whalen keeps the table set with faux fruit and flowers displayed in glass bottles, all courtesy of Roots Café's merchandizing stock.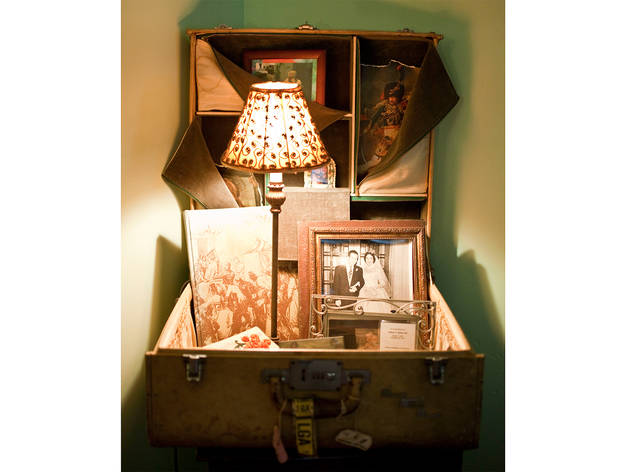 9/21
"All of my favorite people are [represented] in that suitcase," muses Whalen, who displays a portrait of her grandparents on their wedding day inside vintage luggage from Time Galleries in a corner of her dining room. The lamp was another gift from Whalen's mom, while the black-and-white print mounted on cardboard was torn from the pages of The 100 Most Beautiful Paintings, a book Hamm discovered on the street. "He finds the most amazing things," gushes Whalen.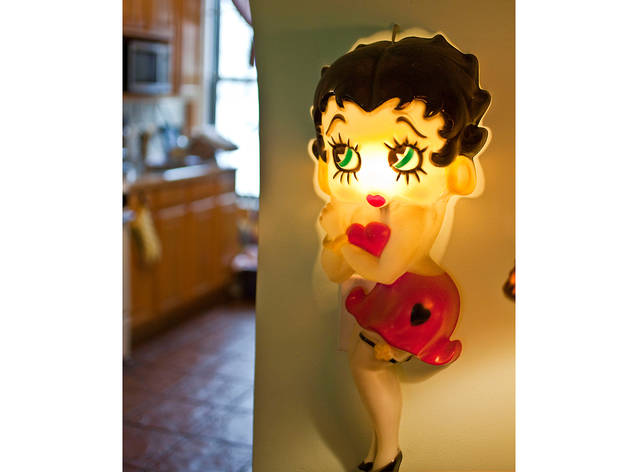 10/21
Photograph: Virginia Rollison
Before beginning her new job with Fringe in late February, Whalen had left Arrojo Studio (180 Varick St between Charlton and King Sts; 212-242-7786, arrojonyc.com), where she was an educator for nearly ten years. During the initial transition period, she found herself cutting a friend's hair in his apartment nearby. As a sort of congratulatory gift, he gave her this Betty Boop light-up lamp that now hangs in her dining room. "South Slope is the best neighborhood in New York," declares Whalen. "It's such an awesome community of people."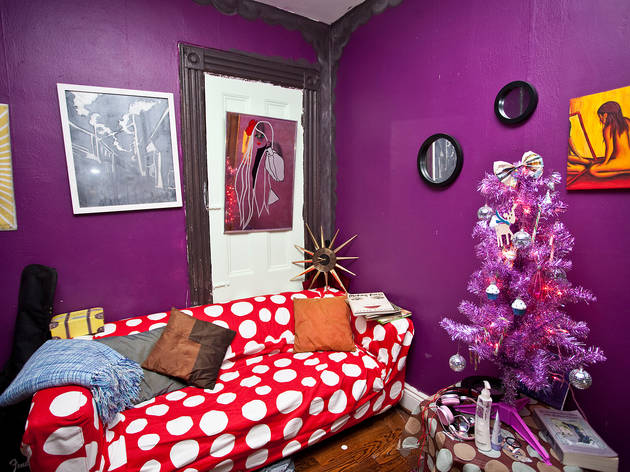 11/21
Photograph: Virginia Rollison
The living room's purple walls—a past roommate's unfinished project—were left with the edges unpainted before Whalen and Hamm used Rust-Oleum (rustoleum.com) metallic paint to create a smoke effect. "I love Disney," explains Whalen of her Minnie Mouse–esque polka-dot slipcover from Ikea. A painting from a friend hangs beside a 1980s mirrored piece that once sat in Roots Café. Whalen has no plans to remove the miniature pink-tinsel Christmas tree that her mother sent, along with disco-ball and cupcake ornaments, all the way from Arizona. "I'll just keep adding to [the tree]," she says. The sunburst lamp was a street find from a friend.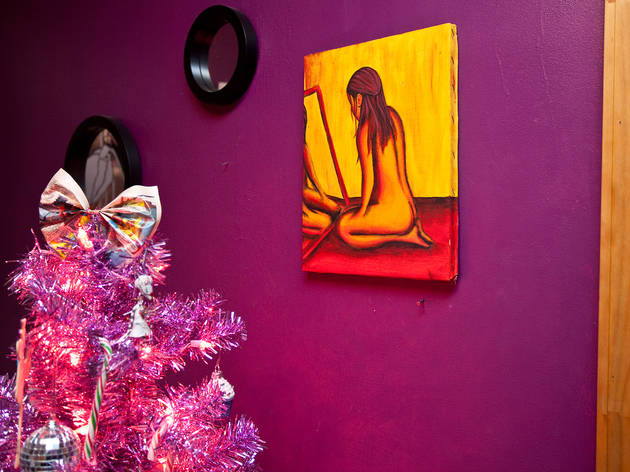 12/21
Photograph: Virginia Rollison
Whalen's aunt painted this portrait of her when she was just 13. "She lives in New Zealand and she's one of my favorite artists," says Whalen, noting that she was also the one to give Whalen her first pair of Dr. Martens (drmartens.com) and take her to a punk-rock show. The pair of round mirrors were street discoveries.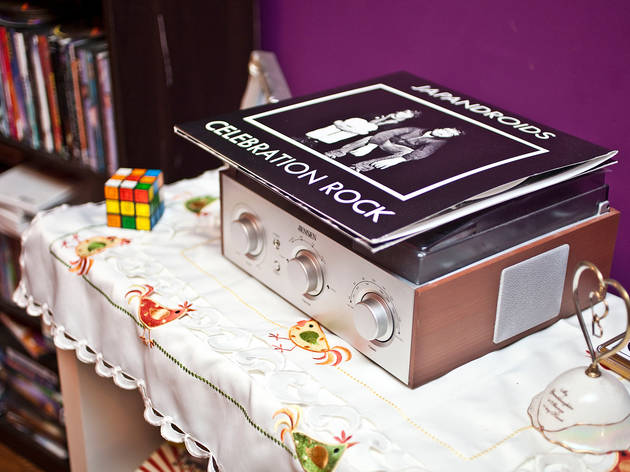 13/21
Photograph: Virginia Rollison
Perched atop a textile from Turkey, Whalen's vintage LP player was a gift from her aunt and sees a lot of action. Whalen adores indie-rock bands such as Japandroids (japandroids.com) and Beach Fossils (facebook.com/beachfossils), as well as classic rock groups, including Led Zeppelin. "I'm friends with a lot of musicians and I love doing their hair for music videos, shows, album covers—whatever," she says. Most recently, she provided the special-effects makeup for lead singer Hannah Fairchild of Hannah vs. the Many (hannahvsthemany.com), making her look like a ventriloquist's dummy for a music video.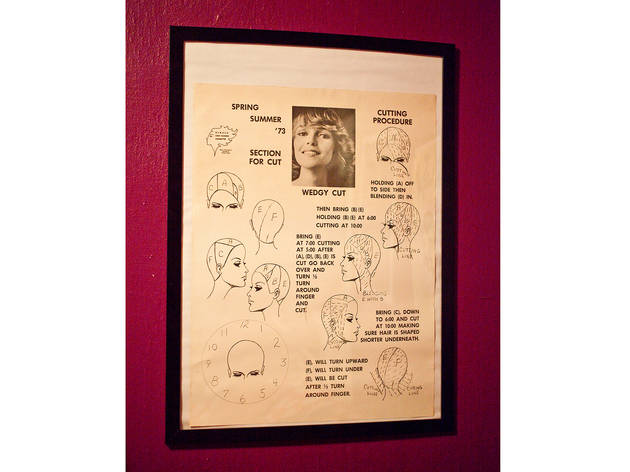 14/21
Photograph: Virginia Rollison
A close friend who also works at Roots Café gave Whalen this 1973 hair-tutorial print, unearthed at Life Boutique-N-Thrift. It depicts a Farrah Fawcett–inspired 'do that Whalen says she could easily re-create, although her personal desire is "to make everybody have pink hair." She even has a blog (rubytinkerbell.tumblr.com) devoted to rose-colored locks.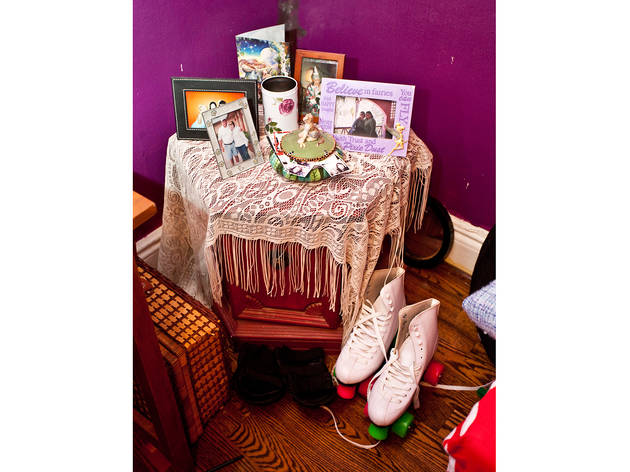 15/21
Photograph: Virginia Rollison
Whalen's next-door neighbor is a roller-derby enthusiast, and she gave Whalen a set a skates for her birthday. "I'm not good," she laments. The side table was a Hamptons street find and is decorated with a shawl from Guvnor's Vintage Thrift (178 Fifth Ave between DeGraw and Sackett Sts, Park Slope, Brooklyn; 718-230-4887, guvnorsnyc.com), and topped with pictures of family and friends. A tiny monkey-adorned ceramic bowl, left behind by an old roommate, contains photo-booth strips taken at Bar 4 (444 Seventh Ave at 15th St, Park Slope, Brooklyn; 718-832-9800, bar4brooklyn.com).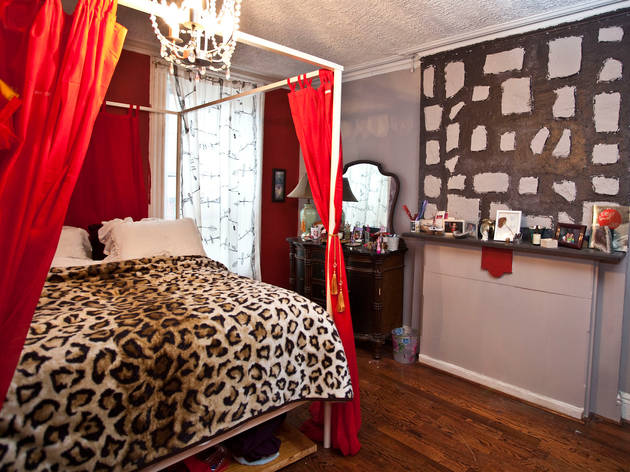 16/21
Photograph: Virginia Rollison
"I love bed-and-breakfasts, and my favorite ones look [straight out of the] Renaissance," says Whalen of the reference point for her bedroom decor. A large four-post bed from Ikea dominates the room, and is surrounded by red panels and a glittering chandelier, also from the Swedish chain. "I wanted red velvet in here, but I couldn't afford it," admits Whalen. Instead, she covers her mattress with a leopard-print blanket she purchased in Los Angeles at the age of 15. She and a friend painted the closed-up fireplace with Benjamin Moore (benjaminmoore.com) Raspberry Truffle and Elephant Gray paint to heighten the medieval look.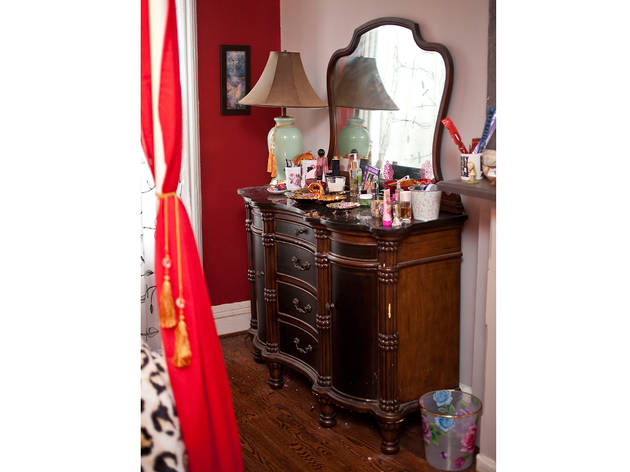 17/21
Photograph: Virginia Rollison
Whalen lived in Allentown, Pennsylvania, briefly before moving to New York, and she purchased this antique wood-and-marble dresser at a flea market in the area. The ceramic lamp was a gift from an ex-boyfriend's mom, while the floral wastebasket came from Save on Fifth.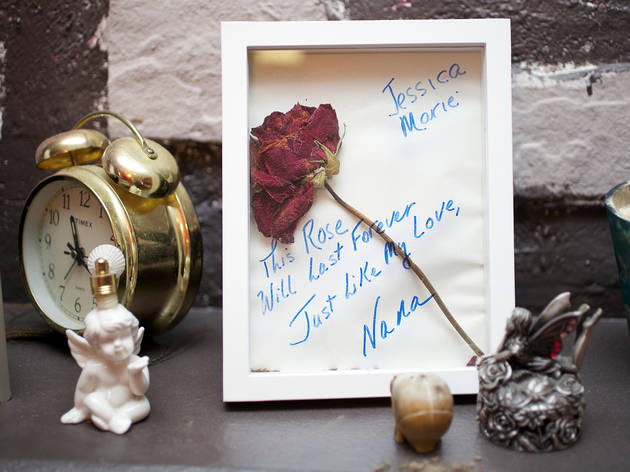 18/21
"This is my favorite thing ever," declares Whalen of a rose her grandmother had given her on her birthday and then framed for her the following year. Whalen displays it alongside a fairy statue that was a gift from a friend and an angel-shaped perfume bottle she found in Potsdam, Germany. "It's where all the kings and queens lived," she explains.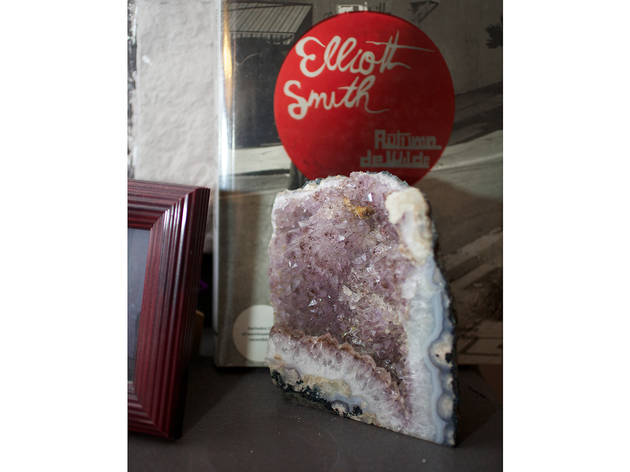 19/21
An old roommate left behind this hunk of amethyst, which Whalen exhibits on her bedroom mantle. She pairs the geode with a book on Elliott Smith, another one of her favorite musicians.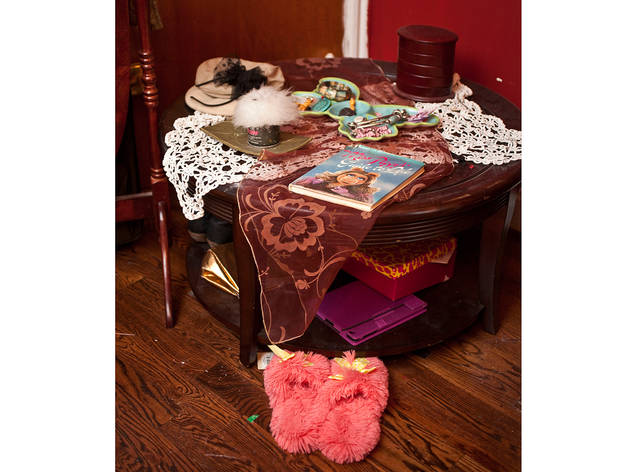 20/21
Photograph: Virginia Rollison
Miss Piggy's Guide to Life, left by an old roommate, rests atop another antique table from Allentown, Pennsylvania, in the corner of Whalen's bedroom. Beneath it, she displays textiles from Turkey and a white crocheted runner that once belonged to her grandmother. "I love fairies," she says. "I want a pet unicorn." Her taste for whimsical fare is what drew her to the large ceramic butterfly dish while perusing Arizona thrift shop A Second Look (asecondlook.com). She uses it to store jewelry.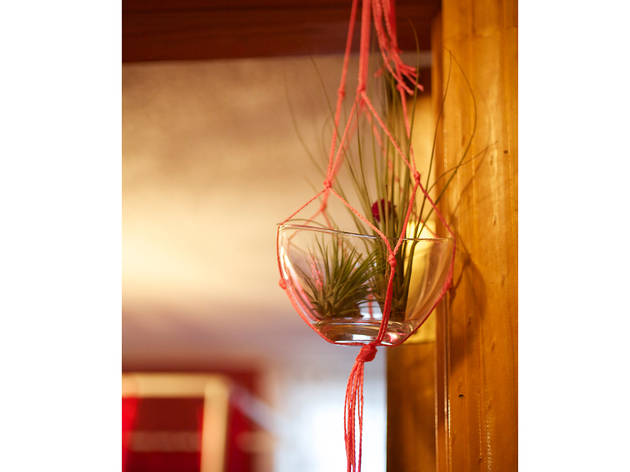 21/21
"I'm obsessed with trees," says Whalen, adding that this hanging succulent terrarium from Diaz reminds her of her favorite arbor-filled expanse, Green-Wood Cemetery (500 25th St at Fifth Ave, Greenwood Heights, Brooklyn; 718-788-7850, green-wood.com). "It's magical," she gushes. "Everything's on rolling hills and there are green parrots everywhere."
Apartment tour: 2BR railroad in Greenwood Heights, Brooklyn
Fringe Salon hairstylist Jessica "Ruby" Whalen turned her abode into a retro, technicolor retreat with help from Roots Café owner Jamey Hamm.