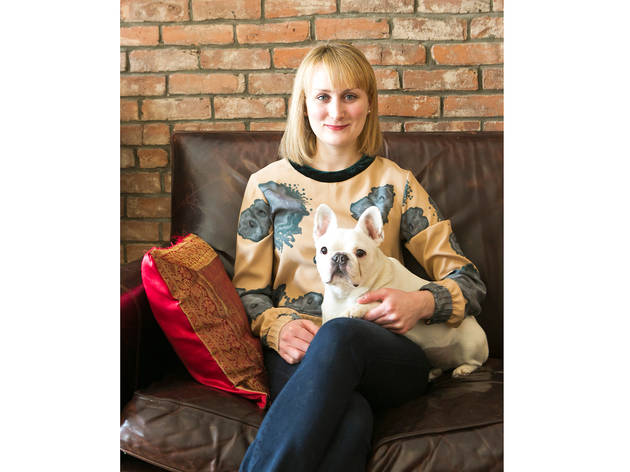 1/22
Photograph: Caroline Voagen Nelson
For the past two years, Andrea Miller has lived nearby her women's clothing boutique, Eponymy (466 Bergen St between Fifth and Flatbush Aves, Park Slope, Brooklyn; 718-789-0301, shopeponymy.com), with her French bulldog, Lady Bianca. The convenient setup was inspired by the native New Yorker's grandparents, who lived atop their antiques stores in Northern Virginia and Cape May, New Jersey. After both shops closed their doors, Miller found herself privy to a wealth of 19th-century vintage fixtures and furniture. "[I thought,] Well, I'll just do what any reasonable person would do and bring them up to Brooklyn and open a store," she jokes. When she decided to debut Eponymy in 2008, it was only natural that the former playwright decorate the retail space with the items she inherited, much as she does in her roughly 300-square-foot rental.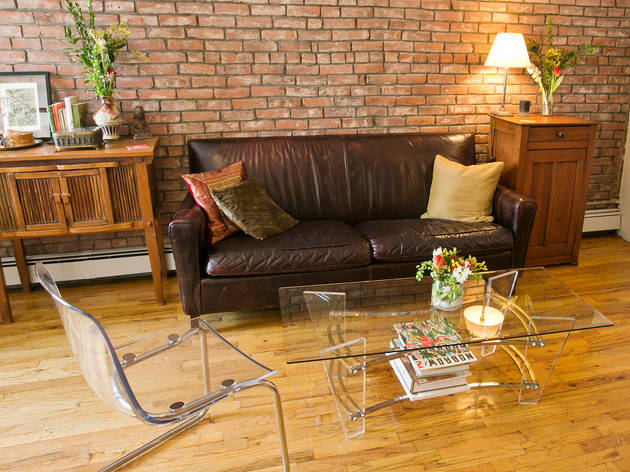 2/22
Photograph: Caroline Voagen Nelson
While searching for a modern couch, Miller was prepared to make an investment. She looked high and low for the perfect-scale model, never expecting to find it at Jennifer Convertibles (locations throughout the city; visit jenniferfurniture.com). She decorates the sofa with colorful pillows that once served as seating at a close friend's traditional Indian wedding in Dumbo. To keep the apartment from feeling overcrowded, she added translucent furniture, including a plastic chair from Ikea (1 Beard St at Otsego St, Red Hook, Brooklyn; 718-246-4532, ikea-usa.com) and a midcentury Lucite coffee table she discovered at an antique shop up north. "[They] don't take up a lot of aesthetic time but add a modern element," she notes. The wooden cabinet is a 19th-century French antique Miller found in Vermont. "You know when you drive along country roads and there's just a big barn full of crap?" she asks. "It was [in] one of those."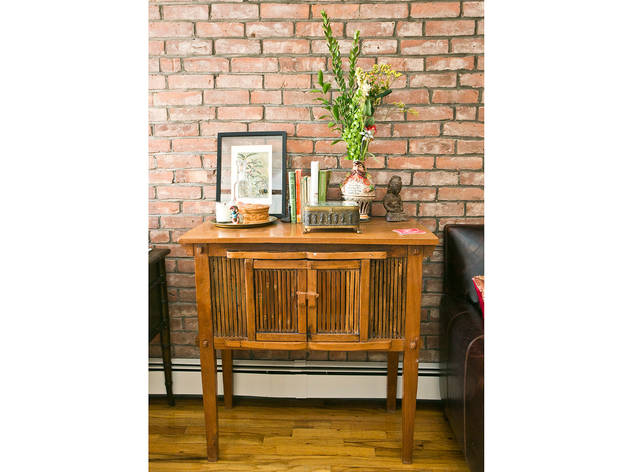 3/22
Photograph: Caroline Voagen Nelson
"I don't know anything about Asian furniture—I just liked it," says Miller, who purchased this Vietnamese cupboard on sale at ABC Carpet & Home (888 Broadway at 19th St; 212-473-3000, abchome.com).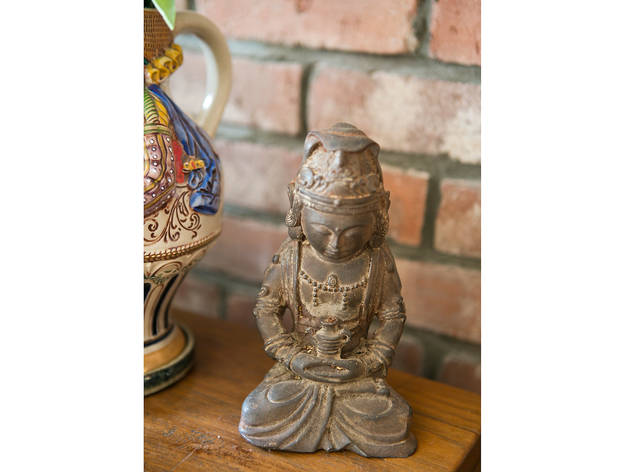 4/22
Photograph: Caroline Voagen Nelson
Stylist and interior designer Alan Rowler, who is Miller's friend and mentor, brought her back this Buddha statue from his Far East travels.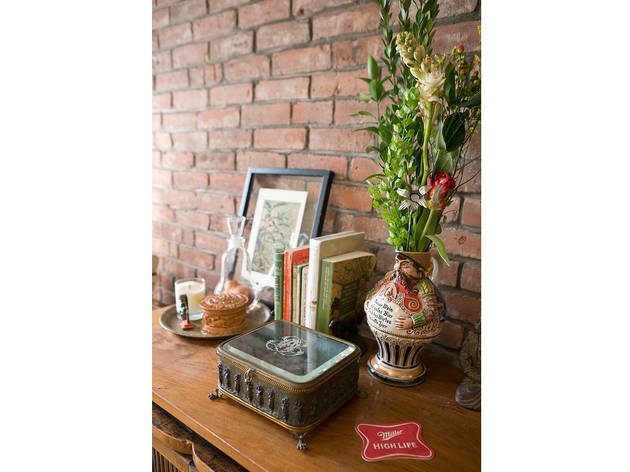 5/22
Photograph: Caroline Voagen Nelson
Miller collects and displays vintage Miller High Life paraphernalia both in her store and apartment as a coy reference to the name of her boutique. "If I had named my store Miller's, that would be an eponymy," she explains. "But that sounds like a pub or something." She offsets a paper coaster brought home from a bar with a monogrammed pre-Victorian tufted jewelry box that was a gift from her grandmother, who found it when Miller was born.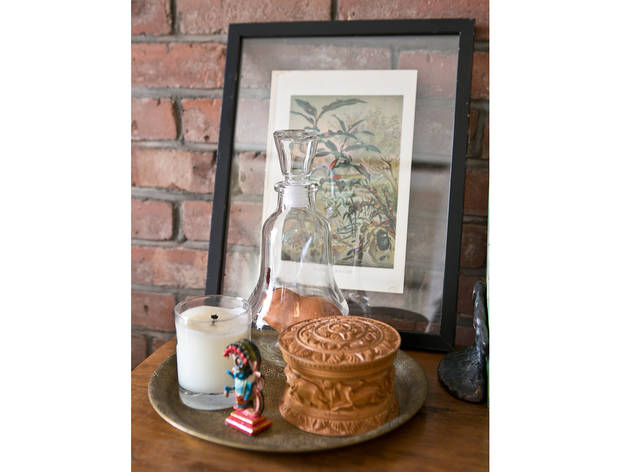 6/22
Photograph: Caroline Voagen Nelson
Buttons saved but never used are stored in a carved wooden container from India. It sits in front of a print called "Beetles in a Flood," a smaller version of the same piece Miller's mother has. Miller regularly purchases lithographs and reproduction prints from yard sales and antiques markets for pennies, and then has them framed—often at Healthy Nibbles—as inexpensive decor.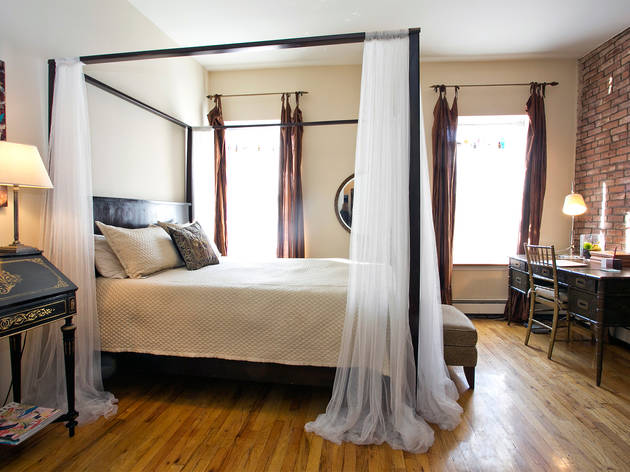 7/22
Photograph: Caroline Voagen Nelson
Before Miller moved into her second-floor apartment, she hired master carpenter Yul Vilbaum (718-797-5608, restorationmaster.com) to cut apart and reassemble her bed from Crate & Barrel (611 Broadway between Bleecker and W Houston Sts, 212-780-0004 • 650 Madison Ave at 59th St, 212- 308-0011 • crateandbarrel.com) in order for it to fit up the stairs. She added sheer Ikea curtain panels to the canopy to help separate the sleeping area from the rest of the space. The bedding, which she found on eBay (ebay.com) and swears "feels a little fire-retardant," matches the curtains in Eponymy's dressing rooms—both were inspired by a 1940s quilted bathrobe that she treasures. Miller purchased the drapes from Calypso Home (407 Broome St between Centre and Lafayette Sts; 212- 925-6200, calypsostbarth.com) and has had them for ten years.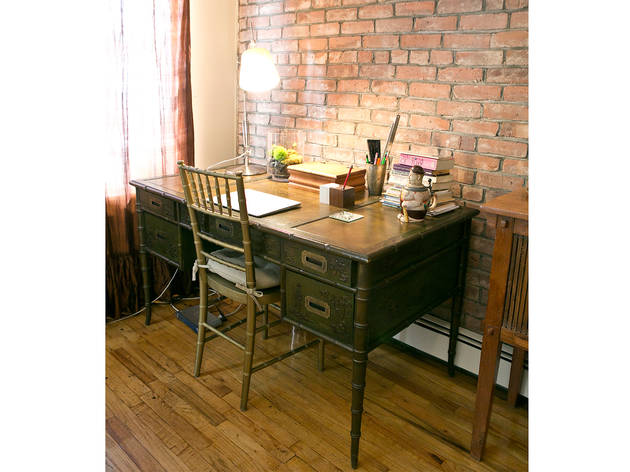 8/22
Photograph: Caroline Voagen Nelson
This English Chinoiserie desk, found in the basement level of Place des Vosges (816 Broadway between 11th and 12th Sts; 212-995-2899, pdvantiques.com), dates to the 1800s, while the faux-bamboo chair is new and was a gift from Miller's stepmother.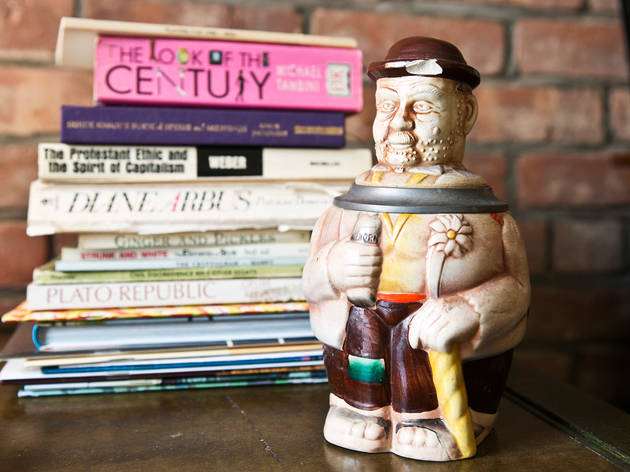 9/22
Photograph: Caroline Voagen Nelson
Miller decorates both her retail and living spaces with old tomes purchased from Unnameable Books (600 Vanderbilt Ave at St. Marks Ave, Prospect Heights, Brooklyn; 718-789-1534, unnameablebooks.blogspot.com). Her literary predilection is also exercised in the form of a blog (ladybiancamiller.wordpress.com), written from the vantage point of her pup, Lady Bianca. The rotund beer stein, found by Miller's grandmother in Germany, ended up in Brooklyn thanks to Miller's mom, who's not a fan of its design. "[She] was like, 'Get this out of my house!'" recalls Miller.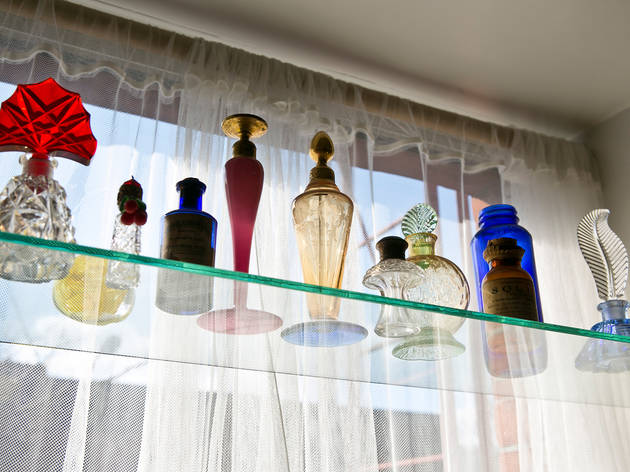 10/22
Photograph: Caroline Voagen Nelson
Miller installed the same Ikea curtain panels surrounding her bed as gauzy drapes on the two large windows that peer over the street she shares with her boutique. She decorates the view with a collection of vintage perfume and apothecary bottles, which are either 19th-century Czech glass or hail from the Brimfield Antique Show (brimfieldshow.com).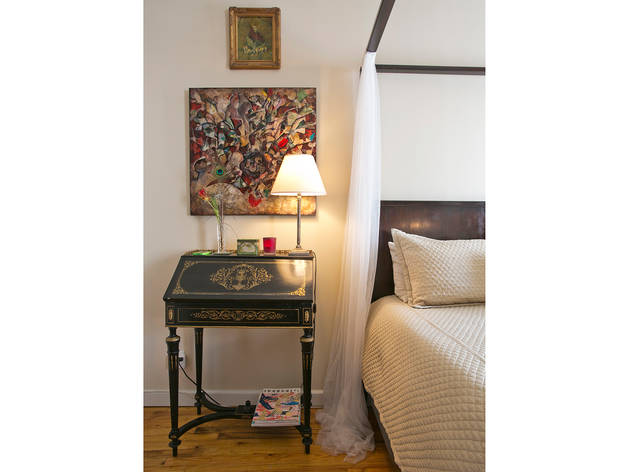 11/22
Photograph: Caroline Voagen Nelson
Miller found this secretary desk at an estate sale in upstate New York. "It's not like any other piece of furniture that I have," she enthuses. "I like mixing different styles." She tops it with peacock feathers displayed in a midcentury Lucite vase she received for free after purchasing a 1950s aluminum Christmas tree at the Brimfield Antique Show. The silver lamp was found at a shuttered Chelsea lighting boutique, while the Art Nouveau tea box came from "some bric-a-brac rubble." Miller uses the base of the writing table for storing back issues of British magazine No Brow, picked up at Bergen Street Comics (470 Bergen St between Fifth and Flatbush Aves, Prospect Heights, Brooklyn; 718-230-5600, bergenstreetcomics.com). The abstract painting is the work of Allan Tuttle (allantuttle.com), who used to sell his work on the street in Soho. Another gift from Miller's grandmother, the small German piece featuring wood nymphs was painted on cardboard but is displayed in an ornate frame for a luxe look.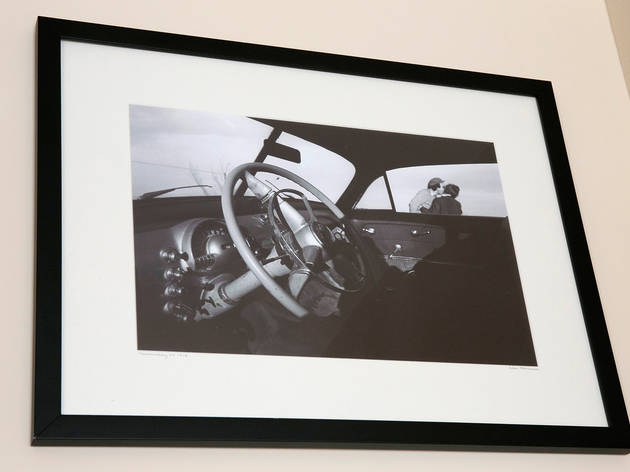 12/22
Photograph: Caroline Voagen Nelson
A large black-and-white picture of Miller's parents hangs above her closet. It was taken more than 30 years ago in Ithaca, New York, by Miller's father's best friend, Maine photographer Dean Abramson (mainephoto.com). "They always had really crazy cars," she says of her folks. "They had this long, gold banana-boat car they called the Golden Chariot, which obviously looked like a pimp should be driving it."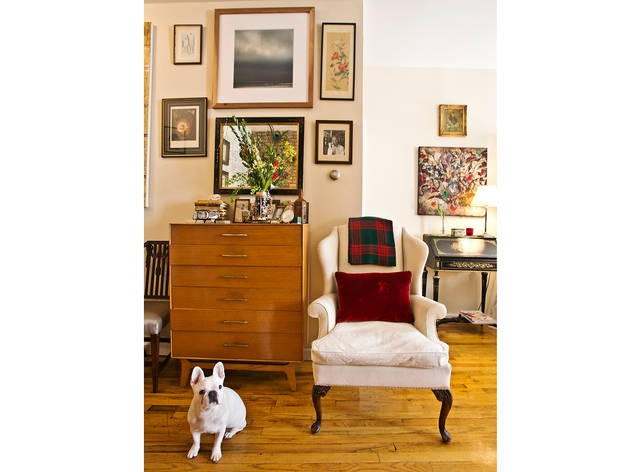 13/22
Photograph: Caroline Voagen Nelson
Miller swears by older furniture. "It's much better quality than something you'd find at Ikea," she says, noting that she paid a reasonable $300 for her midcentury bureau at Horseman Antiques (351 Atlantic Ave between Bond and Hoyt Sts, Boerum Hill, Brooklyn; 718-596-1048, horsemanantiques.net). The chest of drawers is flanked by a linen wingback chair that once belonged to her parents. Both the red velvet pillow and plaid throw have obscure histories—the blanket ended up in her old Park Slope apartment without an owner to claim it. Much of the modern artwork hanging on the wall comes from the rotating group shows Eponymy regularly hosts through the Humble Arts Foundation (hafny.org), of which Miller is a founding member.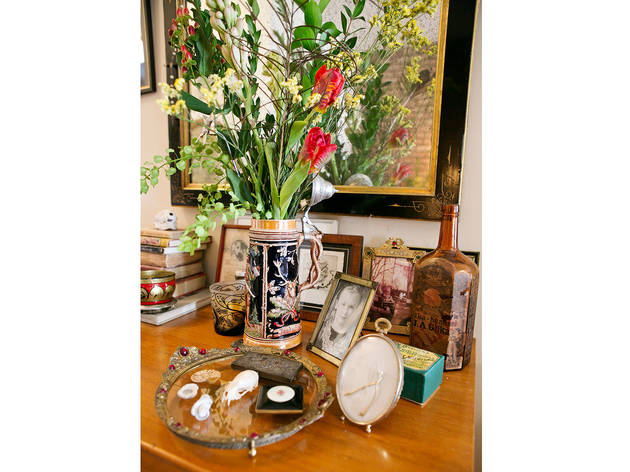 14/22
Photograph: Caroline Voagen Nelson
While living in Europe, Miller's grandmother began learning about antiques and frequenting auctions. She found the beer stein in Germany; Miller uses it as a vase for fresh flowers, often sourced from Petite Fleur. Her uncle, famed fashion photographer and physicist Robert Meservey, snapped the portrait of Miller as a little girl, while her stepmother gifted her the mid-19th-century mirror that hangs on the wall. Whether upstate or abroad, Miller says one of her favorite things to do is explore dusty bric-a-brac shops for unique finds. One such example is the J.A. Gilka Kummel liqueur bottle that she discovered in a nondescript Bronx shop a few years back.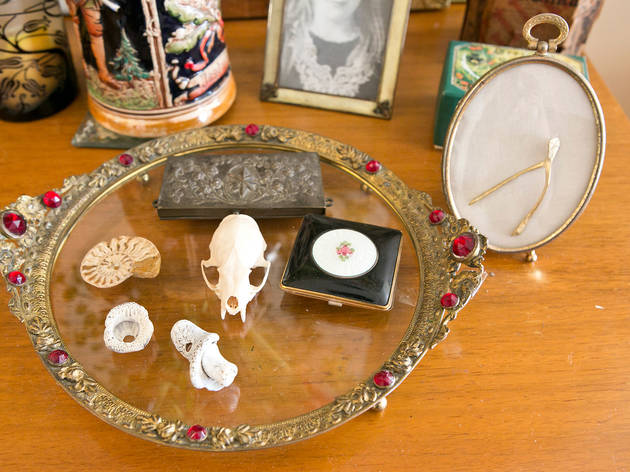 15/22
Photograph: Caroline Voagen Nelson
A turn-of-the-century Czech glass platter from Miller's grandmother serves as a display for a collection of meaningful objects. "I think bones are beautiful," explains Miller of the mink skull that's surrounded by fossils from various antiques shops. She matches the artifacts—often used in her store's merchandising displays—with a porcelain Victorian compact and a small Turkish box that were both gifts from family members. The framed golden wishbone is the handiwork of friend and artist Jana Keith Jennings (sweetbyjana.com).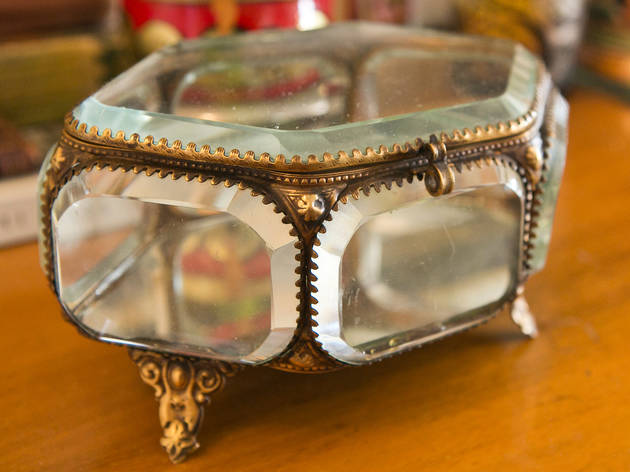 16/22
Photograph: Caroline Voagen Nelson
This Victorian English glass jewelry box—a gift from her grandmother—is a recent addition to Miller's impressive collection of fine 19th-century antiques. She leaves it empty in order to show off its craftsmanship.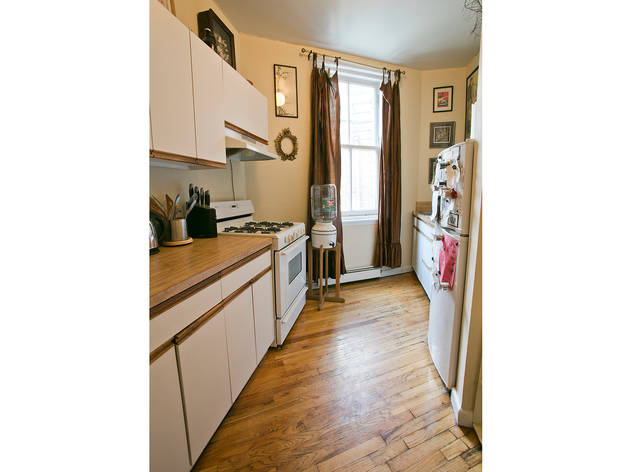 17/22
Photograph: Caroline Voagen Nelson
The kitchen windows are framed with the same Calypso Home curtains found in the rest of the studio—a move that unifies the small space. Even in the kitchen, Miller finds room to display artwork: A red framed postcard, chosen more for its color than its content (Gitanes French cigarettes), was purchased on the street in New York and is hung near the window. Souvenir paintings and photographs brought back by various family members, such as her mother's Vietnamese woodblocks, fill in the ample wall space. "[The apartment] is different parts of my life put into Cubist form," muses Miller.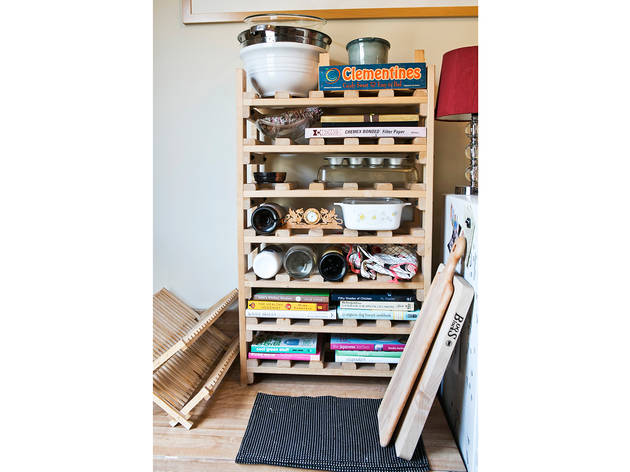 18/22
Photograph: Caroline Voagen Nelson
Visitors always seem to comment on the wooden wine rack from the Wine Rack Shop (winerackshop.com) that sits atop Miller's kitchen counter. "In my other apartment, which was way bigger, I had roommates and we actually had wine on the wine rack," she says. These days, Miller uses it for storage, displaying cookbooks, bakeware and a griffin-adorned clock that was a gift from her cousin (the mythological creature is the mascot of Miller's alma mater, Reed College). The lamp resting atop the refrigerator, a Target (locations throughout the city; visit target.com) hand-me-down from a friend, offers additional illumination in the sometimes dark space.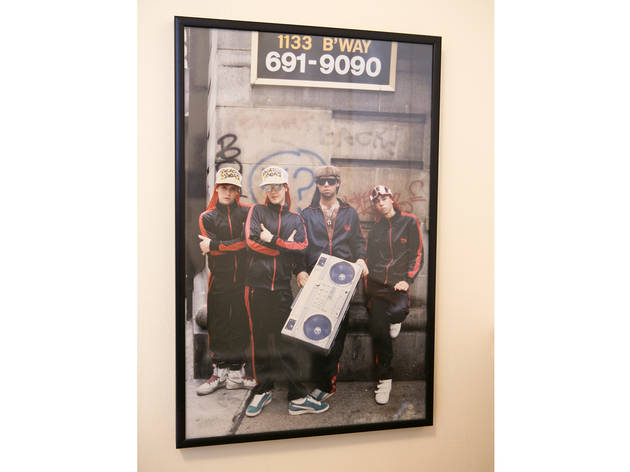 19/22
Photograph: Caroline Voagen Nelson
Coworkers gave Miller this 1980s photograph of producer Rick Rubin and the Beastie Boys. "1133 Broadway was our old office, so we spent a lot of time right where they're standing," she explains. "Probably doing exactly that."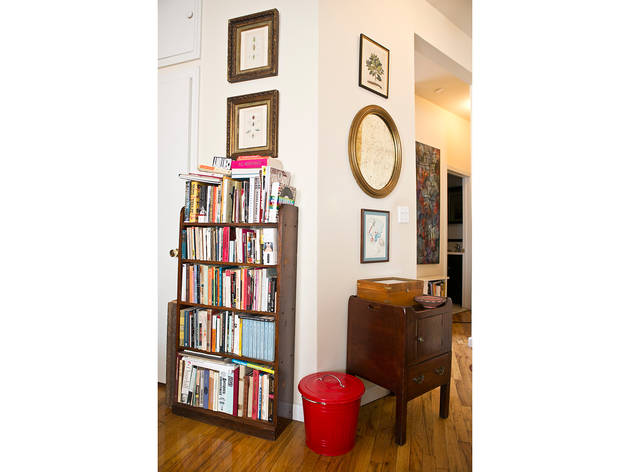 20/22
Photograph: Caroline Voagen Nelson
"My great-grandfather made that bookshelf," boasts Miller. "It's no fine piece of furniture, but I'm never going to get rid of it." She fills it with Playbills, Denis Johnson short-story collections, texts from college and childhood series. Her devotion to craftsmanship—whether from the hands of wordsmiths or designers—drew her to the small American-made cabinet she found at a Vermont barn sale. The red pail, which was left by the previous renter, is likely from Ikea and used to store Lady Bianca's dog toys.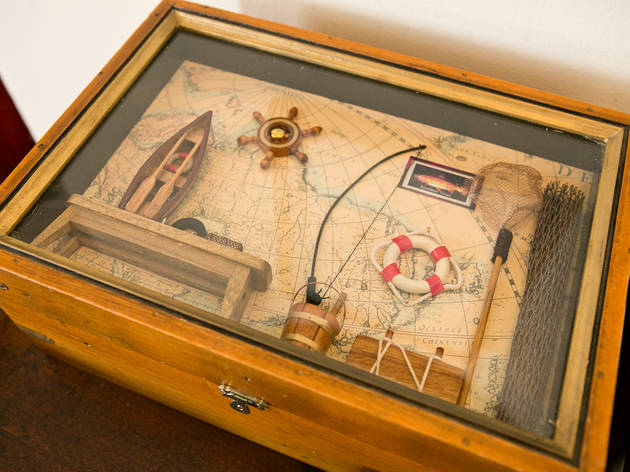 21/22
Photograph: Caroline Voagen Nelson
"One of my best friends from college is now a professor at Yale, and she is one of the few people who shares my insane love of rummaging through piles of crap for eight hours a day," jokes Miller. On a New Haven antiques spree, the pair came across this handmade nautical shadow box. Originally, Miller was planning to sell it in Eponymy, but decided against it because she liked it so much. It reminds her of the dioramas at the American Museum of Natural History (amnh.org), which she loved as a little girl.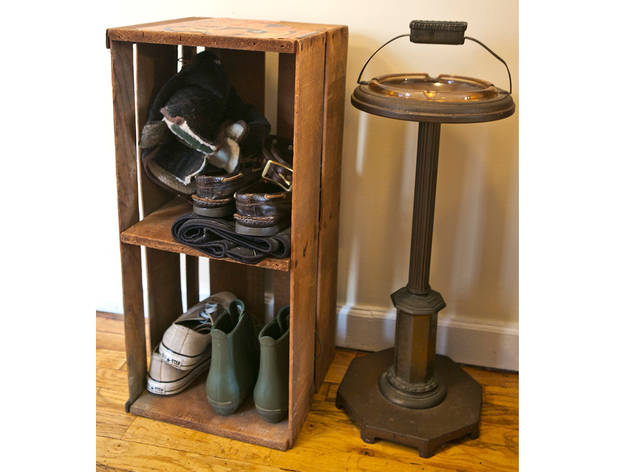 22/22
Photograph: Caroline Voagen Nelson
Miller's mother is the third owner of a Hastings-on-Hudson home built by architect Arthur Bruckner, who was the first dean of engineering at City College of New York (ccny.cuny.edu). When she moved in, the house was filled with old furniture, including this orange crate that Miller uses for shoe storage. Keys and coins land in a vintage ashtray bought at a shuttered Fifth Avenue store. "If I could fit a billiards table in here, I would," says Miller. "I like old-man stuff."
Apartment tour: Studio in Park Slope, Brooklyn
Eponymy boutique owner Andrea Miller mixes heirloom antiques with modern staples in her timeless abode.
Eponymy boutique owner Andrea Miller has an appreciation for antiques and older furniture, and largely decorates her Park Slope apartment with items that have been passed down from family members. She incorporates modern goods, such as Ikea curtain panels, a Target lamp and a Crate & Barrel canopy bed, for a timeless aesthetic. For decor, she purchases plants and flowers from Dig and Petite Fleur, and gets inexpensive framing done at Healthy Nibbles.
Love the look? Get it here!
Dig 479 Atlantic Ave between Nevins St and Third Ave, Boerum Hill, Brooklyn (718-554-0207, gardendig.com) Miller has purchased flora for both her shop and apartment from this gardening store. "It has all kinds of really interesting plants, containers and garden accessories," she says.

Healthy Nibbles 305 Flatbush Ave at Prospect Pl, Prospect Heights, Brooklyn (718-636-5835) "It's both a cafe and a frame shop," explains Miller of this hybrid spot, where she finishes off many of her lithographs. "I usually bring my own frames, which means we just pick out mats—it keeps the prices way more reasonable. Plus, it has good juices and veggie Jamaican patties."

Petite Fleur 71 Sixth Ave at Bergen St, Prospect Heights, Brooklyn (718-623-6443, petitefleurbkny.com) This Parisian-style florist is a favorite local source for flowers and gifts. "I even bought an old stackable law bookshelf there that's in my shop at the moment," notes Miller. "Margaret [Yuen], the owner, is very sweet—but her dachshund, Le Chien, is kind of a cantankerous old man toward Bianca, notwithstanding her French heritage."