Best gift shops: East Village
Find out where to shop for gifts in this downtown Manhattan neighborhood.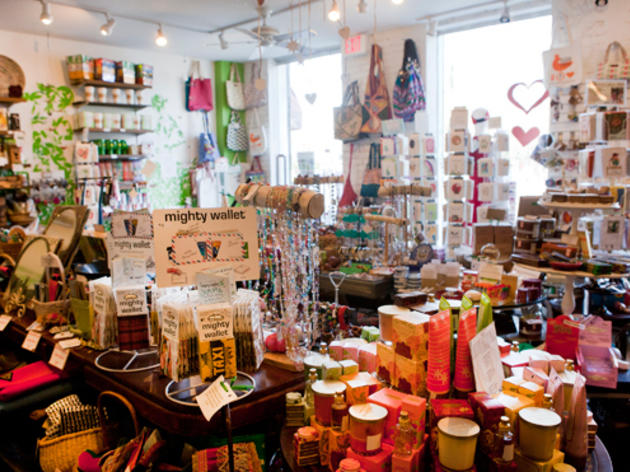 Critics' picks
This oddball shop is like Spencer's for grown-ups—except there are no naked fat-lady greeting cards. Gags and gaffs abound, whether they're virtually useless (Instant Gay Accent mouth spray, skull-and-crossbone-shaped ice-cube trays) or surprisingly useful (sturdy wallets, pens with flashlights and laser pointers). This is indisputably the neighborhood's go-to spot for wacky games, goofy cards, silly stocking-stuffers and everything in between.
Read more
World-famous for his eternally popular decoupage plates and platters depicting everything from turn-of-the-century love letters to mating donkeys, Derian's old-world-feeling shop is chock-full of great gifts like papier-mâché votive holders, canvas totes printed with images of whales , and Moroccan poufs in gold and hot pink. The adjacent dry-goods shop features a slew of covetable linens, such as delicately printed pillowcases and imported suzanis.
Read more
You'll find things at Random Accessories that you never knew you needed—until you try choosing just one. Mini windup music boxes? Frozen smile ice trays? It's all here, and each costs less than $10. Press your nose to the case of jewelry in the back, where you can find Mighty wallets, necklaces handmade by local artisans and tons more.
Read more
After graduating from the Pratt Institute with a degree in fine art, Urte Tylaite wanted to shift toward retail. She developed the necessary skills by working as a graphic designer and sales rep for Brooklyn boutique Swallow, and used what she learned to open her own design store in the East Village. With products ranging from jewelry ($35–$1,000) and dishware ($5–$800) to art books ($30–$75) and artisan postcards ($4–$10), Tylaite has curated a diverse collection of gifts, home goods and personal accessories that encourage visitors to peruse. "I wanted customers to feel welcomed to wander in and simply enjoy browsing," she says. To create an inviting environment, vintage industrial lamps light the shop, and succulents and air plants garnish the store. Selections such as gdg studios faceted bowls ($35–$65) and Soft Glass pitcher-and-cup sets ($250) sit upon simple wooden shelves lining the walls or in handmade felt-lined shadow boxes for easy viewing.
Read more
A mecca for eco-conscious consumers, this cheery East Village storefront hosts an earth-friendly general store (find cleaning products, beauty items, jewelry and gifts) and organic café, all between its reclaimed lumber walls. On the store side, shelves are stocked with everyday goods ranging from biodegradable trash bags ($8) to solar-powered radios ($32), but the selection of accessories and beauty products is the strongest. You'll find recognizable brands such as Pangea Organic beauty products ($8–$34) alongside lesser-known lines like Priti, whose range of nontoxic nail polishes ($12.50) and soy nail polish remover ($11) shouldn't be missed. We also love Zig Zag's fair-trade wool scarves ($20) and recycled plastic bangles ($5.50) from Burkina Faso for their on-trend appeal. There's no shortage of gifts for the tree-hugger in your life, such as Two's Company recycled-tin letter wall hooks ($15) and Pacifica soy candles ($16).
Read more
You'd never guess the owner of this totally Asian toys and tchotchkes mecca is actually a Jewish dude named Israel Levarek. He sold his 20-year-old Batman figurine collection in 1999 to one year later open this store, which houses dizzying displays of memorabilia—half of which is from Japan. The shop was designed to mimic similar stores in the Land of the Rising Sun, with bright lights, crammed arrangements and goods displayed in plastic bins. Jazz up your pad with three-foot-tall collectible plastic bears modeled after pop-culture icons like Mickey Mouse, Iron Man and SpongeBob ($300–$400), or a smaller version for as little as $50. Snuggle up with quirky bubblegum-pink Gloomy Bear stuffed animals ($8–$35), squishable versions of graphic artist Mori Chack's iconic Japanese character, whose bloody paws are a result of attacking its owner in the name of animal rights. Nostalgic dudes will flip when they see the wall of clear cases housing hundreds of Godzilla figurines ($15–$200), as well as kaiju models of various Japanese monsters ($30–$120). And yes, there's something for girly girls, too: Pretty Blythe dolls with oversize heads (picture Barbie with a tennis-ball-size face) were taken off the market in the '50s for scaring children, but the toys were brought back in the '90s ($150–$250) and are sold with voguish outfit separates, such as Jackie O–like colorful sunglasses ($20) and belted tube dresses ($20–$30).
Read more